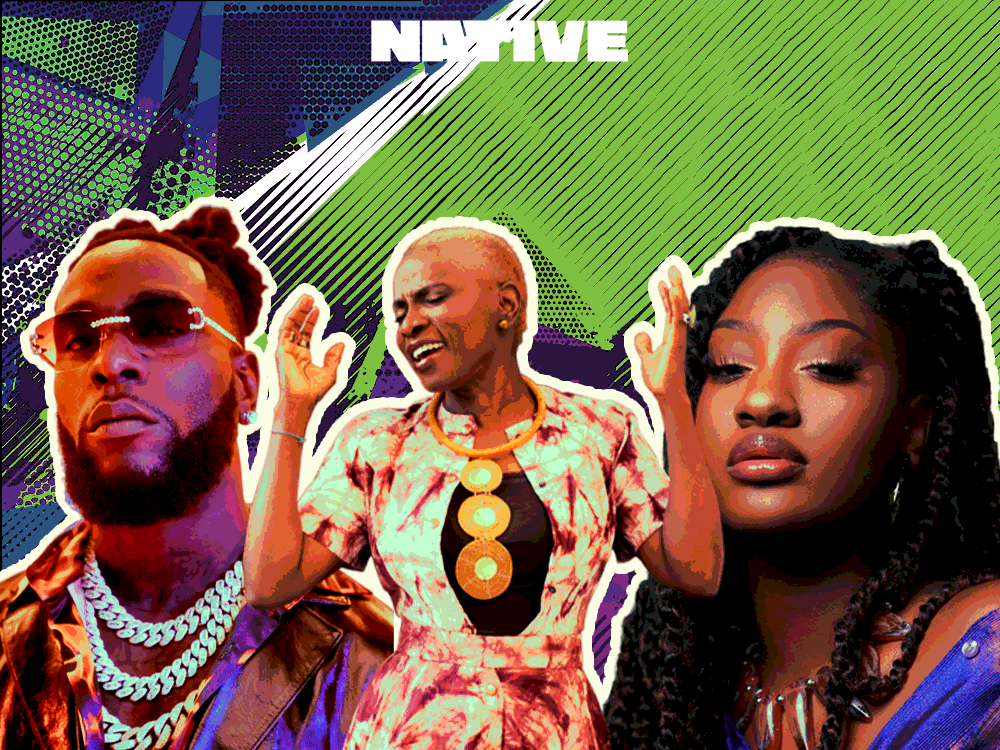 Our Reactions To The Nominations For The 65th Grammy Awards
the good, the bad and the snubbed
Last night, the Recording Academy announced the 2023 GRAMMY nominations. Across 91 categories—that includes latest additions Songwriter Of The Year, Non-Classical, Best Alternative Music Performance, Best Americana Performance, Best Score Soundtrack For Video Games And Other Interactive Media, Best Spoken Word Poetry Album and Best Song For Social Change (this didn't feature any nominations, though)—the list sheds light on the music taking center stage in the US and, in extension, the world.
View this post on Instagram
There were some names whose projects and songs we didn't expect to see that snuck into the list via features. Earlier in the year, Drake, The Weeknd and Silk Sonic (Bruno Mars & Anderson .Paak) revealed that they would not be submitting their respective projects ('Honestly, Nevermind,' 'Dawn FM' and 'An Evening with Silk Sonic') to the Grammys. Drake snagged two nominations for Best Melodic Rap Performance on Future's "WAIT FOR U" and Best Rap Song on Jack Harlow's "Churchill Downs," as well as Future's "WAIT FOR U," while Anderson .Paak got one nomination for Best R&B Performance on Mary J. Blige's "Here With Me."
Veteran super group ABBA demolished any notion of being out of sync with contemporary music. 'Voyage,' their ninth studio album and first project in forty years, snagged Album Of The Year and Best Pop Vocal Album nominations, while "Don't Shut Me Down," one of the lead singles of 'Voyage,' earned them Record Of The Year and Best Pop Duo/Group Performance nominations. Beyoncé landed nine nominations, the most of any other person in contention across the categories, followed by Kendrick Lamar with eight nominations, while Adele and Brandi Carlile got seven nominations. Bad Bunny made history with his fourth studio album 'Un Verano Sin Ti' becoming the first Spanish-language album to earn a Grammy nomination for Album of the Year.
Elsewhere, Afropop's steady climb up the ladder was shown as Burna Boy's "Last Last" and the album 'Love, Damini' earned him two nominations for Best Global Music Performance and Best Global Music Album respectively. In both categories, though, he faces competition from fellow African compatriots Rocky Dawuni's Blvk H3ro-assisted "Neva Bow Down," Matt B's Eddy Kenzo-assisted "Gimme Love" (making Eddy Kenzo the first Ugandan artist to earn a Grammy nomination), Wouter Kellerman, Zakes Bantwini & Nomcebo Zikode's "Bayethe" and Angélique Kidjo's collaborative album with Ibrahim Maalouf 'Queen of Sheba.' Alternative music sensation Tems' dominance continues as her appearance on Future's "WAIT FOR U" alongside Drake earns her two nominations in Best Melodic Rap Performance and Best Rap Song.
Amid the hypes and debates, the NATIVE team share our reactions to the nominations for the 65th Grammy Awards, which is set to hold in Los Angeles on February 5, 2023.
Best New Artist
Anitta
Omar Apollo
DOMi & JD Beck
Muni Long
Samara Joy
Latto
Måneskin
Tobe Nwigwe
Molly Tuttle
Wet Leg
For a category famed for launching the careers of hitherto up-and-comers such as Sade, John Legend, Adele, Bon Iver, Sam Smith, Dua Lipa and Billie Eilish, among others, every year, millions of music lovers keep their eyes peeled for who would emerge as the Grammys' Best New Artist. Last year, American singer Olivia Rodrigo stormed the Grammy Awards, bagging several nominations and taking home the award for Best New Artist along wins for Best Pop Vocal Album and Best Pop Solo Performance.
This year, the Recording Academy cast its net for the following names: Anitta, Omar Apollo, DOMi & JD Beck, Muni Long, Samara Joy, Latto, Måneskin, Tobe Nwigwe, Molly Tuttle and Wet Leg. Among these names are both old (and not-so-old) hands and newcomers. The latter includes Brazilian singer Anitta and American singer-songwriter Muni Long. Anitta, who began making music in 2010, is a star in her home country; Muni Long has been writing for other artists and putting out music under her government name Priscilla Renea since 2009. The youngest (career-wise) in this category are Jazz duo DOMi & JD Beck who released their debut album this year.
In my estimation, the strongest contenders in this category are Omar Apollo, Muni Long and Wet Leg. My instinct, though, tells me to place my bet on Omar Apollo and Wet Leg. Omar Apollo is a powerful vocalist whose songs drip with sincerity and depth, and there is a youthful verve about Wet Leg's music that makes me believe that they might be future Grammy babies. Whatever the case might be, the influence of the names on this list will be felt. While many have brought attention to Tems' absence from this main category, it is worth noting that Tems cannot be nominated in this category for next year's award ceremony as she was nominated for two awards last year: including Wizkid's "Essence" which was nominated in the Best Global Music Performance category. A previous nomination is an automatic disqualifier in this category (assuming the artist had released enough tracks to be eligible in a previous year).
Uzoma Iherijika
Best Global Music Performance
Arooj Aftab & Anoushka Shankar – "Udhero Na"
Matt B & Eddy Kenzo – "Gimme Love"
Burna Boy – "Last Last"
Rocky Dawuni Featuring Blvk H3ro – "Neva Bow Down"
Wouter Kellerman, Zakes Bantwini & Nomcebo Zikode – "Bayethe"
Earlier this year, Pakistani singer and composer Arooj Aftab won the inaugural Grammy for this category, with her moving, Hindustani folk-meets-Jazz opus, "Mohabbat", beating out two Angelique Kidjo songs, Afrobeat scion Femi Kuti's "Pà Pá Pà", as well as Nigerian singers Wizkid and Tems' 2021 summer superhit, "Essence." At the next Grammys', Aftab is back in contention for the same award, this time for "Udhero Na", which features British-Indian sitarist, composer and now 9-time Grammy nominated Anoushka Shankar – including this nod and another in the Best Global Music Album category.
The 65th edition nominees in these categories have two prominent running themes: It's packed with Grammy nominees and winners, and it's mainly filled with songs by African artists. Arooj's nod is the only one that defies the later theme, and for the former, American singer Matt B and Ugandan singer Eddy Kenzo are first time nominees for their Dancehall-tinged "Gimme Love."
Ghanaian roots reggae singer Rocky Dawuni, who was nominated for Best Global Music Album last year and was nominated for Best Reggae album in 2015, is here for his socially conscious, dub reggae song with Jamaican singer Blvk H3ro, "Neva Bow Down". South African flutist Wouter Kellerman, who is a one-time Grammy award winner and now 4-time nominee, gets a nod for "Bayethe", his dance-inflected folk-pop song with South African artists Nomcebo Zikode and Zakes Bantwini, both first time nominees. The nominees list is rounded out by Nigerian pop superstar and one-time Grammy winner Burna Boy, with summer '22 smash "Last Last."
With the precedent from last year, the criteria for nominees and the eventual winner amorphous – if unclear to most. I can't tell if it's based on feeling, technical brilliance, perception, or a mix of these and other things, so it's difficult to know where the compass is facing. That's what happens when it's a category that lumps together songs mostly from non-American artists across the world without any regard for sonic specificity. For now, my spidey sense is tingling towards consecutive Arooj Aftab wins because, apart from familiarity points for her and Anoushka Shanka, "Udhero Na" is actually really gorgeous and might just be the best song, based on my feel, in this category. If not, I'm rooting for Burna Boy's best song in a few years.
Dennis Ade-Peter
Best Global Album
Berklee Indian Ensemble – 'Shuruaat'
Burna Boy – 'Love, Damini'
Angélique Kidjo & Ibrahim Maalouf – 'Queen Of Sheba'
Anoushka Shankar, Metropole Orkest & Jules Buckley Featuring Manu Delago – 'Between Us… (Live)'
Masa Takumi – 'Sakura'
Since reinventing from 'Best World Music Album' to 'Best Global Music Album', the Recording Academy has, with a range of entries over the years, represented the diverse sounds emanating from across the globe. While Angelique Kidjo remains a recurrent winner in this category, the hope for other strong acts has peaked since the nomination and win for Nigerian trailblazer Burna Boy, for 'Twice as Tall.' However, considering the home base and astronomical global reach of last year's nod, 'Made In Lagos' by Wizkid, it was a shock to all when the Afropop veteran did not emerge as the winner. Angelique Kidjo won with her 2021 release 'Mother Nature,' becoming a 4-time winner and an indisputable shoo-in for the Global Music categories.
This year, the 'Best Global Music Album' category returns with Burna Boy's 'Love, Damini', making it the artist's 3rd nomination following 2019's 'African Giant' nomination and 2020's 'Twice As Tall' win. Her 5th nomination in this category, Angelique Kidjo returns with 'Queen of Sheba,' enlisting French-Lebanese composer and trumpeter, Ibrahim Maalouf for his outstanding work in jazz, making it his first nomination. In the same vein of spotlighting global talents, Masa Takumi, a Japanese multi-instrumentalist and composer alongside Berklee Indian Ensemble received their first nominations for 'Sakura' and 'Shuruaat' respectively amongst others.
Considering the exceptional year we've had in South African music, factoring in elements such as sound production and masterful lyricism which transcends language barriers, I partly expected one of the standout projects from these parts to make an appearance on the list. However, I am still not surprised that the Grammy's missed out on this opportunity. For me, Kabza De Small's 'KOA II Part 1' and Prince Kaybee's 'Gemini' for example would have formed solid entries. This category is tricky because 'global' seems to encompass anywhere that's not American or Europe and the slew of exceptional sounds from the rest of the world are left fighting for five spots. While it would not come as a surprise if Angelique Kidjo snags another win, I am rooting for Burna Boy to add a second win under his belt. "Different Size", "Science", "Vanilla" and of course crowd favourite, "Last Last", are some personal 'Love, Damini' standouts that qualify him for the title.
Nwanneamaka Igwe
Best Rap Album
DJ Khaled – 'GOD DID'
Future – 'I Never Liked You'
Jack Harlow – 'Come Home The Kids Miss You'
Kendrick Lamar – 'Mr. Morale & The Big Steppers'
Pusha T – 'It's Almost Dry' 
Soon after the Recording Academy announced its Best Rap Album contenders, rap fans worldwide expressed their disappointment as once again, the academy failed to represent the truth breadth and depth of contemporary Hip-Hop/Rap. While there are definitely strong contenders in this year's nominations, many Rap fans and artists around the world, from Denzel Curry to music journalist, Nicolas Tyrell-Scott have spoken out about the exclusion of non-commercial acts this year. The reactions aren't the least bit surprising. The Grammys have a checkered relationship with Rap, from not airing their major rap categories on the official Grammy broadcast to infamous snubs like Macklemore over Kendrick and confusion over the actual parameters of that category came to a head with the recent showdown between Nicki Minaj and Latto.
In my opinion, only two albums: 'It's Almost Dry' and 'Mr. Morale & The Big Steppers' deserved to be in this category. Dj Khaled's 'GOD DID' used the producer's age-old formula of lumping many high-profile names together to create a gargantuan album helmed by his friends. It's clear that Khaled benefitted from having names such as Jay-Z on "GOD DID" as the verse earned Khaled not only a Best Rap Album nod but also one for Song Of The Year. While Future's 'I Never Liked You,', Kendrick's 'Mr Morale & The Big Steppers,' his first release in five years and Pusha T's 'Almost Dry,' are welcome nominations on the list this year, the Grammy's once again missed out on a real opportunity to showcase the rappers that are forming their own creative footprints and bypassing industry gatekeepers. For example, this year, Kid Cudi released his multidimensional 'Entergalatic,' a commingling of cinema and music which touched on themes such as love, growth, becoming and more.
How would my list look if I was an Academy member? First and foremost, Conway and The Machine's 'God Don't Make Mistakes' would be a contender. This is an honest album with no unnecessary chorus or baby rhymes as Conway paints the real picture of his realities, and breaking stereotypes while at it, as the 42-year-old is making a re-debut. JID's 'The Forever Story' would also be top of my list. Although it was a late release, arriving only a month before the end of the eligibility period for this year's award, it is undeniable he is a fountain of talent as the project revealed his consistent growth through the years. On the album, JID acts as a bridge between his upbringing and the life he now lives, purposefully decorating the album with relevant features and powerfully poetic lyrics that serve to visualises his past and present. At the end of the day, I do agree with Denzel Curry, The Academy base their rap nominations on an artist's net worth instead of talent and impact on the industry.
Tela Wangeci
Album Of The Year
ABBA – 'Voyage'
Adele – '30'
Bad Bunny – 'Un Verano Sin Ti'
Beyoncé – 'RENAISSANCE'
Mary J. Blige – 'Good Morning Gorgeous (Deluxe)'
Brandi Carlile – 'In These Silent Days'
Coldplay – 'Music Of The Spheres'
Kendrick Lamar – 'Mr. Morale & The Big Steppers'
Lizzo – 'Special'
Harry Styles – 'Harry's House'
Album Of The Year will always be an important category in the Grammys award history–bestowed only to the best of the crop since 1959. Past winners have included Kacey Musgraves, Bruno Mars, Adele, Beck, Taylor Swift, Daft Punk and Mumford & Sons, with last year's win going to Jon Batiste for his album, 'We Are,' a legendary moment that was celebrated as the artist became the first Black artist in 14 years to win album of the year. Before him, Outkast had been the only Black performers younger than 65 to win the award in this millennium, for their 2003 double album, 'Speakerboxxx/The Love Below.'
The Grammys have historically been out of touch in recognising Black artists in the major award categories so it's amazing this year to see nominations going to Kendrick Lamar, Lizzo, Mary J. Blige and even Beyoncé who recently released her dance-inspired album 'RENAISSANCE.' Also among the nominees are Puerto Rican rapper, Bad Bunny who has quite literally taken the Western world by storm and deserves to be nominated alongside typical contenders such as Harry Styles, Adele and ABBA. With the recent expansion of the category last year, this time around, there's more room for the Grammy's to display their knowledge of the musical landscape in review, offering up 10 solid nominations.
While this year's nods are definitely well deserved, I can't help wishful thinking that a female rapper could have been recognised in the album of the year category, once again. Women such as Latto, Yung Baby Tate, and more, released albums this year and could have received nominations for their expansion of the Rap genre, and their pop-culture influence. The Grammys wants us to believe that sales aren't the metric for Grammy success but we've seen the Academy play into a popularity contest time and time again. This has proven to fall short of fully representing today's diverse sonic landscape. Despite this, this year's nominations are definitely a step up from last year and I, for one, am just happy to see more women deservingly earn their flowers (Mary J.Blige!!). Personally, I hope to see an album like 'Renaissance' or 'Mr Morale & The Big Steppers' take home the award, as these were two extremely solid projects by artists who have been in the game for a very long time and are still constantly perfecting their craft.
Wonu Osikoya
Many thanks to my fellow @RecordingAcad members for the honor! Working with @ibrahim_maalouf and @heymswilson has been a highlight of my 2022 #GRAMMYs pic.twitter.com/h4j2A3KsET

— Angelique Kidjo (@angeliquekidjo) November 15, 2022
Featured image credits/