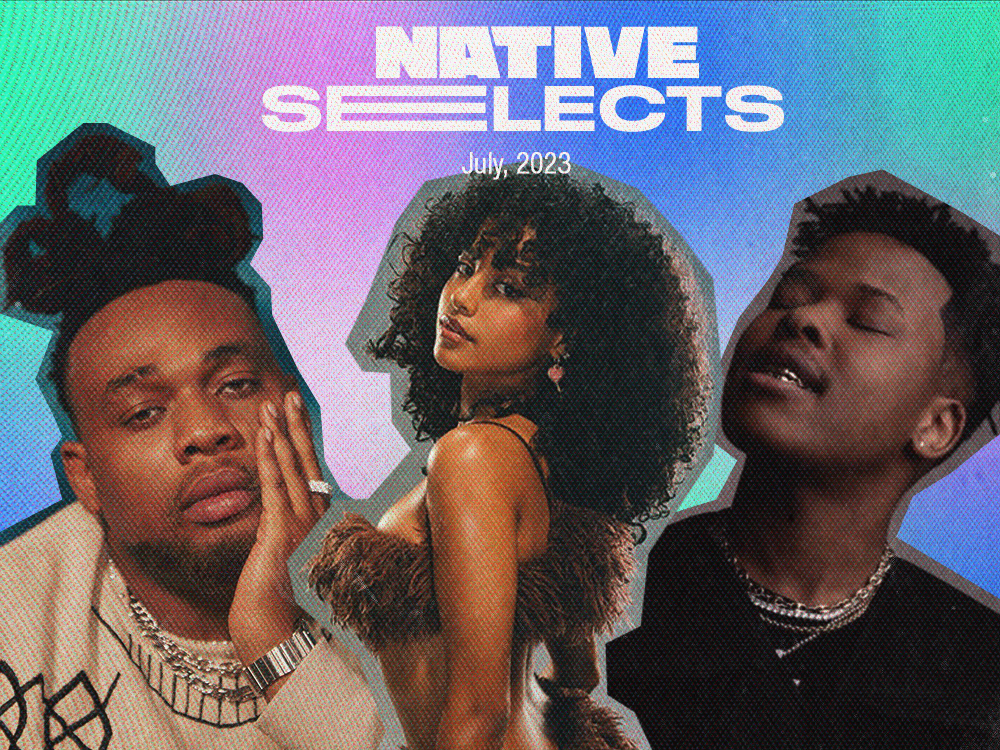 NATIVE Selects: New Music From Tyla, Nasty C, BNXN & More
new music from across the continent
Every week, new music shows up, sweeping fans and music lovers off their feet while artists gauge reactions to know the effect of their creativity. At the NATIVE, we are committed to keeping our ears on the pulse of the music scene and bringing the best sounds to your doorstep. In our last edition, we brought you new releases from Anything With Mr Eazi, A-Reece, NSG and more. Today, we have songs that move from Afropop to Amapiano to R&B, with our select artists showcasing their unending talent and passion for creativity. Lock in!
BURNA BOY – "BIG 7"
Coming off the biggest tour of his career, Burna Boy has announced his 7th studio album, 'I TOLD THEM' with the release of "Big 7." This comes shortly after he tapped 21 Savage to reaffirm his icon status on "Sittin' On Top Of The World." The recently released single serves as a recollection of successes over the years while attributing credit to some of the greats that accompanied him on his journey. On the  groovy Hip-Hop leaning record, Burna tells a heartwarming story of his come-up and how long he had waited for the moment he enjoys now. 
TYLA – "WATER"
South African singer Tyla has been positioned in the popstar image in recent times and she's playing the act well. On her new song "Water" she cashes in on her sensual allure, writing from the perspective of a young lover demanding to see the actions of her beloved. "Can you blow my mind?" she asks in the pre-hook, her vocals audibly influenced by the R&B tradition. With the vivid percussion and 'piano log drums, it's a song that achieves sensitivity without sacrificing pomp, making it the perfect song to carry her mythos into the advancing stages of the year. 
PRINCE KAYBEE, ROBIN M & TIM SCHOU – "HIGHER"
Off the back of an 11-track LP titled 'Music Theory,' Prince Kaybee reaffirms himself as the leading DJ-Producer transforming EDM and Afro-House sounds beyond the familiar log drums and shakers soundscape. He joins Robin M and Tim Schou for a well-paced, climatic record, distinguished by a low-tempo heart thumping drum pattern and dulcet vocals. The track's cadence shifts across the track, allowing a steady climb of through the brief listen. 
RUGER – "KRISTY"
In recent months, Ruger has been on the news for his on-stage antics but don't be deceived, the man's still a brilliant musician. After considerable time off, he returns with "Kristy", a sultry song about the beauty of a woman. Its soundscape is decidedly chill, with Highlife-esque guitars forming the post-hook section. Ruger's ability to sing shines through, as he hones down the bad boy zest for sensual imagery, with one particularly catchy line about wanting to buy his love interest visa. A great comeback for the leader of the Ru Nation, especially with his forthcoming album inching closer as the year progresses. 
FASINA – "BARBIE" FT. TIM LYRE
Over the years, Fasina has continued to rep alternative sounds through the shimmering brilliance of his catalogue. On his new song, he culls in the amorphous creativity of Tim Lyre, and both artists float over laid-back and atmospheric production. At its root, it's a song about a woman but it's also an ode to feeling fly, as the artists reflect through their delivery on the record. 
JAE5 & BNXN –  "LOVE MADE ME DO IT"
The chemistry between producer Jae5 and the Nigerian maverick BNXN doesn't seem to be ending anytime soon. On their newest track, Jae5 creates a tropical soundscape for the artist formerly known as BUJU to coast over, as he sings about the effervescent feelings that comes with being in love. Flexing his trademark pen, it's a mellow affair reserved for the most intimate of loves, with his saccharine vocals finding great accompaniment with the drawn-out guitars and drums, contributing to its warm atmosphere. 
BABYBOY AV – "JEJE"
After his brilliant "Quick Question" released a month ago, AV has debuted a new song. "Jeje" comes first as a COLORS performance, a mellow record that accounts for his lifestyle and the ease with which he moves through life. As an artist who's been steadily flaming the embers of his craft, it's a timely reminder that Babyboy AV has been here for a while and with the experience of a thousand battles behind him, the future shines with so much promise. 
NASTY C – "CRAZY CRAZY"
Nasty C is an R&B star on his latest single "Crazy Crazy," where he serenades his lover with appreciation for the moments they have shared together. With a new album in the works, "Crazy Crazy" puts Nasty C in a new light as he makes a lighthearted tune for the romantics and couples. Every release proves the South African star always has many surprises up his sleeve. 
YAADMAN FKA YUNG L – "VAWULENCE"
One of the most consistent Dancehall-inspired acts around, the artist formerly known as Yung L has released his new song. "Vawulence" harkens to the 'Yaadman Kingsize' album, struck on steady percussions and carried more purposefully by the intent in Yaadman's vocals. "I come in peace, but I carry small vawulence" is one of the better adoptions of the social media birthed term, but this song transcends that rush of the ephemeral, rather offering visions of the artist's current state of mind. 
JULS, HAILE & TIGGS DA AUTHOR – "MY LADY"
This mid-tempo track is a melting pot of diverse sonic elements—Afropop, Jazz and Caribbean soul— a very familiar soundscape for the Ghanaian DJ-Producer. Tiggs Da Author introduces the track as he beckons on his love interest to come correct or don't come at all. Midway through the track, Haile's mellifluous vocals take over assisted by a steady drum pattern and saxophone embellishments. 
STRAFITTI – "BALL DEEP" FT. KIDA KUDZ
On "Ball Deep," Straffitti and Kida Kudz combine for a breezy rendition of Afrobeats and UK Hip-Hop. Both artists pay homage to their Nigerian heritage while expressing their desires to rake in more money  "Every other day money I dey chase/Came out from the block, they cannot relate," Kida Kudz raps. Produced by the trio of Straffitti, GCL3F and Illkeyz, "Ball Deep" has smooth vibes in excess.
Featured image credits/The NATIVE
---
Words by Emmanuel Esomnofu, Nwanneamaka Igwe, Uzoma Ihejirika & Chigoziri Ezeaku.
---