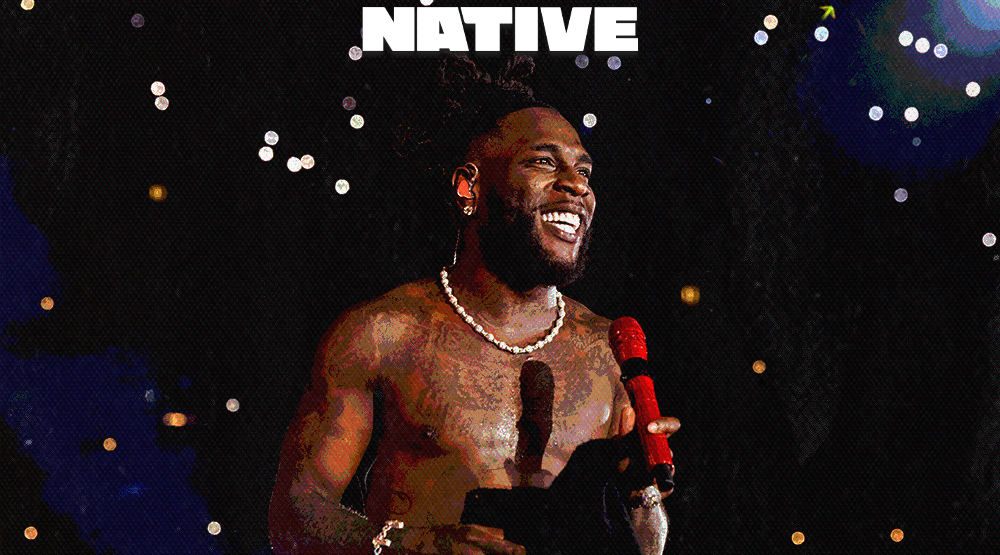 After the biggest tour of his life, Burna Boy is coming right back
The musician's next arc is already underway
Around this time last year, Burna Boy released 'Love, Damini'. The album was a personal recollection of the successes he'd attained over the past half-decade, preceded by a peerless run culminating in classic albums, memorable songs, and unforgettable moments. Yet streaked with moments of stark vulnerability, it was a quintessential Burna Boy album, one which announced him in the rockstar fold he'd once sung about.
Love Damini Stadium Tour is Officially Over!
Thank you to everyone that supported me and supported this tour. It means the World To Me. I appreciate you all! Till the Next One!
New Music Out Friday‼️

🦍#LOVEDAMINI #BIG7 pic.twitter.com/x9oRA3VhaW

— Burna Boy (@burnaboy) July 24, 2023
Oiling the engines of the album, the maverick artist went on the road. The Love Damini Tour took Burna Boy across the United States and down to Europe and the Caribbean. He sold out acclaimed arenas like the 80k London Stadium, the 35k Jamaica National Stadium and the 21k-capacity State Farm Arena in Atlanta. Like all good things, however, the tour's come to an end as Burna himself announced yesterday on social media.
He also announced the Friday-expected "Big 7," a single that's been an underground favourite for months now. Heard from the glitzy sphere of TikTok, chanted on the private videos on Twitter, teased by the artist himself on Instagram, it's coming with considerable fanfare. From the available clips of the song, it's a breezy summer jam with Burna's muscular serenade all over it, tapping sweetly into the American R&B soundscape as he did on "Sittin' On Top of the World". 
"Been wavy since morning, I no go fit save you from nothing," he sings on the chorus, a bit of phrasing that's immediately discerning as a Nigerian. He's been criticised severally for his off-music actions not matching the radical philosophy of his post-'African Giant', such as refusing to comment on the consequentially flawed 2023 elections as well as other stirring social issues. It's then become evident that Burna Boy has not allied his tendency for bold talk with truly bold actions even though his generational talent has never been in doubt. With that lyric in "Big 7," he suggests the next temperament in how his brand and music approaches socio-political issues. 
Further confirming this, close collaborator and designer of the 'Twice As Tall' cover Chuka Obi responded to someone on Twitter saying the forthcoming album has no such songs. We can safely assume that records like "Another Story" and "Monsters You Made" belong in this category, and taking that away from a Burna Boy album, it does point to unrestricted territory. The artist is unarguably the one of the most topical in Nigerian Pop history, belonging to the class of Fela Kuti, Rex Lawson and 2Face Idibia as those who've weaned countless stories from the eternal material of everyday living. Burna Boy even has the advantage of straddling identity lines, resident in many parts of the world through his life and picking strong cultural clues from there, imbibing them into his music with an author's flair. 
The forthcoming album therefore has a lot of potential. In terms of sound, "Big 7" and "Sittin' On Top of the World" (which samples a 1998 hit from Brandy) suggests that Burna Boy is entering his American bag, creating music suffused in nostalgia and feel-good vibes. The era of African American ladies on MTV rocking natural braids and impeccable teeth; of men wearing big coats and gold chains. Playing into this imagery, beyond the immediate clues in the music Burna Boy evoke nineties America in the latter's video, from the phone booth to the sepia-toned scenes and later on the sports jackets, fresh as can be. 
This isn't new for the artist. Over the years, Burna Boy has used locations to erect narrative placards. A troubled youngster during his early career, in London and Port-Harcourt he found refuge, kneading his songs into their soft centre so they sounded like odes to the cities. From the slang to the sound and swag, he reflected the sensibilities of wherever he lived, most especially the southern Nigerian city which was his birthplace.
After he released his debut album 'L.I.F.E' in 2012 and ascended the ranks of the industry, he moved to Lagos. There he created sweltering jams like "Run My Race" and "Yawa Dey", and his subsequent project 'On A Spaceship' adopting the city's bustle and sound. From late 2014, he resided for a while in South Africa and from there created unforgettable hooks for rap anthems and even retained that influence on some of his own songs.
When 'Outside' dropped and "Ye" signified a turning point in Burna's career, his sound became essentially cosmopolitan. It wasn't necessarily tethered to Nigerian influences or South African, rather it was a child of the world's collective musicality. Or, rather, the places in the world that's home to Burna. No doubt America is one of those places and Burna, a man born in 1991, is a Hip-Hop and R&B fan. He made that quite known during the promotional run for 'Twice As Tall', when he described how much the duo of Naughty By Nature meant to him, so much that he named their collaboration after them. 
In the tours for 'Love, Damini', the legendary Busta Rhymes has been a towering presence, while Burna Boy has also been seen at the Wu Tang Clan and Nas' NY State of Mind tour, grooving to the MCs with palpable joy and reverence. Anyone with a keen eye for rollouts would tell you he's establishing the atmosphere, having most likely created music that reflects the sound. The reported features with American rap stars J. Cole and RZA reaffirm the possibility. 
Rap and the ever-adjacent R&B have always played a pivotal role on Burna's albums, perhaps most evident on 'Twice As Tall', but the seeming, more brazen approach to lean into these genres is a gambit that could pay off at a time when the artist is riding a high and is hellbent on being prolific. "It keeps me fresh," he told Ebro Darden shortly before his London Stadium gig, describing the ethos of being consistent and inventive up to the point where global audiences think he's only been making music for a few years. Leaning into Hip-Hop and R&B could strengthen his considerable commercial powers stateside without dampening his connection to other sides of the world.
I'm not in the least suggesting that the album wouldn't have other sounds. If anything, the closest is the patois-inflected genres of the Caribbean—also a formative influence on Hip-Hop—which Burna Boy has always done throughout his career. Among the many amazing things his voice is able to do is to switch between a measured rap cadence into a stringent Jamaican flow mid bar. That would make the forthcoming album his most outside-facing album since 'Outside', and that already translates into cross-continental appeal.
Now that the Love Damini Tour is over, Burna and his team are expectedly making preparations for the rollout of his seventh album. This is what "Big 7" represents. Beyond the number's spiritual connotations of the ethereal, spellbinding, intelligent and perfect, it's an extension of the love Burna Boy felt the first time he heard a song. That simple, wordless emotion of moving to rhythm and intuitively learning cadence. Let's hear him put it into music.
---