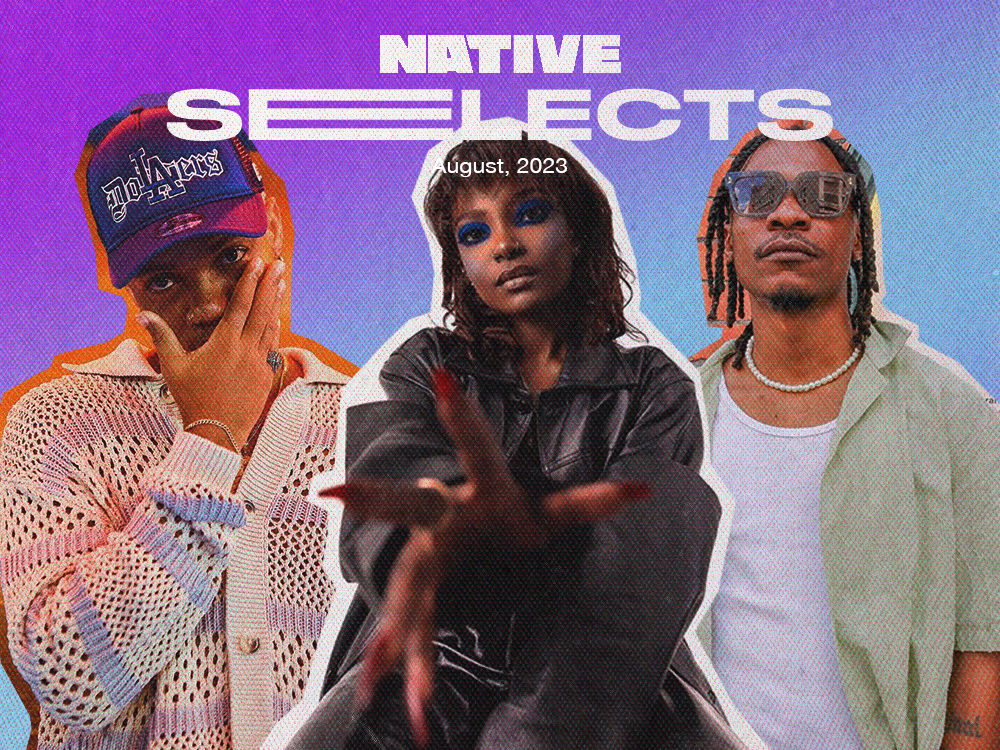 NATIVE Selects: New Music From KiDi, 1Da Banton, Xenia Mannaseh & More
a collection of beautifully diverse records
Every week, new music shows up, sweeping fans and music lovers off their feet while artists gauge reactions to know the effect of their creativity. At the NATIVE, we are committed to keeping our ears on the pulse of the music scene and bringing the best sounds to your doorstep. In our last edition, we brought you new releases from Anything With Mr Eazi, A-Reece, NSG and more. Today, we have songs that move from Afropop to Amapiano to R&B, with our select artists showcasing their unending talent and passion for creativity. Lock in!
KIDI & STONEBWOY – "LIKOR" 
Two of the freshest voices in the Ghanaian music scene join forces for an imitable delivery on their new Afrobeat song, "Likor." Both artists sulk over their inability to find someone to love who will stay by them. Of the pair, Kidi has evidently lost hope, as he considers himself "unlucky again." They turn to Likor—a play on liquor—to quench their sorrows and unsuccessful attempts to find love. "Likor/Likor in my cup my healer," they both sing over the mellow production, their voices capturing the mood with true warmth. 
XENIA MANESSEH & KARUN – "ANTICIPATE"
"Anticipate" displays a unique blend of vocals between Neo Soul artist, Xenia and RnB artist, Karun, two very talented musicians. They come together to sing about a lost love that is longed for again. "Will you go back with me/ Back to when our love was free?" both sing in the chorus. The song feels like a mix of neo soul and R&B, which gives it a smooth, calming essence to listen to and stare into space. 
CHIKE – "EGO OYIBO"
A storyteller par excellence, each record from Chike shines with unique energy. "Ego Oyibo" continues in his plain of Highlife-influenced songs, as he croons sweetly about a love interest. The title is a term of endearment among Igbo people, and Chike reflects the sentiment beautifully, drawing parallels with the japa narrative as distance cannot prove a concern to the love story he shares with her, Ego Oyibo. With vibrant percussions and evocative strings and horn sections, it's a tender performance from one of Africa's finest musicians. 
SARKODIE- "FREAKY & NAUGHTY"
Veteran rapper Sarkodie isn't one to keep his fans waiting for too long. The Ghanaian maverick has again flexed his flows, this time on a chill song that sounds crafted for a time out with friends. Ever the crisp rapper, he layers suggestive lyrics over the production, his signature blend of Twi and English working to highlight the song's sensual allure. It's a continuation of the artist's long association with pop conventions, even though this one would still appeal to his early listeners. 
HARMONIZE FT. SPICE – " MISS BANTU" 
Known for his sultry takes on Bongo Flava, the Tanzanian artist flows the chill path on his new song. "Miss Bantu", like the title suggests, is an ode to the African woman as Harmonize blends a classic R&B feel into the record. He's a sweet-tongued seductor, talking about all the things he'd do for his lover. Dancehall icon Spice delivers a fine feature verse, complementing the song's mellow energy perfectly. 
1DA BANTON – FAMILY
Ever since releasing his '1Da Shall Never End' project, the artist 1Da Banton has undergone a purposeful promotional run, oiling the wheels of that release. He now shares the visuals for "Family," one of the standouts from that project. A mellow record which underscores Banton's proficiency as a songwriter, the video follows the song's ease, set across a montage of beautiful scenes and lush scenery, the celebrity figure of 1Da Banton a consistent presence. 
IFEX G – BLOM BLOM 
Ifex G  delivers an amapiano- infused banger with his latest release, "Blom Blom" The last we heard from the talented musician was his EP, 'Obodo' which has the famous "Ofo" remix featuring Phyno. The new song bares his Igbo roots, as he layers metaphoric lyrics over the heavily percussive soundscape. It's a lighthearted record, intended quite obviously to elicit a call-and-response, but the quality of its social commentary would make it perfect for parties. 
FAVE & THA BOY MYLES – " ONE SIDED"
Following the success of his song "Roma", Tha Boy Myles is back again with his new release, "One sided" collaborating with the talented musician, Fave. The duo delivered an Afrobeat melancholic love song, with both singers telling each other to show love and not hide it while being clear on the love they want. The artists leave us mesmerized with their complementary vocals. Midway through the song, Fave delivers her signature drawl while reassuring her lover, and Tha Boy Myles brings it to a sync while displaying his different vocal ranges on the song. 
TECK-ZILLA FT. JD ERA, PRESIDENT ZIK & ROQY TYRAID – "A WHOLE LOT" 
Super Hip-Hop producer Teck-Zilla is known for uniting diverse voices on his records. "A Whole Lot" is not different as he provides a colourful beat for the rappers to flow over, and to their credit everyone comes correct. An assortment of flows, the song bares the MCs at their braggadocious mood, each bar reverberating with real intent while the production subtly progresses underneath their vocals, reaching a pristine musicality it benefits from. 
SOULAAR – "BALANCE" 
One of the finer emerging voices from Nigeria, Soulaar has been on a steady ascension, both musically and career-wise. With his recent swathe of singles making impressions on his fan base and sections of the music industry, he releases his new single "Balance". It possesses the percussive vibrance of contemporary afropop but the delivery is uniquely Soulaar, a svelte tone which drips with the sweetness of honey. As he sings about a woman he's crazy about, the production builds around him, contributing to its warm atmosphere. 
---
Words by Chigoziri Ezeaku and Emmanuel Esomnofu