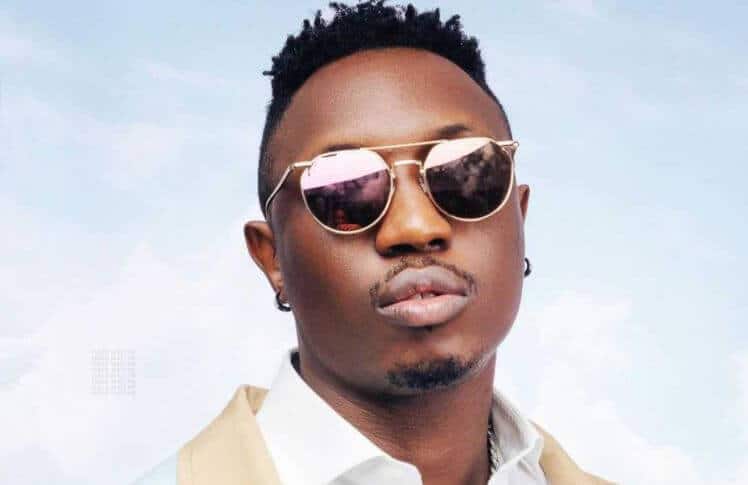 A 1-listen review of A-Q's 'GOLDEN'
A purposeful collection of songs from the veteran lyricist
Last year, A-Q claimed he might be done releasing albums. It was a difficult proposition to believe, not just because rappers in general barely ever retire from putting together bodies of work, but also for the fact that A-Q always seems have something to say on wax. A heady lyricist with an opinionated streak, it was always a matter of when—and never if—the rap veteran would make his full-length return.
With very little build-up A-Q has just released his new album, 'GOLDEN'. Earlier this week, he announced the impending arrival of a body of work, giving away the date and keeping all other details under wraps. This sort of furtive, laidback approach to dropping music is the latest indication that A-Q is secure in his status as a cult hero in Nigerian rap music, a position he's fully embraced with recent releases and achievements.
Having the most powerful voice in Hip-Hop right now means I always have to live up to it. This project is dear to me, and I hope it travels far and is deeply felt by everyone who listens to it.
Ladies and Gents, I present to you, "GOLDEN" Stream/Buy here: https://t.co/4rR4VQzSB0 pic.twitter.com/fQtL75lDZl

— Gilbert Bani (@thisisAQ) May 20, 2021
In 2020, he put out two excellent projects, 'God's Engineering' and 'The Live Report' with M.I Abaga; the former won Best Rap Album at the last edition of the Headies. With its unfussy rollout, and as the follow-up to an impressive run from the previous year, the stakes for 'Golden' isn't exactly well-defined. What is sure is, A-Q has a few things to say and it's time to listen.
In usual 1-listen review fashion, all reactions are in real time while the music plays. No pauses, rewinds, fast-forwards or skips.
"Abraham's Blessings (feat. BabyBoyParis)"
Seven tracks on a solo Q project, he seems to be getting more succinct as he ages. This piano chords are heavenly, but there's something about BabyBoyParis in autotune that was initially jarring. This is aspirational, his singing has that familiarity of many male Nigerian pop singers. A-Q sounds so assured without being aggressive, this is growth. He's found solace in the spiritual teachings of Christianity, and I love how casually he brags about being an executive. Shout-out to Blaqbonez's success, Q bet on him big. The beginning of this second verse is a bit more vulnerable, but he's back to being invincible. "Best rap album, I did it without a single" is a hard flex. Great intro.
"Shoot the Messenger"
I can tell this is a BeatsbyJayy beat from just the piano sample flip. I don't know how I feel about these drums, yet. This is about last October's protests against police brutality, but it doesn't feel urgent enough for my liking. Too many namedrops if you ask me, but shout-outs to Oxlade and Mr. Macaroni. "As far as feminism goes, our government should learn from feminist co." I can bet that line would turn controversial even though it's not. This is a chronological recall of events but it's just not hitting. Ehh, I don't like that ending sequence of rapping from a fatal victim's perspective. Not a song I'll come back to, but it's forever R.I.P to those the general killed at the Lekki tollgate on October 20, 2020.
"Breathe" (feat. Chike)
Chike on an A-Q, never would've seen it coming, but he did feature Ric Hassani on 'Blessed Forever' so there's some precedence. I like his helium-tinged vocals, the giddy drum bounce sounds more appropriate here. Some very honest introspection going on, he's come so far from the loud-mouthed underground rapper even though he can still project a brash persona every now and then. People who understand how deeply rotten Nigeria is and still choose to have kids here are superheroes. A-Q has a disdain for stupidity and faking flexing on the gram, that much is clear from this second verse. Chike doesn't do too much on this song but he elevates it, will revisit this one.
"HeLa"
This album is running just shy of Usain Bolt at full speed. Jayy on soul sample flips is a cheat code, A-Q is walking across these phenomenal drums with purpose. He always raps with a point to drive in. "Conversations with death, I tell him before you take me better pay my respect." There's nothing this man doesn't want to conquer, even death itself. That George Floyd reference made me uncomfortable. Nice interlude, keeps things moving.
"System Failure"
A soundbite I don't recognise, I affiliate this with M.I. A choir is being sampled here, sounds like a redux version of what Kanye would've done in his '808 & Heartbreak' days. No crooning here, though, A-Q is a walking definition of rap cadences and nearly no melodies. Q can actually be very preachy, he has a clear chagrin for world problems that can easily be solved. Okay! This drum bounce switch is IT. This second verse is like Q read a bunch of globalist and socialist manifestos and he's committing it to wax. Honestly, I'm not even mad at it because I agree with some of it. "The concept of money is flawed" is a line every crypto investor will raise hands to, LOL. I like this, Q's socially observant songs can veer into conspiracies but there's little of that here.
"Hardwired"
Sossick produced this, it's the one I've been itching to hear the most. I don't like this flow over this immaculate sample, the drum actually balances things out. Heh, I don't like that Jhene Aiko-referencing line, but I get it within the context of the song's theme. "Y'all sound like broken records but records are meant to be broken" is the sort of half-convoluted, half-poignant lyricism I love from A-Q. That Feminist coven line was unnecessary, I thought we moved past all this. "Y'all saying you want the smoke, but you came with nicotine patches". That's a solid bar. I kinda like this, mellow soul-sampling hip-hop with some formidable rapping. Will revisit.
"Read the Room"
Final song. That's Michelle Obama's husband's voice, he has a distinct tone. The piano chords on this tape have been a joy to behold. First time I'm hearing grease-fish hi-hats on this project, and the bass has some sauce to it. Does Q ever really take advice from anybody? Maybe. It's not that he comes across as unreasonable, he's just seems arrogant enough to stick by his guns. He's come this far by being largely self-sufficient so I get it. Yeah, this is personal and I like it. The urgency in this double-time flow is riveting. "When social media comes for you, you won't survive it/they will lash at you" is a line that stuck out to me some seconds ago. I really like this. Social critiquing that is thoughtful and personally linked, good writing and storytelling. Great way to close.
Final Thoughts
Throughout his career, A-Q has always been the sort of rap artist who takes every opportunity to assert himself and rebel against systems he deems as unfavourable. 'GOLDEN' is the latest addition to his unyielding catalogue, packed with self-serving proclamations and steadfast indictments of society. It's the work of a man whose main concerns have shifted considerably; he's no longer entirely focused on proving his worth to an establishment that presses against lyricists, he's more interested in enforcing his worldview in the face of social and political systems he sees as defective.
Here, he references marquee protests from the last year and diagnoses the gross imbalance capitalism engenders. He also raps of his technical superiority and details the increased personal security Christian spirituality has helped him with. 'GOLDEN' is an of-the-moment project, curated by a weary and observant mind who's taken stock of the happenings since his last put out music. At times, it gets preachy but it's never unbearable because the purpose of these songs are always clear.
With all the positives going for it, 'GOLDEN' doesn't mark any artistic or thematic leaps for A-Q. The beats, mainly supplied by close collaborator BeatsByJayy, lean into his recently emboldened preference for soul samples, and the rapping remains sturdy, wordy, declarative and sometimes provocative. Lasting just shy of the twenty-minute mark, 'GOLDEN' is the equivalent of a status update; it's not an entirely riveting statement, but it's serviceable enough to make for a complete thought.
Listen to 'GOLDEN' here.
---
@dennisadepeter is a staff writer at the NATIVE.
---