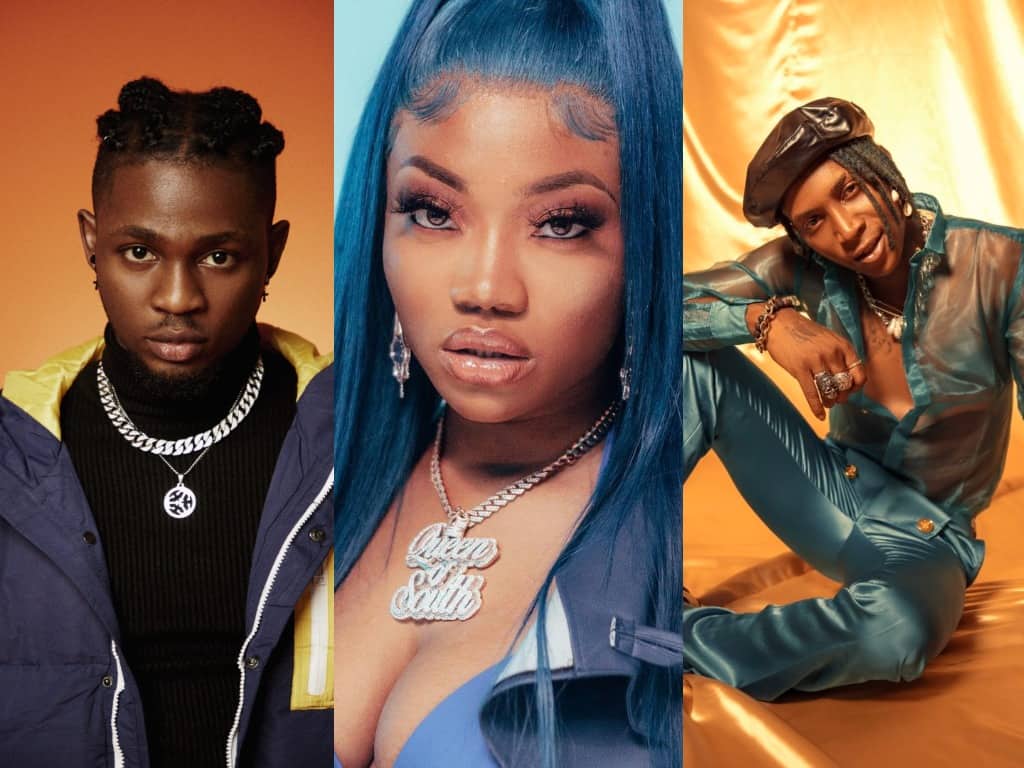 Songs Of The Day: New Music From Omah Lay, Bella Shmurda, Shaybo & More
new music to kickstart your weekend
As we cross into the second half of the year, the amount of music we consume continues to grow exponentially by the second. With amazing songs dropping at an unrelenting pace, it's not always easy to cut through the noise and the sheer volume of it all to find the music that will accompany our melancholy, inspire our next creative breakthrough, allow us our loved ones more securely, or take us to a place of unencumbered elation.
That's where our 'Songs of the Day' column comes in. We try to keep our fingers on the pulse of music from across the continent and beyond, bringing you exciting songs from talented musicians who are continuously trying to bounds of artistry with their music. Earlier this week, we brought you new releases from BOJ, Teni, Costa Titch, Kwesi Arthur, Show Dem Camp, and much more. For this weekend curation, our roundup includes recent drops from Omah Lay, Shaybo, Straffiti, Bella Shmurda, The Cavemen, Adekunle Gold, Kida Kudz, and much more. Enjoy. 
Omah Lay – "Understand"
Since delivering his sophomore EP 'What Have We Done' late last year, Port Harcourt's brightest star Omah Lay has been relatively quiet only appearing on a string of collaborations this year including Ajebo Hustler's "Pronto" and Gyakie's "Forever Remix", a mainstay on the TurnTable charts at the time of its release. For his first solo release this year, the singer is baring his heart on his sleeves on the Tempoe-produced "Understand". Over twinkling keys and Afropop drums, he sings "I thought we in this together/Give you my last card, you spend am/I show you my best friend, you friend am" he sings, addressing a past lover that has depleted his love rather than nurtured it.
Shaybo – "Friendly" (feat. Haile)
This year, Shaybo has been on quite the run. Earlier in the year, the rapper released the gritty number "Streets", the Dream Doll-assisted "Broke Boyz" and the charming number "Mud". Now, the self-proclaimed Queen of the South is back with a new single, this time titled "Friendly" and featuring WSTRN's Haile. Over the breezy, summery production, Shaybo and Haile deliver a Patois-inflected hook and verse made for the summertime. "Nah nigga I ain't friendly/What the point in putting the time in when you're temporary/I know I need a baller but I hope he ain't messy" Shaybo raps over the song's first verse, unafraid to mince her words and going in full-force on these niggas and opps.
Adekunle Gold – "Sinner" (feat. Lucky Daye)
After releasing the honest number "It Is What It Is" earlier this year, Afropop singer, Adekunle Gold is back with a new single titled "Sinner" which features Lucky Daye. The Marcel Akunwata-produced single is inspired by the story of King David and Bathsheba and their sexual and romantic relationship in the Bible. "Loving you be my greatest sin/Said I was done but see I'm here" he sings over the song's mellow production, addressing a love interest who can't seem to run away from. "Sinner" is said to be the second promotional single from the singer's forthcoming album slated for later this year.
Bella Shmurda – "Out There"
On "Out There", the opening track for his sophomore EP 'High Tension 2.0', Bella Shmurda directly addresses his fans with encouraging words. "Don't you stop Mr soldier man, life is a battleground/You have to win the war, I know it's crazy out there" he quips over the song's glittering production, arming them with the affirmations and tools they would need to weather life's tempestuous storms. The singer admits that life is hard but reminds listeners to never forget who they are and stay grounded in this certainty to get them through life.
Sarkodie – "Vibration" ft. Vic Mensa
During his stay in his home country, Ghana, rapper Vic Mensa has spent his time linking up with the host of incredible talent out in the West African country. His latest appearance is on "Vibration", the latest single from Ghanaian rapper, Sarkodie. The bass-thumping new number finds both rappers trading bars about getting their shit popping and moving on a different vibration than the rest of the pack. The accompanying music video directed by Babs Directions finds both rappers performing their verses while flashing an enviable collection of sports cars.
The Cavemen – "Selense"
After delivering their debut album 'Roots' which won the Headies Alternative album of the year, The Cavemen are back with their first official single of the year titled "Selense". Over a highlife-infused production, they sing "Give me, give me love, make we jolly/Kulu kulu baby/You make me go high", addressing a love interest who seems to be fronting for their love. The pair manage to serenade this woman with their groovy sounds and glittering guitar-led keys, a feature that seems to dominate most of their recent releases.
Martinses  & Lady Donli – "Jaiye Omo" (feat. Idris Lawal & Aunty Jerry)
For the most part of the year, Lady Donli has been on the down-low but it seems that is finally coming to an end as she teases new music on her Instagram. However, before we receive any solo releases from the Abuja-based singer, she's released a new collaboration titled "Jaiye Omo" with Martinses, Idris Lawal and Aunty Jerry. The new single is a house-music-inspired number that perfectly infuses Yoruba folk elements within it. "Jaiye omo, o kin wole omo/Oh baby baby, come and get it down with me" quips Lady Donli on the song's intro inviting and enticing a love interest to come and have a good time with her.
Straffiti, PartickxxLee & Kashcpt – "Cakes"
For his second official single of the year, rapper Straffiti links up with peers PatrickxxLee and Kashcpt for a braggadocious new single titled "Cakes". The new single finds all three artists rapping about getting their shit popping and the type of partner they need in their lives. Over the song's catchy production, Straffiti quips "I need a bad bitch that could hold a tec/And I want to hit a savage that could count my cakes" on the song's hook, as he lays down what it takes to roll with a rapper like him.
Kida Kudz, Gemitaiz – Figure 8
Uk-based Nigerian rapper Kida Kudz is gearing up for the release of his new project titled 'TOP MEMBA'. Ahead of its release, he's been sharing the song's promotional singles including the Bella Shmurda-assisted "Ball Till We Fall" and "Makavelli". His latest single "Figure 8" sees the rapper in a new light as he lays down a stellar verse over a distinct guitar-led beat infused with Spanish elements. He features Italian rapper Gemitaiz who makes the song more memorable by delivering a verse that fits perfectly into the song's sensual mood.
Big Drip – "Get me lit" (feat. Laime)
There's nothing more infuriating than losing a bag and rappers, Big Drip and Laime know this all too well. On their latest single "Get Me Lit", the pair voice their frustrations on spending far too much, all too soon on the baddest women (I can't say I feel their pain LOL). "All she know is get me lit, now she wanna chop my finish cause she wanna get me lit" quips Laime over the song's hook, speaking directly to his muse as both rappers explain their insatiable need to level up.
Featured image credits/Instagram
---