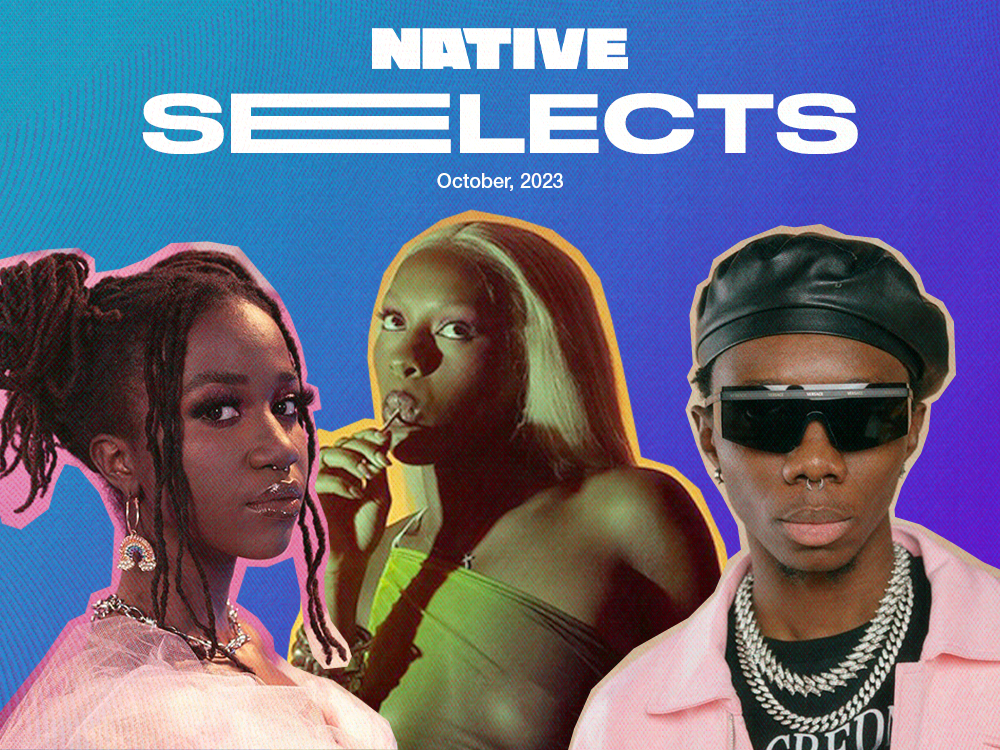 NATIVE Selects: New Music From Brazy, Blaqbonez, Maya Amolo & More
Latest songs for the weekend
It's that time again. Every week, new music shows up, sweeping fans and music lovers off their feet while artists gauge reactions to know the effect of their creativity. At the NATIVE, we are committed to keeping our ears on the pulse of the music scene and bringing the best sounds to your doorstep. In our last edition, we brought you stellar new releases from Shallipopi, BOJ & Abjebutter22, Tim Lyre and more. Today's NATIVE Selects features singles from Blaqbonez, Maya Amolo, Bantwanas, Shatta Wale and more. Lock in!
---
BLAQBONEZ – "BAD TILL ETERNITY" FT. ZLATAN
Fresh off the 2023 Hennessy Cypher alongside LADIPOE and Vector, Blaqbonez and Zlatan link up for the former's newest single "Bad Till Eternity." Blaqbonez and Zlatan orchestrate an Afropop performance over a Hip-Hop bounce, singing about the rise to acclaim despite the challenges against them. "Bad Till Eternity" is another step towards Blaqbonez's forthcoming studio album 'Emeka Must Shine.'
BRAZY – "OMG"
Nigerian rapper and singer Brazy treads the same path of dance music as she did on 2022's "Attends" with "OMG." She bounces on the energetic beat with deft flows while exuding a magnetic appeal that makes the track fun and bubbly. Nothing is wasted throughout the song's two-minute runtime as Brazy enjoys herself and also takes veiled shots at her haters.
SKIIBII, SEYI VIBEZ & TENI – "CBN" FT. REEKADO BANKS & MAYORKUN
The trio of Skiibii, Seyi Vibez and Teni unite for a fun, appreciative vibe on "CBN." Over Highlife-influenced production, they sing, "Dem dey wonder how I spend," boasting about their wealth. They invite Reekado Banks and Mayorkun to participate in the joy of the track, with both adding more colour to the song.
MAYA AMOLO – "WILDIN'"
Kenya's Maya Amolo follows up her 2022 debut album with a deluxe version titled 'Asali (Sweeter).'  This project contains new tracks including the previously released single "Cotton Candy." One of the standouts from the deluxe project is "Wildin'" wherein Maya Amolo appeals to her lover's feelings as she describes activities she wants to enjoy with them. Maya's vocals serenade throughout the song, highlighting her talent and precise songwriting.
KIDA KUDZ – "BANGER" FT.  BOJ & PHEELZ
Kida Kudz unveils a two-song pack housing "Banger" and "National Anthem." On the former, Kida Kudz and BOJ, over Pheelz's production, play the roles of suave 'bad guys,' who get their wins effortlessly and are confident about their abilities. BOJ gives an enjoyable hook, Kida Kudz's verses carry energy and Pheelz's production shines with mastery.
DUNNIE – "JALO" 
Talented producer and musician Dunnie has always created music which is intricately woven into her heart's desires. Hers is a natural love for positive, hearty narratives, and her new project 'ANOMALY' reiterates that artistic vision. On the lead single "Jalo," she sings lovingly about the merits of affection, asking for the same goodness as she gives. Pairing mellow drums with bright, self-chorused vocals, an intimate, groovy feeling is realised, again proving Dunnie's pristine song-making qualities. 
SHATTA WALE & TEKNO – "INCOMING"
Ghana and Nigeria's music collaborations are ever present throughout history. Ghana's Shatta Wale and Nigeria's Tekno deepen that tradition with "Incoming," a melodic rendition of their longevity in the music industry. "All I chase is my peace of mind/E get some things that I don't subscribe/Bad from time for a long long time/From a long long time," Shatta Wale sings. Tekno and Shatta Wale have a winner with "Incoming."
SEYI SHAY – "DOING ME" FT. MIGZ & ARIEL
Seyi Shay has earned her stripes in the music industry. Yet, she seeks reinvention. On her latest project 'Feels Like Home, Vol. 1,' she tests her boundaries with sound with a fusion of Afrobeats and Afrohouse. On "Doing Me," she establishes her manifesto about focusing on her path and making the best out of it. She takes to the song perfectly, the rolling drums and pianos guiding her.
BANTWANAS – "MUSA"
South African music collective Bantwanas release their second single of the year in the hypnotic "Musa." The song is Bantwanas' "ode to the masses" with help from Sino Msolo, who writes and performs the song. Banzi Mazimela's Afrohouse production carries stirring vocals, invoking a spiritual yet happiness-filled vibe that will get listeners thinking and bobbing their heads.
JAYWILLZ – "PULL UP" 
Nigerian singer Jaywillz enters an introspective mood on his new single "Pull Up," reminiscing on his journey and the accomplishments he has achieved. "First believe then embrace it/If you have a dream, then chase it/Every day is getting closer/This life, you need to be bold," he sings. While the song calls for contemplation, it still demands that you dance away the worries and focus on the light.
KRIZBEATZ FT. 1DA BANTON & MBOSSO – "ABENA (ADM REMIX)" 
For a while now, Krizbeatz has been one of the most prominent producers across Africa. His distinct utilisation of percussion saw him heralded as a leading light of Afro Dance Music, which pairs zesty electronic sounds with an Afro base. On the deluxe version of his 'King of the New Wave' project, he creates this spellbinding reimagination of "Abena". The tone of the voices is as evocative as ever, but it's the party-evoking touches which bring a new dimension to the record, making it a new song all over again.
LAIK – "AHJE"
American-Sierra Leonean artist Laik is a  smooth operator "Ahje," combining his Hip-Hop sensibilities with an Afrobeats bounce as he thanks the Almighty for his family – both those with familial bonds and those friends-turned-brothers. "I'm on a roll (Eh)/Ain't nobody stopping me (No way)/Me and my G (Eh)/We be making money (All day)," he sings. Laik is one to watch.
---
Words By Uzoma Ihejirika & Emmanuel Esomnofu
---
Featured image credits/NATIVE