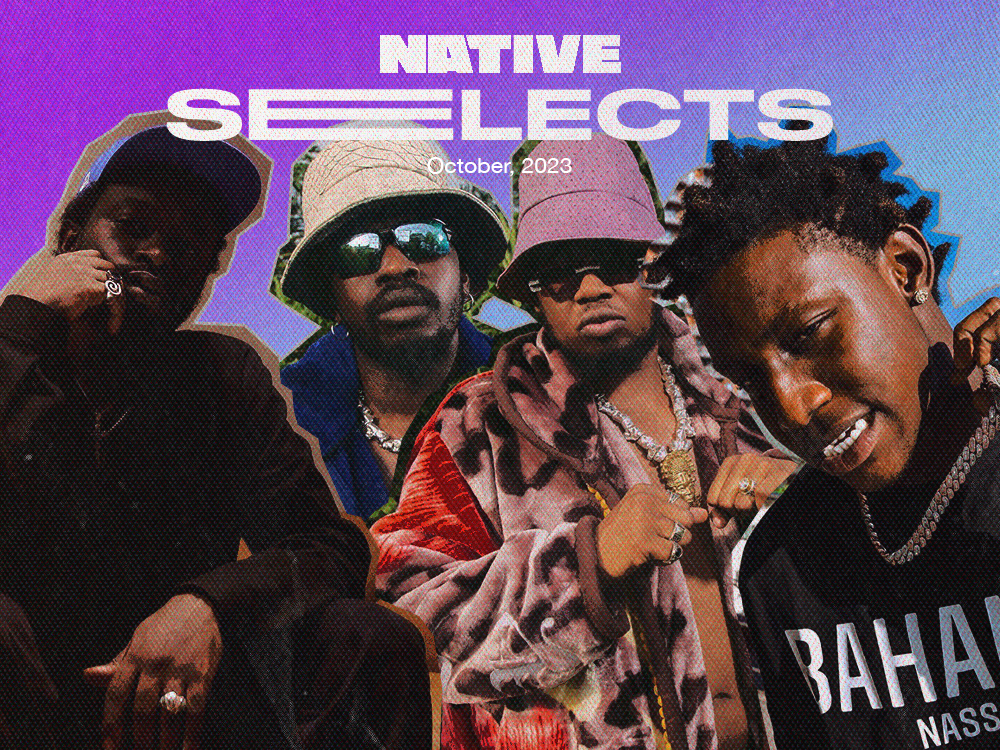 NATIVE Selects: New Music From Shallipopi, Ajebutter22 & Tim Lyre
New tunes for the weekend
It's that time again. Every week, new music shows up, sweeping fans and music lovers off their feet while artists gauge reactions to know the effect of their creativity. At the NATIVE, we are committed to keeping our ears on the pulse of the music scene and bringing the best sounds to your doorstep. In our last edition, we brought you stellar new releases from  Dope Caesar, Jujuboy and more. Today's NATIVE Selects features singles from Shallipopi, Rema, WurlD and more. Lock in!
---
SHALLIPOPI – "THINGS ON THINGS" & "OSCROH (PEPPERLINE)"
Shallipopi ups the ante with two singles, fresh off the release of the music video to "Obapluto." On "Things on Things," he fires warnings at his detractors on social media. He taps the nostalgia of a nursery rhyme on "Oscroh (Pepperline)," boasting about the new level he's entered in his career. Both tracks are produced by Busy Pluto, who sets them on an Amapiano template.
LIL DURK – "ALL MY LIFE" FT. J. COLE & BURNA BOY
American act Lil Durk has released the remixes to his track "All My Life" with J. Cole. One of the remixes features Nigerian singer Burna Boy. With his verse,  Burna Boy maintains the ground-to-the-top storyline of the song, narrating his come-up and his current success. "Head fucked up as a young buck/Seven years couldn't leave my continent/Came to America, sell out stadiums and turn up," he raps.
BOJ & AJEBUTTER22 – "RORA" 
Ahead of their forthcoming tape 'Make E No Cause Fight 3,' BOJ and Ajebutter22 unveil the lead single "Rora." Produced by Spax, "Rora" is a delightful Afropop tune with rich melodies borne from percussion, drums and saxophone. BOJ and Ajebutter22 glide over the track, pouring out their feelings to a love interest.
ICE SPICE & REMA – "PRETTY GIRL"
The American-Nigerian music collaborations continue with Ice Spice and Rema's "Pretty Girl." Both artists make the track a fun ride about romantic promises; they complement each other with a playfulness in their verses and hook. Ice Spice's verses ooze confidence and Rema's chorus colours the song with his distinct vocals.
DJ NEPTUNE & JOEBOY – "MUMU"
DJ Neptune and Joeboy have an effective partnership, as 2020's "Nobody" with Mr Eazi and 2021's "Abeg" with Omah Lay has proven. On "Mumu," produced by Signal, Joeboy is the star of the show, opening up about his feelings for a love interest and how it doesn't make him weak. Signal's Afropop/Highlife production is also a winner.
MAYORKUN – "LOWKEY!"
Mayorkun follows up "For Daddy" with new single "Lowkey!" Both tracks are from his forthcoming EP 'Love.. For Free.' On "Lowkey!" Mayorkun addresses grievances suffered at the hands of people who have undermined him. "If you too sweet dem go lick you finish/If you want peace dem go break you pieces/The matter pass my hand/E scatter all my plans," he sings.
WURLD – "SARAFINA"
Nigerian singer WurlD explores the romantic and sexual on latest single "Sarafina." "See ya with ya bum bum/Na fun fun killa/Anytime she call, I Dey run go give her /Anything she want, I Dey rush deliver," he sings.  "Sarafina" is part of his EP 'Don't Get Used to This,' which is scheduled to be released in November.
TIM LYRE & MINZ – "TIGHTER"
Tim Lyre and Minz perform magic on "Tighter," a fine tune of seduction and romance. Both artists shine on Dare Kasali's production, flowing effortlessly on the Pop-adjacent track. They sing to a love interest, with the word 'tighter' serving as a representation of commitment and sexual tenacity. "Tighter" is from Tim Lyre's forthcoming project 'Masta.'
SKALES – "DON'T SAY MUCH"
For those in the know, Skales has been reinventing himself of late, releasing self-aware songs which reveal an artist who's still peeling into the depth of his stories. On his latest track "Don't Say Much," a breezy production sets the tone for his heartfelt lyrics, as he probes the motions of his life, speaking to how it's sometimes seemed his career went the other way. Beyond the exhilarating vibe and the poignant lyricism, it's the weightless admission of Skales that makes this one of the better songs released this period. 
EMA ONIGAH – "SIDEMIRROR" 
In recent years, the soundscape of Afropop has been colourfully expanded by young artists who are impressing their distinct styles on its conventions. One such artist is the Lagos-based Ema Onigah, who's been working with the likes of veteran producer Ozedikus and writing songs for Tekno, among other known artists. From Onigah's debut EP 'DUST OFF' comes this record, which sets a prescient mood while unfurling several themes with Ema's razor-sharp delivery. It bares his growth over the years while showcasing his handle on everyday topics such as love and the desire to steer one's destiny with precaution and finesse.
---
Words By Uzoma Ihejirika & Emmanuel Esomnofu
---
Featured image credits/NATIVE