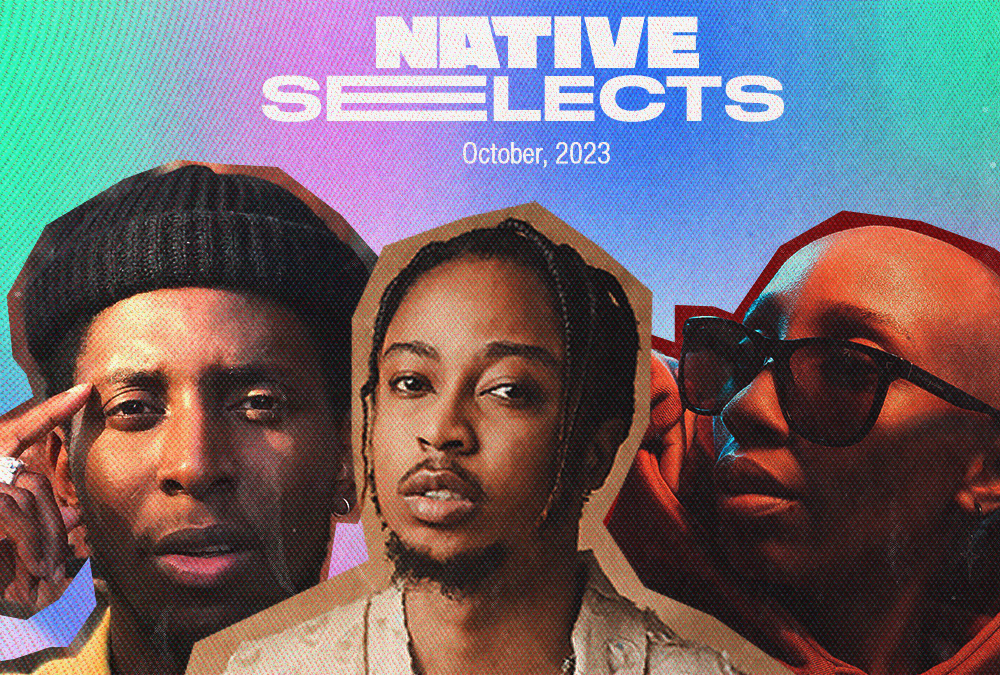 NATIVE Selects: New Music from Dope Caesar, Samm Henshaw, Jujuboy & More
New tunes to soundtrack your weekend
It's that time again. Every week, new music shows up, sweeping fans and music lovers off their feet while artists gauge reactions to know the effect of their creativity. At the NATIVE, we are committed to keeping our ears on the pulse of the music scene and bringing the best sounds to your doorstep. In our last edition, we brought you stellar new releases from Suté Iwar, Kabza De Small, Ayra Starr and more. Today, we've already spotlighted new projects from ODUMODUBLVCK, Nissi and more, as well as Tems' new single. In addition to that, today's NATIVE Selects features singles from Dope Caesar, Jujuboy and more. Lock in!
---
DOPE CAESAR, FAVE & AJEBO HUSTLERS – "POP SERMON" 
Nigerian DJ Dope Caesar teams up with artists Fave and Ajebo Hustlers on "Pop Sermon," an upbeat anthem of affirmation of their dreams and prayers. "There's power in the tongue o/As I sing this song o/Twenty million people/Dem go holla still dey jump o/Me I live it up, me no fit no give it up," Ajebo Hustlers sing. The track pulses with Dancehall elements suffixed with Afropop.
AJEBO HUSTLERS – "NO WAM"
Afropop duo Ajebo Hustlers have always been keen to explore different issues and emotions concerning themselves and people in general. On their latest single "No Wam," they touch on the complexities in romantic relationships where parties seek to outdo themselves in deception rather than take the honest route. "No Wam" makes for a smooth, easy listen.
BELLA SHMURDA – "MY BROTHER"
With the country still mourning the death of MohBad, tributes have continued to pour in his honour. The latest comes in the form of the track "My Brother" by Bella Shmurda, who narrates the close relationship he shared with MohBad. The under-two-minute track is a soul-stirring homage to friendship and music and a reminder that though death happens, memories live forever. 
SPYRO – "ONLY FINE GIRL"
Ahead of his 'Next Rated' EP, Spyro unveils the lead single "Only Fine Girl." Produced by Bashanything, the track, Amapiano-inflected, serves as a way for Spyro to praise his romantic partner about the qualities he appreciates in her. The hook utilises the call-and-response method, involving listeners in Spyro's admittance of love.
SAMM HENSHAW – "JUMOKE"
British-Nigerian singer Samm Henshaw is a well-known name in the UK music scene. With a healthy discography, Samm has added his colour to the R&B/Soul soundscape, associating with names like James Bay, Maya Delilah, Chance the Rapper and Wretch 32, among others. He takes his first stab at the Afrobeats genre on his new single "Jumoke," a delightful ballad about love and its lasting power. On the song, Samm doesn't sound out of place, showing versatility.
SEYI SHAY – "BOBO"
"Bobo" is Seyi Shay's first solo track since releasing the album 'Big Girl' in 2021. On her latest single, she ventures into dance, as "Bobo" is an upbeat medley of thumping bass, drums and dashing instruments. The track is dedicated to a man who catches Seyi's attention and she calls out to him, revealing her feelings for him—both romantic and sexual.
JUJUBOY & BANX & RANX – "JAMES BOND"
Following his single "Spaceman" earlier in the year, Jujuboy returns with a new single, accompanied by music production duo Banx & Ranx. On "James Bond," Jujuboy assumes the sophistication of the famed movie character, opening up about the ease of his life. "Fine guys like us, we raw dinner/Pull up in a beamer like James Bond/Fine guys like us, see the drip/See as we dey drip like say na rain fall," he sings. "James Bond" is another fine outing from Jujuboy who's showing promising signs.
TOBY GREY – "HONEY & SPICE"
"I just wanna love you to the morning/Love you anytime of the day," Toby Grey sings on "Honey & Spice," her latest single. She appraises her romantic partner, detailing her intentions and the emotions they elicit in them. "Honey & Spice" is an easy ride through Toby's fine singing and effective songwriting.
---