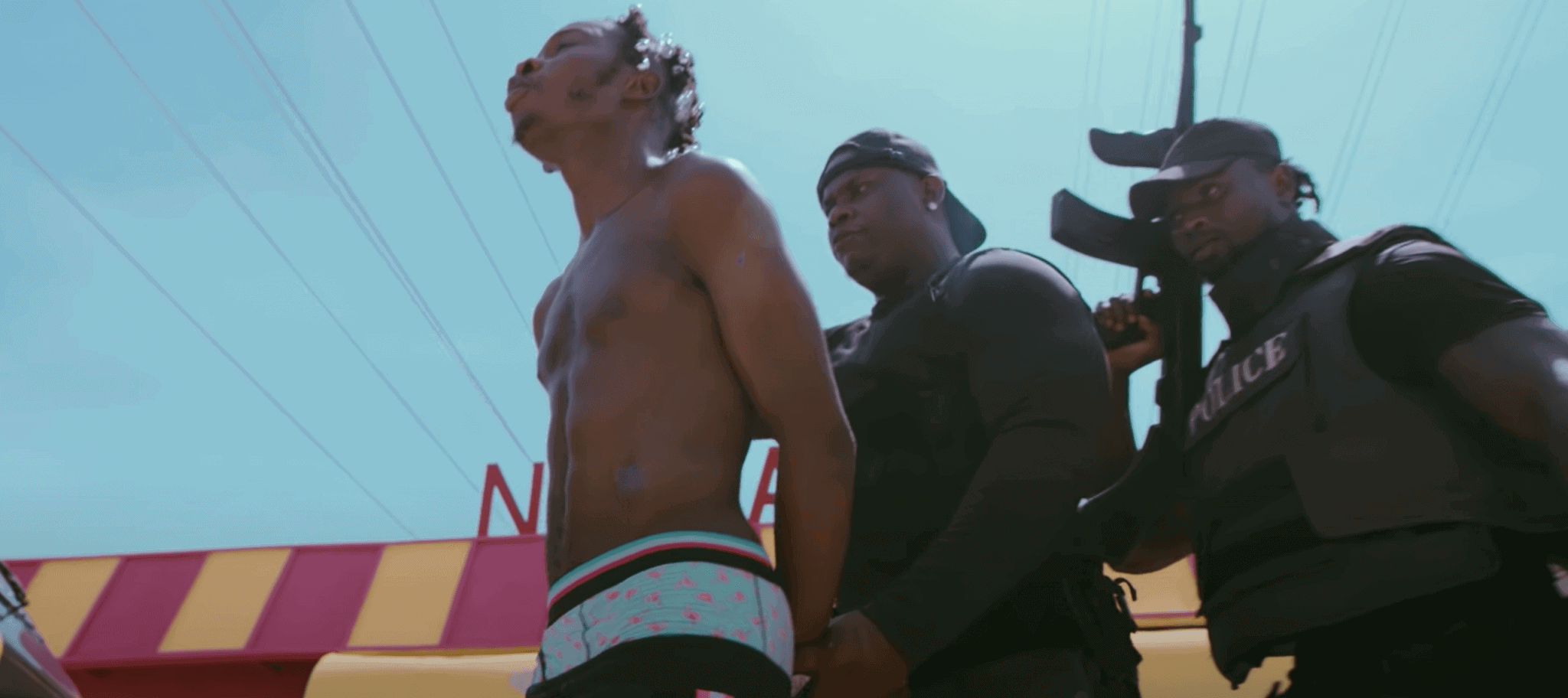 Musicians cannot lead the #EndSars movement, they can join
Examining the role celebrities play in our revolution
Written by Wale Oloworekende
---
Last Tuesday, near the end of his Instagram Live chat with DCP Frank Mba, the spokesperson of the Nigerian Police Force, Naira Marley had something on his mind. Seemingly out of the blue, the singer delivered a vitriolic warning to the over 30,00-strong audience that had tuned in for the live chat. Speaking in Yoruba, he said: "Now that SARS are being taken out of the streets," –  a weirdly optimistic point considering precedents –  "ensure that you don't misbehave or steal, if not they'll let another (rebranded) unit back out. "
It is symptomatic of a certain group of  Nigerians' perception of –  or even apprehension towards –  youth movements that Naira Marley felt the need to tag on this counter-narrative. Especially at a time when the nation was coming to terms with a national crisis about how an instrument of the state that is primarily entrusted with the protection of citizens is engaged in a lucrative racket at the expense of those very citizens –  ironically, mere moments after Naira's live session ended, fresh reports of police extortion and brutality reached the Internet and have continued unabated leading to unlawful arrest, and tragically, in some cases, losses of life.  
In a further kicker, just as he prepared to get off the live session, Naira Marley intoned that he had nothing to lose if all went to hell. Taken in isolation, it might seem like an unnecessarily harsh thing to say to a people looking up to him as a leading figure –  at that time – in the fight against police brutality, but if you really want a truly holistic view of what he was trying to say with these closing remarks (if you can pardon the banal peek at his limited understanding of the issues affecting young Nigerians) you'll understand that it is a reflection of Naira Marley's reality.  
By virtue of his celebrity, Naira is insulated from the too-often survivalist, brutal reality of more than 80% of the Nigerian citizenry. He is of a specific Nigeria, whose own problems might be fantastical chimaeras for the majority of this country; so, to put it very plainly, Naira Marley does not truly comprehend the scope of how insidious and dehumanising it is to have your everyday life hawked over by a tactical unit originally set up to protect against armed robbery. What he does understand is the privilege that life in his bubble can confer and the potential for a continued prosperous existence if the illusion of a calm, unproblematic Nigeria can be kept up. But, at that moment, the biggest danger was this: that in Naira Marley's hands, the #EndSars hashtag, currently serving as a repository of our generation's evolving abolitionist instinct towards oppressive instruments of the state, faced the threat of petering out into another chance for the police to foot-drag and pontificate over an issue that continues to end the lives of young Nigerians. 
Fortunately, the days since that live chat have been characterised by everything but the inaction that the Nigerian Police Force hoped for from Nigerian youths. Young people everywhere are protesting, criticising, and disrupting with the ultimate goal of getting a response and point of action from the government. As protests have continued across the country, driven by an egalitarian spirit of camaraderie, Naira Marley has continued to tweet, and the reaction to his statements reflect a more pertinent question: what is the place of music stars in the #EndSars and our wider protest culture.
The brief platforming of Naira Marley in the opening days of the movement owes much to the run of singles he went on in 2019 that established him as one of the biggest pop stars in the country. After receiving criticism for his support of cybercrime in the early months of last year, Naira's songs piqued curiosity and caught attention for the lascivious themes that dominated them, the air of dissent that cruised through his music, as well as spinning a fraud allegation into a larger-than-life stance of irreverence that birthed a strong stan base named after himself. Surgically going after layers of puritanical culture with every line of his in 2019, Naira Marley endeared himself to an emergent generation of young Nigerians tired of being creatively and economically stifled who often imbued his more reflective songs with pseudo-philosophical meanings.  
Between his status as a popular dissenter, clashes with the Nigerian judicial system, and Nigeria's famed lack of leadership of youth, Naira's voice has been both a place of recognition for young Nigerians and a cultural resonant power, continuing the time-honoured tradition of popular Nigerian musicians having the soft power to reflect the voice of the people and wink at their requests in their music. The most popular protest musician in Nigerian history is undoubtedly Fela Anikulapo-Kuti, the famed maverick who invented afrobeat, using his sonic creation as an unabashed political tool to speak truth to power and make music geared at social revolution. By the time Fela passed in 1997, he had spent a significant part of his adulthood as a political martyr, straddling the thin line between dissident and musician. 
📍Airport Road, Lagos. #ENDSARSNOW pic.twitter.com/J9tLpX2OtS

— The NATIVE (@NativeMag) October 12, 2020
None of the musicians who have come after Fela have matched up to the weighty clarity of his social equality demands as a protest musician or even possess the guttural sucker punch of his music. Naira Marley, for all his Fela-like stances and interpolations, has never matched up in this regard and when the time came to lead a protest, didn't. His platform was meant to be the trigger for a class-crossing social movement but ultimately that proved not to be. Importantly, beyond making music, Fela had a firm grasp on the political realities of the community around him and the wider African continent, something that is key for anyone trying to improve their society beyond the posturing of agitprop –  which cannot be totally said about any of the musicians who have attempted to make protest music after him, 
Runtown is not the most politically vocal Nigerian celebrity, however, he lent his platform to the #EndSars movement, becoming the first musician to amplify the message beyond the labyrinth of social media and empathise with the struggle in a way any average Nigerian youth can relate to –  from a place of weariness and righteous anger. Summoning a coalition of the willing, he joined a protest on Lagos Island, taking off at the LagosToll Gate. Runtown was joined by Falz, Tiwa Savage, WurlD, and Jaywon, and instead of concerted efforts at elevating their profiles through the visibility of the protests, the musicians simply lit the fire for what has now evolved into a social revolution across the country, giving speeches and moral support to people who came out. 
One way or the other, most of the seminal voices of the Nigerian music industry have contributed their voices to the protests after some days of inertia. Rudeboy called the SARS unit "criminals", Mr. Eazi provided a more succinct reaction, saying that police reforms were needed while referencing the tragic murder of the Apo Six. In the opening days though, nobody shook the table quite like Wizkid did, when he quote-tweeted a get-well-message to Donald Trump from President Buhari's handle, to demand action and going on a brief back-and-forth with Lauretta Onochie, an aide to the President. 
Donald trump is not your business!
Old man! Police/Sarz still killing
Nigerian youth on a daily! Do something!
Nothing concern u for America!
Face your country !! https://t.co/thxmoYb7VE
— Wizkid (@wizkidayo) October 4, 2020
A dedicated campaign to bring the demand of the youth to international attention also caught the notice of celebrities across the world. Shatta Wale released a song titled "Fuck Sars." Cardi B brought significant exposure to the problem, Trey Songz has amplified the message with a series of social media posts, as has Kirk Franklin; similarly, a number of footballing stars like Mesut Ozil, Fikayo Tomori, and Tammy Abraham have stood with the Nigerian youth
The woke culture of the 2010s has fully blossomed, breeding a hyper-aware generation of music consumers who have urged –  read: dragged –  Nigerian celebrities like Toyin Abraham to confront their privileges and insulation their stardom (which given to them by their audiences' voices) provides them. Burna Boy has built a global brand off his perceptions of and responses to the ills of the wider Nigerian problem but was silent –  due to his mother's surgery, he explained –  in the early days of the movement and upon returning to social media has continued to polarise opinions. On one hand, he's creating an NGO to help with logistical needs and on the other, alienating observers with the condescending tone of some of his messaging. 
With all this happening,  the #EndSars protests have taken off. Coming years after the high-handedness of SARS and other police divisions had been identified as part of a systemic rot, the movement is an oasis of frustration and outpouring of trauma for many, that even the disappointment of Naira Marley's no-show could not stem. Clearly learning from that incidence –  and other civil protests in the past –  our generation are emphasising an anomalous system of hierarchy that accentuates horizontal structuring and does not centre any figure. 
The most impactful pop musicians of the movement have been those who have found their footing, using their platforms, community organising skills, and activism to bolster the movement, within this fluid structure: while Runtown led the way, Small Doctor has also shown up, organising a group of protester to take the agitation to the Lagos state capital all the way from Agege. Skales joined a peaceful protest in Ilorin. Oxlade convened a protest across Surulere that has now surely cranked up the heat on the state government and national legislative. Davido used his social capital as a literal bulletproof against twitchy-fingered policemen in Abuja while negotiating the release of arrested protesters. Wizkid galvanized the crowd with his presence at the Nigerian Embassy London and Adekunle Gold played a role in organising a protest against SARS in Houston. 
Without possessing the institutional knowledge of public laws, mobilisation techniques, and effective organising that mark out activists, music celebrities seem to have found an alternate role in protest as lodestars to strengthen the weary and urge increased  participation online and offline. Yet, the Nigerian police and authorities, perhaps sensing an opportunity to play to some of their egos, have targeted them as weak links. Using the dialogue offer made to Naira Marley, the Nigerian Police Force has corralled Davido into an 'agreement' whose entirety has not been made public and predicated on a framework that does not have the majority backing of the protesters who have sacrificed so much in the fields and online. 
Through it all, Davido's "Fem" has emerged as the song of the movement, perfectly capturing the exasperation –  and unbroken spirit –  of youths and young adults everywhere from Ibadan to Benin and Abuja. Joining Fela's "Zombie" African China's "Mr. President" and Eedris Abdulkareem's "Jaga Jaga", "Fem" will now be remembered as the song of our revolution, as a left-centre addition to the canon of Nigerian protest music. But Davido's contributions to the protest does not give him the key to leadership and hopefully, he realises this. 
Now is not the time to look to musicians and celebrities to lead the charge for a moral right, not when they wittingly and unwittingly benefit from the current situation of things in ways that obfuscate the true toll of Nigeria's problems for them. They can touch a glimpse of our struggle in their creative endeavours but shared identity is not shared reality in any way. And with unconfirmed rumour that the police plan to withdraw mobile police protection from visible celebrities, we can only wonder what happens to their activism?
Are they willing to deal with the true face of the Nigerian collapse, are they willing to lose certain privileges to call out who needs to be called out? The coming days will reveal the answer to this but we should be prepared to bring our music stars from the glorified pedestals we have placed them and lead our charge with or without them. 
Featured image credits/YagazieEmezi
---
Please share any useful information about #ENDSARS protests @nativemag
---