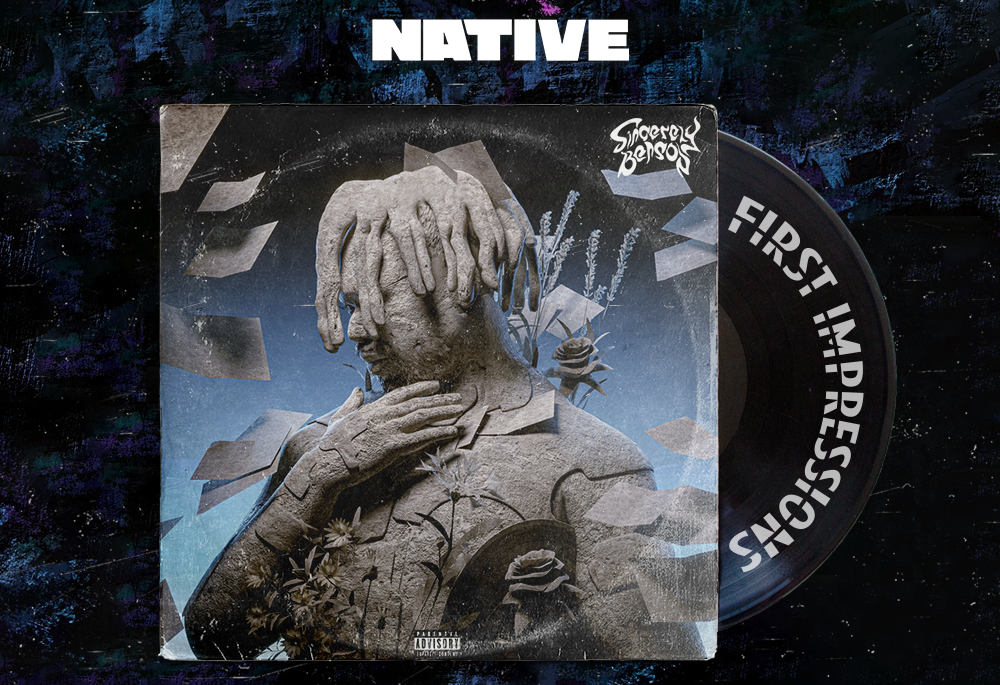 Our First Impressions of BNXN's Debut Album, 'Sincerely, Benson'
Featuring 2Baba, Seyi Vibez, Popcaan & more.
2023 has been a fruitful year for albums. Perhaps they haven't all reached the desired strata of public reception, but their presence has been inescapable still. From the biggest artists to rising figures making incursions into the centre of mainstream attention, it's been a particularly curious year. Among the many album releases, one of the more anticipated has been that of the singer BNXN whose stock has consistently risen over the years. The artist previously known as BUJU has seemed to have always been in our faces, his dulcet-toned songs and impeccable lyricism impressing vivid hues on our minds. 
It's no surprise then that BNXN's debut album would be a high point in the Afropop Calendar for 2023. Having released the EPs 'Sorry I'm Late' and 'Bad Since '97' in two successive years, the musician's ethos has been revealed; his knack for relatable storytelling, his saccharine crooning, the representation of his early years as an artist and the scenes which inspired his resolve. But as always, the growth potential would be relished by any disciplined artist, and the album form grants the space to wiggle with big, important creative ideas. 
'Sincerely, Benson' comes already with an autobiographical promise, but there are several exciting features brought in to diversify the experience. From the legendary 2Baba to pop savants Kizz Daniel and Seyi Vibez, the rising artist Taves and Jamaican mainstay Popcaan, it's the most exciting guestlist BNXN has put up. This is especially wholesome considering how the singer eagerly contributes to the sonic tapestry of the songs of other artists, and before now entering a fine feature run which includes Jae5's "Propeller", Qing Madi's "Ole" and Stefflon Don's "What's Poppin". 
There are a lot of things going on for BNXN and it's expected that his debut album would reflect those joys and considerations. After our first listen, here are The NATIVE's team of writers sharing their early thoughts on 'Sincerely, Benson'.
View this post on Instagram
WHAT WERE YOUR EXPECTATIONS COMING INTO THIS ALBUM?
Dennis: I was high on BNXN immediately "Energy" put him on NATIVE's radar, and after seeing him drum up notoriety with a Zlatan feature. It's also incredibly impressive that he's surged to greater heights after a record deal-induced lull but, after two really good EPs and four-plus years of being familiar with his ability, dropping a debut album doesn't fill me with a lot of excitement. Expectation-wise, I just wanted a really memorable first full-length but, for me, 'Sincerely, Benson' is just a tier above serviceable.
Emmanuel: Impressive has been a consistent word to describe BNXN and coming into this, there was that weight of it being his debut album. Because his two EPs have left disparate emotions, I was eager to hear what he'd do with this, especially in regard to his musical direction. Everyone knows Buju is a beast with the pen but the production hasn't always stepped up to par. Listening to 'Sincerely, Benson', it's evident that aspect was paid great attention to, and on that scale it meets—I would say exceed, but give me more listens—prior expectations. 
WHAT SONG RESONATES THE MOST ON FIRST LISTEN? 
Uzoma: There are others but "Party Don't Stop" caught my attention. It sounds like nothing BNXN has ever been on. It's a bubbly electro-pop song that BNXN masterfully controls; his vocals and the production sit comfortably with each other.
Chigoziri: "Gwagalada" still does it for me every time but to stray away from familiar music, I'll pick "Best of Me." Right from the beginning, the electric guitar and light cymbal taps immediately caught my attention before hearing the artist's voice perfectly riding on the rhythm. 
Nwanneamaka: Interestingly enough, I'd say "Party Don't Stop" because the production is unlike anything I've ever heard from BNXN. It has this Dance meets Pop soundscape I'm not mad at and I was also surprised to hear Leriq's producer tag at the beginning. I wouldn't say it's my favourite song but it stands out and with good reason.  
WHAT ARE YOUR IMMEDIATE THOUGHTS ON THE MUSICAL CHOICES? 
Dennis: By now, everybody knows BNXN has a sonic preference, ambient but groovy soundscapes that amplify the lilt of his rustic-toned voice and evocative writing. He's versatile, no doubt, and there's proof on this album; sampling MAGIC! and Wyclef Jean, as well as the lustrous electropop cut, "Party Don't Stop". For the most part, he hews closely to what he prefers, and there are marks for cohesion and solid execution, but there really isn't any swooping sense of wonder to the music.
Uzoma: BNXN knows his strengths and sticks to them. He made a thing out of soulful R&B/Pop songs that he inhabits with clear distinct vocals and inflections. 'Sincerely, Benson' greatly benefits from this, and also, the 15 tracks keep it tidy and enjoyable—anything longer than that would have spoiled the fun. 
Emmanuel: The music on here was quite exciting. For the first time, we saw BNXN trying out fresh sounds, and a good number of them worked well. I thought the pacing was also well done, in that the album started from a reflective tone before moving into more urgent rhythms and then petering out again before it ends on a smooth level. Pace and structure are a struggle for many Afropop albums and it's great how this comes together.
View this post on Instagram
WHICH FEATURE STOOD OUT TO YOU? 
Chigoziri: Popcaan's verse on "Final Answer" stood out to me and also doubles as one of my favourites on the album. The Jamaican singer has been on a roll this year partnering up with Patoranking on "Tonight" and Burna Boy on "Abobooya" for his (Popcaan) Deluxe album, 'Great is He'. Hearing him again on Benson's track, I think I'm slowly becoming a fan. Being tasked to finish the song and essentially wrap up the entire album, it's safe to say Popcaan did justice to it. 
Nwanneamaka: BNXN is a feature god in the sense that he consistently delivers a near-perfect performance when tapped on other artist's songs. That being said, it was interesting to see how other acts performed within this curated soundscape and if that synergy was translated. On a first listen, I cannot say that I'd rush to playback any features but if I absolutely had to choose, I'd go for Taves-assisted "Realise." He sets the brooding mood of a track in the lightest possible way and blends quite smoothly alongside BNXN's vocals. 
WHAT'S THE POTENTIAL SIGNIFICANCE OF 'SINCERELY, BENSON' TO BNXN'S ARTISTRY? 
Chigoziri: Being his debut album, I must say it's very impressive. From the project's features to the excellent writing and his evocative voice, Benson knows what the people want and continues to serve dutifully. 'Sincerely, Benson' proves that he's on his way up and forward as there's no turning back from here. 
Uzoma: As far as debut albums go, 'Sincerely, Benson' is a solid work. He chose to focus on the styles and topics that play to his strength. Another winning quality for the project is BNXN's songwriting; they are taut and adequate to push the songs over the line. While he's been mocked for only winning on features, 'Sincerely, Benson' is proof he can hold his own over a full-length body of work. The sonics and messaging of the project all scream the clearest thoughts of BNXN.
Dennis: 'Sincerely, Benson' is more of a reinforcement than it is an eye-opener. Where you could say recent debut albums by Omah Lay and Obongjayar revealed one or more new layers to their artistry, the same can't really be said for BNXN. Inherently, that's not a bad thing. I'd rather translate this project as the work of an artist who knows his strengths, especially as a songwriter, and has properly distilled them into 14 well-chiselled songs. It's a formidable showing, ear-holding if not entirely transportive.
---