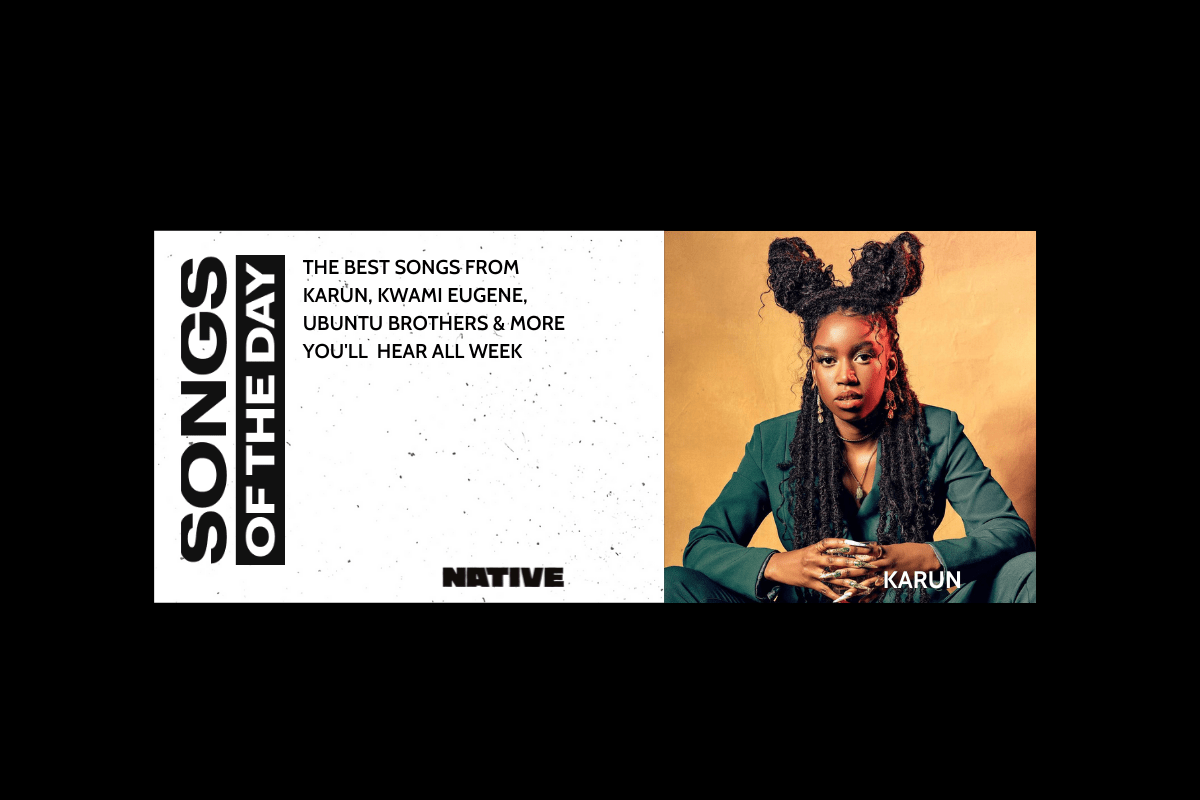 Songs Of The Day: New Music From Karun, Kwami Eugene, Suté Iwar & More
new music for your playlists
2022 is no longer a new year, and Afropop knows that very well. As much as the previous year was packed with scene-defining achievements, especially within the context of global growth, the only way to keep the momentum from falling off is for artists to keep reaching into their bag for great music that holds the ears and captures the hearts of millions of listeners across the continent and well beyond. That's exactly what's been happening, so much so that there's hundreds of new singles, at-least one new must-hear album and a new smash hit every week.
Amid this torrent of new music, the NATIVE is committed to highlighting the best releases you need to hear, and possibly add to your playlists. That's the essence of our 'Songs of the Day' column. On Monday, we shared new music from Moonga K., Ibeji, Skillz 8Figure, Kwaku DMC, Laycon, Bahati and more. This Wednesday, we have new drops from Davido, Karun, Kwami Eugene, Ubuntu Brothers, and more.
Davido – "Stand Strong" ft. Sunday Choir
Following the release of his first solo single for the year, "Stand Strong," Davido has followed this up with the song's official video. Featuring Sunday Choir, the beautiful video is shot on an island beach. It progresses from clips of Davido sitting in a room with rays of Sunshine as he watches himself through an old television box. As the second verse opens up, Davido is seen fraternising with his fans sending a clear message that he's appreciative of their support.
Jinku & Karun – "Passenger 555"
Off their forthcoming collaborative EP, Kenyan singers Jinku and Karun have released a new single titled "Passenger 555." Thematically, the song tackles the fact that change is inevitable which is symbolised through the angel numbers '555.' Over the catchy slow-tempo production, Karun and Jinka take listeners on a spiritual sonic journey against a backdrop of swelling keys and a delectable bass guitar line. "Passeneger 555," also serves as the promotional single for their collaborative EP of the same name, which will be released later this year.
Fireboy DML – "Playboy"
Since its release earlier this year, Fireboy DML's "Playboy" has been making the rounds on local and international charts. Now the singer expands the world around the song by sharing the official video to his latest single. Just as the name suggests, Fireboy plays the neighbourhood playboy who is surrounded by a multitude of beautiful ladies. Across the visual feast, viewers can see cameos from Rema as the pair feature in a casino scene while playing against a group of women.
Kuami Eugene – "Take Away"
For Ghanaian singer Kuami Eugene, music is a euphoric experience. After experiencing enormous success at the Indigo at the O2 which he performed at earlier this year, the singer has now shared his first single of the year titled, "Take Away." The infectious number finds him pouring out his affections for a love interest whose affections for him are fickle and monetary based. Singing lyrics such as "If you no get money, anything you say be funny/They are taking your babes away," Kwami Eugene delivers a catchy and enjoyable track. "Take Away" also serves as the lead single from his upcoming EP 'Rags 2 Riches'.
Suté Iwar – "Alright, Ok"
Following the release of 2021's '199X,' Suté Iwar shares a new single titled "alright, ok" which comes released with a new video. On "alright, ok," Sutè Iwar tells a reflective story in a monochrome video. Telling the story of two people in love, the monochrome effect creates a powerful visual which tells a story about love and loss.
Ubuntu Brothers – "Barcadi WayY"
Multitalented South African songwriters Ubuntu Brothers share a new track titled, "Barcadi WayY," an Amapiano number amid the current piano craze. Taken from their album 'Everlasting – 5th Musical Episode,' the song lacks vocals which is a reflection of their talent as producers getting you completely hooked with the instrumentals. The log synths live to a true testament that Amapiano gets you up with an energetic vibe.
Phinoshey – "Good Feels ft. An!Les
Not much is known about Jazz and Hip-Hop rapper Phinoshey. On his latest release, "Good Feels," the rapper incorporates melancholic quips, poetic refrains and dreamy lyrics to create an enjoyable listening experience. The new single also features songbird An!Les whose high pitched vocals complement Phinoshey's sure flow, as the pair preach together on positivity.
Featured image credits/NATIVE