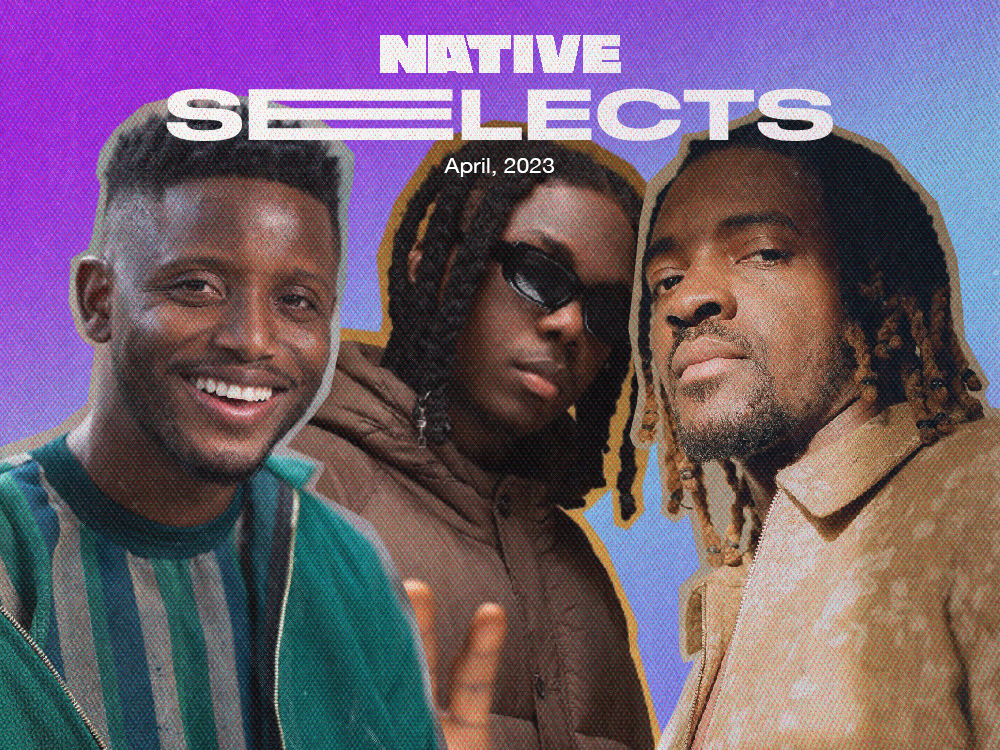 NATIVE Selects: New Music from Bayanni, Chike, Erigga & More
new tunes for the week
It's that time again. Every week, new music shows up, sweeping fans and music lovers off their feet while artists gauge reactions to know the effect of their creativity. At the NATIVE, we are committed to keeping our ears on the pulse of the music scene and bringing the best sounds to your doorstep.
Last week, we brought you stellar new releases from Prettyboy D-O, Ayra Starr, Oxlade, Candy Bleakz and more. Today, we have songs that move from Afropop to Amapiano to R&B, with our  select artists showcasing their unending talent and passion for creativity. Lock in!
BAYANNI – "TA TA TA (REMIX)" FT. JASON DERULO
Fresh off "Ta Ta Ta" winning the Best Viral Breakthrough Song at the Urban Music Awards, Mavin Records' Bayanni updates his hit track with a remix featuring American artist Jason Derulo. Derulo adds new energy to the song, merging with its theme as he sings, "Please keep the lights off, don't like those off/We could vibe with our clothes off and make love til we doze off."
Uzoma Ihejirika
CHIKE – "ON FIRE" (PANA TIME) (FROM GANGS OF LAGOS)
Nigerian singer and songwriter Chike exposed us to a new and refreshing side to his sound as he delivers a sleek performance on "On Fire" for the recently released Gangs of Lagos. Introduced with mellow keys, Chike's soft vocals warm up our ears with the assistance of the Amapiano-infused beat. Dipping into his heritage, Chike delivers an emotional rendition in Igbo as he asks for God's strength through a tumultuous journey. Midway through the track, Chike adds rapper under his belt as he effortlessly switches between Igbo and English to reiterate the track's message of relentlessness 
Nwanneamaka Igwe
ERIGGA – "POT OF STEW" 
On his first single of 2023, Nigerian rapper Erigga furthers his quest for self-growth and expansion with "Pot of Stew."  Over solemn piano keys and a soft-bellied bass, he fills the track with prayers—"New Benz amen new crib amen/Vacation amen new monеy amen"—as he narrates the economic difficulties that prevent Nigerians from succeeding in the country. In the end, the prophecies that he will succeed despite the obstacles.
Uzoma
GUVNA B – "AMPLIFY" FT. DARKOVIBES
UK rapper Guvna B taps Ghanaian act DarkoVibes for "Amplify," an uplifting tune about overcoming tough life situations. Guvna B, who is a child of Ghanaian parents, reminisces about his background and sacrifices he made at the start of his career. DarkoVibes' chorus, amid the backup choral vocals, is the icing on the cake, "praying to the heavenly father" to amplify his and Guvna B's wins.
Uzoma
DABIEH & TS GRAYE –  "GRACIE'S THERAPY." 
Sitting alongside "livin on the line." in a two-pack release, "gracie's therapy.," outstanding producer Dabieh taps British pop singer, TS Graye for a soulful rendition about love gone sour. Through the slow-tempo beat laced with subtle drum drum patterns, Graye's harmonious vocals shine through the tracks filled with sweet-sounding melodies and heart-warming messages of conflicting emotions.  
Nwanneamaka
SANKI – "ON GOD"
The best musicians are those who can turn life experiences into poignant music. Sanki showcases that quality on "On God," the budding musician's latest record. "Some kind things no dey bother me, like when the fake ones dem brother me," he sings in the opening lyric, his vocals smoothly delivering on the song's aspirational theme. With soulful strings matching the mellow percussive base, the Nigerian artist sets a great precedent for his forthcoming album, 'Anthems & Vibes, Vol. 1'. 
Emmanuel Esomonofu
6TH QUAN – "65 NIGHTS"
Earlier in the year, Nigerian act 6th Quan released the deluxe version of his 'Rebirth' project. Now, the singer/producer returns with a new single "65 Nights," where he purges his emotions as he expresses his longing for a loved one. "["65 Nights" is] about the yearning for reconnection, the ache of missing someone, reminiscing on the promises you both held to heart and the hope that keeps you going even in despair," he says. 
Uzoma
Featured Image Credits/The NATIVE