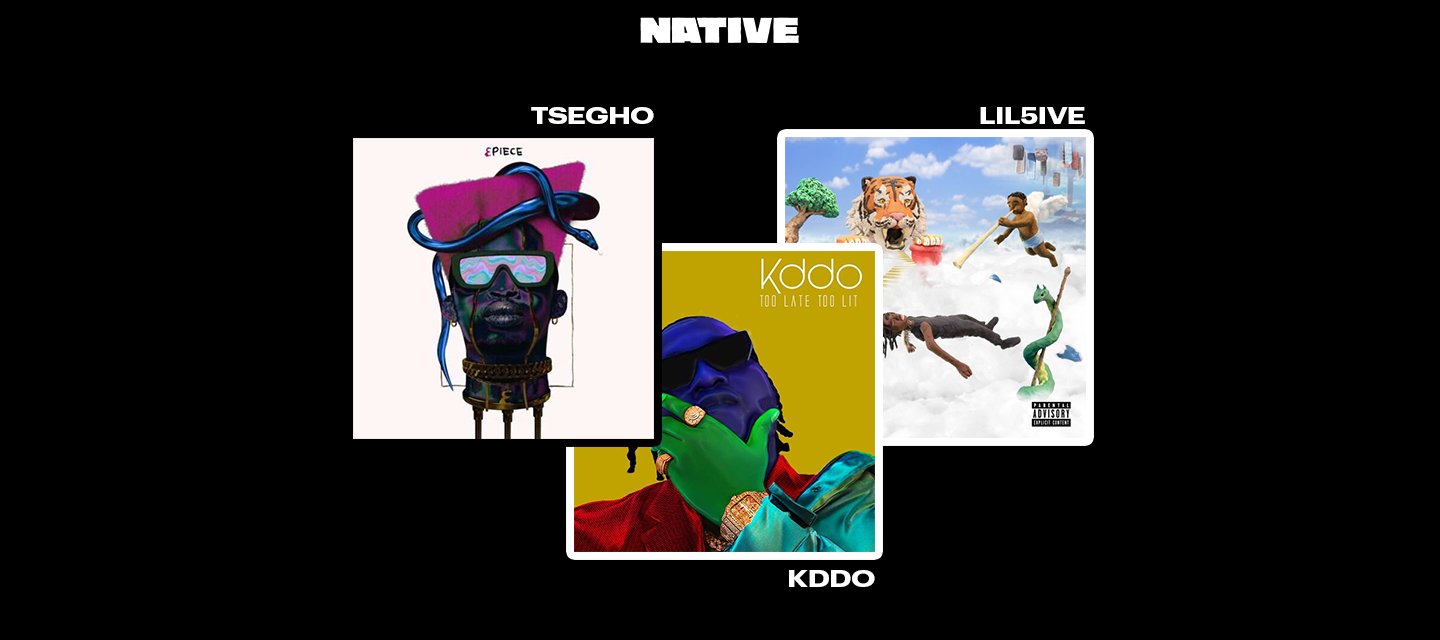 11 Projects You May Have Missed This Year
Featuring Serena Isioma, Victoria Kimani & more
In 2021, making an end-of-year list is a complicated act for any newsroom. It can be hard to keep up with the rapid pace of events in today's system of hype and overexposure, particularly in light of the tumultuous change of the past year. With notable advancements in social media over the past decade, the worth of a song has now come to mean how many likes, views, clicks, and shares it generates.
Nevertheless, good music doesn't deserve to be slept on. In the past year, we've seen the beginning of a monumental shift towards artists on the continent releasing full bodies of work. This year is no different. In the past eleven months, we've seen artists such as Mavin's Ayra Starr and Magixx release debut albums and EPs, Wizkid release the deluxe version to his magnum opus 'Made In Lagos', and even Phyno release his eight studio album 'Something To Live For.'
With the sheer amount of projects in circulation, it's easy to miss out on good music that's not typically on your radar. That's why we've done the job of sifting through the chaff and sourcing out some of the best projects that may have missed your new music rotation. From Victoria Kimani's daring effort 'Spirit Animal' to Lil5ive's experimental offering 'Dreams and Imaginations', here are 11 projects we believe you may have missed this year. Enjoy.
11. Reggie – 'Two Times A Guy'
Without Reggie, the gnarling, explosive but hyper vivid interpretation of Drill music that has come to be known as Asakaa would not exist as we know it. According to Life Living Records head honcho, Sean Lifer, hearing Reggies's trappy flow layered over Drill beats on his 2020 single "Akata Gang Gang" was a turning point for the Kumasi-based label. It inspired a pivot to the Drill-based production styles and cadence that catapulted the scene to global attention. On '2 Times A Guy,' Reggie gives a concise introduction to his fluid style, spitting mellow but urgent bars over the brooding beats. Across the 18-minute runtime of the tape, Reggie keeps his Soul and Trap essence, as he exorcises his insecurities and demons on melody-led drill cuts like "Riches," as well setting the scene for scuttling posse cut as he does effectively on the maximal remix of "Akata Gang Gang. "
Wale O.
10. Ibejii – 'Intermission'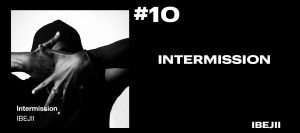 On 'Intermission,' all the feelings that have been explored in Ibejii's prior works– pride, joy, anger, and frustration–bubble to the surface accompanied by narrative-driven folklore and poetic mastery of language. "Gonto" is a candid but soulful rebuke of the casual insensitivity of governments across the world in the wake of the tragedies of 2020 as well as a celebration of a new age of awakening. Still, 'Intermission' is a project about finding hope and exhilaration in even the strangest of places, and the beaming lights of "Happy Me" scream radical joy like very few songs have this year.
Wale O.
9. Victoria Kimani – 'Spirit Animal'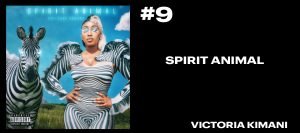 "Addis to Freetown, I shut down every town/Rihanna in the summer," coos Victoria Kimani in the opening seconds of "Born Stunna," the first track on her fourth studio album 'Spirit Animal.' As boastful as these lyrics may seem on first listen, they lay bare the reality of Kimani's place in the current musical zeitgeist. Regarded as one of the leading female voices in East Africa's Afropop scene, Kimani has spent the past few years satisfying a legion of grassroots audiences in her hometown. With the release of 'Spirit Animal,' the singer meticulously crafts a body of work that allows her to traverse beyond familiar shores. Here, she employs the help of a strong cast of cross-continental acts including street poet, Bella Shmurda, West African romantic crooner, KiDi, Bella Alubo, Lady Du and more, for a refreshingly unfiltered, multi-genre body of work that deserves to be heard.
Tami
8. Serena Isioma – 'Crying In The Club'
Fast emerging Chicago-based, Nigeria-born newcomer, Serena Isioma is moving the needle on their creative output yet again. Pairing experimental production with timeless, silky vocals, the non-binary singer rounded off the year with the release of their third EP titled 'Crying In The Club.' While their bubbly high-spirited productions may have masked melancholic lyrics, they still navigate the typical markers of nascent adulthood in America as Serena weaves poignant, intimate stories about love, life, becoming, racism, and more. As they continues to examine their own complex wiring and that of their listeners, Serena Isioma is inching towards the Pop powerhouse they are capable of becoming.
Tami
7. Tshego – '3 Piece'
Tshego's '3 Piece' is a humble offering that clocks in at barely under 10 minutes yet, its spot on this list remains irrefutable. As a producer-artist, Tshego's ear for melodies is always on the beat as he brings the warmth of lush soundscapes and dreamy vocals to South Africa's Trap scene. Covering topics such as love, sex, becoming, and more, '3 Piece' finds the rapper running a span of moods as fires off lines that fits perfectly within his futuristic production. With help from other hometown heroes such as Shekhinah, Blxckie, and more, the rapper delivers a fine showcase of his versatility and technical writing ability.
Wonu
6. KDDO – 'Too Late Too Lit'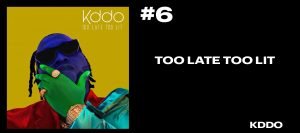 On the 8-song set 'TOO LATE TOO LIT', producer-artist, KDDO – as he goes by these days – delivers a musically varied project, dabbling into Amapiano, Gqom, Nigerian Pop, Hip-Hop, R&B, and Highlife. He's joined by a diverse cast of guests, including Davido, Jidenna, Mayorkun, and The Cavemen, each fitting into the particular style of these songs. For the musical broadness and all the featured artists, 'TOO LATE TOO LIT' is defined by KDDO's powers as a songwriter and elite Pop music arranger. The songs on the project are supercharged for catchiness, with KDDO leading the way with memorable hooks and earworm melodies. As much as there are recruited guests to compliment him, he's at the centre of everything, self-producing the entire tape and generally shaping it to mirror his consistent willingness to create hyper pop slappers made for listeners to enjoy and get lit to.
Dennis
5. King Lutendo – 'Zwi Dziki'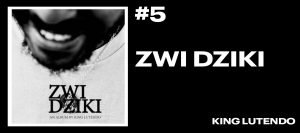 King Lutendo is undoubtedly one of the most prolific rap artists on the continent. In the two-plus years since his debut full-length, MAVU, he's shared eight projects, including five (!) this year alone. 'ZWI DZIKI', his second project this year, fits into his overall impulse for unbridled personal expression. The 11-track tape is the rapper at his most honest. Here, he expels his demons and shores up his confidence with a clearer understanding of how much control he really has over his life. Also exclusively self-produced, like the rest of his projects, 'ZWI DZIKI' consolidates on his go-to experimental fusion of Electronic music and Afro-Soul, adding flourishes of Rock and R&B for an inventive, widescreen but ultimately unified sound palette. In his brimming catalogue, 'ZWI DZIKI' is arguably the most complete front-to-back representation of King Lutendo as one of the best indie rap auteurs in Africa.
Dennis
4. Jake Doe – 'Terms and Conditions'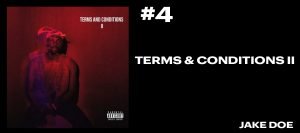 In Jake Doe's dusky world, pleasure and pain collide into each other with an alarming velocity. His 2021 project, 'Terms and Conditions II,' is a return to the thematic pluralism of his earliest music while possessing an invincible aura that comes from maturing as a person and singer. Employing his nasal vocal delivery, and a savant-like knack for story-telling, the singer is both unbothered and attentive across the eight songs that form 'Terms and Conditions II.' When guests like Deji Abdul and Dreylo join, Jake Doe opens up space for their unique sounds to propel the listening experience to greater heights while aligning their work within his world. In many ways, Jake Doe continues on the path of alternative music that 'Terms and Conditions I' showed he was capable of, only he's more sure-footed here.
Wale
3. Turunesh – 'Satin Cassette'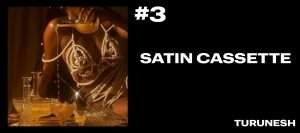 Tanzanian singer, Turunesh's 'Satin Cassette' is one of the year's best-kept secrets. Released back in September, the project is a well-rounded piece of work that showcases the singer's ability to meld various genres to her own will. On the 12 track EP, the Fresh Meat alum delivers otherwordly melodies about the beauty of one's first love, woven and delivered through euphoric sounds that the singer terms as 'fabric music', a moniker for music inspired by satin fabric and its similarities to her silky voice. On standout "Rum & Butter," she sings about the beauty of Black love weaving in other familiar themes such as sex and intimacy into its poignant storytelling while on other tracks like "Tinga Tinga" and "Zanzibar Spice", she adopts her native tongue Kiswahili into her lyrics. While the music is emotionally layered and beautifully written, each song seems to reaffirm her beliefs and stance on the sexual freedom and expression of African women.
Ada
2. Suté Iwar – '199X'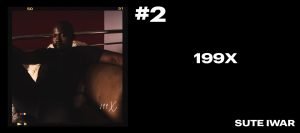 Since the release of 'Bantu Collective,' it's been clear to most that Abuja-based artist, Suté Iwar possesses one of the most remarkable and unique voices of our generation. Earlier in June, he further proved this with the release of his latest album titled '199x'. Here, he melds his knack for groovy Alternative Hip-Hop with the enthralling sounds of R&B, Afropop, Soul, and more to weave relatable stories about love and loss. On '199x,' Suté places less emphasis on featured artists and more focus on his solo material, toeing a similar line to his earlier works such as 2019's 'Paradise.' Nonetheless, those who he invites into his world, his talented brother, Tay Iwar and fierce newcomer, SGaWD are given ample space to showcase their enviable flow without detracting from Suté's brilliance.
Ada
1. Lil5ive – 'Dreams & Imaginations'
Fresh meat alum, Lil5ive captured the hearts of many with his 2019 hit single "Omo Ologo," a daring tale about life on the streets of Lagos, Nigeria. Since then, he's only doubled down on showcasing his artistry with the release of his debut EP, a riveting tape that serves as an amalgam of his eclectic preferences, from moody, piano-rife beats to enthralling Afropop melodies, contemporary R&B ticks and Trap cadences. The 6-track tape finds the rapper running a span of moods and themes, whether it's detailing his demons ("Drugs"), shrugging off the opps ("Where"), or simply speaking on romantic love as a young man in these romantically complicated times ("Feelings"). Showcasing a mixture of clear-cut delivery, style and fierce rhyming skills, Lil5ive's 'Dreams & Imaginations,' is an unmissable body of work from an artist still defining themselves in certain terms.
Wonu
Featured image credits/NATIVE
---
Written by Ada Nwakor, Dennis Ade-Peter, Wale Oloworekende, Wonu Osikoya and Tami Makinde