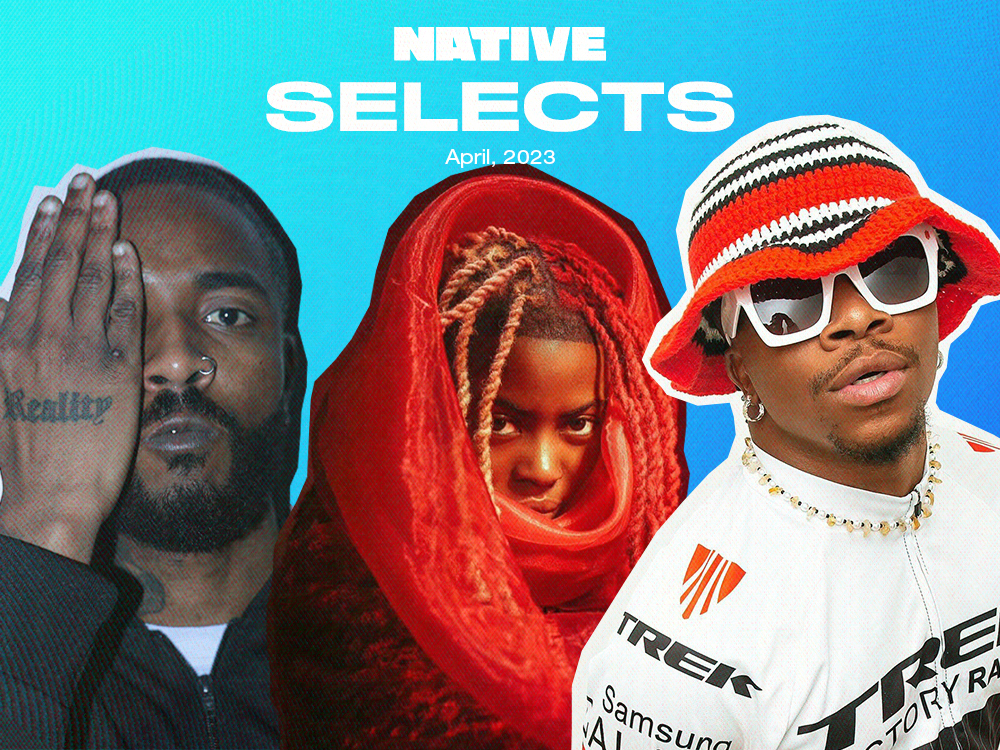 NATIVE Selects: New Music from Prettyboy D-O, Oxlade, Ayra Starr & more
kickstart your weekend with new tunes
It's that time again. Every week, new music shows up, sweeping fans and music lovers off their feet while artists gauge reactions to know the effect of their creativity. At the NATIVE, we are committed to keeping our ears on the pulse of the music scene and bringing the best sounds to your doorstep.
Earlier in the week, we brought you stellar new releases from Johnny Drille, Darkoo, Joeboy and more. Today, we have songs that move from Afropop to Amapiano to R&B, with our  select artists showcasing their unending talent and passion for creativity. Lock in!
PRETTYBOY D-O – "KOROKORO"
After months of teasing across social media platforms, self-assured rapper, Prettyboy D-O has dropped his second single of the year, just days after his recently released solo "It's Different." On the DARE-produced track, D-O's "korokoro" leads in with sharp and echoey cult-like chants and soft keys. Following a daunting intro, D-O's hard-hitting bars take centre stage on the eccentric instrumentals as his effortless, rhythmic flow rides the wave of the beat. His brisk delivery on the track explains that his enemies can never see him fall as he raps a prayer, "May my pride never a weakness, If I fall may my opps never bear witness."
DJ BIG N, AYRA STARR & OXLADE – "HOW MANY TIMES"
Two of the Afropop's youngest and freshest faces join forces with DJ and producer, Big N for a slow-tempo, melodious track, "How Many Times." Evidently heavy with emotions, Mavin's pop princess better known as Sabi Girl lead us into the track with her soothing ad-libs accompanied by mellow piano keys. Still holding a ting of excitement, some energetic drum patterns guide Oxlade as he takes the first verse, reassuring his love interesting and encouraging her to shutout all distractions and naysayers in their relationship. Ayra Starr delivers a mellifluous response explaining that actions speak louder than words and their love story might be a lost cause.
CANDY BLEAKZ – "WALE"
Sitting at the forefront of Street-pop with the likes of Zinoleesky and Zlatan, Candy Bleakz's flow and rustic bars undeniably pushes the envelope of the domineering genre with every release. Following her feature on SHOLZ's "Vex," assisted by Teezee and Odumodublvck, Candy Bleakz drops her first solo of the year, "Wale." Another story of the hustle to make it -a common theme of the genre- Candy Bleakz open up on a vulnerable note of the stresses she experiences on a regular basis. She reiterates the cries of her mother who desperately misses her and wants her to return home. However, she is dedicated to the grind and evidently isn't stopping anytime soon.
KOREDE BELLO & MR EAZI – "JEJELY"
After a relatively quiet 2022 with only two releases under his belt, Koredo Bello makes a resounding come back into the scene with the assistance of Mr Eazi on "Jejely." If the cover art and song title -which loosely translates to taking things easy/slowly- didn't already suggest that the pair are in a relaxed mode, the airy instrumentals of the mid-tempo track did. Korede Bello sings of steering clear away from all stresses as he searches for peace of mind. Over soothing drum patterns, he delivers wordless harmonies on the intoxicating hook and Mr Eazi reiterates the tracks message as he croons, "Problem no day finish so I'm choosing my peace." 
MANNYWELLZ – "MAGIC"
An assured tune a few short seconds into the track, a groovy beat leads us into Mannywellz's recently released single, "Magic." When his intoxicating vocals commence the track, it is clear that Mannywellz is here to serenade his listeners and surely enough he does just that. He showers his love interest on the sensual track, sparing no details to let her know the stronghold she has over him. He is undoubtedly smitten as his smooth vocals and dreamy guitar strings hold a promise of love and passion that knows no bounds.
MOHBAD – "ASK ABOUT ME"
With an already quick start to the year, Mohbad continues reshaping his craft with consistent, back to back releases and his recent Amapiano effort, "Ask About Me." It's always a guaranteed good time when you hear the rhythmic drum beats and lush shakers commonplace in Amapiano but Mohbad takes this a step further with warm saxophone chord and background chants, reminiscent of a harmonious church choir. On a mellow note, Mohbad's vocals swell with appreciation of his journey thus far, armed with bars in Yoruba and English.
Featured Image Credits/The NATIVE