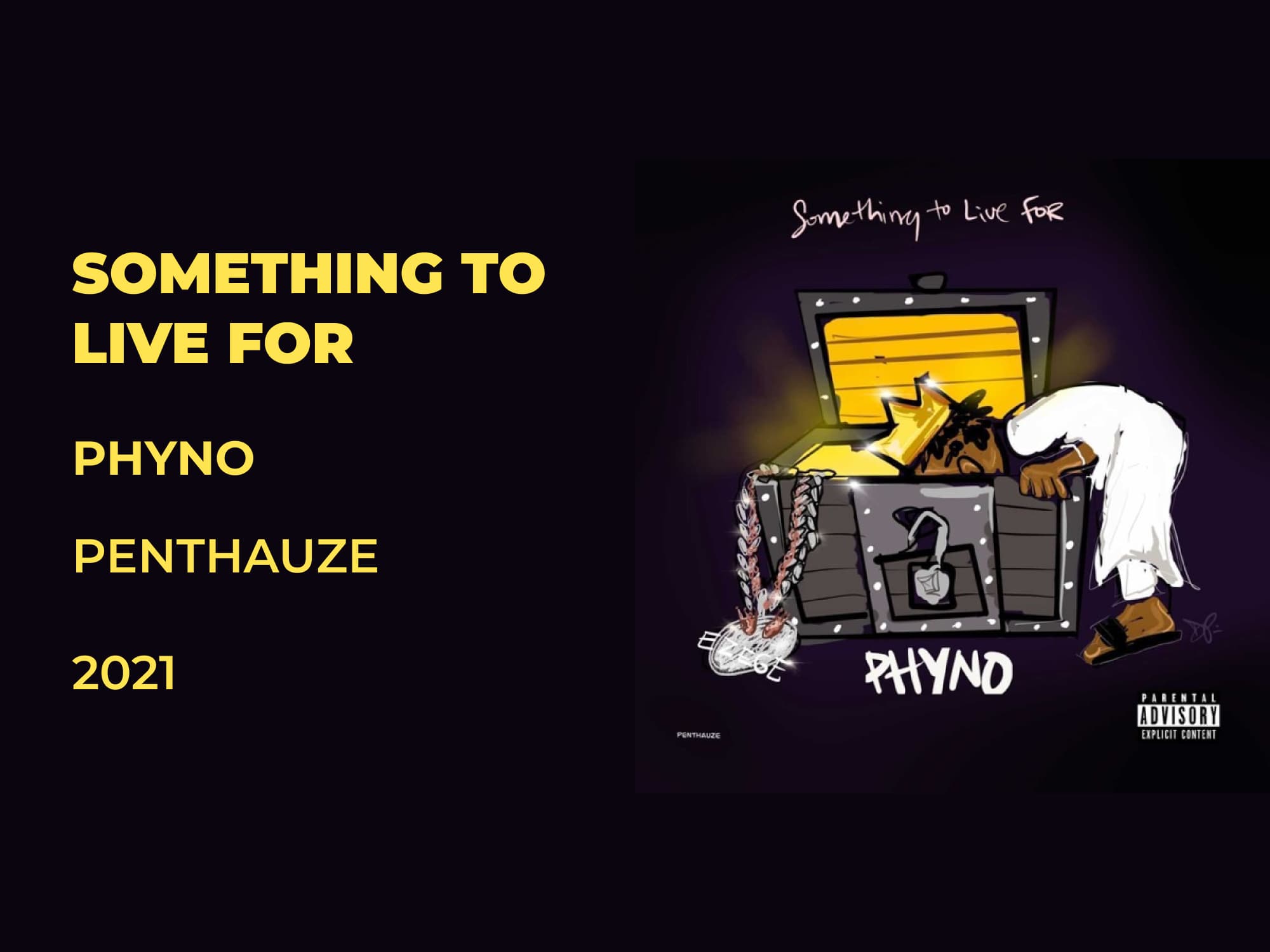 Review: Phyno's 'Something to Live for'
Phyno continues to surge on with the tenacity of a young artist Phyno grew up in the serene city of Enugu attracted to the booming sound of Hip Hop, a genre birthed from harsh circumstances and black excellence. He admired rappers like 2Pac and The Notorious B.I.G. who rapped every word like they really lived it. Their plush, grand beats were of particular interest and after years of fitting Igbo words into the rhyme schemes of Busta Rhymes, Phyno, whose real name is Chibuzor Nelson Azubike, wanted to test his mettle as a rapper—not immediately, though. Instead, he'd learn production because the Enugu producers he approached for similar beats were more adept in Highlife which was the most recognizable genre in the entire region. 
Phyno stepped into the rap life in 2010, at the turn of a decade in which rap music in Nigeria blossomed. His early songs were delivered primarily in English, perhaps because the biggest rappers then operated on a similar plane. This was the era of Naeto C and M.I Abaga when the latter rap superstar, along with Nigga Raw, would bring Phyno on a Star Fest stage in Enugu. Both rappers also joined Flavour and Timaya on Phyno's "Multiply." These moments might have come at the beginning of his career, but a young Phyno would set a vast tone for where he could go sonically.
For many, Phyno's assembling of this star-studded lineup so early in his career either portended one of two things (or both of them). For one, it was clear that he'd amassed a great network during his producing days and had his fingers on the culture's pulse. On the other hand, his talent for rapping was so unique anyone could see it. Phyno, however, pined for a Lagos crossover and would come a long way before he became an "East Coast Nigga [who's] banging in the West" as he would later rap on "Kush Muzik."
December 2012: the year that "Ghost Mode" was released. Produced by Phyno himself, the rapper and his guest star, Olamide would trade bars over a fiery beat, lifting their indelibly worded lyrics from totems of popular culture such as video games and Nollywood. The jungle-themed video was directed by Clarence Peters at the peak of his powers, featuring close-up shots of the rappers. A new generation of impressionable kids and teenagers would gaze at the TV to see Phyno's much-discussed lean physique and austere tattoos, spit dizzying rhymes with a cool detachment. By the next time, when he appeared in the smoky video of iLLBliss' "Anam Achi Kwanu," delivering its instantly memorable hook, it was clear Phyno played the street associate to iLLBliss' mafia boss. He knew the queer spots of the city and could get you anything; somehow you also knew not to fuck with him. 
His debut album, 'No Guts, No Glory', was built off this idiosyncrasy. On its cover Phyno's face is set against a dark background, bringing his stoic features into view. Many may not have realised it at the time but Phyno went into that album as one of the country's most excitable artists. The pressure however proved to be nothing as Phyno made light work of subjects both personal and communal. On the project, he would chart his crazy youngster days on opener "Chibuzo" to a tribute to deceased friends and associates over a soulful sample of Marvin Gaye's "Abraham, Martin and John" on the Major Bangz-produced "Good Die Young." At the time, his star power hadn't fully been established, so features like P Square, Omawunmi, and Ice Prince were necessary fusions of quality and hype. Later that year at The Headies, Phyno would go on to earn five nominations including Artist and Album Of The Year. He won Best Rap Single for "Parcel." His evolution was underway.
Naturally, Hip-Hop purists contested Phyno's position, believing his style to be a downgrade on the culture's established tenets (read: intelligent-sounding English punchlines). He and the Fuji-exploring Olamide had supposedly abandoned their Hip-Hop roots. The rappers' response came on Reminisce's "Local Rappers," a record where they mocked those who saw their pop-rap experiments as lazy and without any lyrical muscle. Punchlines don't pay: said the trio. Initial outrage slowly transfigured into understanding, especially as the mid-2010s increasingly saw indigenous elements co-opted into the mainstream.
Phyno's own interpretation of other genres such as Highlife began with "Connect" in the period before 'The Playmaker', his 2016 sophomore album. Subsequent albums would follow this template—pairing of rap bangers with guitar-streaked Highlife production. 2019's 'Deal With It' was recognisably rap-directed (with all-time Phyno classics like "Speak Life" and "Get The Info") but he couldn't help producing near pop-hits like "Ka Anyi Na Ayo" and "Ride For You."
On Phyno's fourth and latest album, 'Something To Live For', the 35-year-old veteran continues this encompassing tradition, for better or worse. The album's opener, "Chizoba," features The Cavemen, the brother band whose albums 'ROOTS' and 'Love & Highlife' has updated the daring inventiveness of Highlife, a genre whose cultural reign was stunted by the outbreak of the Nigeria-Biafra War in 1967. Mirroring Phyno's direction, the duo's trademark skittering percussions are traded for producer Chillz's atmospheric keys setting the tone for the euphoric cut.  Arriving hot on the heels of this cinematic backdrop, Phyno unpacks his stories of strife but leans more towards appreciation, flexing his current wins which include sending his mother a "Mac just to put her on fleek." 
Many artists once tussled with their parent's expectations of them having regular, well-paying jobs. Indeed, much of their early music documented this familial pressure and the relentless pursuit of their creative talents. "Chibuzo," the first track off 'No Guts, No Glory' features comic voice-overs from a woman who plays Phyno's mother imploring him to stay off the streets. 'Something To Live For' is no different in this regard. On "Chizoba," he wastes no time in referencing the trajectory of his current journey: "Chukwu e desi go m na frontline\ Now ife n'eyezim nni bu punchline (translated as "God has put me on the frontline; now what feeds me are punchlines"), he raps, acknowledging the grace he now enjoys.
Over the years, Phyno's commercial successes have tended to overshadow his lyrical depth. Although he got hip to the game by learning the technicalities of American Hip-Hop, he's also well versed in the Igbo oral tradition, whose rich proverbs, riddles and irony seep into his music. Backed by this wide knowledge, it's no surprise that every Phyno album has its exalted moments of pure rapping ability. On 'STLF', it comes on the fifth track—"I Do This," which features the American rapper, D Smoke. The album's centrepiece sees both rappers declare their intent to represent the characters you'd find in their respective hoods of Enugu and Inglewood, traversing cultures with their relatable rhymes about growing up in the hood.
On "Gold Medal," Phyno unites Ghanaian rapper Pappy Kojo with BEEPEE, a budding act from the East. Together they run laps around the bouncy production, making a case for their superior rap skills while acclaiming the gloss of their celebrity. Phyno's assertion that "I'm in the room but you can't metu (touch)" is a boastful piece of information that doesn't sound any bit fictitious. This account is further strengthened on the affirmative track "Stacks," where he raps about talking his shit and backing it up. Always one to project a veneer of indestructible belief in his greatness, Phyno sometimes orchestrates a look through his mind, giving listeners insight into the complex emotions he seldom has the will to express.
"All The Smoke," a deep cut reminiscent of Burna Boy's "Pree Me," is built on steady drums and melancholic keys. "Living everyday just because we no dey shout for their face dem talk say we no dey audible/I no fit forget where me I come from," he sings, referencing the criticism his introversion has generated. The underside of these conflicting thoughts throws the ugly state of Nigeria's social reality under focus. Phyno makes that connection on "Ghetto," a riveting account of hood reality. "If no be for music, tell me where I for be?" he asks. Some national newspapers recently reported that the highly addictive crystal meth—known as Mkpuru Mmiri in Igbo states—is rampant in the region. Among other life-threatening effects, the drug causes heightened irritability which might account for the increasing crime rate in the region. When Phyno says "things dey happen for the ghetto," it's with the brutal admission that big dreams are being lost in the same streets which made him.
For all of Phyno's dedication to gritty, street-focused narratives, there are also moments that radiate joy. Masterkraft's bubbly production sets his heart aflame with gratitude on "Bia," a record that could seamlessly fit into a playlist meant to soundtrack weekend mornings in Christian homes. Historically, the Igbos had earnestly received Christian missionaries in the 19th Century, and as globalisation brought local churches conventional techniques and modern instruments, influential Igbo musicians like Patty Obasi and Luke Ezeji paired classical choral music with indigenous elements. Born to Christian parents in Enugu, Phyno is familiar with the traditional church sound.
In his professional music, he condenses both Gospel and Highlife to represent both sides of a social coin—the former embodies submission to the divine will while the latter is ostensibly boisterous, depicting the lifestyle that comes with having it. On 'STLF', a number of songs fit into this hybrid subgenre. "Winner" finds Phyno exalting his Creator for his wins, joyously singing, "the things I pray to God, I swear e give me double," before admitting a deep concern: "How I go dey and my people na na-eri aja? (How will I be alive and my family will be eating sand?)." As the album progresses and the percussive-heavy production collapses into a body-shaking gyration, we find Phyno linking up with longtime collaborator Flavour on "Ikepentecost," a vibrant, high-tempo song that would soundtrack the December festive period, renowned for its widespread show of opulence.
Incorporating non-rap genres like Highlife where even the best singers might struggle, Phyno's malleable voice texture ensures he comes out tops and most times with a hit song. Because rap is closest to everyday speech than most genres, elite rappers find ways to inflect their delivery to evoke different moods. Phyno's cadence mirrors his chosen beats. On traditional rap production, as in "Chizoba" and "I Do This," he adopts a high-wire cadence, bouncing off the beat rather than riding along. When faced with the coastal sounds of Highlife, he strains for tenderness, as seen in the sanctimonious "Bia" where his earnest vocals are joined by a choir to plead for Heaven's grace.
On the backend of 'STLF', he ditches rap's imposing quality for sing-song love duets, powered by guest artists like J'Dess ("Love Me Right"), Jay Teazer ("No Love") and Anjulie ("Ain't Nobody") who infuse some needed variance. Unlike previous star-filled albums, 'STLF' mostly features rising musicians, an indication perhaps of Phyno's desire to further step into his legacy. His Penthauze Entertainment signee, Superboy Cheque—himself rewriting the rules of pop-rap in Nigeria—might have made a worthy guest but his absence is rather ceremonial than practical. And, with sixteen songs and over an hour-long, the album could have been more cohesively strung together given that it lags in unexpected places.
Phyno's albums are infamously released without fanfare but 'Something To Live For' was a notable deviation. Hours before release, Phyno and buddy Olamide teased themselves on Twitter, with Olamide saying he'd leak their song together because  Phyno "no sort boys." Fans were gleeful to see the reclusive musicians share their famous bromance in a public space and when Olamide 'leaked' the record to Notjustok.com, there were even more reasons to like "Do You Wrong." Sharing the house party vibe of 'Carpe Diem''s "Shilalo," the musicians plead a love interest's indulgence with lyrics dripping with humored loyalty. "Say I no be perfect man no mean say I go dey do you wrong. Why I go I dey do you wrong?" asks Phyno on the chorus.
Evident throughout the album is Phyno's ability to curate good vibes, whether he's teaming up with Peruzzi on the tropical "Belong To You" or detailing the excesses of his celebrity lifestyle over Amapiano's signature log drums ("Onye Nwa"). After the cultural dominance of last year's "Highway," Phyno takes a step closer towards building his legacy while retaining the hallmarks of an experimental artist colouring the lines beyond Hip-Hop, Highlife, Gospel and more.
In all, 'Something To Live For' has a remarkable number of highs and some unavoidable lows. While he expertly delves between subject matters, both personal and communal, it's also clear that some of Phyno's recurring themes have become cliché at this point and trimming the album could have powdered the cracks. This album won't shake up his discography but this takes nothing away from its place in the rapper's sprawling career.
Ever since 2010, through associations with producers as varied as Major Bangz and Masterkraft, he's ascended to the zenith of African rap music, standing among Olamide, Sarkodie and Cassper Nyovest as rappers who've transcended scenic validation and are now pop stars. Homewards, his influence can be heard in the stories of young Igbo rappers like Daisy and Jeriq crossing over into Lagos—the journey Phyno began over a decade ago. "The legacy I'm leaving behind has a whole lot to do with realness," he said in an interview. It's obvious he's going nowhere just yet and 'Something To Live For' is his pledge. 
---
Emmanuel Esomnofu is a Nigerian writer and culture journalist. His work investigates youth culture and histories. Tweet him @esomnofu_e  
---