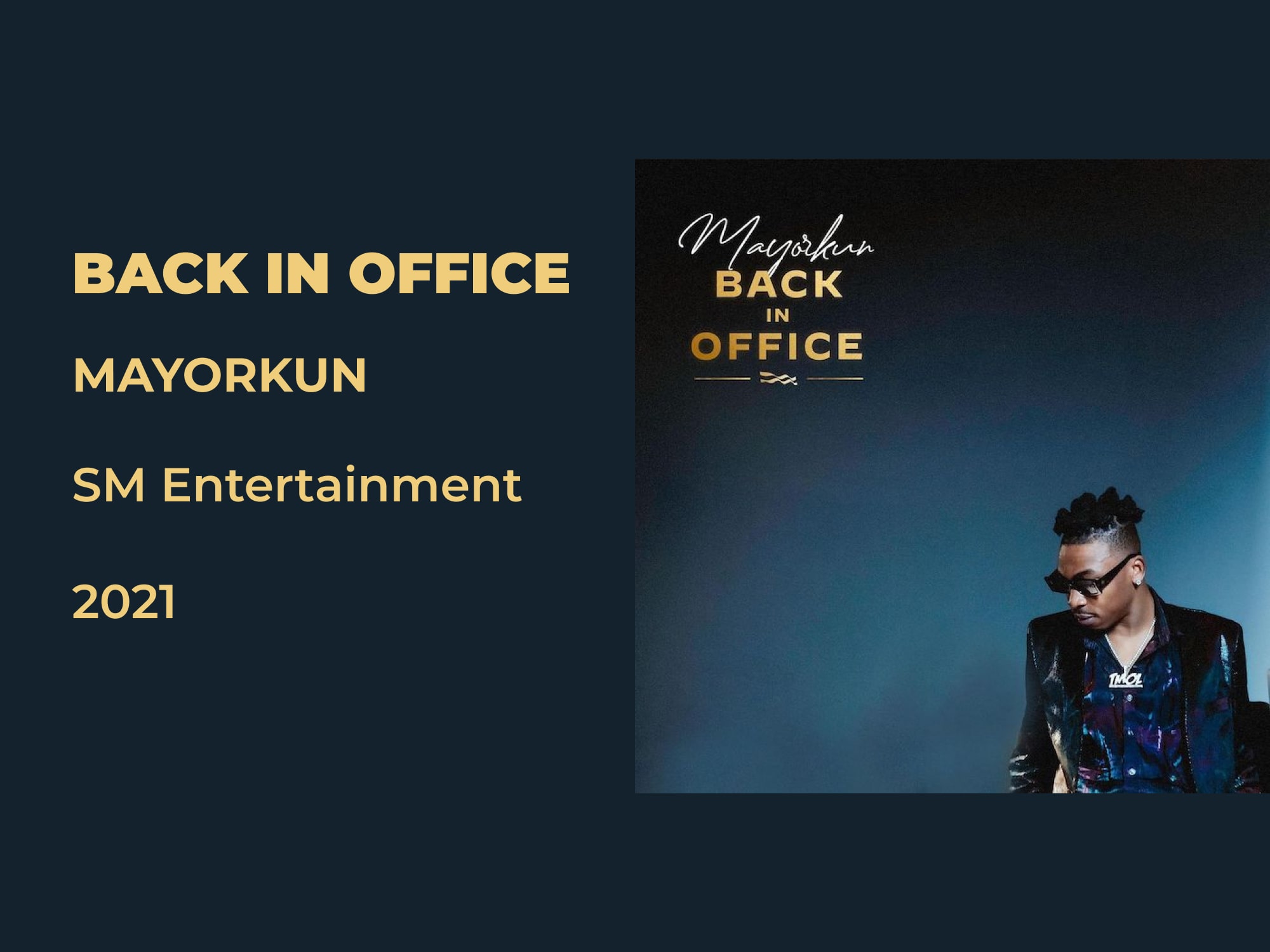 Review: Mayorkun's "Back In Office"
Of Lagos Looking back, Mayorkun becoming an Afropop superstar was more of a certainty and less of a gamble. In Nigerian music, nothing is a given, but it clearly doesn't hurt when your introduction to the general audience is spearheaded by one of the most ubiquitous names around. On a night in 2016 that should go down as lore, Davido announced the entrance of Mayorkun—and Dremo—into his DMW record label. It wasn't just any other announcement; much like all things Davido, it was exuberant and slightly chaotic. It also unfolded right in front of our eyes, on our Twitter timelines.
In 2021, Mayorkun's ubiquity is undebatable. Perhaps that's why the title of his recent sophomore LP, 'Back in Office', seems a bit misleading. Every year since his DMW unveiling, the singer has scored at least one smash hit, becoming an even more impeachable pop star as the calendar flips forward. The title is also a knowing nod to his 2018 debut album, 'The Mayor of Lagos', the singer's speculative attempt at self-mythologising. The album itself was a mixed bag, doubling down on Mayorkun's then-increasing reputation as a competent and consistent hit-maker, but barely doing enough to establish a riveting persona.
In the two years leading up to 'TMOL', Mayorkun's most apparent gift was his relatability and his command of catchy melodies that stick in the ears of listeners and immediately commit themselves to memory. In a singles-focused market, it's a talent with its own premium but as seen it doesn't readily transform into a great full-length if that's the only gambit. While it isn't a full-on course correction for structural flaws of his debut LP, 'Back in Office' does a notable job of reconciling what makes Mayorkun a hit-maker and ideals of a full-length.
In recent times, the premium of delivering a great body of work in Afropop has been climbing upwards—back to its significance in the CD era of the 2000s. The trend of hit songs being of the utmost importance is still very much in vogue, but great albums are now greeted with a level of reverence that seems to last longer than the instant gratification of having a hugely popular single.
In 2020, Afropop delivered more than its fair share of great projects, with some that will be described as seminal in the coming years. The obvious examples are Burna Boy—perhaps the strongest contender for the full-length album renaissance—and Wizkid; but there's also the Cavemen, whose innovative, revivalist Highlife manifesto, 'ROOTS', earned the duo a level of adulation that sets them up for longevity.
When Mayorkun released 'TMOL', we were only seeing traces of the increased significance of albums. With 'Back In Office', it comes at a time when Nigerian pop is midway into this renewal. "I've always been a singles artist," Mayorkun admitted to The NATIVE shortly before the album release. While he goes on to justify the timing of his second LP using the diminishing attention spans of listeners, he seems aware of the terrain he's playing in, and it clearly influenced how he curated 'Back In Lagos'. "Each song should be completely different," he says in the same interview. "I don't want two songs to sound alike. Unlike my first album that was mainly about love and girls, this one is broader."
'Back In Office' has its fair share of romance-themed songs, but it clearly isn't defined by them. If anything, it is defined by the deservedness of the boulder-sized chip on his shoulder. Mayorkun has never not come off as a self-assured person, but there was a profound persona glow-up on last year's "Geng,", a deliriously catchy Grime-infused banger. That song was transcendental for Mayorkun, dialling up the punk aspect of his character matrix and, in addition to his established charm, setting him up as a bridge between street-pop and the very centre of Nigerian pop music.
On the title track of his album, he makes an irrefutable statement: "I held down the lockdown for a long time." Between "Of Lagos," "Betty Butter," his remix of Zinoleesky's "Ma Pariwo," and two searing appearances on Davido's A Better Time, and more, Mayorkun has the catalogue to back his talk. Over the lockdowns, it was evident Mayorkun was in a creative flow state—and he knew it. His melodies felt effortless even as he experimented, and his lyricism was as poised as it was playful.
'Back In Office' is at its most thrilling when it feels like those tenets are being tapped into. "Back in Office" might not have the same instant consuming power as the singer's best songs, but the self-reverence becomes increasingly appealing with each repeat listen. On "Jay Jay," he collaborates with Amapiano trailblazers, DJ Maphorisa and Kabza De Small, for a song that feels like a spiritual successor to "Of Lagos," with his controlled mania making for a sure-fire album highlight.
Like his debut, though, it's almost impossible to carry the gimmicks from hot singles into a hot album. To his credit, Mayorkun doesn't overtly try to do that on Back in Office, but there are tepid moments when he tries to explore. On the Telz-produced "Freedom," which features a choir, the theme of self-actualisation is dulled by its proselytising lyrics, which attempt to resonate with everyone in general terms. Even with the ill-advised interpolation/feature of Di'Ja's "Aww," "Piece of Mind" is a much better attempt at being relatable, mostly because Mayorkun is content with expressing and exorcising his own issues.
Maybe a little surprising is a fact that this project's major lag comes from the love songs sequenced together in its mid-section. It's not that these songs aren't up to par with the rest of the project, it's that they lack any discernible sizzle or spark, and when they do, it's not always from the singer himself. Released shortly before the album dropped in its entirety, "Holy Father" is dominated and defined by Vict0ny's inspired contribution. Curiously, Mayorkun doesn't match his tenor. On "Desire" and "No Strings Attached," with Gyakie and Joeboy respectively, he's a much better collaborator, but that's partly because the performances from these guests don't necessarily challenge him.
Going through his catalogue, it's quite obvious that Mayorkun does a lot of his best work solo. He's also a great guest to have, but it barely raises any hairs when he invites other artists not named Davido unto his own headlining work. Even though he's not featured on the song, "Let Me Know" has the makings of a Davido-ready collaboration, down to its preppy melodies and signature ad-libs. Recorded three years back, it was created at a time when he was still retooling his mentor's influence on him.
Of course, it's impossible to talk about Mayorkun without mentioning how much Davido imparted on him—he declares as much on "The Best"—and while he's become an artist in his own right, the hallmarks of those lessons will continue to abide with him. Pulling in heavy sonic cues from mid-tempo Nigerian pop, Amapiano, as well as fringe highlights from R&B, varying shades of Folk, Rap, and more, 'Back In Office' shows some range but keeps everything attuned to what's familiar.
One of the most interesting ways to parse this album, especially with its sequencing, is to view it through the modish template of a modern rap album. The introspective opener, check; triumphant second song, check; multiple romantic songs in the middle, check; exuberant songs to pick up the pace, check; contemplative closer, check. 'Back In Office' doesn't break any moulds, neither does it set any new precedents on how we should view Mayorkun as an artist. He's a pop star, and pop stars don't really need great albums to remain on top.
Stream 'Back In Office' below.
---