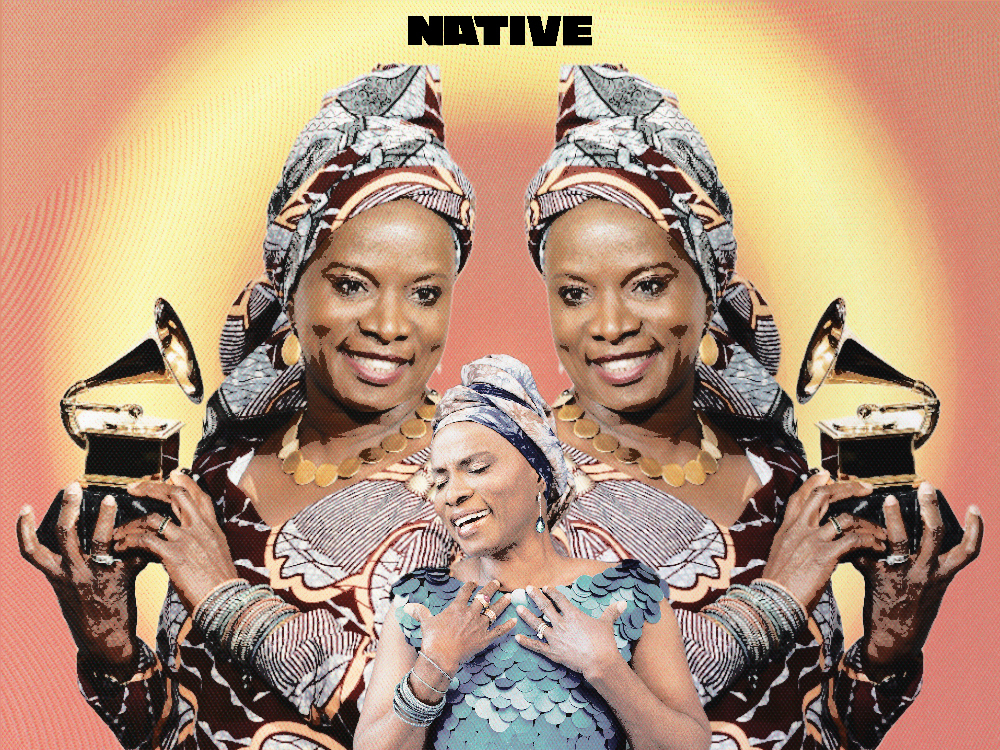 The Enduring Magic of Angélique Kidjo
a musical manifestation of strength and power
With a career spanning over decades, Angélique Kidjo has soundtracked diverse eras and events. Her sound, borne from the West African traditions of her childhood in Benin and her interactions with the influences from Europe and Latin America, has travelled the world and imprinted her name in the hearts and minds of music lovers, both old and young. With numerous local and international awards under her belt, the veteran musician hasn't relented in her strive for excellence, constantly reaching for musical highs as well as contributing to the social and economic wellbeing of the African people through her advocacy and social works.
Kidjo was born and raised in Benin in 1960 to a Yoruba mother and a Fon father. Her parents and older sibling were music lovers and, as a child, Kidjo absorbed the music they listened to: Miriam Makeba, Hugh Masekela, Aretha Franklin, Manu Dibango, Wilson Pickett, Fela Kuti, Otis Redding, Sam Cooke, the Rolling Stones, the Beatles and Stevie Wonder, among others. She began her music career at six after rendering an impromptu performance at her mother's theatre troupe. In 1981, at the age of 21, she released her first album 'Pretty' with the assistance of Cameroonian Makossa legend Ekambi Brillant. The album made Kidjo a star in her home country and neighbouring countries.
A few years later, Kidjo was forced to flee Benin due to the difficult political climate orchestrated by Mathieu Kérékou, the country's leader at that time. She settled in Paris, France where she began attending Centre d'informations musicales (CIM), a school of jazz and contemporary music. It was in Paris that Kidjo immersed herself in the proponents of what is known as world music, fusing her African influences with foreign genres and sounds. In 1991, after signing with Island Records, she released her major label debut album 'Logozo.' The project enjoyed both critical and commercial success and cemented Kidjo's style of singing in different African languages—Fon, Yoruba, Goun, Mina—and in French as well as her made-up language.
She followed up 'Logozo' with 'Ayé' (1994). The album spawned the hit track "Agolo," whose music video celebrated African religions (featuring a Zangbeto masquerade and the serpent deity Ayida-Weddo) and earned Kidjo her first Grammy nomination. Her 1996 album 'Fifa' was the first time Kidjo added English to her repertoire of languages she sang in. The album, for which she enlisted the help of percussionists in villages across Benin, was deemed as Kidjo's crossover attempt as it blended her signature African-inspired rhythms with Funk, Hip-Hop and Pop, with "Wombo Lombo" being the lead single. She continued her musical foray into newer grounds with 'Oremi' (1998), 'Black Ivory Soul' (2002) and 'Oyaya!' (2004). The three projects were Kidjo's way of starting a conversation with the African tradition and its roots in the United States, Brazil, and the Caribbean. 
On 'Oremi,' Angelique Kidjo collaborated with American musicians Branford Marsalis, Kelly Price and Cassandra Wilson, and performed a reinterpretation of Jimi Hendrix's "Voodoo Child." On 'Black Ivory Soul,' she added her spin to Brazilian sounds, alongside acts like Rubens De La Corte, Vinicius Cantuária, Carlinhos Brown and Gilberto Gil. 'Oyaya!' saw her give her take on Caribbean sounds such as Salsa, Bolero, Meringue, Calypso and Ska, with Alberto Salas and Henri Salvador. She kept up the fusion of musical cultures on 'Djin Djin' (2007), featuring a reinterpretation of French composer Maurice Ravel's 1928 orchestral piece "Boléro" and other acts such as Amadou & Mariam, Alicia Keys, Ziggy Marley, Carlos Santana, among others. 'Djin Djin' gave Kidjo her first Grammy win for Best Contemporary World Music Album in 2008. Her 2010 album 'Õÿö' was dedicated to the music of her childhood, including traditional music, Miriam Makeba's songs, Yoruba interpretations of Otis Redding's "I've Got Dreams to Remember" and Carlos Santana's "Samba Pa Ti," and homages to Aretha Franklin's "Baby I Love You" and James Brown's "Cold Sweat."
In her 2014 autobiography Spirit Rising: My Life, My Music, which Kirkus Reviews termed as "warm, lively and compassionate," Angélique Kidjo shines a light on her childhood, early beginnings as an artist and her rise to becoming a Grammy-Award–winning artist, and her work as a UNICEF ambassador (since 2002) and founder of Batonga Foundation, which champions education and empowerment of adolescent girls in Africa. That same year, she released 'EVE,' named after her mother and dedicated to her experiences as an African woman; the project scooped the Grammy plaque for Best Contemporary World Music Album. A year later, she collaborated with the Luxembourg Philharmonic Orchestra on 'Sings,' which restructured 11 songs across her discography into orchestral pieces. It also won Kidjo her third Grammy award.
Three years after 'Sings,' Angélique Kidjo received an epiphany. She was humming American Rock band Talking Heads' "Once in a Lifetime"—a song she first heard three months after she arrived in Paris—when a friend told her the name of the group responsible for the song. Kidjo had conversed with  David Byrne (Talking Heads' lead vocalist) but she hadn't known it was his voice on the song. Kidjo listened to Talking Heads' 1980 album 'Remain in Light' (from where "Once in a Lifetime" was housed) for the first time and decided she would cover the project. In 2018, she released her album titled after Talking Heads' 'Remain in Light,' planting the rhythms of the band onto African drums and percussions. In a 2022 interview, Kidjo and Byrne shared their thoughts on music in Africa and the diaspora, African traditional practices and the political situation in Africa, especially Nigeria.
As the years have passed, Angélique Kidjos's influence has grown, both on the African continent and in international spaces. She has graced stages around the world, from Cape Town to Dakar to New York to London to Paris to Sydney to Oslo. Her discography has also inspired younger generations of artists who have sampled and interpolated her music, including Burna Boy and Yemi Alade. In 2010, BBC's Focus On Africa Magazine included her among its list of 50 African Icons; in 2011, The Guardian added her as one of the top 100 women in art, film, music and fashion and Forbes put her in the list of 40 most powerful celebrities in Africa; and in 2021, TIME named her in its list of 100 Most Influential People in the world. In 2015, she was awarded the prestigious Crystal Award by the World Economic Forum in Davos, Switzerland for her humanitarian work.
On the musical side, Angélique Kidjos's talent and knack for experimentation never waned. In 2019, she released 'Celia,' an Afrobeat-inspired album-length interpretation of songs across the discography of Cuban singer Celia Cruz, whose music Angelique Kidjo first heard as a teenager in 1974. 'Celia' won the Grammy Award for Best World Music Album, Kidjo's fourth Grammy win. On 2021's 'Mother Nature,' Kidjo tackled the issues of global warming and political corruption, while also making space for some of Africa's reigning music stars in the likes of Burna Boy, Yemi Alade, Mr Eazi and Sampa the Great. "They have something to say about where Africa is and where it is going," she said of the artists to The Guardian. "This was really a delight – it gives me energy and a good feeling." She also worked with young African music producers in the mould of Kel-P, Vtek and Rexxie. A year before, when Kidjo received her Grammy plaque for 'Celia,' she dedicated her win to Burna Boy, saying, "Four years ago on this stage, I was telling you that the new generation of artists coming from Africa are going to take you by storm. And the time has come."
Angelique Kidjo, recognising her legendary status, hasn't shied away from collaborating with this new generation of African artists, making guest appearances on songs from Burna Boy, Yemi Alade, Somi, Omawumi and Sampa the Great. Her latest collaboration alongside The Cavemen on Davido's "NA MONEY" drew praise and highlighted her ever-present star quality. Speaking to Forbes Africa about the current African superstars, she said, "What I learned from them is their professionalism – it's mind-blowing. Every music that had been sent was spotless. I had waited for this day… And on top of being artists, these are entrepreneurs, they understand they have to be free. [In my time], I had to sign a contract for 10 years… These kids have the right to do whatever they want. They sat back and learned from my experience, and the experiences of Youssou N'Dour, and Salif Keita. And they don't want to take that road. They want to be free in their own right and they are right to be free."
Last year, Kidjo's collaboration with French-Lebanese trumpeter Ibrahim Maalouf 'Queen of Sheba' delved into the life of the famed Ethiopian monarch and intersected the connections between Africa and the Middle East. It is the constant drive for reinvention that has kept Angélique Kidjo in the conversation as one of the respected names in world music. She has continued to defy the odds, serving as an inspiration for artists on the African continent on how to build a lasting career and legacy. Two weeks ago, Kidjo was awarded the 2023 Polar Music Prize, becoming the third African act to win the distinguished award after South Africa's Mariam Makeba who won in 2002 and Senegal's Youssou N'dour won in 2013.
"To be awarded the Polar Music Prize is humbling. I have no words to say how important this is for me. It comes with a sense of responsibility that is bestowed upon me as an artist to continue to do great work," Kidjo said. "My passion for music has always been unwavering. Being on stage for me is like being in paradise – it's my sanctuary. It's my place to link and to connect with my fellow human beings. That is something that I'm grateful for every day."
Featured image credits/NATIVE
---