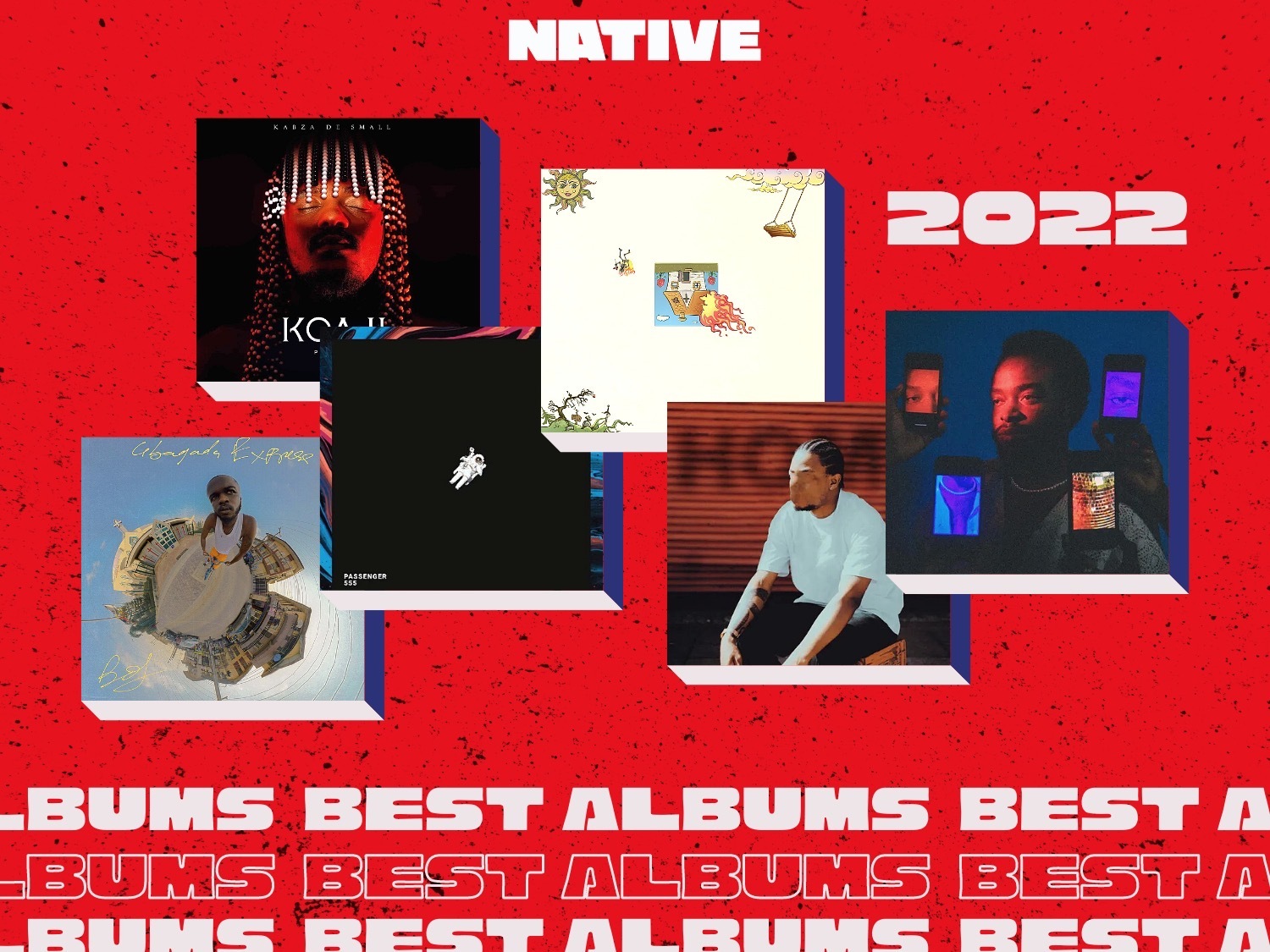 The best projects of 2022, so far
Featuring stellar drops from Rema, Coco Em, Tyson Sybatelli and more.
Half of 2022 is gone. The world has finally returned back to normal – or so it seems. Bodies are back in close contact, cheeks are grazing each other, masks are a rare sighting in public, and social distancing is in the mud. Through the dystopia of a global pandemic to the "new" normal, a consistent presence is the unprecedented inventiveness and unyielding excellence that powers urban African music. The first six months of this year have been no different, and our mid-year list ranking the best projects so far is a testament to the deluge of great music that crosses our ears on a daily and weekly basis.
---
15. Teezee – 'Arrested by Love'
As inviting, bright and riotously creative as its cover, 'Arrested by Love' is a wondrous showcase for Teezee. Blending Rap, Funk, Trap into the tape, the groovy project brought about a summery feeling well before the summer began. Through this project, he discusses community heritage, success and other melodramatic subplots we encounter. "Do Me Jeje" (produced by Monster Boys at the first NATIVE Sound System camp) deserves an honourable mention, as he teams up with Knucks to deliver one of the best songs in the album. In sum, 'Arrested by Love' sees Teezee enter his OG era with infectious clarity.
Tela Wangeci
14. Jinku & Karun – 'Passenger 555'
Karun's voice keeps getting better and in conjunction with Jinku's production, resulted in the sonic explosion in 'Passenger 555'. The downtempo house and ambient R&B mood perfectly merge with Karun's fluttering voice, as the pair take us on an intergalactic journey. The project is curated to tell a story about a failing love when listening in chronological order, and fighting for love when listening in reverse order. It's an honest and vulnerable, which will pull you into Karun's evocative lyricism over spacey beats. 
Tela Wangeci
13. Victony – 'Outlaw'
Through the rubbles of an accident, Victony rose. His was a testament to the great forces of nature pulling together to save a special talent. It's a trajectory as old as time itself, and there's no man better to take that into Afropop, than Victony. He's moved with a graceful sheen ever since, layering his distinct vocals on hits like "Rosemary" and "Holy Father". His solo music bears that mark of renaissance, going from "Pray" to "Apollo" with effortless mastery, revealing Victony as one of the talents to rock 2022 and beyond. 'Outlaw' is sufficient proof of his talent, combining lush production with strong vocal awareness, birthing songs like "Outlaw" and "Soweto" which, by any critical metric, ranks among the better Afropop songs of the year.
Emmanuel Esomnofu
12. DJ Lag – 'Meeting with the King'
It's possible to read the title of DJ Lag's debut studio album, 'Meeting With The King', as self-aggrandising, but one listen through the mutating 15-track project sounds like an undulating ride through a primordial African castle. Since the inception of Gqom in the 2010s, DJ Lag has rounded every bend and scaled every fence, serving as a leading voice of the culture. 'Meeting with the King' sees this motif in its full glory, as the iconoclastic 26-year-old artiste burrows deep into the most starkly experimental pockets of Gqom: slowing down the tempo and sloshing it with an assortment of eclectic sounds, from Amapiano to Funk. For an artist who has been a frontrunner in the genre's burgeoning scene for over a decade, his debut album witnesses his knack for inventiveness at an all-time high. On songs like "Raptor", where drums rumble with unbridled gusto and he marries the entrancing ethos of Techno with whimsical theatrical explorations, it's obvious that he crafted 'Meeting With The King' with the grandest, voyeuristic experience of Gqom in mind.
Chibuzo Emmanuel
11. Tim Lyre – 'Worry <'
The sultry, sensitive soundscape of Alté music has a corner strictly anchored by Tim Lyre. He's collaborated with the movement's biggest names, parlaying his electric production into the corridors of mainstream music. His solo releases revealed his alluring mastery of the complete music-making process, possessing a protean voice in sync with his lush beats. Lyre's debut album, 'Worry <', was released on the backend of singles "Real" and "Highlife", both melding into his eclectic soundscape with great harmony. His role as curator and performer is wielded with economy, ceding the center stage in indelibly high moments. The result is a 31-minute long masterpiece, a shimmering soundtrack to motions of love, life, despair and resilience.
Emmanuel Esomnofu
10. Buruklyn Boyz – 'EAST MPAKA LONDON'
Immediately Buruklyn Boyz premiered the seminal "Nairobi," they became the de-facto voices of Kenyan drill. Usually, that should come with some pressure, but Ajay and Mr Right have sauntered through expectations with subsequent releases, none more rousing than their debut album, 'EAST MPAKA LONDON'. After over a year of building their credentials with great, some utterly essential, singles in the Kenyan drill canon, they add a thrilling debut album to that repertoire. Over the course of the sprawling set, they reinvent as much as they stay tethered to their blueprint, adding some heart to the brawn they've always showcased, resulting in a dynamic album that collects the abilities of Ajay, Mr Right and their collaborators into a finely aggregated whole.
Dennis Ade Peter
9. Coco Em – 'Kilumi'
Coco Em's music demands your attention at every turn. The Kenyan DJ/producer carries the heart of a consummate experimentalist underneath the sleeves of an electronic musician. Over half-a-decade since she began drawing acclaim for her mixes, and with only a few previous song releases to her name, her debut project, 'Kilumi', impressively confirms Coco Em's bonafides as a genre-bender whose only allegiance is to her well-honed intuitions. Here, she breaks into varying styles of Electronic and Dance music, as well as adjacent sounds, using those shards to piece together enchanting bangers, and a cumulatively entrancing body of work. 'Kilumi' asserts the undeniable powers of its creator.
Dennis Ade Peter
8. Cruel Santino – 'Subaru Boys: FINAL HEAVEN'
Cruel Santino is comfortable taking risks, blurring sonic lines and pushing boundaries on the way to singular expression. For his latest project, 'Subaru Boys: FINAL HEAVEN', he's in usual mad scientist, world-building mode, going through a journey of self-discovery through anime-inspired narrative devices and character development. The music is packed with a dizzying range of influences, weaving Hyperpop, Rock, contemporary Rap, flecks of R&B, Dream Pop, and more, into an enveloping whole. A sprawling 21-track run, 'Subaru Boys' is in non-stop motion, and even if total immersion is dependent on listener readiness to take the plunge into Santi's preference for symbolic and elaborate storytelling, the album is a candy jar of sonic treats, blessed with undeniably great guest turns from Jamaican singer Koffee, DC rapper WiFiGawd, Ghanaian singer Amaarae, and more. The threads don't just cohere, they weave together to form the latest grand declaration of auteurship from an artist whose vision is his greatest power.
Dennis Ade Peter
7. Tyson Sybateli – 'Home'
South African rapper Tyson Sybateli  has one of the most quietly prolific catalogues in hip-hop right now, and his recent album is a testimony to his consistency. The abundance of swanky lyrics represents Tyson at his sharpest, as he makes a sterling performance. In 12 songs, Tyson tells a reality-soaked story of hope and impending glory, while managing to imbue the music with a clear, golden-age rap technical edge. As its title suggests, the album finds Tyson in a less competitive stance as compared to his previous projects. 
'Home' hones  in on the full range of his powers, whether that's doing his best R&B impression alongside Amarafleur and Marcus Harvey, or trading razor sharp bars with Jay Jody. The colossal album is decorated with soul-drenched beats laced with consistently knocking low end, a perfect backdrop for Tyson to be incredibly cocky and disarmingly human. The tape is perfectly curated taking you on a euphoric journey with introspection. If nothing else, you can't say Tyson Sybateli hasn't given the best rap flex of 2022?
Tela Wangeci
6. Asa – 'V'
After over a decade of serving as a purveyor of spellbinding cinematic compositions fit for grand concert halls, the Paris-born Nigerian luminary waltzed into 2022 with a wide-eyed woozy Afropop cocktail. With an eclectic-yet-cohesive blend of sparking sounds and resonant stories that stand toe-to-toe with those of her younger peers in the sprawling Afropop scene, Asa devotes her fifth studio to pulling apart the different shades of the elusive concept that is love. Far from the scowling weightiness that defined her previous works, 'V' is the most vulnerable and risky version of the 39-year-old iconoclast: from the refreshingly youthful production and the furiously poignant stories that see her burrowing deep into her personal experiences, to her choice to tap a young cache of collaborators, 'V' is the work of a vaunted veteran sprouting again. 
Chibuzo Emmanuel
5. Moonchild Sanelly – 'Phases'
Flamboyance lies at the heart of Moonchild Sanelly's acclaim. Her artistry reveals a musician deeply steeped in the traditions of South Africa while aware of the music elsewhere. These fragments are threaded by an explosive sense of electronic music, a preference that's seen her dabble in Gqom, Amapiano and other similar sounds. 'Phases', the musician's sophomore album, followed her foray into British music circles (several UK musicians feature here) and finds her executing flagrant ideals. Romance is usually the subject, but she's astoundingly subversive, constructing remarkable storylines from queer angles. What's magical is her ability to have fun while at it, taking the listener into a soundscape that sounds like an entire carnival.
Emmanuel Esomnofu
4. BOJ – 'Gbagada Express'
Five years after the release of his sophomore solo album 'Magic', Alté pioneer and  ⅓ of DRB, BOJ returned with 'Gbagada Express,' a 16-track LP fusing a wide variety of sounds and voices, all sieved into a remarkable body of work. 'Gbagada Express' is a purposeful expansion of BOJ's artistry, and a reflection of BOJ's journey so far. On the tape, he teams up with Fireboy, Victony, Moliy, Obongjayar, Amaarae and many more artists who seamlessly match his energy across a smoothly executed range of mid-tempo Nigerian pop, drill, Highlife-inflected Afropop, R&B-tinged bops, and more. 
'Gbagada Express' kicks off with the Fireboy DML-assisted record "Owo Ni Oko" which sees both collaborators discussing the necessities of being rich and having money and the importance of working for money, a fine introduction to the 43-minute run. Records such as "Unconsciously" and "Tinu Ewe" showcase BOJ's pen game at its finest, while other records such as "Culture" and "In A Loop" display his versatility as an artist and emphasise his credentials as a curator of great collaborative songs. Even with its musical scope and rotating door of guests, 'Gbagada Express' is a clear and concise statement by an artist who has taken time out to perfectly craft his sound and realign his mission.
Wonu Osikoya
3. Rema – 'Rave & Roses'
Sometimes, traversing through life as a young Nigerian can feel like being stuck in a sprawling convoluted maze. From grappling with banal layers of youthful reality like sex, love and revelry, to trudging through scuzzy layers of the Nigerian reality: battling agonizing insecurity, bad governance and crippling police brutality, being a young Nigerian can be overwhelming. In the three years between Rema's majestic debut single and his recent debut album, the nation's youthful tapestry has dimmed several shades darker across all facets. 'Rave & Roses', the gleaming diamond that ultimately formed from this dark time, attempts to navigate the complexities of the Nigerian youth in this age and the nuances of being a young celebrity trying to balance fame and everyday living. 
Rema grapples intensely with these emotions and struggles, capturing the fiery thoughts and intense inner monologues of a young man trudging up a mountain of yearning — yearning for love, for sex and for a brighter nation. On "Are You There", one of the album's brightest-sounding Afropop moments, he captures the mettle and outrage of the millions of youths across the country yearning for a holistic renaissance across all facets of the nation's affairs. This is a thread that's snugly woven through the 16-track project. Over a genre-bending sonic palette, he serves as the voice of his generation, a poetic troubadour with resonant musings on love, burning lust, wistful self-reflection and political angst.
Chibuzo Emmanuel
2. Kabza De Small – 'KOA II Part 1'
Kabza De Small is a creator and curator of lasting moments. Part of that is a by-product of his obsessive need to express himself, a prolific soundman always in need of a canvas to splash together piano riffs, synthesised notes, and unyielding percussions. Part of that is because, when you proclaim yourself king in a wildly inventive subgenre that turns out new stars with every blink, greatness is the only option at every turn. Two years off his incredibly expansive, classic debut solo LP, 'I am the King of Amapiano: Sweet & Dust', the producer returns with a sequel that's even more arrogant than its predecessor.
Assertiveness pours out of 'KOA II Part 1' unbridled; this is not a statement of importance, it's an edict from the top of Mount Olympus. The scope is unpretentiously grand, invariably packed with incredibly soulful cuts, affecting folksy tunes, and wall-rattling bangers. Ever the shamanistic composer, Kabza De Small spends two-plus hours purposefully teasing out Amapiano's range with consistent experimentations, directing a star-studded cast of guest voices that augment the simple fact that, no matter how routine it may seem, this is actually greatness personified.
Dennis Ade Peter
1. Obongjayar – 'Sometimes I Dream of Doors'
Obongjayar knows the test of sound. Since breaking out six years ago, his songs have generated great interest due to their effortless ability to imbibe personal material within an assortment of artistic virtues. Experimental might be the usual word but, for Obongjayar, it's a natural synthesis of his many identities. This awareness has resulted in a sparse but excellent catalogue, formerly comprising three EPs. Then in October 2021 he edged closer to Afropop's teeming centre of Nigeria with "Message In A Hammer," a post-protest record which combines close observation with haughty angst. Not yet known among his burgeoning fan base, Obongjayar had set off the motions to his debut album. The announced title had a poetic lilt which was typical of Obongjayar—the willingness and the ability of evoking the epic.  
Obongjayar's 'Sometimes I Dream of Doors' has been one of the most intriguing releases of the year. It's a startling, vulnerable, and well-constructed body of work, masterfully threaded to ambient music by producer Barney Lister. Although he is London-based, the songs are precisely focused on Nigeria, deftly picking strands of memory and weaving them into consequential stories and earth-shaking bops. Music is largely subjective, but I sincerely believe that anyone who's listened to 'Doors' would acknowledge its brilliance. Post-release, it's been a sort of anthem for a wide range of Nigerian youths caught in their individual tussle with dreams. The peculiar timeliness of that fact renders the album a sort of eternal heft, because songs like "Wind Sailor" and "Tinko Tinko" will continue to soundtrack moments, whether caught up in listless melancholy or pensive tides, turning a romantic situation into the strongest pledge: self-love.
Emmanuel Esomnofu
---