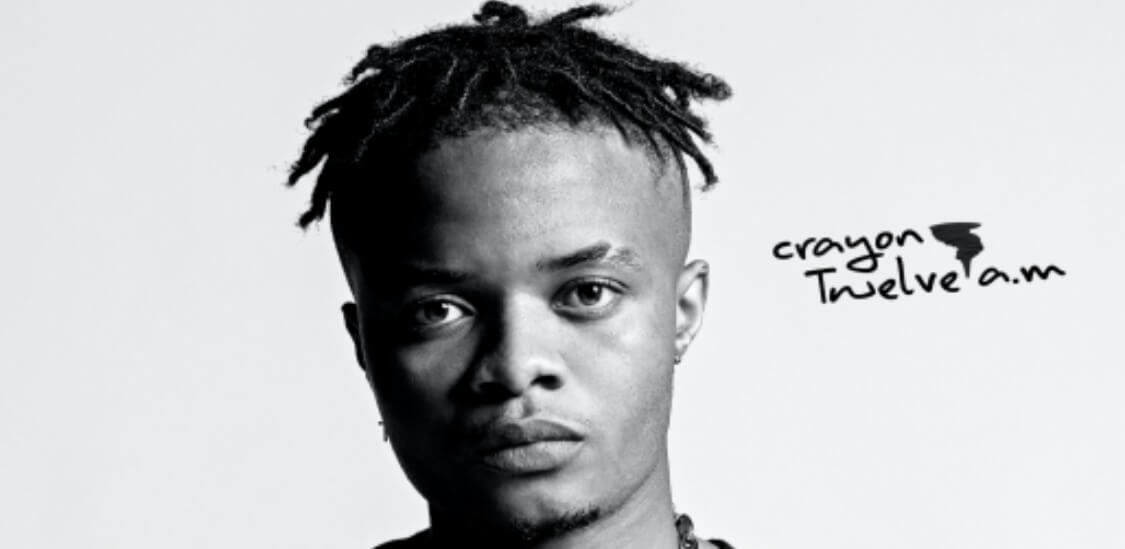 A 1-Listen Review of Crayon's 'Twelve A.M'
MAVIN's boy wonder serves up his long-awaited sophpmore project
It's almost impossible to not have come across Crayon's colourful music. Back in 2019, after making his debut alongside his label mates on "All Is In Order", the singer gave listeners a further peek into his world when he released his debut EP 'Cray Cray', an exciting pack of songs that provided a straightforward tour of his nascent and exciting abilities as an Afropop artist.
Now, two years later, he's is no longer the fresh-faced newcomer on the scene vying for the attention of doting fans, but one of the recent entrants into the new vanguard of the Afropop genre. As he continues to grow his artistry, in an accelerating system built on hype and overexposure, Crayon has had to subtly expand the scope of his sonic ability, fine-tuning his pen game and perfecting his cadence so as to become an unmovable fixture in the industry.
The result of this is what fans are now witnessing, with the release of his sophomore EP titled 'Twelve A.M', the follow-up to his 2019 debut. The succinct 4-tracker finds the singer, in his usual fashion giving Afropop an ethereal romantic touch and sound-tracking his experiences from his upbringing while comparing it with where he is now.
In Usual 1-Listen Review Fashion, All Reactions Are In Real-Time While The Music Plays. No Pauses, Rewinds, Fast-Forwards Or Skips.
View this post on Instagram
"In Sync"
I really like the beat of this song. It's not too heavy for an opener and it seems to strike the right balance between mellow and upbeat, it's energetic enough to hold your attention. Props to London for the beat. Crayon definitely has an amazing singing voice and he's clearly very passionate about this woman that he's singing about, but I'm not relating to the lyrics at all. I can't explain it but I will say that I'm not fully convinced they're that in-sync, but that's just me. Oouuu, who's the female vocals at the end of this song? Sounds like Good Girl LA. I really wish her vocals were peppered further into different points of the song. It's definitely a nice-sounding track but it's not exactly for me, I can bet I won't be revisiting this again.
"Too Correct" (feat. Rema)
I'm looking forward to this number because of the Rema feature. I'm so certain it'll be 'another banger'. Yup, confirmed in the song's opening moments, this is an Amapiano number and, without a doubt, a strong single that deserves a befitting video. "Baby you too correct/This your nyash be like Tonto" is my new favourite thing and I will be saying it everywhere from now on. Omg did Rema just shout me out on a song? I feel seen, wow. Rema and Crayon sound scarily alike on this track – what is this sorcery? Anyway, this is definitely my favourite so far! The boy is too sure, this is a fire record.
"Man Dem" (feat. One Acen)
When a song is titled "Man Dem", you already know it's going to be cocky and brag-filled. Crayon's iteration is no exception. Crayon begins the number by boasting about his lavish lifestyle, his access to the hottest exclusive parties, and the hottest women in the world. It's clear that Crayon is at a point in his career where he can easily flex and stunt on his adversaries and actually mean it. "Can't see me/ I go john Cena man dem" is definitely finding its way into my lexicon one way or the other. One Acen definitely adds momentum to the song, rooting it in a bit more authenticity seeing as Crayon isn't really about that life (he grew up in Lagos).
"Jackpot" (feat. Bella Shmurda)
This was one of the project's pre-released singles and it's definitely a hit song by every metric. I never knew that listening to Bella Shmurda sing about love would be my beat but there's something about hearing him sing, "You the best you the first from the rest", that completely has me spun. From this, I definitely think Crayon excels in typically Afropop bangers rather than when he tries to step out and lean towards more R&B-focused numbers, but that's just my observation, you may disagree. I'll be starting a petition to have the official enunciation of 'Jackpot' swapped for 'Jackpotty' in the coming weeks. Also, I'm not entirely thrilled at the brevity of this project, we want more!
Final Thoughts
As a relatively fresh-faced act in the music industry, Crayon operates in a precarious position given that he's at liberty to step out of his comfort zone, redefine himself and his artistry and experiment more with different genres for today's omnivorous listeners. It's clear from 'Twelve A.M' that the singer is currently striving to do this, as he infuses pop sensibilities with Amapiano sounds on "Too Correct" and delivers an open-heart confessional on "In Sync". Speaking on the production and creative direction of his sophomore EP, Crayon shares: "This project represents a new dawn for me as an artist and the journey of discovery that I have been on so far. This is for my family, and the fans that have patiently stuck with me from day one."
However, 'Twelve A.M' is too little a marker to measure any real growth or progression from the artist. Running just under the 15-minute mark, the project seems too short to offer any credible inference of the singer's sonic advancement since his debut EP. Sure, no two songs on the project sound alike, and Crayon has incorporated new genres such as Amapiano into his world, but at the end of the project, there is a certain realisation that Crayon isn't making any bold proclamations of his artistry or his growth, he's simply delivering feel-good music that spins infectious hooks. To his credit, what may sound basic at first will very likely later becomes catchy melodies that linger on lips long after the project has been released.
From its quite-literal title, we can already draw subtle inferences that the tracks on the project possibly soundtrack Crayon's late-night recording sessions, where he runs through different soundscapes in one-session. With this in mind, it's easier to understand why there are no lofty targets set on this project, only a desire to deliver and perform while capturing the experiences of young people like himself. Crayon has certainly found his sweet spot in delivering delectable Afropop numbers that will draw hearts and minds to the dancefloors this summer. All in all, 'Twelve A.M' feels like the calm before the storm and a means to an end: The eventual release of his debut album.
Stream 'Twelve AM' below.
---