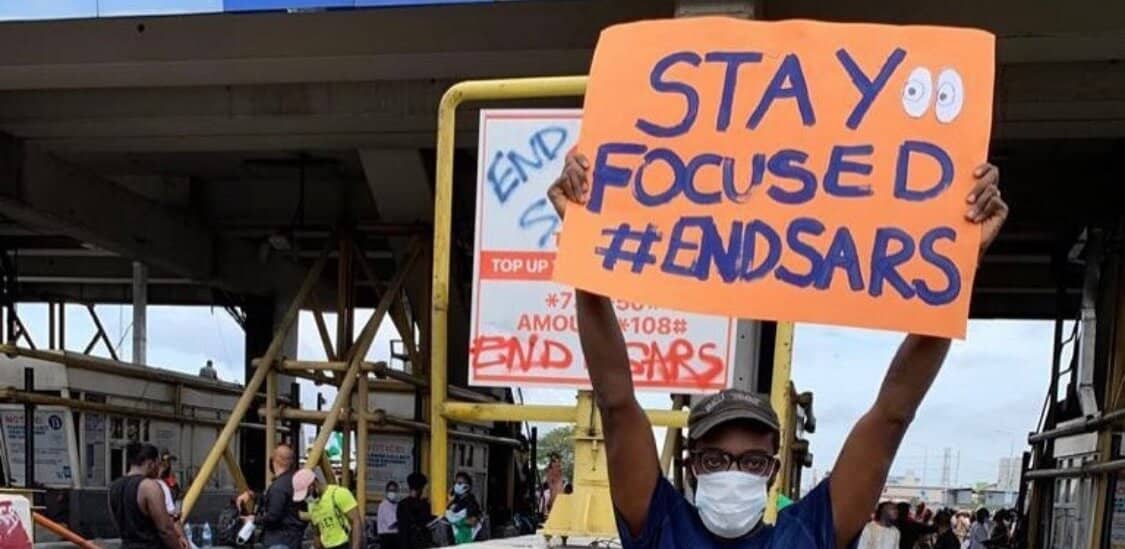 Here's how you can continue the #EndSARS protests from home
you can donate, amplify and educate from home
The ongoing #EndSARS protests have taken a turn for the worst after weeks of young Nigerians protesting against inadequate governance and police brutality. We've watched in horror as anti-SARS protesters and alleged sponsored thugs swarm peaceful demonstrations which led to the local governments calling for a state of emergency in both Lagos and Edo States. We've seen people we know and love get falsely imprisoned for exercising their right to protest and others injured and worse, killed for daring to challenge years of failed government from our elected leaders.
The youth of Nigeria are tired and many of our demands are still yet to be met. Following the lockdown enacted by the Edo state government after convicts were let loose from a prison in Sapele Benin City yesterday, the Lagos state government has now followed suit and enacted a 24-hour curfew after unrest in the city today. This comes after news that mischief-makers had burnt down a police station at Orile Igamu where there were no #EndSARS protests scheduled to hold.
Regardless, they have now succeeded in ensuring that no further protests be held in Lagos as the 24-hour curfew seems to be scheduled indefinitely. But this doesn't mean we should stop applying pressure to ensure we get what we want, and we will, by taking the #EndSARS protests online. The motive is to amplify and get the message out using the #EndSARS hashtag online. No matter where we are, we can keep the momentum going to ensure that our voices are heard and our demands are met. So here are some ways you can get involved with the protests from the safety of your home.
Engage with the #EndSARS hashtag online
We are not BACKING DOWN! But we won't give them the satisfaction of letting everything reduce to chaos #EndSARS

— feministcoalition (@feminist_co) October 20, 2020
You can join the protests online by making sure you tweet, retweet, like, and amplify all tweets with the hashtag. International publications like The Guardian are monitoring this hashtag to amplify the message to the world.
Donate! Donate! Donate!
We're moving to only accepting donations in Bitcoin using BTC Pay. BTC Pay is a free, secure, decentralized and censorship-resistant platform, which makes it our best option, given the past few days #EndPoliceBrutalityinNigeria

Please donate here: https://t.co/FvsEKetUL9

— feministcoalition (@feminist_co) October 15, 2020
The Feminist Coalition is crowdfunding for donations to help #EndSARS protesters around the country and with the level of violence people are facing on the frontline, donating to the cause would go a long way to ensuring that their medical and legal bills are taken care of. You can also donate directly to the Abuja protesters here.
Educate your parents/family
Many of the older generation have refused to hear the cries of young Nigerians who are the main victims of harmful profiling by the rogue SARS unit and the Nigerian police. With traditional media channels which they are typically tuned into, painting a less than accurate picture of what exists, many of the older generation are not privy to the well-detailed, fact-checked information coming from new media houses. Now is the best time to educate them and show them the stories of those whose lives have been gravely altered by the Nigerian police.
View this post on Instagram
Read the stories of Nigerians affected by police brutality
Young Nigerians are doing an excellent job of recording and documenting the injustices that they have had to face in the hands of SARS and the Nigerian police. You can now visit gist.digital and endsars.com as well as soresoke radio for live accounts on police brutality. Don't forget to amplify this message.
if you're out protesting today and want to document your experience please do so on https://t.co/14q7kcRRol very easy to record and nothing gets the emotions across like voice does! #SWATMUSTEND #SWATMUSTENDNOW #EndSWAT

— Delz (@wolfofnewstreet) October 15, 2020
Sign petitions
There are a number of petitions now circulating to gain the attention of international bodies to intervene or enact sanctions on Nigeria for the harm and injustice it has caused to its citizens. We will continue to update this post with more petitions as time goes on.
Found this online. Signing this means the British MPs can debate this in the house of commons
Petition: Implement sanctions against the Nigerian Government and officials https://t.co/CWSE0cJWgC #EndSARS #EndSWAT

— Nimah A (@MsNemah) October 20, 2020
Featured image credits/Feminist.co
---
Tweet me any leads from #EndSARS protests in Lekki @tamimak_
---