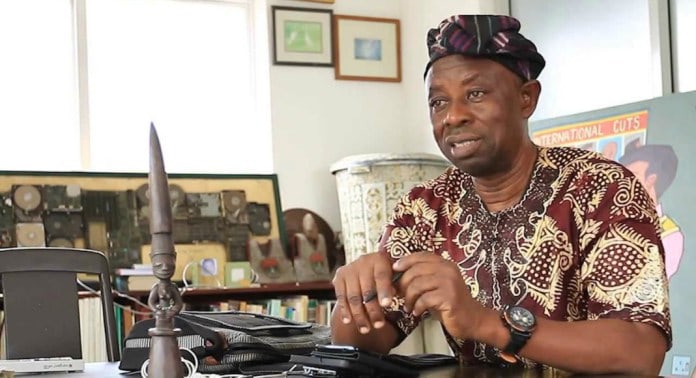 Life + Times: 7 must-see classics from legendary filmmaker, Tunde Kelani
In celebration of legendary filmmaker
Tunde Kelani is 70 today, and no doubt, seven decades on earth will leave anyone with quite the stories to tell. For this legendary filmmaker though, his best stories aren't only visual, they aren't hard to come by either. After cutting his teeth on 20th Century Fox's 1990 production, 'Mister Johnson' where he worked as an Assistant Director, Tunde Kelani has worked on numerous award-winning movies ever since. In celebration of the life and times of the filmmaker's birthday, we look at 7 of his most prominent flicks to ever hit the big screen.
https://www.instagram.com/p/Bfp8ieYj_Op/
"Ti Oluwa nile" ('God Owns The Land') (1993)
"Ti Oluwa Ni ile" is a Tunde Kelani's exposition on man and death. Set on an inspired story by Kareem Adepoju, events unfurl as Baba Wande (Kareem Adepoju), a village trickster attempts to outrun his woes after conspiring with two other men to sell a piece of land that is also home to a local deity. His conspirators are soon mysteriously found dead, while Baba Wande runs from pole to pole in a bid to escape the haunt of death. It's a philosophical take on the futility of life that doesn't attempt to take itself too seriously or remove context for how an African man's strongest beliefs can also double as his perdition. – Shina
Oleku (1997)
Like all classics coming-of-age stories, Tunde Kelani's "Oleku" captured the life and times of the youths in the most dramatic ways possible. "Oleku" is an adaptation of professor Akinwunmi Ishola's novel of the same name. The story, however, became a cult classic following Tunde Kelani's depiction of a relatable story of finding love in a pre-millennial Nigerian society. "Oleku" follows the story of Ajani (Yemi Shodimu), a final year student of the University of Ibadan who after being pressured by his mom to find a girl he could settle down with gets dragged into a love quadrangle with Lola, Sade and Asake. – Debola
"Saworoide" (1999)
In this 1999 classic, the fictional town of Jogbo becomes a miniaturised representation Nigeria's post-colonial history. Following the death of a good king, the problematic reign of his shady replacement eventually leads to a violent military overthrow. The gloss of "Saworoide" however is not only in its authentic script, but a colourful cast featuring Bukky Wright ('Superstory'), Kunle Bamtefa ('Fuji House of Commotion') and Professor Kola Oyewo ('Sango'), and an effective use of post-colonial aesthetic. Like many good films, the moral lesson at the of "Saworide" is unclear. But for the preparation of a runaway heir to potentially become the new king, we never know if status quo remains or if the climax of the film returns to Jogbo her more prosperous self. Haunting, but like any good film, it's been nearly twenty years since its release today, but the same can be said for whatever may come after Nigeria's 2019 election season. – Toye
Yellow Card (2000)
"Yellow Card" follows Tiyane, a talented teenage footballer from a low-income home, who hopes to play football in Europe in the near future. Tinyane's dreams are stifled when he impregnates a girl from his high school, Linda, and both decide to raise the child together. Though Tiyane and Linda step up to their new responsibilities, their personal relationship is threatened when Tiyane falls for an upper-class mixed-race girl, Juliet and has to make more difficult decisions. The film explores the implications of poor sex education on kids, and how it makes them susceptible to danger. – Tomiwa
Thunderbolt (2000)
Tunde Kelani focused on the disunity among tribes in the Nigerian societies for "Thunderbolt" his 2000 classic. But ironically, the movie felt more western soap-opera than the typical Nollywood motif we were used to at the time. Which is just as well as the film contrasted modernity with the role African traditions played in our beliefs, folklore and sexual politics. "Thunderbolt," tells the touching story of Ngozi, an Igbo woman who marries Yinka, a Yoruba man despite the conflict between their tribes. Unfortunately, the relationship goes sour making her wish she had listened to traditional reasoning but the underlying lesson from the film was that irrespective of tribe or race or ethnic, there are really only two types of people; the good and the bad. – Djaji
Campus Queen (2004)
Set on a University campus, two rival college clubs, the Heavy Weights and the Silver Line Movement, vie for power. The Heavy Weights run protection rackets and plan gangbangs to protect the military status quo, while the Silver Liners collect blackmail and prostitute themselves for the sake of social justice. The protagonist Banke switches allegiance in protest when she's sexually served up by the Heavies in exchange for money. She manages to escape with the loot and her virginity intact, but soon her former clubmates want revenge and target her for a retaliatory rape. With the help of her new friends, she foils the rape scheme and she manages to attract the amorous attentions of the military government which she uses to further her own scheme to topple his regime. The plotline is a doozy, I know, but it's worth every second. – Mariam.
Arugba (2008)
"Arugba" is set in a society deeply compromised by corruption and plagued with hypocritical leadership. The King, a parody of a former Nigerian President, pursues economic reforms that have no direct impact on the people. To rid the society of corruption and other vices, the king and his council of chiefs look to the "Arugba", an educated girl who is not alienated from her own culture and who is able to protect herself against male aggression, for the annual sacrifice to a river goddess. – Mariam