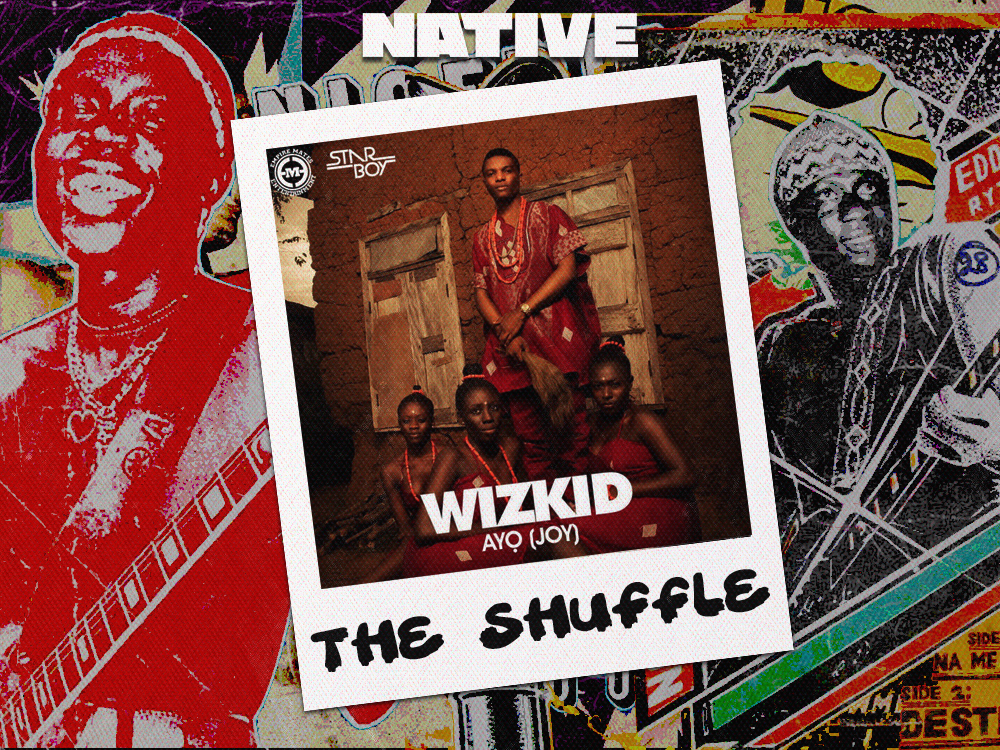 The Shuffle: Celebrating Wizkid's 'Ayo' through 5 Essential Songs
Here's to nine years since Big Wiz's sophomore album
Back in 2011, Wizkid made a confident declaration with the release of his debut album, 'Superstar.' He was armed only with the backing of artist-mentor, Banky W., distinctive vocals and a dream but he introduced himself as a superstar when not many knew his name. It didn't matter that he didn't have much in terms of exposure or resources, Wizkid's conviction rang loudly across what many now consider the best debut in the history of Nigerian pop. Three years later, Wizkid was already basking in the glory of his unrelenting efforts with the unfathomable success of the debut, etching a staggering imprint on the soil of African music. His sophomore effort, 'Ayo' was a celebration of not just his admirable career strides in such little time, but a toast to the name Ayodeji Balogun. 
'Ayo,' which translates to joy, features 19 feel-good songs with Wizkid soaking in the light shone by his hard work and accolades of the preceding three years. He was experiencing an unquenchable high and decided to take listeners along to celebrate this win with him. While Wizkid thanked his supportive mother for her continued prayers on "Mummy Mi," he showed his admiration for his roots for driving him to new heights on "Ojuelegba." As much as he is humbled by his background, he doesn't hesitate to gloat on "Show You the Money," a cheeky reminder of the financial gains his success has brought. To celebrate nine years since its glorious release, here are five classic songs from 'Ayo' that you need to circle back on your current rotation. 
"OJUELEGBA" 
The beauty of a song like "Ojuelegba" is that it's one of those iconic singles that cut across several generations. Pull this up at any social event you're attending and everyone from your great-grandmother to the overly excited ten-year-old is sure to have a good time. For many Nigerians home and abroad, the Legendury Beatz-produced track has been dubbed Nigeria's national anthem and with good reason. Over the lightly clashing cymbals and lush chords, Wizkid tells a story of hustle most Nigerians are familiar with in one way or the other. "Ni Ojuelegba, they know my story," he croons on the first line, taking us back to his early music days at Mo'Dogg studio. He explains that while he may be on the cusp of a bigger breakthrough—and boy was he right—his journey didn't start as flashy as his life may appear now. As much as he is telling his story, he takes the next couple of lines to explain that his drive did not sprout out of nowhere, crediting the shared determination to make it common with the people of Ojuelegba. 
Wizkid reiterates his penchant for feel-good tunes as the mood of the track picks up by the chorus, "I am feeling good tonight, this thing got me thanking God for life."  In many ways, he perfectly encapsulates the skill Nigerians have to put a smile on their face while grinding for their daily bread. He is overwhelmed with joy and radiating positive energy as he quips "I can't explain, I can't explain," leaving a lot unsaid but trusting that his listeners, or at least those who have witnessed his come-up, will understand and thank God on his behalf. Lyrically, the song doesn't offer much with regards to length as he only repeats the first verse and hook for the second half of the track but it really doesn't need to. While he seamlessly drifts between Yoruba and English, the message is crystal clear —Wizkid is happy. 
"JAIYE JAIYE" [FT. FEMI KUTI]
Of all the hits on this 19-tracker, "Jaiye Jaiye" captures the radiant themes of the album the most and with good reason, it is also the introduction. For an album dubbed 'Ayo,' "Jaiye Jaiye" —which loosely translates to enjoyment and generally having a good time— couldn't be a more perfect way to set the mood. Wizkid starts by listing what we can assume to him are the good things in life—money, designer items, cars and women. He exudes optimal levels of excitement as he expresses almost to his own surprise "You cannot believe what I am seeing with my eyes/Say my people it is a beautiful story(na na na)." Other than the pleasures derived from the aforementioned joys themselves, Wizkid's happiness comes from making comparisons to his life when he started. He is basking in the limelight, catching flights and quite literally nothing can bring him down from the high he is feeling. 
To anyone who may try to stand in the way of his earned success, he warns, "I'm balling I'm balling I'm balling for two, Let nobody do me bad or intrude." The props of this hit can't be complete without the recognition of Sarz's masterful production. "Wizzy bad musician, Sarz bad producer," Wizkid croons mid-way across the track, giving Sarz his well-deserved flowers. He is able to celebrate Wizkid's smooth vocals over Femi Kuti's boisterous saxophone chords and heart-thumping bass to convey the joyous story being told. As the track draws to a close, Wiz delivers an admirable tribute by sampling the legendary Fela Kuti's "Lady" as he croons the eminent lyrics "If you call am woman African woman no go gree/She go say, she go say I be lady o." All this is strung together by Femi Kuti's exhilarating saxophone solo as the track closes out. What a marvellous way to introduce a celebratory album. 
"CARO" [FT. L.A.X]
It's a blessing and a curse to have a song with a maestro like Wizkid. A blessing because you'd have one of the best party songs of our decade and a curse because if you're anything like L.A.X, topping an effort as outstanding as that would prove extremely difficult. Whether or not L.A.X's magnum opus arguably dates back to 2014, it doesn't take away from his peerless delivery on the gem that is "Caro." This may not be the blueprint but in many ways "Caro" is a solid example of serenading taken to new heights. Over a groovy production, by Legendury Beatz once again, Wizkid shamelessly rains praises on what his ideal woman looks like, "Caro make my head dey turn, Caro dey make me wan dey lose am."
Now, it is unclear whether or not this woman is already in Wizkid's life or he is simply stating the qualities he looks for in a woman as he croons, "Eh, I'm looking for Caro, show me Caro/Sisi Caro, where are you Caro?" Like we hadn't already heard Caro's name enough, L.A.X comes in to reiterate  the stronghold she has on himself and Wiz. His gritty, sonorous vocals sweetly contrast Wizkid's plush ones as he sings, "Caro fine plenty plenty, Caro sweet, no get enemy." Whoever Caro is, shout out to you for inspiring this timeless tune. 
"ON TOP YOUR MATTER" 
A major factor contributing to the likeability of this track, other than Wizkid's glassy vocals, is Del-B's pristine production. "On Top Your Matter" perfectly sustains the jovial mood of the album established by preceding tracks like "Kind Love" and "Show You The Money" to name a few. Once the heavy basslines drop at the track's introduction, your mind instantaneously travels to an Owambe for the similar melodious pattern associated with a talking drum. It is later accompanied by echoey chords and Wizkid's sweet-sounding adlibs. "I fit die on top your matter, baby girl God bless your mother," he leads in, evidently hooked on the love interest. He celebrates her beauty with witty comparisons to mystical creatures as he lulls, "You too fine pass mami water," all the while thanking her parents for their daughter. Wiz goes on to celebrate his muse, making promises of a lifetime commitment after searching many years for her. Touched by her qualities, he bravely admits to being in love and the extreme measures he would take to ensure she reciprocates his feelings. 
"IN MY BED" 
Wizkid has never been one to shy away from sexual themes. On "In My Bed," Wizkid manages to wrap up his desire for his muse as he quickly commits to loving her for her body while celebrating God's goodness in his life, all under four minutes. South African four-man music group, Uhuru, consisting of DJ Maphorisa, Xeli, Mapiano and DJ Clap snagged credits on the intoxicating drum-led production of the track. The groovy, upbeat instrumentals lay the perfect foundation for Wizkid's serenading to begin, "Oh girl you whine your waist, I promise to be your defender/Girl, I go love you January to December, Tell dem hater back to sender."  The bass drops, replaced by an air of seriousness to queue in Wizkid's brazen request. 
After name-dropping several key players in Nigeria's political scene, he takes on a different theme, praising God for his guidance through a tumultuous journey, "Oh blessing follow me everywhere I go, I'm serving a living God." In an admirably humble moment, he expresses his surprise at the support as he croons "And everywhere I go people show me love, just tell me the reason gan." He questions his haters in the same breath, wondering why they try to speak down on him despite his evident talents. This message is accompanied by brooding keys and an intermittent bass in the background. Seconds later, the mood picks up as Wizkid's decision to ignore his naysayers and focus on his grind becomes evident. 
[Featured Image Credits/The NATIVE] 
---