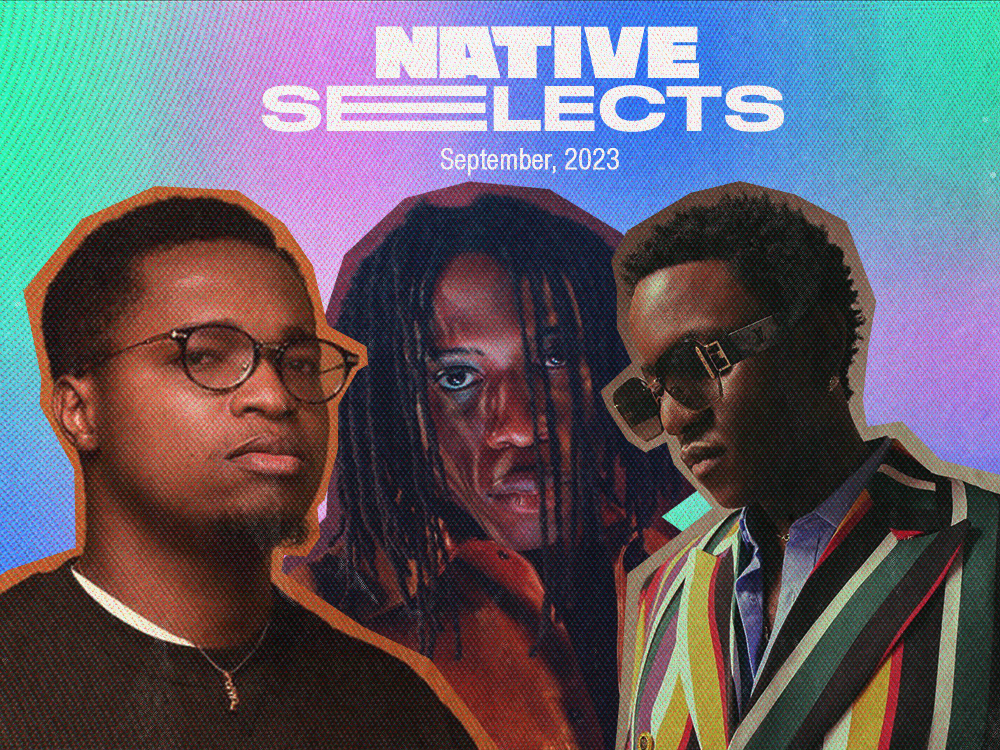 NATIVE Selects: New Music From Victony, Kojo Cue, Obongjayar & More
New tunes to carry you through the weekend
It's that time again. Every week, new music shows up, sweeping fans and music lovers off their feet while artists gauge reactions to know the effect of their creativity. At the NATIVE, we are committed to keeping our ears on the pulse of the music scene and bringing the best sounds to your doorstep. In our last edition, we brought you stellar new releases from Ami Faku, NSG, Victor AD and more. Today, we have songs that move from Afropop to Amapiano to R&B, with our select artists showcasing their unending talent and passion for creativity. Lock in!
VICTONY FT. BABYBOY AV – "JAGA JAGA"
In recent months, Victony has been leading towards the release of a new project, 'Ebelebe Vol. 1', and his sound has been taking a fresh, electrifying turn. On this new song, he connects with Babyboy AV, another artist whose artistry flows around similar ebbs as him. Evocative strings and a mid-tempo drum pattern enlivens the record, as both artists coolly unfurl tales about their life. In typical Victony style, it's a moment of reflection which offers a sweet melodic tease. 
KOJO CUE FT. JOEY B – "FREE THROW"
Known for his incinerating, spirited bars, the Ghanaian rapper Kojo Cue has been leading towards a comeback. On this bouncy trap number, he unites with his countryman Joey B, and the both of them lace affirmative bars with heated precision. Like many things Joey B, the song manages to lean towards social commentary while maintaining a quirky outlook, and it's a fun they both relish during the duration of the song. It's one for the outdoors and triumphant moments. 
BAYANNI – "LOW WAIST"
A tropical base enlivens this new record from Bayanni. It's a quintessential afropop song, teasing imagery from the circuitry of romantic relationships, and Bayanni's language is particularly exciting. "Baby, see your waist/ Me, I no dey shake, shebi na wetin man dey face?" he sings in the hook, suggesting a level of impending danger he just can't turn away from. A sweet tease of a song, its assured energy gives the listener enough to return to. 
OBONGJAYAR – "WHO LET HIM IN"
Since releasing his groundbreaking debut album 'Some Nights I Dream of Doors', the artist Obongjayar has followed up with a trickling stream of funky, light hearted songs. On "Who Let Him In," he addresses his outsider position across industries, while establishing the reasons why he's so heralded; his versatility, but also his grit, and the song reflects that sense. Although carried by an earthy percussive base, the utilisation is novel, and Obongjayar bares his several selves with assured mastery. 
GOOD NATION, LOJAY & JOE DWET FILE – "ROUTINE LOVER"
On this debut record by Good Nation, there's an atmospheric candour which allows Lojay the space to shine. Usually, the Nigerian singer is able to find impeccable pockets in the most challenging of beats, but here the movement is attuned to his strengths. Along with a stirring French-sung verse from Joe Dwet, the sense of fatalism which trails the brooding percussions of the song is delivered on. 
RAYBEKAH – "MY WORK"
One of the most impressive vocalists operating today, Raybekah has been steadily inching towards her breakout moment. She's put out a collection of stirring, socially-driven records, and "My Work" follows in that direction. The title references her persona's loyalty for their lover, with sweet inflections meeting the mellow guitar-tinged production. It's a hearty embrace of sentimental proportions, and Raybekah deserves all the credit for bringing the idea into life. 
DANDIZZY & FALZ – "SOTE" 
In recent times, rappers have been becoming more comfortable with blending the pristine stuff of bars over conventions from other movements, most often Nigerian pop. Being a native of the artistically-amorphous Port Harcourt city, DanDizzy does know how to create pop-friendly rap songs, whether through his choice of beats or his conversationalist language. On "Sote," both are on display as he and his guest Falz unfurl hilarious but narrative-driven lyrics over the warm, palmwine music-evoking production. A really purposeful collaboration, this one. 
KING KRUFF FT. STONEBWOY & JAG.HUGLIN – "SHEDOENEED"
On this banging afro-dancehall record, the Jamaican artist connects with the Ghanaian veteran Stonebwoy and vocalist Jag.Huglin. A love interest is the focus of the song, as the artists croon lovingly about her desires and their willingness to provide them for her. The production is a feel-good capsule, with twangy guitars and the bouncy drum progression working to incredible effect. Stonebwoy has always been big on establishing artistic and cultural links with the Caribbean, and on the musical front, this is one of his most accomplished collaborations so far. 
---