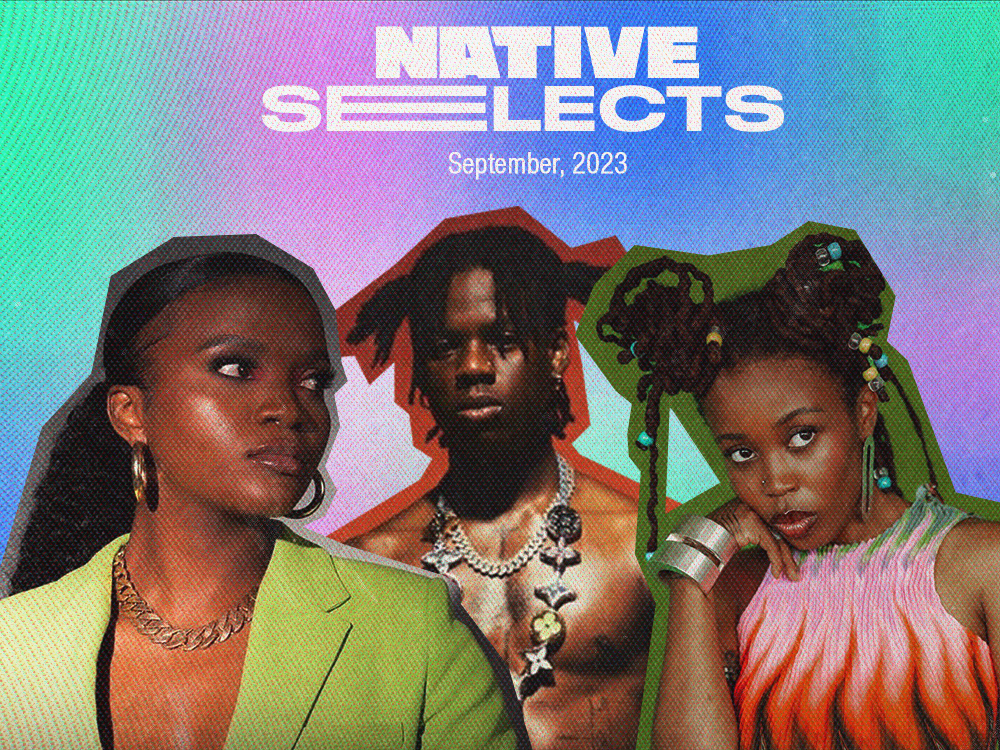 NATIVE Selects: New music from Ami Faku, Rema, Lady Donli & more
New tunes to carry you through the weekend
It's that time again. Every week, new music shows up, sweeping fans and music lovers off their feet while artists gauge reactions to know the effect of their creativity. At the NATIVE, we are committed to keeping our ears on the pulse of the music scene and bringing the best sounds to your doorstep. In our last edition, we brought you stellar new releases from Diamond Platinumz, Khaid, Zlatan and more. Today, we have songs that move from Afropop to Amapiano to R&B, with our select artists showcasing their unending talent and passion for creativity. Lock in!
MR MSOLO & AMI FAKU – "NEEDED ME" 
Through the past couple of months, South African singer, Ami Faku has been expanding the scope of her artistry and SA's mainstay genre, Afro-House, through a series of remarkable collaborations. She joined Ghanaian DJ, Juls, earlier this year for a heart-warming rendition of "Terrified" and Nasty C's "This Time" off his recently released album, 'I Love it Here.' Now she enters her producer bag, joined Mr Msolo for an Amapiano remix of Rihanna's "Needed Me." The pair retain her first verse and pre-hook layered over a glassy drum-led production and brooding piano keys. After the hook rolls around, some dingy keys accompany Rihanna's looped adlibs.
SPYRO – "ONLY FINE GIRL"
Headies award winner, Spyro, emerges with a new single, "Only Fine Girl." The song starts with a catchy piano melody before syncing up with the African rhythm. He showcases his impressive focal prowess as he assures his lover that she is the only fine girl around, "You're the only fine girl I know/ Only fine girl in my zone. Spyro's voice perfectly delivers the lyrics with notable conviction and passion. 
NSG – "NELLA ROSE"
Ahead of their debut album 'AREA BOYZ,' East London group NSG unveils a new single in "NELLA ROSE." Set on an Amapiano-inflected production, "NELLA ROSE" celebrates the group members' experiences in chasing success. The Don Prod-directed music video features the group and members of their Hackney in jubilant moods and enjoying the pleasures of life.
VECTOR – "GBEDU"
"Gbedu" is Vector's return to the music scene after a lengthy hiatus. The multi-award-winning rapper and singer/songwriter delivers a groovy song which features English, Yoruba, Nigerian Pidgin, House music and African rhythms which solidify his versatility as an artist and as one of Nigeria's foremost Hip-hop artists. 
SEFA – "VIBRATION" FT MEIWAY 
Coming strong from "Maposa" and "Acid Fairy" Ghanaian singer and songwriter, Sefa, releases "Vibration" with the help of the talented Ivorian singer, Meiway. This collaboration witnesses a captivating bridge between two cultures and genres which brings the music to life. Both artists deliver raw and authentic energy in their verses, especially Meiway in his first verse. His verse sets you straight for the song. The Afropop rhythm and Amapiano feel create a must-dance atmosphere.
LADY DONLI – "THE BAD ONES"
Lady Donli is at work again with "The Bad Ones" coming off of her fresh new album 'Pan African Rockstar.' This 12-track album features songs like "Hello Lady" and "My Ability" and holds Impress features. Truly a Plan African Rockstar, she introduces us to "The Bad Ones" with a deep bass guitar and a truly exceptional voice as she carries and delivers the lyrics. "I'm a real ass motherfucker" An undeniable line. 
VICTOR AD – "MIDF (NA MONEY I DEY FIND)"
Following his last track release, "Normal" Victor bounces back with a Kullboy-produced single, "MIDF (Na Money I Dey Find)" The song title already gives us a clue of the message Victor plans to pass across. The hustle and grind never stops which he encapsulates in the second verse as he sings, "You see this hustle no get days off/ Once you don land you no fit take off" With a choir-like essence, he delivers a line that we all can relate to, "Na money I dey find oh." 
KAIEN CRUZ – "I LAY" FT XENIA MANESSAH 
Anticipating the release of her debut album, South African singer, Kaien Cruz brings back their Afropop anthem, "I Lay," giving us an alternative version with the talented Kenyan crooner Xenia Manessah. Xenia does justice on the track as she syncs perfectly with Kaien as well as carries her part of the song. 
FIED & REMA – "BUBALU"
Emerging as the Best Male Artist of the Year at the The Headies, Rema joins forces with Columbian superstar, Fied, on his new single "Bubalu." It stands as one of the songs from his upcoming album "Mor, No Le Temus A La Oscundad " Rema singing Spanish alongside Fied is both impressive and commendable as it rides on the African rhythm. Both artists sing about a special romance that feels just like paradise with Rema singing, "If e no be her then me no want am" in his verse. 
M.ANIFEST – "50 YEARS FREESTYLE"
Following his last release, "Reap," Ghanaian rapper and entrepreneur, M.anifest releases his much-awaited track, "50 Years Freestyle" – a celebration of fifty years of the genre. He showcases his powerful lyrical abilities accompanied by a trumpet and drums which give off the vibe of a marching band alongside the rhythm flow of his sleek bars. The song speaks volumes about his success and contribution to the growth of Africa's Hip-Hop scene as he proudly spits, "50 years in my guy none of this is random." 
---
Words By Chigoziri Ezeaku
---
[Featured Image Credits/The NATIVE]
---