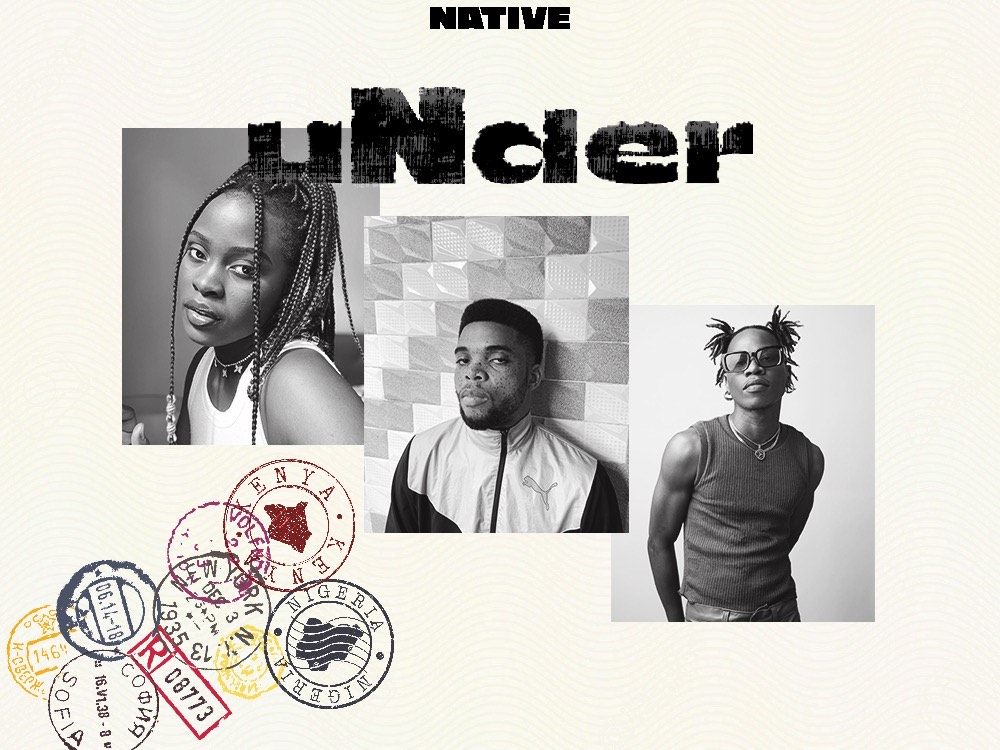 uNder: Best New Artists (September 2022)
Featuring Elsy Wameyo, TAR1Q, YKB & more
Afropop has always been expansive. It's something that bears mentioning because of the sheer awe that comes with fully recognising the diversity of the music being made by African artists at home and in the diaspora. It's also remarkable because, even in the post-digital era of instant access to music from almost everywhere, there are new artists being discovered every day. Some are helming incredibly unique sounds, others are making exciting iterations of familiar ones, and they're all adding to the rich tapestry of Afropop.
At The NATIVE, our editorial staff shares some of the most intriguing artists on the frontend of their careers, in the hopes that you find your favourite new artist—and in the process, better appreciate the boundless scope of Afropop. This month is no different, with a list of uNder inductees that includes the genre-mashing rap artist Elsy Wameyo, R&B-influenced singer TAR1Q, pop savant YKB, and more.
Elsa Wameyo
It's not usual for artists to break out the gate with fully-formed projects, but Elsa Wameyo is a striking exception. Her debut record "Intuition" was released in 2018 and saw the Kenyan-born Australian-based musician shine with an authentic storytelling ability. Her perspective could go from personal to generational under a well-crafted line. 
A rich sonic tapestry carries her soulful messages, buttery lo-fi knocks floating above synth grooves and other experimental bursts. Being a self-taught producer, Elsa's music is purposeful even when eccentric. Cue-in "Daily" with its EDM progressions which pronounce the "your love is a drug" refrain of Elsa, a recognition of the exciting thrills that comes with a toxic affair. "Outcast" and "Pastor" offer laser-sharp entries into Wameyo's ability to condense thought-provoking records into exhilarating bars, in heightened moments dousing her lyrical edge with soul. The latter's poignance is especially captured in the hook, "Conditioned to feel like a lost man, dumb and depressed/ Funny he's running to money, funny you've already won him," she sings with wisdom well beyond her 23 years. 
On her debut EP 'Nilotic', she carries ethnic pride into her musical choices more poignantly. All six records are produced by Elsa, with audibly Kenyan chants backending the beats. From the jazzy drums of "Promise" to the melancholic notes on "Hunger," the worldbuilding prowess of Elsa Wameyo is evident. In a style reminiscent of Little Simz, she isn't a musician as much as she's a cultural enthusiast, relaying ageless philosophies with a fluid grasp on contemporary language and sound.
Cozy Kiyo
Over the past five years, Nigeria has witnessed the entry of inventive musicians who've embodied an experimental ethos. In the subgenre of mood rap, few have been as affecting as Cozy Kiyo. Much like his moniker, his records evoke a chill, do-not-disturb vibe, carrying from the stateside swag contemporaries like Psycho YP and sGawd have stitched onto the tapestry of their music. Trap might be considered part of that aesthetic, but Kiyo's music embraces even wider influences.
Wind instruments and melancholic chords colour his records with novelty,  while the delivery is much in-style with contemporary rap. On "Duffy" which runs less than two minutes, he raps cheekily, "mehn I've been in my duffy," switching that for the more-popular 'bag' metaphor. He's self-reflective on "Recipe," swinging over brooding lo-fi progressions with a pace which amplifies his concerns even more poignantly. "I can't take my ass to sleep, don't know who I wanna be," he raps in the hook, painting a scenario very relatable to young people while going further to rope in other characters who swirl around the world he's describing. Animated objects make up Cozy's branding, and the child-like honesty of his records reveal that to be deliberate.
He released his debut album 'Home' during the scene-shifting pandemic, constructing intimate profiles of himself at a time when everyone was deep-searching. Whether on the evocative opener "Drown" or the smooth-talking "Grim" or the Ictooicy-featured standout "Friends," Cozy's music manages to be real while sounding dreamy in the best possible way. Not many rappers are as purposeful as this guy, and attention is surely due. 
DON NGATIA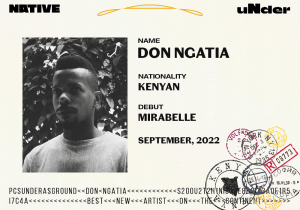 Don Ngatia makes music for the soul. He delivers his songs in a calm manner, preferring that his smooth vocals hit his listeners' hearts one lyric at a time. He began his career with the 2013 EP 'Venus and Mars,' which was a great showing of his precocious gift for emotive songwriting, addressing love and heartbreak on the tracks "Venus and Mars," "Where Is The Love" and "Lonely For." He sharpened his talent covering the songs of renowned artists like Édith Piaf, Nina Simone and Duke Ellington.
A graduate of the Berklee College of Music, the Kenyan artist's music is often a blend of African instrumentals, R&B and Soul, which he terms Afro-urban. In 2014, he released the singles "Mirabelle," a modern allegorical tale of spirituality, love and fate, and "Solitude," a track about the ache of loneliness after a lover's exit. In 2016, after a two-year hiatus, he released the seven-minute Gospel track "Tide Me Over," wherein he entreated the Almighty to "Cultivate in me the wisdom (to know truth from lie)/Grant me understanding (of the things that be)." On last year's "Carpe Diem," he expressed a desire to dispense with fear and embrace the journeys that life pushes his way. "Self-doubt's a limiting cradle/But fortune seeks willing and able hearts/Won't be lulled by fear or by fable/I'll get out my head, with myself make amends," he sang.
Don Ngatia produces most of his songs and designs some of his song covers, displaying impressive skill and versatility. On "Alone," his latest single, he stews in the misery of a lover's absence. "I can't get you off my mind/Be thinking bout you all the time/I'm stuck on read found no reply/You stay on repeat," he sings as the backing vocals serve as his only companion. The production is minimalist with twinkling piano keys and Caribbean-style drums, conveying the sadness and despair Don Ngatia feels. It is a credit to him that he has stuck to his strengths while perfecting his sound as the years roll by, making him a more formidable musician.
THE KAZEZ
Identical twins Taiwo and Kehinde Kassim got their big break in 2019 with "100 Naira 50 Naira," a year after being selected as one of the 100 beneficiaries of Mr Eazi's emPawa Africa. On the infectious "100 Naira 50 Naira," the duo, who go by the stage name The Kazez, spat witty lines about their experiences on the streets of Lagos. Two years prior, they had shown a knack for captivating flows and lyrics on the Rap tracks "Time" and "Alcohol."
In 2020, they changed tack, revealing their singing talents on the love tune "You Deserve Better" and on the P.Priime-produced "Jericho." A year later, they doubled down their budding Afro-fusion sound with "Rihanna," putting their clean vocals and musical influences—from Orezi to Wizkid—on display. They went full throttle on the up-tempo Afropop tune "Church Mind," showing that there are more sonic tricks up their sleeves.
The latest two-song pack 'Pair' finds them still experimenting with their Afro-fusion sound, with the tracks "Coming Home" and "Indian Feem."  On the latter, they weave a love tune around their appreciation for Indian movies. They express their longing for a loved one on "Coming Home," delivering patois-style on the bouncy beat. 'Pair' is a beautiful package of the duo's talents. It is just a matter of time before they will catch the attention of the mainstream audience, as they continue to experiment and refurbish their sound.
TAR1Q
When TAR1Q was younger, he discovered his love for storytelling and in 2018, he decided to give storytelling a chance but this time with music. The now 20-year old singer and songwriter sharpened his skills over the years and has become a force of his own since stepping out of the Chocolate city recording academy. His musical style, which he terms Neo-Afro, synthesises contemporary Afropop, Soul, Hip-Hop and classic R&B.
"My music is completely in tune with how I feel, and how I am trying to make people feel when they hear it. It's always been about feelings for me," TAR1Q says of the descriptive tag that best fits his music. Earlier in the year, he kicked off his major label career with 'Son Of The Moon', a stellar debut EP that captures R&B, Soul, Pop and Hip-hop elements all tied together.  The body of work features standout numbers "Bad Intentions" and "Dear Insecurities" both of which immediately caught the attention of listeners across the afropop space. His debut EP garnered him over 1 million streams across all platforms and has fixed him in Afropop conversations today. The scope of the new project is a statement from an artist who has begun a solid journey and is ready to become an even bigger star.
YKB
YKB is one of the few artists who has had a peculiar journey. Initially starting out as a photographer, YKB focused on taking pictures and creating visual experiences for viewers. After making the switch to music, he initially went by the name YusufKanbai and shared his debut 2-song pack, 'Hear Me Out' with production credits from Godomarr and Higo music. The body of work saw Caribbean, Indian, and Afropop influences blended together.
Last year, he resurfaced on the scene as YKB with a renewed vision for his career. Since then, YKB has only shared with listeners songs that have stood out for its self-determined showcase. He followed that announcement with the release of the Zlatan-assisted record "Dey Your Dey" where both artists merged their distinctive strengths–YKB's melodious, word-bending delivery and Zlatan's high-octane ad-libs and vociferous verses–for a strong rap-sung collaboration. The artist did not stop there, last year, he shared his debut project 'Before I Blow', a 7-tracker which drew inspiration from its title and made many listeners pay attention to the artist and his art.
This year, he's already shared some of his smoothest records, including "Imagine" and the Finito-produced "san siro," which latches unto the percussion-led sonics of Afropop. For YKB, each release is a means to an end: soundtracking the emotions of young people just like him. "I hope my music helps people get through the day because it's a sad world," the artist shared with the NATIVE. He makes music to project how he feels, and accepts life in hope that someone somewhere can receive it. YKB is on the cusp of a breakthrough and we are here to see him shine.
---