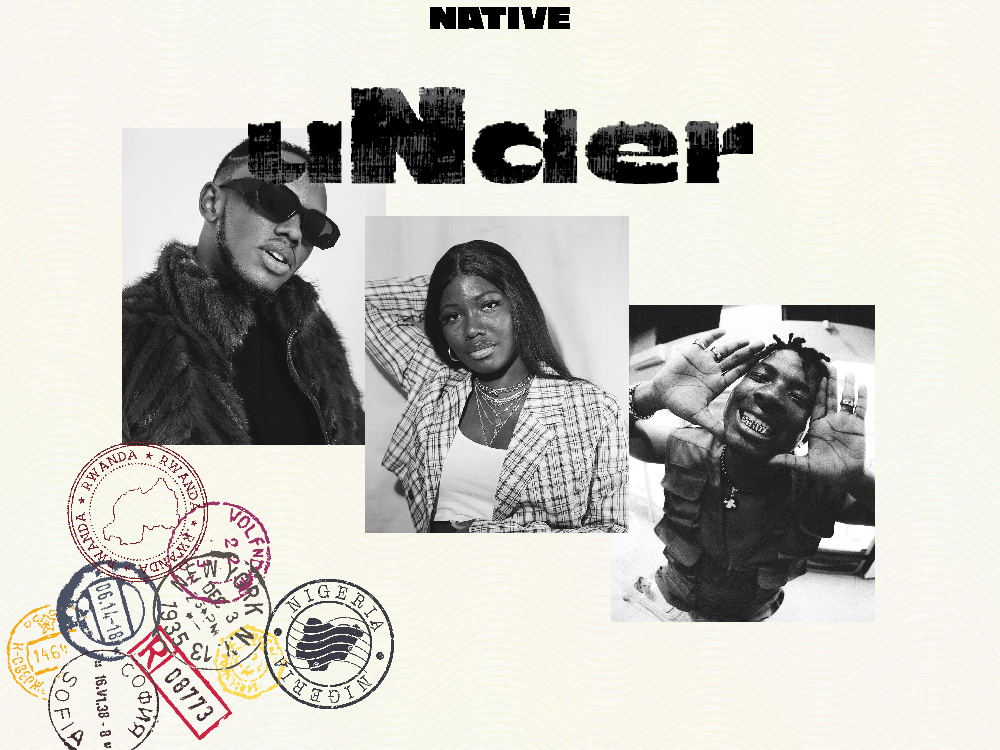 uNder: Best New Artists (August 2022)
Featuring Ginius, Chlèy, Major AJ & more.
What makes an artist special? It's a question that can be complicated, especially when part of the job involves discovery—and in a time when breakout stars emerge at breakneck pace, no less. There's the obvious requirement of talent, but even that isn't always a clear signifier that an artist is special. It's quite the conundrum, one that we deal with here at The NATIVE on a daily basis, partly for our uNder (fka Fresh Meat) column, and also because our editorial commitment to championing the stars and sounds of tomorrow—today—is a constant.
What working on uNder over time has taught us is that, special is a complex concept, and sometimes it means an artist has that ineffable and vivid star power, other times they make music that's strikingly distinct regardless of mainstream appeal, and in some cases it's their journey so far that proves intriguing. This month's instalment of the Best New Artists column continues our quest to bring you artists we think are special.
Including the colourful afro-fusion of Ghanaian singer Ginius, the spell-binding voice of South African singer Chlèy, the summery earworms of Rwandan singer Chriss Eazy, and more, here are six artists you should be paying attention to.
Ginius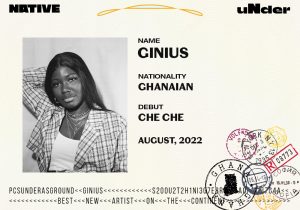 "I'm not a spontaneous person," Ghanaian producer and singer Ginius readily admits. "I'm going to take my time to make my music proper, so that when I blow, nobody will tell me I didn't pay my dues." In a time where stars emerge out of the ether with a hit song and are often forced to keep replicating that trick, Ginius relishes the scenic route of becoming prominent by building artistry and commercial interest brick by brick. It's a refreshing perspective she's gleaned from the sustainable careers of artists like Burna Boy, Tems, Show Dem Camp, and more.
Born and raised in Ghana, before moving to the UK in her latter adolescent years, Ginius' interest in music spans all the way back to being the "little girl who played congas in church," growing her affinity for hand percussions through lessons from an uncle who owned a full set of the djembe drums. After her move to the UK, that naturally turned into an interest in producing music, and she started working towards a career behind the boards by researching DAWs and learning to play the piano. "When I started this music journey, I didn't want to sing; I just wanted to produce," she says, but at the nudge of a colleague and seeing the positive reception to her first song uploaded on SoundCloud, she decided to put it all together.
Officially starting her career in 2020, Ginius filled that year with a grip of releases, including 'Happy to Be Outside', a 3-song pack of summery Amapiano, released just before the sound became the craze of Afropop. She's since released 'How It Feels', a romance-themed debut EP from last year, and earlier this month, she followed up with 'Her Notions Since '97', a more expansive effort that shows Ginius in greater control of her honeyed voice, as she sings of love, joy and life's quest to be successful over colourful, largely self-helmed production. "The growth from my last tape to this tape is very intentional," she says. "As much as music is something I feel the rhythm is a part of me, I'm also being like, 'I need to up my game here', because I've got eyes on me."
Balloranking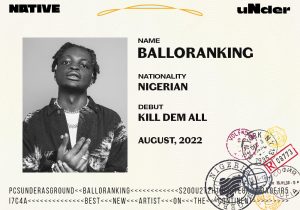 Musically, Street-pop is an influential force at the very centre of Nigerian pop, dictating sonic trends and scoring communal, exuberant moments. Spiritually, though, the essence of street-pop is centred on portraying the reality of its immediate environment, unabashedly reflecting the lives and hopes of its artists, and by extension, its primary audience. Balloranking is an artist that hedges much closer to the spiritual aspect of street-pop, delivering soulful expressions of what it means to claw from less-than-ideal circumstances into a better life.
Starting to hone is abilities circa 2018 while still in school, the Surulere, Lagos-raised singer quickly began making his mark as a recording artist, releasing a grip of singles in 2020 that encapsulated his burning desire to succeed. Chief among those songs is "Time No Dey", which features street-pop darling Seyi Vibez. The song is a prime showcase of Balloranking's ability as an emotive song-maker, passionately singing self-motivational quips in a mix of Yoruba and Pidgin Englis over folk-indented production. "My music is afropop and afro-soul," he said in a 2021 interview. The latter genre namedrop is a description that fits, especially if you've come across the video of him and Lyta performing the spiritually-inclined "Thankful".
Right now, there's a slightly more increased emphasis on the pop side of his artistry. Balloranking's new EP, 'Trench Kid', is a confident and more musically expansive showing than last year's aspirational-themed 'Zero Panic'. There's the soulful street-pop cuts like the title track and Bella Shmurda-assisted "Elevate (Remix)", but there's also the dancehall-inflected "Idol" and R&B-tinged "Feeling You" with Bad Boy Timz. The scope of the new project is a statement from an artist ready to become a bigger star without abandoning his roots.
Lirase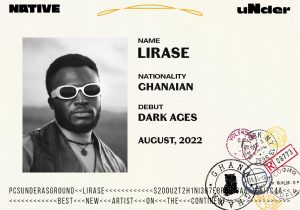 Music in the post-digital age is dominated by fusion, and Ghana's Lirase willingly plays into that ethos. When Lirase started making music in his early teens with a group of friends, he barely saw the distinction between rapping and singing. Part of that is because his introduction to rap and R&B came through the melodic hip-hop smashes of American rapper Nelly in his early 2000s heyday. As he kept grooming his abilities, he came to the personal realisation that "there's a thin line between both of them and I feel like it's all about getting inspired to express yourself."
Previously producing and performing under the moniker TonioBeatz, Lirase's musical ambitions took a 7-year detour when he went to medical school, which furnished him with a wealth of personal experiences he now imbues into the music he makes under his actual first name. Over the last month, Lirase has put himself out as a refurbished artist with a sense of purpose, turning a dark period in his life into cathartic music for his own healing. Pulling from struggles with school, the split of a long-time friendship, and a breakup, Lirase's new debut EP, 'The Dawn', pieces together a defiant statement of self, wholesomely willing himself to positivity over a busy but well-curated sonic canvas that includes threads from reggae, rock, folk, soul, electronic music, and more.
The point of Lirase's music is to be as honest as possible. "I'm still learning how to put things the way they are," he admits. There's some concern that the alternative lean of his music might take some time to gain widespread acceptance but he's playing the long game and looking to connect with more and more listeners by being authentic. "I make music that feels good to me, sounds good to me, and I know I don't have a terrible taste in music, so it's going to feel good and sound good to somebody else." Listen to Lirase, the lived-in essence of his fusion music might feel good and sound good to you.
Chlèy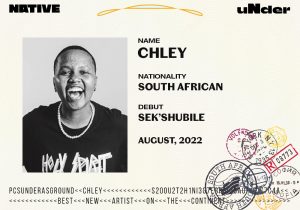 Everything moves at breakneck speed in the world of Amapiano. New strands of the South African dance subgenre are mutated and adapted every fortnight, there's an unending avalanche of hit songs, and new stars are minted every few weeks. To the latter point, sometimes, all it takes to be an emergent star is a feature on a hit song. Earlier this year, Chlèy Nkosi saw an astronomical boost in her profile following the runaway success of Konke and Musa Keys' "Kancane", a groovy slapper on which she delivered its instantly memorable hook.
"Kancane" wasn't Chlèy's first appearance on wax, but it's the song that firmly placed the 17-year old singer on a runway to success, and the reason is obvious: Chlèy possesses a wonderful voice. In that breakout performance, the intoxicating nature of her falsetto is on full display, but it's in the bridge where she adopts a delightfully snappy melody that Chlèy shows the dynamic range of her voice. If you scroll to the bottom of her Instagram page, you'll find a post with lo-fi video of the singer performing Seal's classic "Kiss from a Rose" as part of a duet on national TV, indicating the level of her talent and the assuredness she already has in her voice even as a teenager.
More collaborators are taking note of that voice, like Mellow & Sleazy, the producer duo at the forefront of Bacardi-indented Amapiano, who recently joined forces with the singer on the recent hit song, "Wenza Kanjani". There's no falsetto on the song, but Chlèy's voice is no less riveting, rattling out another memorable hook. Still firmly at the frontend of her career, Chlèy is no doubt still working on the specifics of her artistic identity, but she's already a compelling singer to listen, which is very much a solid foundation to build a superstar career from.
Chriss Eazy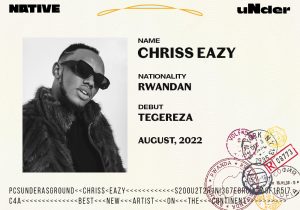 You might not be familiar with this, but Rwanda is home to some of the finest Afropop songs around. In the last few years, the country's pop music landscape has been undergoing a renaissance in quality, buoyed by colourful soundscape that echoes influences from the globally-recognised pop sounds of Ghana and Nigeria—but with a distinctly East African and Rwandan flavour—as well as an increasingly long line of consummate vocalists with a knack for earworm melodies. Chriss Eazy is a singer who fits into that mould, but he wasn't always an artist with a preference for melodies.
Reverent of Kendrick Lamar's craft, particularly his 2017 hit song "DNA", Chriss focused on honing his craft as a rapper, favouring trap beats and an aggressive double-time flow. In 2016, he participated in a talent competition, emerging as the winner amongst 341 other budding rappers. Chriss spent the next few years trudging the arduous path of rap superstardom, sharing freestyles and blaring rap singles, until June 2021 when he switched things up with "Fasta", a raunchy pop song that received widespread attention. It signalled a new era, and before long, he scored a smash hit with "Amashu".
In late May, Chriss Eazy dropped his biggest song yet, "Inana", a romance-themed bop that came with a colourful video and an accompanying set of dance moves that would help its virality. The single solidified his rep as a hit-maker, placing the 21-year old singer on the path of sustained success. "My music is based more on creativity than just singing or mastering the lyrics," he shared with The New Times shortly before his rap-to-pop change. "I love going with the flow and making sure that the people that listen to it are enjoying both the beat and the message." It was an indicator that he was getting set to embrace the crowd-pleasing nature of being a popstar, and now he's exhibiting his world-reaching potentials.
Major AJ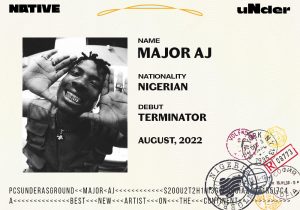 "My sound is basically Afro-fusion, just like Afrobeats mixed with other stuff," Major AJ says of the descriptive tag that best fits his music. It's a long way off from his heavy lean towards rap music when he began harbouring dreams of being an artist while growing up in Kainji, a small town in Niger state. At the same time, though, it's not exactly peculiar: Nigerian pop music is heavily influenced by American hip-hop and R&B, with many of its pop stars starting off as rappers. Major AJ's evolution from upcoming rap artist to rising pop star follows that same path, swapping YMCMB and Usher influences for Wizkid and Burna Boy inspirations.
In early 2020, Major AJ officially debuted with "Terminator", a buoyant love song produced by Telz. It didn't rocket the singer into notoriety, but you could hear the twines of his artistry as a pop singer locking together. Later that year, he teamed up with Leriq for "Original Love" and the following year, "Salo" caught the ears of Chocolate City, the label that's currently nurturing his aspirations. In mid-July, he kickstarted his major label career with 'Retroverse', a brilliant debut EP that incorporates the timeless, groovy signature of disco and funk into the modish bounce of Nigerian pop. It serves as a potent backdrop for Major AJ to showcase his vibrant voice, as he paints striking romance-themed vignettes, and gets purposefully triumphant on closer, "Superstar".
Mostly produced by Fresh Meat alum Dunnie, 'Retroverse' quickly establishes Major AJ's bonafides as an artist ready to cater to a wide audience, while fostering a distinct identity that shows in his fearless approach to making fusion-pop music. "This project I used disco-funk, the next one might be something different," he says. "I know I want to keep levelling up and I'm sure of myself, so I don't think I'll have any fears when I release anything. It will always be good music."
---
Written by Dennis Ade Peter
---