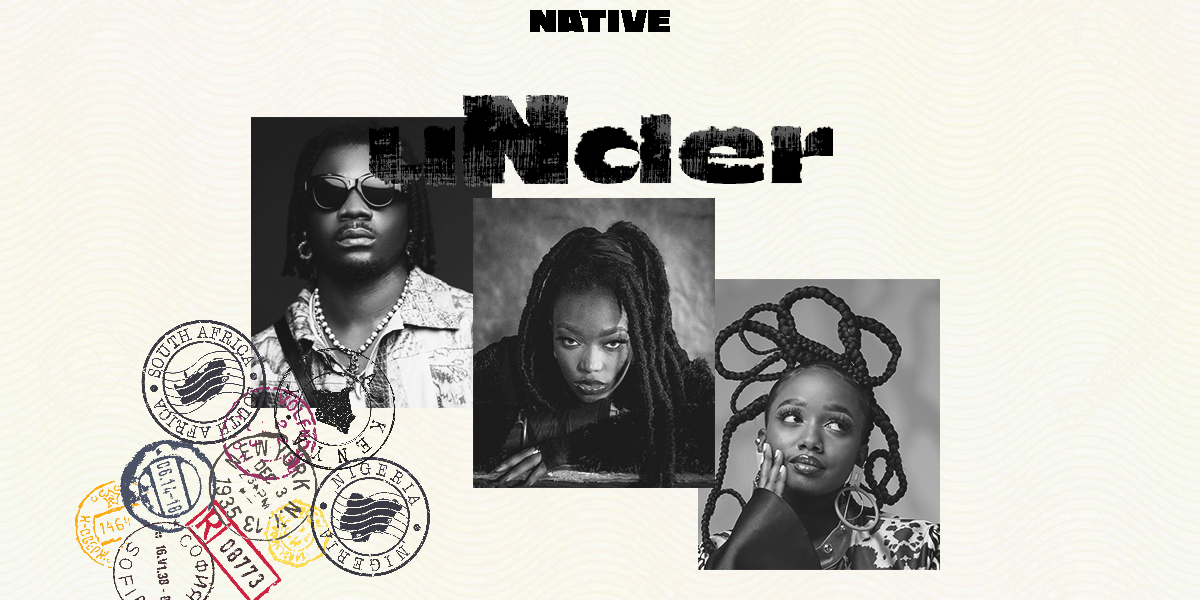 uNder: Best New Artists (September 2023)
Featuring Abigail Chams, Kold AF & more.
With the close of the year inching closer, the need to reflect on the months past becomes more pressing. So far, 2023 has brought on more genre-defying acts navigating their way to mainstream audiences, alongside other key players expanding the scope of their artistry with new releases that are breaking boundaries in international audiences. However, a big part of this glorious year in Afropop's history is the refreshing perspective a number of newcomers have contributed to the sonic fabric. Acts like Bloody Civilian are redefining the status quo, snagging singer-producer credits across her debut project and Nkosazana Daughter is pushing the envelope of Amapiano with soulful embellishments characterised by her lush chords.
Our monthly instalment of uNder has detailed these unmissable breakout moments and as we enter the final quarter, the stakes for couldn't be higher. Sifting through a number of exceptional releases, our newest edition showcases a series of fresh acts striving to stand out amidst the crowd. This September class spotlights some inimitable voices, visual storytelling showcased by skilled penmanship and other-wordly production of artists fuelled with the hunger and incessant need to make a lasting impression. Aguero Bank's burning zeal shines a new perspective on Hip-Hop, telling stories of the streets voiced by bars in Igbo while South Africa's 5-man group, The Joy, is blending modern acapella with traditional Zulu music, plus three more artists with distinct gems up their sleeves.
Read on below for more info, listen to our uNder playlist and find your favourite new artist(s).
Abigail Chams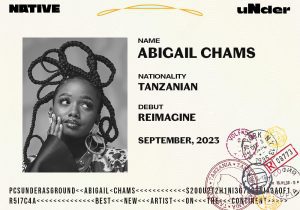 Abigail Chams has been on the path to musical stardom since she was a precocious adolescent. Born into a musical family, her grandfather an orchestral conductor and her mother a church choir singer, she began honing the fundamentals of her musicianship, learning how to play multiple instruments—piano, violin, guitar and more—from as early as 5-years old. By her mid-teens, the Tanzanian artist was already turning heads, for her luminous voice and her willingness to be vocal about social issues, with UNICEF appointing her as a youth advocate on mental health and gender equality.
On her debut single, "Reimagine," Abigail Chams brims with hope for some form of societal Utopia, over an arrangement that shifts from piano ballad to raucous folk-pop. Eager to evolve past expectations to become a conscientious voice, the last year-plus has seen the singer emerge into and embrace being a breakout pop star, buoyed by a recording deal with Sony Music Africa. "U&I," her major label debut, made her direction instantly evident, a devotional love song that pairs faint Wizkid influences with trademark bongo flava slickness. Doubling down, the faster-paced bop with Tanzanian superstar Harmonize, "Closer," followed, while "Tucheze" folds in Kizomba inspirations.
To close out September, Abigail Chams dropped her debut EP, '5', and it immediately serves as a representation of her broad palette. Opener "Falling in Love" is smooth, R&B-inspired declaration, "Milele" is a mid-tempo standout, while the Marioo-assisted lead single, "Nani?," is one of the most colourful 'Piano-assisted slaps you'll hear this year. '5' affirms the easy appeal of Abigail Chams as a songwriter and performer, each earnest line and gorgeous melody driving her ascent into undeniable superstardom.
The Joy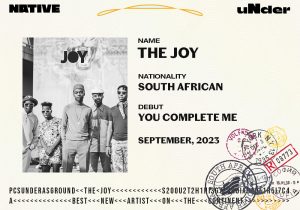 Around 2018, in Hammarsdale, in the KwaZulu-Natal province of South Africa, five boys discovered they shared a peculiarity: the ability to sing and fuse their vocal textures into resonant harmonies. The boys—Ntokozo Magcaba, Melokuhle Mkhungo, Sanele Ngcobo, Phelelani Sithole and Sandile Sphelele Hlophe—had met in high school and were encouraged by their teachers and classmates to form the acapella group The Joy. The Joy had also been inspired by forebears in the likes of The Soil and Ladysmith Black Mambazo. As The Joy, the five boys filled social media with clips of their acapella singing, performing covers of their idols and also original materials.
The Joy caught the attention of British record producer and songwriter Two Inch Punch who took them under his wings and oversaw the group's transition into recording artists. In 2021, The Joy officially debuted on the scene with "Isencane Lengane," a rousing call about the complexities of married life steeped in traditional Zulu rites. They followed it up with their debut EP 'Amabutho,' unveiling their affecting music inspired by their experiences and hunger for success. The Joy has since gone global, appearing on international platforms such as The Jennifer Hudson Show and Later… with Jools Holland.
Despite the success The Joy has accrued in a short period, the desire to make music that resonates with millions of people hasn't faltered. On their latest six-track EP 'Hammarsdale,' The Joy—with Two Inch Punch (whose Love You Up label they are signed to), Ed Thomas, Henri Davies and Moon Willis—craft a tender offering to their hometown and the emotions it elicits in them. From "Mountain" to "Mashaya Kancane" to "Heartbreaker," they explore love, hate, separation, forgiveness and hope. The tracks also sit at the intersection of Soul and Pop, showcasing their growing craftsmanship. The Joy is one of Africa's brightest exports and a signifier of the continent's massive catalogue of music talents.
Kold AF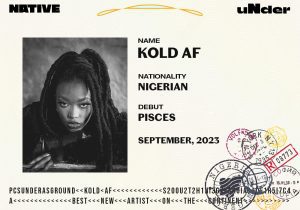 A palpable experience lies at the heart of Kold AF's music. While she's in her early twenties, and juggling music with Law, she's consistently created songs which both capture and transcend this phase of her life. Listeners were introduced to her sometime last year, when she appeared on two songs from Aristokrat Records' 'Open House Vol. 1'. On those records an important sonic inspiration of Kold AF is revealed to be Dancehall, which supplies the sheen and grit of "Pisces," where Kold is at her coldest, exploring the recent phenomena of young people using zodiac signs as basis for their personalities. Oscillating between that Caribbean-birthed sensibility and rap cadences, Kold AF emerges as a descendant of musicians like Jesse Jagz and Eva Alordiah, but her stories are entirely hers.
That much was obvious on 'Kold Szn', a two-pack which was released in December. Totalling just over five minutes, it nevertheless bore witness to the musician's expanding abilities, especially her song-making. Where previous releases leaned on poignant lyricism, here the production was allowed space to soar as well, resulting in the sort of pop-tinged accomplishment that original musicians like Kold AF prizes. "Blues" sparkles with refinement; over stripped sonics, the musician bemoans the shortcomings of a past lover, but it's her vocal delivery which drives the message home. She flows; she croons; she sashays—the dynamism is a winning tactic.
Even more novelty enters "Wasted," the second song off that release. Understated synths is the production's central feature, while subtle touches and a beat switch enables the singer's trademark assortment of flows the space to shine. When the song finishes, the visceral edge of her style is present. Much like Ayra Starr and Bloody Civilian, Kold AF belongs to a generation of young women musicians who are turning everyday experiences on its narrative stead to create resonant epics.
Encapsulating the breadth of her artistic growth is the singer's debut EP, 'KOLLIDE', which was released earlier this week. It's a stellar showcase of her prowess and entirely produced by BGRZ, resulting in career-high moments on "Broken" and "Nobody 2 Somebody". Kold's sensitivity is her dominant trait, and like the other songs on the six-track tape, there's no limit to how vulnerable and precise she can get. She deserves this moment.
Aguero Banks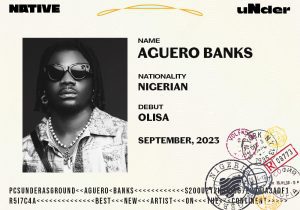 Rap music has gone through several stages in Nigeria. It's been the popular sound, then was the inspiration behind the country's popular sound, and now, has its legitimacy so direly questioned. Still, anyone with ears on ground would notice that a Hip-Hop renaissance has been going on in southeast Nigeria, where impressive rappers are rising from inner hoods and cosmopolitan towns. One of those spearheading that charge towards mainstream acceptance is Aguero Banks, whose consistent output has seen him amass a loyal following and earned him the title of 'The Hero'.
Aguero Banks has contributed to the rich catalog of Igbo rap, which started in the early 2000s when pioneers like Nigga Raw and MC Loph folded the language's sweet poetry into the stylistic conventions of the genre. With eccentric, off-kilter styles, later came rappers such as Slowdogg, Bosalin, iLLBliss and Phyno, whose fusion with popular sounds saw ascend legendary heights. It's no surprise that two years into his mainstream career, Aguero Banks has collaborated with Phyno, on the decimating, poignant number "Still Sober". Like the rappers who blazed the trail before him, Banks' eye is trained on the colourful existence of Igbo people living in different conditions around alaigbo—the effervescence of young people, the grit of working class parents, the historical significance of the geography and its contemporary manifestations, which lends places like Enugu, Onitsha, and Aba the humane qualities of a character in a novel.
'God is Never Late', the newest project from Aguero Banks, plays out with cinematic poise. Tapping from the drill soundscape as Banks tends to do, it's twenty-one minutes of straight-out rapping prowess, with evocative stories told at every turn while the artist focuses on the long road ahead. The Ugoccie-featured "Pray For Me" and "Echi (onye agoziri agozi)" are some standouts from the project, the former seeing both artists excite over a chill, afropop-laced production; the latter's melodic finesse is even more potent, as Aguero bends rap into singing while reiterating in the triumphant chorus, "abum onye agoziri agozi…onye mazi kwa echi? (I'm the blessed one; who knows tomorrow?)". Masterfully expanding his focus from the tapes, 'Pains and Sacrifice' and 'Dreams and Nightmares' with Hugo P, it's proof that Aguero Banks has a lot of stories to tell.
99 Phaces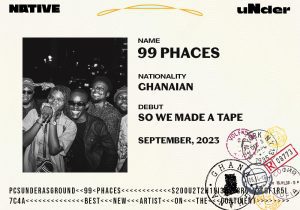 Collaboration lies at the heart of the alternative side of urban West African music. There's no alte with community, a fact that stretches all the way back to DRB in Nigeria and Ghana's La Meme Gang. In Ghana specifically, groups and collectives, some of them informal, are an integral part of its scene, from the colourful haze of SuperJazzClub to Ground Up Chale's focus on gritty rap talents. Late last year, 99 PHACES joined that lineage with their debut single, "Stand Firm," a breezy and resonant declaration of optimism for what the future holds. It served as a poignant introduction to the 5-person group, and their ethos of making music that mirrored the everyday thoughts and realities of young people, Ghanaians especially.
99 PHACES comprises Freddie Gambini, CozyPols, Moffy, Insvne Auggy and Mel, the latter two serving as the in-house producers. In March, they dropped their debut project, 'So We Made A Tape', an extension of the relatability of their debut single and a charming showcase of the chemistry between all five members. Freddie, Cozy and Moffy appear invariably across the tape, and you can tell they've bonded based on lived experiences, which informs the basis of their music, with their commitment to the grind on "Brotherman" and sharing stories of love gone sour on "Sorry."
Auggy – mostly- and Mel lace the vocal trio, and guest Baaba J, with omnivorous sonic choices, from the booming 808s of "Kiddie Time" to the twangy guitars of the reflective closer "Survive." With its community-centred approach, 99 PHACES balances broadness and specificity in both music and themes, giving them the constant appeal of resonating with every pair of ear that listens.
---
Written by Emmanuel Esomnofu, Nwanneamaka Igwe, Uzoma Ihejirika & Dennis Ade Peter.
---