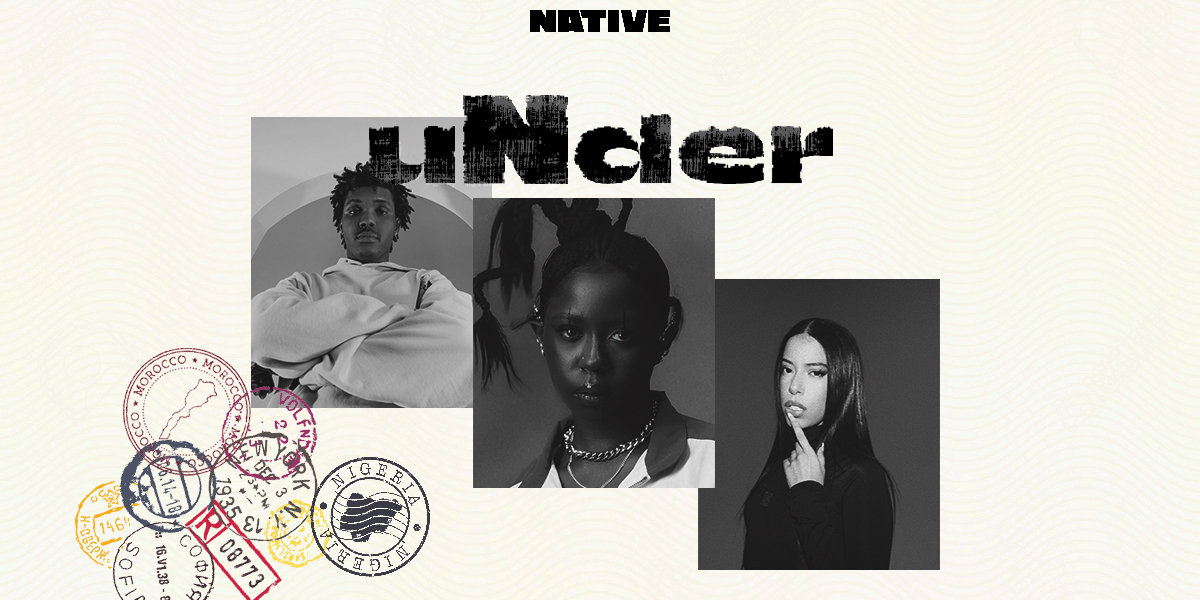 uNder: Best New Artists (August 2023)
Featuring Lifesize Teddy, ilham, Kayode & more.
Every other day, new talents break into the scene with a series of offerings, hoping to stand out to a crowd with an ever dwindling attention span. From a skilled pen game, inimitable vocals or transcendental production skills, these fresh acts display varying talents that aim at not just connecting with an audience, but redefining the status quo and slinging the ropes of African music far beyond its boundaries.  More often than not this guarantees the presence of an infinite list of talents, providing staggering gems and re-telling our stories from a brighter, renewed perspective.
Sifting through these exceptional acts can prove overwhelming but our monthly instalments of uNder ensures that all grounds are covered and no artist worth noticing skips your radar. As summer comes to a glorious finish, and with the end of 2023 creeping in, our August class presents a promising group of artists from across the globe on the cusp of a bigger breakthrough. Newest Mavin Lifesize Teddy arrives armed with vulnerable confessions in melodious tunes and sleek bars; Fentse. is an introspective savant and precocious nu-soul singer; the already-popular ilham is a vision of second-generation immigrant excellence; and three more artists with distinctly striking traits and artistic narratives.
Read on below for more info, listen to our uNder playlist and find your favourite new artist(s).
LIFESIZE TEDDY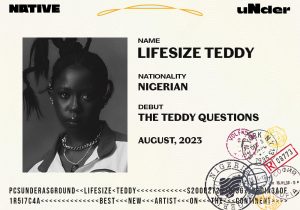 Earlier this month, Lifesize Teddy joined the Mavins records all star roster armed with admirable confidence and skilled penmanship, showcased through heart-warming melodies and assertive bars. The Port-Harcourt native joined the label in what seemed like a full circle moment, after delivering an invigorating performance opening for Ladipoe back in 2018, joining the label's famed academy two years later. Released in tandem with her unveiling, as typical of new Mavin signees, Lifesize's eponymous debut EP arrived with a refined touch to her evidently multi-dimensional palette.
A bite-size insight into her personality and craft, 'Lifesize Teddy' displays several phases and reference points of the artist with suave touches of Dancehall, Rap and Nigerian pop. She is armed with brazen confessions of love and life, delivered effortlessly in Pidgin and English thanks to her background from the culturally vibrant Port-Harcourt. The music feels and sounds like an intimate diary session, considering how seamlessly Lifesize Teddy is able to convey her heartfelt emotions in only 5 tracks. Her dexterity in song writing comes through clearly on "Prophecy" where she confidently brags of her growth thus far, paired with a heartfelt admission reminiscent of her early days.
On "Air," the leading track of the project, she utilises the track's breezy soundscape to bare her emotions to a love interest while maintaining confidence that she is still one of one. As she croons on the mid-tempo instrumentals, "I got many many women underneath this skin, they are fighting to be seen," it is clear that Lifesize Teddy possesses many layers to unfold and her debut EP is just a showcase of the tricks in her voluminous bag.
IDDI SINGER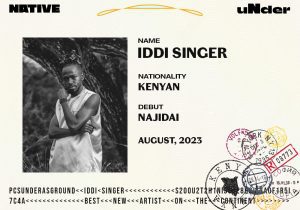 Iddi Singer's affairs as an artist dates all the way back to 2010, but it's fitting to claim that he's only just hit his stride. The Mombasa-raised, Kenyan musician describes his style of music as "Swarnb," an abridged portmanteau that references the cadence of his Swahili-informed songwriting and his reverence for R&B. Armed with a smooth tenor, and clearly influenced by the male R&B heartthrobs of the '90s and 2000s (think a cross between the soulful Joe and the more exuberant Mario), the sonic tag makes some sense, but it undersells the expansive nature of his musical interests.
His 2020 debut EP, named after his style of music, is a vivid collection of tunes that melds his blue-eyed perspective on romance with production that's buttery and fluorescent. There's guitar-led R&B tunes, as well as mid-tempo Afropop jams. The result is impressionistic, the work of an artist who could try on several styles without coming off as scatter-brained. For his next multi-project release, however, he honed in on a single style. 2022's 'Rootsman' is rooted in reggae, his approach recalling the optimistic lyrical lean and modern yet organic instrumental flair of Chronixx. Between those two EPs, it was clear Iddi Singer was building up to something with higher stakes, working his way into being a better-rounded artist.
The evidence is on 'Imba', his February-released debut album, an album where range in service of the music, and not the other way around. Of course there's R&B and Reggae, but the multicoloured palette also  spans Bongo Flava, Kizomba, and more influences across Afropop. On the standout song "Seasons," he collaborates with Grandmastatek for a luminous Deep House slapper, serving as the launching pad for the duo to extend their musical kinship. Earlier this month, they released 'Afrodisco', a propulsive 5-track EP that moved across varying styles of Dance music, with Iddi Singer dousing his writing with more edge than he's typically shown, journeying from heartbreak to romantic bliss. It's proof that he's still unravelling the extent of his abilities; at that, he already deserves your attention.
RAYTHEBOFFIN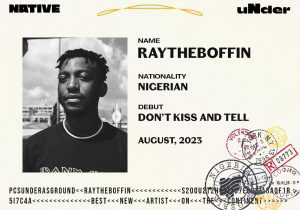 While new to the Nigerian music scene, RayTheBoffin—real name Joseph Chikak—boasts a healthy catalogue. The producer/singer has been constantly exploring the boundaries of sound, fusing genres into one another whilst inserting relatable stories onto those rhythms. A large portion of these works came before he signed with the London and Johannesburg-based record label Outer South as one-half of Riverays, with co-member Iver Rivers and member of the four-man group Dancing in the Desert (with Iver Rivers, Jess ETA and 3kene).
Whether as Riverays or Dancing in the Desert, RayTheBoffin has found a soft spot between R&B, Rap, Afrobeats, Soul and Rock. As a new signee of Outer South, RayTheBoffin's latest offering is 'Freckles,' a pristine collage of sounds such as Hip-Hop, R&B, Pop and Dancehall, with dashes of electronic distortions. The project is an ode to love and the varying emotions it uproots from people.  From the grooviness of "Lifeline" with 3kene and Tim Lyre to the Trap bounce of "Okay" with Twelve XII and BUSA to the Amapiano elements of "New Emotions," RayTheBoffin exhibits his versatility. Labelmate Suté Iwar recently described RayTheBoffin as having "a big future" and it's no mere co-sign: RayTheBoffin has shown he's here to stay.
FENTSE.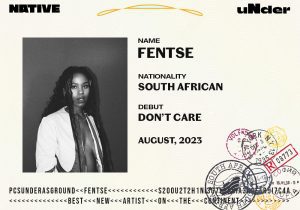 Fentse.'s music accommodates so much soul and emotion. Since her debut with the 2020 tear-jerker "Don't Care (Let Your Eyes Bleed)," the South African singer and producer devoted herself to making music to speak to people's great times and dark moments. In 2021's 'Get It Together.,'  Fentse. dug into her life experiences for an R&B/Soul affair (with elements from other genres) with soft vocals that possess as much venom as it is a caring friend. Regardless of the sonics she settles for, Fentse.'s music reflects honesty.
Fentse. has described her music as being "inspired mostly by her experiences," and that "her taste in music is ever evolving and ever developing, ranging from melancholy and ambient to experimental and upbeat." On 'Therapy Is Cancelled,' her latest body of work, Fentse. articulates the roles humans play in their lives and the lives of others: lover, truthseeker and chaser of happiness. She bristles at a lover's toxicity on "Video Girl," ponders about existentialism on "Caffeine" and thirsts for clarity on "White Doves." Fentse.'s music is a flame in the storm, enduring the knocks yet burning bright and lighting a path.
KAYODE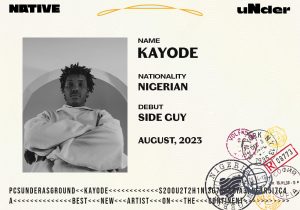 The musical education of Kayode began a long time ago. Both his parents were Christians and he was around church a lot of the time, learning to play the piano. Till this day, that awareness for instrumentals feature in his music, which is a vibrant mix between orchestral-set bangers, zesty rap flows, and the colourful sweet talk of afropop. "I learnt most of the stuff I knew on YouTube," Kayode told NATIVE.
A project like 2020's 'Playtime is Over' demonstrated those influences, as Kayode united variant sounds while talking his shit in the most audible ways. As the title suggests, the six-track EP was a crystallisation of what spurred him towards music a few years earlier. While "On My Back" and "Look at You" showcased his rhyming abilities over cloud rap beats, "Sideguy" and "456" coasted on warm percussions, both masterfully produced by an ascendant Magicsticks, who he met after he began sharing his work on Instagram and getting acclaim for them. Kayode merges both his dominant sensibilities, especially on the latter record, where he turns in the evocative hook ("Oh baby, whine make you whine, I no be Casanova") while feature Victony delivers beautifully, including a rapped verse.
Kayode continues to oil the wheels of his artistry. In May, he released 'STILL FIGURING LIFE', an EP that packs thoughtful observations into its concise 7-song set. "At a point in everybody's life, we're into that realisation we're all still figuring life," he says about the motivation behind the project. "I like to make music about what I'm feeling". The drill-evoking opener "Fill Me Up" is matched with other excellent records like "All I Need" and "Blessings," and beyond the quality of their gaze, it is Kayode's skills with mixing and mastering which takes them into an otherworldly scope, bringing out the best of features ODUMODUBLVCK and Psycho YP, in the case of the latter record. With the crisp honesty of "To The Top" shared with the world some weeks ago, Kayode's vision has remained unrelenting and positive. That mentality cannot be bought, just as the experiences that have burnished his music.
ILHAM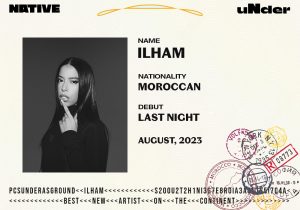 Sensitivity doesn't fail the musician. Since emotions are directly considered within the metres of sound, accomplished artists—or those planning to become one—need to build up techniques on relaying their unique experiences and perspectives into sound. Born to Moroccan parents in the US, this has been an underlying focus in the music of ilham, whose bluesy records are influenced by listening to 2000s American R&B, but also the expansive, oriental tastes of her parents who, during her formative years, played a lot of Arab music inside the house.
ilham's earliest music was released around 2019, shortly after graduating university, also preceded by an internship at Capitol Records. There's a lived-in quality in records like "down" and "cycle of games", as ilham fuses autobiographical detail with woozy Trap and Soul. "You pushed me down once, took ten steps forwards," she sings in "down," rebelling against the unchecked influence of an adversary, and later affirming "Let's make mama proud" behind the words which make up the song's hook. Growing up in the Hip-Hop-dominant area of Queensbridge, in New York, her rapper's awareness for language have resulted in a number of projects over the years.
Her duo of projects 'with time' and 'ilham' were released three years apart from each other, the latter coming out in September last year. Bearing her artistic growth, it's a demonstration of the skills that first drew ilham to French Montana who signed her, and now Def Jam, the global record label powerhouse. Whereas the earlier project was mellow and personal, with songs like "i tried" and "never even know" utilising a core sound of lo-fi to express those sensibilities, the self-titled EP was more encompassing in its gaze and broader in sound, introducing zesty touches to the established sensitivity of ilham. For her, as "show me" and the Vory-featured "hype" reveal, music doesn't have to go far from its roots to transcend.
---
Written by Emmanuel Esomnofu, Nwanneamaka Igwe, Uzoma Ihejirika & Dennis Ade Peter.
---