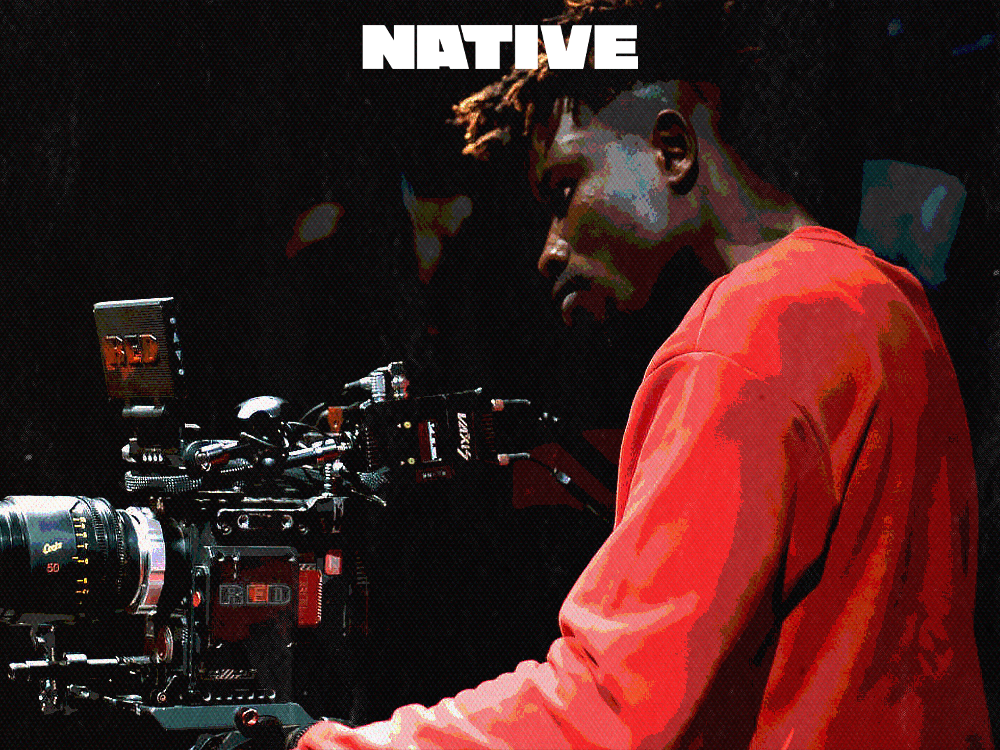 TG Omori & The Evolving Relevance of Music Videos
In light of the recent debates about director royalties
When TG Omori said that "in due time" music video directors would be receiving at least 10% of the streaming income of every music video they direct, he sent social media into a frenzy. A comment widely debated as it was brushed aside, a number of the reactions seemed to push against Omori's flippant online personality, and his undeniable relevance to the conversation around music videos in Nigerian pop. While it appears that there's merit to the argument, it's a conversation that goes a lot deeper than just TG's comment, and even deeper than the scope of Nigerian music in general.
To start with, any appraisal of this topic would undoubtedly locate TG's place in the canon of Nigerian video directors. Since making his entry into the mainstream around 2019, no director has successfully combined the craftsmanship of videos with such purposeful visuals. The video for YCee's "My Side" featured little of the crowds and colourful treatments TG is now known for, but it's more telling that the closing credits didn't display his name in the now-signature vivid logo. The credits were packed alongside other people as the cinematographer. "Totori" from I.D Cabasa, Wizkid and Olamide marked a change, featuring the logo at the start and also the closing seconds of the record. 
In due time music video directors will be getting atleast 10% royalties from the streaming income of every music video directed for their moral contribution to the visuals. With this I can successfully buy my dream island and private jets

— TG OMORI (@boy_director) February 9, 2023
As the year went on, TG Omori grew bolder in his presentation. By virtue of their shock value, Naira Marley's "Soapy" and "Am I A Yahoo Boy" gave the him a similar level of acclaim, with TG riding on the anti-establishment wave to consolidate his own brand. In the four years since, he's kept appearances while using social media to his advantage and for many Nigerian music enthusiasts, he's become the most recognised director—in a similar vein to Clarence Peters in the 2000s and 2010s. Like producers once were, video directors were an underappreciated part of the music industry. From the 2000s when the modern Nigerian pop scene established itself, videos were considered peripheral to the overall creative process. Granted, a few labels like Kennis Music and Mo Hits would later shoot good enough videos for their artists, but outside those elevated spaces, it just wasn't as accessible. A video like Da Trybesmen's "Oya", which was allegedly the first to be banned in Nigeria, was directed by Ayo Shonaiya but not many people knew that until the 'Afrobeats: The Backstory' documentary on Netflix, while hundreds of videos released during that era still have uncredited directors till the present day. 
TG Omori being the popular figure he is makes him part of the very few who have edged themselves towards rightful recognition. He comes from the line of DJ Tee, Clarence Peters and Meji Alabi who have earned their own credible fan base, which is a useful trade-off for the artist themselves in addition. Demanding more rights to the creative work isn't as crazy as people want it to seem, especially when the director is at the peak of their powers and popularity. 
The arguments for or against owning a percentage of visual content have to do with the popularity TG Omori currently has, that's for sure. He supposedly charges about $50,000 to shoot videos, and for a lot of people, that should suffice as a one-time payment. Especially considering that a music video wouldn't exist without a piece of music in the first place. 
While it may not seem like it, there's every possibility that such a change would have an industry-wide effect, for better or worse. On the positive side, if concrete efforts are made by Omori to include percentages in his record, more video directors would seriously weigh their options going forward. This can only be possible if the director can rest on similar laurels that TG can or is perhaps working with a relatively new artist who might not be able to afford outright payment for their services. 
On the less positive side, more artists and labels would cast their gaze farther from the man in the middle of the saga, which is TG Omori. Already we've seen a number of comments on how Omori isn't all that anyways, just pairing colours and vibes on his productions. If anything, more than any other director, Omori brings the hyperactive nature of the Nigerian landscape into his pictures, giving them the realism of a feature film even though sometimes the storyline cedes way for the aesthetic. 
Last year, the phenomena of Asake wouldn't have the same gravitas if TG had not embarked on the distinct worldbuilding he did. "Omo Ope" was his breakout record and had fitting visuals by Asher Kine but viewed in the run-up to his eventual dominance, viewers would subconsciously omit that video. While its party scenes and attendant lighting improved the exuberance of the record, it doesn't match the potency of the visuals for the Burna Boy-assisted "Sungba (Remix)". This is because a broader range of Asake's mannerisms is captured, and in very poignant settings like the water bridge and indoor party.
By the time the YBNL artist arrived the seismic event of his debut album, 'Mr Money With The Vibe', the visuals for "Peace Be Unto You" and "Terminator" had gone ahead in establishing a visual moodboard. Drawing from the persona of a street champion whose credibility wasn't in question, Asake was presented in variant edges on both videos. The latter was especially poignant in its usage of the pit ring to establish tension, while the artist's on-screen romance with the model Bria Myles curated his supposedly softer side. Another crucial touch was the switch between Asake's initial denim outfit and a flowing white gown, with red coral beads giving the outlook of a spiritualist. That visual journey would be continued on "Yoga", an Omori classic that interpolates the intimacies of Senegalese culture.
The music video has evolved a lot. Whereas Omori's work with Asake advances the artist's style and brand, a journey into previous conventions reveals more direct usage of visuals; which is, first and foremost, as a means of promotion. In the global context, "music videos" were created in the late 19th century, but it was seldom considered as art at the time and were more like accompaniments to music. A series of still images portrayed on a screen alongside a live performance was the earliest version of this medium, and as time progressed, by the 1920s short videos which were called "musical films" were in vogue around Europe and the inventor Lee DeForrest was considered a trailblazer with his films of vaudeville performers. 
Music videos, in that era of its existence, had more ties with the sphere of science and technology than it did artistic interest. It also pulled very passionately from the conventions of more established media forms such as Film, as was demonstrated by iconic videos such as Madonna's "Material Girl" and Michael Jackson's "Bad", which was directed by Martin Scorcese. In regards to staging and dance sequences, Hollywood was the earliest inspiration for music videos. In between, there was also the prime era of Beatlemania, when the English pop band revolutionised the game in the sixties with promotional videos which they sent to television programmes without appearing live, an exhausting activity which proved hard to juggle with their global stardom. 
The fact that music videos now concern themselves with artistic values over promotional ones, shows how important visualisation in music has become. This makes it at the least understandable, that the orchestrators of this evolution would demand bigger stakes. In Nigeria, the foundational music videos were basically performance videos. You'd be hard-pressed to find a video from Ayinde Barrister, Onyeka Onwenu or Osita Osadebe which had the peculiarities we define a music video by today. Such videos were usually shot in natural settings, with a bevvy of dancers or audience upholding the musician's celebrity. 
Even during the first phase of the modern pop industry in the late nineties, the quality wasn't as forward-facing. Social media was not a thing at the time and videos usually relied on the star power of the musician to engage viewers. Style was then present, but it wasn't the major thought; rather simply, videos were made to play on television during prime time and show audiences the faces of the superstars they loved. Obi Asika's 'Journey of the Beats' documentary credited P Square and Jude 'Engees' Okoye for creating some of the most immersive music videos in that early period. While 2Face and Mo Hits had their moments, no one can possibly forget the eye-grabbing allure of "Do Me" or "Omoge Mi", both drawing inspiration from the already-established style of American music videos. 
As music video channels like MTV Base and Channel O entered, the medium became more important. With the motivation of airing continentally, artists were more invested in creating better videos and selling themselves to wider audiences and prospective partners. It's no surprise that the P-Square brothers were also one of the most booked artists (if not the most booked) during the 2000s. Collaborative channels also opened, as musicians from around Africa saw the overlapping of cultures such as dances and percussive patterns that was prevalent throughout the continent. 
While the conversation about video directors' rights might be new to Nigerian audiences, it's a topic that transcends countries and music scenes. To get more professional context, The NATIVE reached out to a filmmaker and music video director who wanted to stay anonymous. "We're in a place where you don't need to spend a million dollars on a music video," he says, "You don't need to buy film stock or shoot on a Kodak camera or whatever, you just need to make something that is exciting for people to watch. And even though they're now all these opportunities to sell stuff—you can shoot stuff on your phone, promote yourself as an artist, the video now becomes even more valuable because they're so many people that are making music and putting out music". 
Pulling from Spotify data of songs uploaded everyday (which was 100,000 last year), he makes the case that "the actual power of a music video has increased". The uniqueness of an artist, their branding and style, comes primarily from this medium, and it's his opinion that video directors who engage in it as a business can't afford to go off prolific runs because the money isn't as substantial as many would think. "It's not a Nigerian problem," he says, explaining through a Twitter thread in 2012 from Daniel Kwan, "It's a global problem". 
In the tweets, Kwan, who's part of The Daniels duo who directed the Oscar-nominated film 'Everything, Everywhere, All At Once', went on a rant about how "music video directors are the only directors in the industry to not have unionised". According to Kwan their eight-year-old video for DJ Snake and Lil Jon's "Turn Down For What", which has now amassed 1.1billion views on YouTube (here's the YT earnings) was shot on a budget of $2,000 for each person at the most, averaging $4 per hour even though they "conceptualised, directed, edited, performed, and did VFX for two months…and that doesn't include the weekends or overtime we worked". 
Music video directors usually think of them as a stepping stone to more full-length filmmaking, and sometimes their investments through financing or extra service is considered necessary. "And because music videos must compete at a top level," our expert director says, "If I make a film, I don't have to include all the slangs from last weekend that was trending on TikTok. But if I need to make a music video, Ayra [Starr] can literally come to me with a TikTok that came out last week, or Rema can come to me and say 'yo, Travis Scott was wearing this jacket, I need it to be in my music video that we're shooting'. So it means that music video guys have to update consistently and imagine having to do that, contributing to millions and billions of streams, and still not breaking even". 
A music video director who must then make profit from that sole venture would therefore have to make a lot of music videos. "That's the only way," he says, "It's tested and trusted. Music videos are often very ambitious". He relates the instance of a Kwan-esque rant by Clarence Peters way back in 2009 on the Knighthouse cut "Capital Drama," which featured the veteran video director, Tha Suspect and Mo Cheddah. Someone calls Clarence and asks how much it'll cost to shoot a music video; upon hearing the fee, he goes on a tirade, a frustrated Clarence on the other side of the call. Seconds later, he's bursting into a fiery rap verse, establishing his worth. Clarence is another director who has requested percentages, but gives a discount price to the artist who then has to sign a deal with his production company. 
He says: "That TG Omori rant is TG saying, if I'm at this point in my career, where I'm contributing so much to the culture, I'm contributing so much to the music, and on a business level I have to do all this work, then I want a stake in the thing". There are limitations to such an agreement however, mostly financial.
"The average artist does not earn nearly enough to give you ten percent," he says. "Unfortunately, high-end music videos cannot be afforded by the average Nigerian artist. So the only way that can happen is for people like TG—[Omori] is trying to create a precedent where, 'you know what? This music video thing can be a lifeline for people; it doesn't have to be a step to being a filmmaker—like oh, 'you know what? I did music videos for a while and now I'm doing something else'. No. Because you are earning percentages, you are earning a stake in something. In fact, you're more likely to say, 'the budget of this video is fifty million naira, but because we're getting ten percent, I'm going to take off thirty percent and I will earn that in my points'". 
This system is already being adapted in some countries. In 2022, France's Society of Authors, Composers and Publishers of Music (SACEM) signed a landmark agreement which gives a fixed streaming rate to diverse collaborators within a record, according to the number of streams. It is inclusive of video directors, who are allowed to recoup revenue on a given percentage for a fixed period of time. "The only way music videos can ever be profitable for video directors is exactly what TG is saying," he says. "Clarence is one of the few video directors that kinda stuck to it for over a decade; think about all the music videos you saw when you were growing up, all those guys just started doing other things". 
With structurally-developing countries like Nigeria lacking the flexibility to effect such copyright laws, the challenge often lies in the hands of creatives and their lawyers to work their way around these. "There are so many ways to make money from a video," he says. "It's not just YouTube views, it's whatever system that is playing that video—whether it's TV royalties, whether it's an ad or a publishing placement—there are so many ways. But those systems are not yet in place".
Ultimately, the merit of music videos cannot be understated. At every step of the Afropop journey, it's been with us, whether it's 2Face Idibia's homely "African Queen" or the shimmering sea and beautiful models on the remix of "Beautiful Onyinye." The human mind is incredibly visual and videos engage in the recreation of a song's qualities, and when done right, stamps the artist a bit more certainly in the nostalgic conversations of the future. The memory of certain musicians have waned because they did not shoot enough videos and therefore lack a modest number of objectively iconic ones. 
The nuances of payment, for our expert source, however, leaves the conversation in a sort of middle-ground. "If a director is collecting royalties for his ideas," he notes, "what happens to a choreographer who comes up with an idea for a dance move that goes viral and then there's a TikTok challenge that is built on that? How do you measure that? That's why these are not the things I fight for; I fight for paying people well, I fight for paying people on time, I fight for work hours—those are the things that concern me. I think in terms of a royalty system for directors, directors can request it. The deals that you get are only as good as the deals you ask for; so it's about leverage. Everything is about leverage".
It's a great time for Nigerian Pop because never has the scene boasted such a vast resume of distinct video directors. From rural snapshots to Hollywood-esque skyscrapers, wildlife scenery, grand pools and grass-strewn backways to deserted churches, the filmography has been nothing short of stellar. Given the existing conditions of funding and further remuneration in place, a lot more credit is owed to music video directors.
---