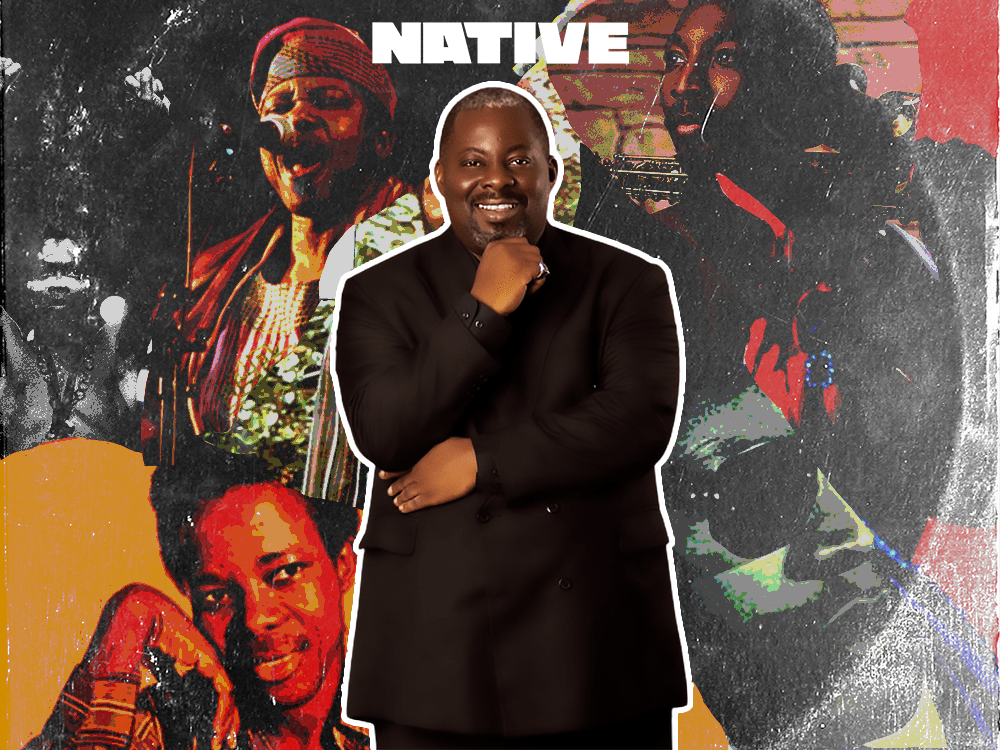 NATIVE Exclusive: Obi Asika & the currency of Afrobeats culture
on his vision for telling stories
At a young age, Obi Asika knew the raw potential of culture. He was raised in South Eastern cities and both his parents were intellectuals with anthropological interests. He read widely, predominantly Black Literature, which expanded his worldview of Black peoples, especially in regards to art.
"I was born into culture," the 54-year-old cultural entrepreneur said to the NATIVE a week ago, at his Lagos office, a warm space packed with books, awards, and pictures. "By ten, I was well versed in the lexicon of black revolutionaries and the black power movement in America, from books, movies and documentaries. My late mother was from Egbu, a town in Owerri, and known in the family as Egbu London. When her father-my grandfather-passed the Peacocks International Band released a tribute album named for him, 'Ejiogu', their biggest hit was 'Eddie Quansa'. I love Bongo Highlife till today, and that includes Oriental Brothers, Olariche and in the more modern era SaroWiwa, Ababana, and I also recorded tribute albums for both my parents when they passed with Bongo Highlife all stars."
View this post on Instagram
Obi Asika has been involved in cultural affairs since teens. He had moved to the United Kingdom where he did prep and public school, and would later attend college at the prestigious Eton College. He returned to Nigeria for Law school and was working as a legal assistant when he set up a nightclub, Enter The Dragon, and established the legendary Storm Records in later part of the '90s. Shortly after he established Enter The Dragon, two rappers performed at the venue, in foreign accents. Asika thought they could create more relatable music, and suggested they relay their local experiences in their music. Those rappers became Junior and Pretty, who were signed to his label as they conquered Nigeria and shifted its soundscape. In later years, Storm Records was also home to culturally-significant acts like Naeto C, Sasha, YQ, Jazzman Olofin, Ikechukwu, Darey Art Alade and Sauce Kid. 
"Storm had a good run. We didn't really make money, but we built a brand, we built a movement. I'm very satisfied with how things went," he says, mentioning some figures who were part of the movement: Asa Asika, Bizzle Osikoya, Clarence Peters, DJ Tee, Tola Odunsi aka Bobby Boulders. "I count them as Storm," he says. "People don't understand why, but they know why. We came into this thing with a family approach, and we pushed like family and we won a lot together, we lost a lot together, but we maintained the relationships. And today, I sit here and I'm happy, I'm blessed because imagine when all your people are doing incredible things. What's there not to be happy about?"
Asika's career is unarguably feathered with accomplishments, from producing the first-ever Big Brother to starring as a guest judge on Nigerian Idol, however his latest creation might just be his most engrossing yet. 'Journey of the Beats' has been hailed as the best-rounded effort to tell the story of Nigerian Pop through its different eras. Asika has been following the sound of Afropop for several years, led by the renowned historian Ed Keazor and veteran music journalist Sesan Adeniji. That quest took them to the sonic exchange that began when Africans were taken across the Atlantic as slaves, to the music of rebellion they created wherever they found themselves. In Africa, genres were still being moulded and parsed through our unique experiences. 
'Journey of the Beats' tells these stories through the perspective of those who lived the eras. It's quite fortunate that many influential figures of the modern Afrobeats era are alive and still with us, but for previous eras, Asika dipped into the ebbs of history: black-and-white clips of instrumental moments paired with live performances from traditionally-equipped musicians. All this heightens the production's quality—evidence of a masterful hand.
View this post on Instagram
"There's so many elements in our music, you can't lay them in any one place," he tells me now. The Black pride behind Hip-Hop's formation was instrumental for the early purveyors of Afrobeats, he says, and the call-and-response in traditional African practices went the other way, adapted into the techniques of Rap and MCing. He continues, "You can't lay them in the East or the West, North, or South. And you certainly can't lay them in just Nigeria 'cos there's elements from South Africa, from Congo, from Ghana, from America, from the UK, from everywhere, right? So we experience everything, but we put our touch in it, so you know it's Nigerian". 
He recalls previous years when it wasn't as cool to be African. The diaspora was brimming with international citizens, but entering the room looking African was met with apprehension and maybe tolerance. "We weren't the happening guys," he admits. "We might have thought we were, but it wasn't the generality."
The ubiquity of modern Afropop has changed that status, and it's taken a great number of industry players to do so. Even as 'Journey of the Beats' recognises the current crop of influencers, its educational appeal is supplied by the attention to history. More than highlighting popular musicians like Fela Kuti and King Sunny Ade, the iterations of the genre's sound is explored from infancy to maturity. "We also talk about technology that makes the sound," he says about the documentary's encompassing vision. "Now that technology has changed, going from the original ogene and African instruments through to the early recording process to digital, what we've noticed is that the things that cause innovation are always about the approach of the person who's doing it."
Whenever Afrobeats is being discussed, the name of Fela Kuti is never far away. The young Kuti was from an upper-middle class family, sent to London to study medicine but rebelled and chose music instead, becoming classically trained, unlike many musicians of the era. In addition to that mastery, the church—his father was an Anglican minister who also composed music—was his other major influence. 
Back in Nigeria Fela's played Highlife with the Koola Lobitos, but at the start of the seventies, he took the US trip that changed him forever. There he met and befriended the Black Panther member Sandra Isidore who introduced him to Malcolm X and the life-long struggle for Black rights in America. That, Mr. Asika says, was an important exchange between Black people from different parts of the world. He believes the average Nigerian lacks a sense of self, due to the limited tensions he's encountered racially. That awareness was the heat of Fela's gospel, which instantly stood out for its militancy.  
Sonically, he united many cultures which were otherwise separated sonically and linguistically. James Brown is a well-documented influence, while Fela also adapted the hymnal chants of Abeokuta's church music, the negro spirituals of Soul, and the big band sound of Jazz. In the seventies, the funk of Sierra Leone-born Geraldo Pino made a lasting impression on Fela leading him to revamp his sound. What he arrived at blended aspects of all these sounds into the irreverent whole we have ascribed as the Afrobeats' forebear.  
"All our legends through the ages were disruptive at their own times and all played a role," Asika shared via WhatsApp some weeks before we were scheduled to meet for his interview. In the documentary, a wide selection of Fela's forebears and contemporaries were spotlighted in relation to their importance. The latter recognised the genius of Highlife's Giants—the likes of Rex Lawson, Osita Osadebe, Oliver De Coque, and others who galvanised the Eastern music scene after the Nigeria-Biafra war. 
An episode was dedicated to "unsung heroes" who also had periods of dominance and innovated with the sound. Another episode was for the departed icons, including Sound Sultan, Dr. Frabz and OJB Jezreel, the legendary producer and songwriter responsible for crafting the sound which carried the mythos of 2Face Idibia in his seminal pair of albums, 'Face To Face' (2004) and 'Grass To Grace' (2006). To bring these many eras into 'Journey of the Beats,' the writer's room was heavily invested on. These experienced personalities worked to carve out a path for Afrobeats' many stories to come into light, not neglecting the diasporic connection. Among the writers was Jide Taiwo, a veteran journalist and the author of 'History Made: The Most Important Nigerian Songs Since 1999'. 
A varied selection of presenters also serves to bring colour to the story's telling. In the last episode, Mr. Asika himself takes viewers through a run-down of the documentary's episodes and the propellers for its ongoing movement. "I just felt it was a good way to take people into the story," he says of the choice. "And to also bring the generations into it—because the presenters are across different generations, nobody's like the same age or does the same thing, depending on what the episode's really about. So that's how we tried to curate it, and I felt we all did quite well".
An afternoon like that isn't new to Obi Asika. For over a decade, journalists and production crews have found their way to him, seeking to unearth gems from his many years of cultural service. However, with his own long-lived interest in documentation and his position as a major player, it was only a matter of time before he executive produced a documentary of his own making.
He pitched the show to Showmax a year ago, and he thought it would start in October, but things didn't kick-off until December when the project was green-lit. Before then though, the core members of the production team were racing against time working with what they had. Production started earlier this year, and the series began running only some months back. 
Innovation has been the sounding alarm of Asika, right from the very beginning. Asika reckons that the next thing for Nigerian music is organising country-wide shows regularly. He'd earlier spoken about how Nigerians use to "pose" for celebrities, eager to show they were humans just like everyone else. Now, it's the opposite, and for the better he thinks. But then what happens when the home audience of this movement can't even see their biggest stars? How does it influence credibility? "When you tell me you've got a Wizkid forty city tour in Nigeria, capacity twenty thousand—now we're talking," he says, adjusting slightly in his seat. "If you're sitting in Kaduna, you've never seen Burna Boy. Isn't that messed up? The biggest artist in your country and you can't see them. Think about it, if you're sitting in Enugu when was the last time the music came through? And it's not the artists per-se, but it's the promoters."
"So it's those promoters gonna put on the national tours for one of these artists to do twenty stadiums, and ten arenas, and sell a million tickets," he says, explaining further the importance of the promoter alongside a cooperative ecosystem, not excluding the government's important role of providing a fertile society for prospective investors. In this ideal environment, "Everybody makes money—the artists make money, the stadiums make money, the merchandises make money, the concessioners make money, and the consumer goes home happy because, hey, you paid for an experience and you got it." 
Obi Asika is not done with stories, he affirms. He's very open in his perspective, one which is enriched by how much can be achieved using the soft power of entertainment. His father walked a similar path; in the aftermath of the Civil War he utilised his government networks to promote several cultural activities in the East, including the founding of Enugu Rangers, a football club with great social significance. His late mother played in Western-styled bands, and it struck him to see how strongly people respond to creativity. 
"There are many stories I wanna tell, this is just the music one," he says near the end of our conversation. "I wanna do football, I wanna do Nollywood, do technology—there's a bunch of stories revolving around a bunch of things, and I don't want to do just documentaries. There's dramas, there's sit-coms, originals, biopics. I wanna do Zik's story. That one has probably been in my head forever; the story of the first President of Nigeria. His story is a superhero story, but we have to tell it the right way so it can connect. When you talk about history, to me, history is how you tell it. If you think of history as some old people in an old piece of paper, of course it's boring. But if you think about history as young people at the time when it happened, then you understand why it's hot". 
---