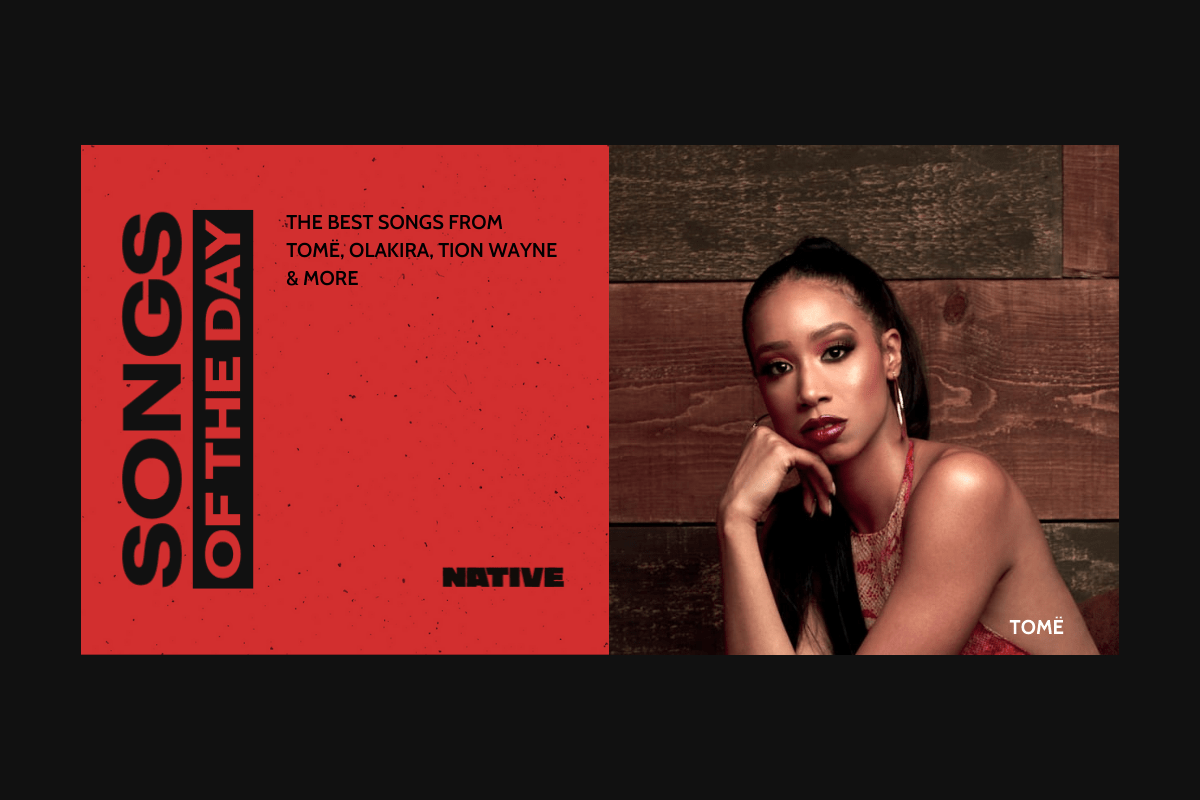 Songs Of The Day: New Music From Töme, Olakira, Tion Wayne & More
new week, new music
After the many wins forged by Afropop last year, the musical landscape has never looked more promising. As such the fast and furious pace of new music releases makes it hard to keep track of all the good music coming out of Africa. That's where our Songs of the Day column comes in.
We're doing the work to stay on pulse with all the music coming out from across the continent and beyond, bringing you exciting songs of tomorrow: today. Last weekend, we brought you new releases from Simi, Mohbad, Black Sherif, Tesh Carter and more. To begin the new week and celebrate Valentine's day, get into these new releases from Töme, Olakira, Tion Wayne and more. Enjoy.
Töme – "Nobody Else"
Award-winning Canadian singer-songwriter Töme is ready to start off the year with a bang as she releases her first single, "Nobody Else", in anticipation of her forthcoming album 'Löv', which means love over vanity. On this track, Töme digs into her romantic feelings for a love interest as she talks us through a scenario where she experiences hurt or heartbreak. She repeats "I want nobody else", representing her level of affection towards her love interest, although he has broken her heart. Töme's album is only a few days away as its slated for a 24 February release date.
Olakira – "Fall"
Olakira kicks off the new year with his latest single "Fall". Over the Amapiano-inspired beat produced by Tim Jay, Olakira is about to sound off his romantic affections for a love interest. He provides smooth vocals and love induced lyrics that are perfect for any playlist. "Fall" comes after the success from his smash hit song "Maserati".
Tion Wayne & M24 – "Knock Knock"
North London rapper Tion Wayne reconnects with rapper M24 on the latest single dubbed "Knock Knock", which is released alongside an accompanying video shot in London. Produced by Frank Ampomah & Andy Broski, the track is filled with catchy trim lines like "wanna roll with the big boys" and signature ad-libs we've all gotten used to from the duo. Both rappers first worked together on the single "London" two years ago.
Uche Malik – "Rizza"
Nigerian-American singer, rapper and songwriter debuted his latest single, "Rizza", his first single of the year. Over the song's catchy production, he sings about a love interest who he can't get off his mind. "Take me to your tomb, I'm your raider/She dey phone, the phone no fit enter," he sings, expressing his feelings and serenading his love.
Jaysynths, Teni & DGT – "Mad Thing"
Singer and composer Jaysyth's new single "Mad thing" features Nigerian hitmaker Teni and DTG, a follow up from his most recent release titled, "Nobody". The Afro-pop song is incredibly catchy, especially with Teni's vocal ability and signature sound which perfectly compliments the song's infectious production and DTG's catchy lyrics.
Eli De Great ft Buju & Kinsolo – "Ton Ton"
Fast-rising producer Eli De Great released his debut EP titled 'Love Is Drug', which features the standout track "Ton Ton", featuring Buju, now recognised as BNXN and Kinsolo. "Ton Ton" is a romantic and sensual number that will have you swaying your body its propulsive rhythm. Armed with catchy and quotable lyrics, the songs sets the bar for where Eli De Great can go sonically.
Jay Teazer – "Taste Like"
Singer and songwriter Jay Teazer recently released his latest single titled "Taste Like". Over the tracks's upbeat rhythm, Jay Teazer repeats "Gimme that love wey dey taste like Hmmm" on the chorus, lacing poetic words together to represent the love he craves from his love interest.
Featured image credits/