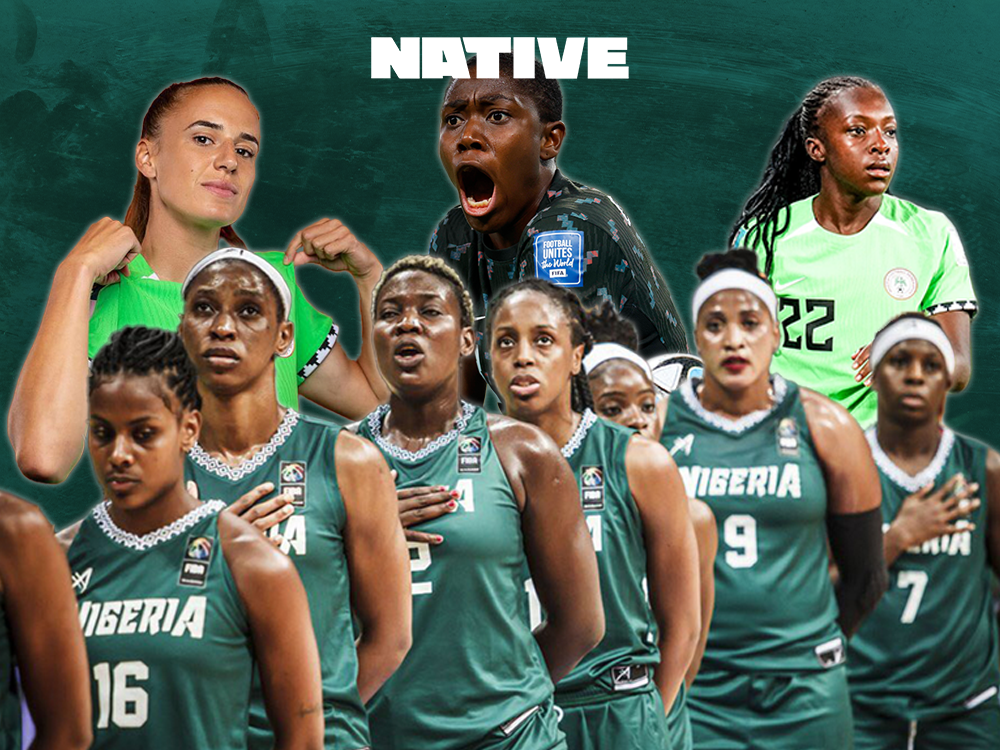 Super Falcons, D'Tigress & The Continued Fervour Of Nigerian Women in Sports
Showing class and excellence despite prevailing circumstances.
Nowadays, it is not uncommon to find news of Nigerian women making great leaps in their chosen fields across music, film, fashion, sports and more. The likes of Tems and Ayra Starr are breaking new ground in the music industry while Kemi Adetiba, Jade Osiberu and Oge Obasi are contributing to a revolution in filmmaking. On Monday, August 7, 2023, the Super Falcons—Nigeria women's national football team—lost to the Lionesses of England in a penalty shootout. Victory would have ensured the Super Falcons' passage into the quarter-final of the ongoing FIFA Women's World Cup, co-hosted by Australia and New Zealand.
Great job @NGSuper_Falcons. Brilliant performance against all odds. Super proud!!!

— Ebuka Obi-Uchendu (@Ebuka) August 7, 2023
Two days before the Super Falcons exited the World Cup, on Saturday, August 5, 2023, another group of Nigerian athletes brought glory to both their names and the country. The Nigeria women's national basketball team, otherwise known as the D'Tigress, beat Senegal 84-74 to clinch the 2023 AfroBaseket Women tournament held in Kigali, Rwanda. The team eased to the final of the competition, defeating DR Congo, Egypt, Mozambique and Rwanda to achieve their fourth consecutive win and sixth overall win in the competition. 
While the accomplishments of both teams are garnering the praise they deserve, the circumstances surrounding these wins are endemic to the "Nigerian situation," code-speak for the tortuous economic, political and societal issues that prevent many Nigerians from realising their full potential in their chosen fields of work. From the sad state of the education system to the deplorable conditions of health care, Nigerians are not given a fair chance at survival. "On current trends, with Nigeria's population growth continuing to outpace poverty reduction, the number of Nigerians living below the national poverty line will rise by 13 million between 2019 and 2025," the World Bank noted. It also added that "the country continues to face massive development challenges, including the need to reduce the dependence on oil for exports and revenues, diversify its foreign exchange sources, close the infrastructure gap, build strong and effective institutions, as well as address governance issues and strengthen public financial management systems."
In this unfavourable situation, Nigerian women have it worse. The country is intricately built on cultural and religious principles that deem women as inferior to men. In turn, many women who dare to resist the norm are faced with the tough task of proving themselves and earning the same respect accorded to their male counterparts. Even with the amazing women who have influenced Nigerian culture—say Funmilayo Ransome-Kuti or Flora Nwapa or Agbani Darego or Mo Abudu—women in today's world still have to do beyond what is expected of them to enjoy any attention. This situation isn't limited to Nigeria as women in other African countries can relate.
Days before the FIFA Women's World Cup began, there were reports that the Super Falcons—the only African team to participate in all FIFA Women's World Cup tournaments since 1991—could boycott their opening fixture against Canada in protest over unpaid bonuses. The team's captain Onome Ebi debunked the news, though. A few days before that development, the Super Falcons head coach, Randy Waldrum, had revealed in a chat with On The Whistle Podcast that he was still owed seven months' salary and that his players were also owed salaries and bonuses. "We still have players that haven't been paid since two years ago when we played the summer series in the USA. It's a travesty," he said. 
The Super Falcons and the Nigeria Football Federation (NFF), Nigeria's football governing body, have a history of conflicts due to unpaid salaries and bonuses, with the team recently staging a sit-in protest after the 2019 FIFA Women's World Cup in France. They also did the same in 2016 and 2004 after winning the  Women's Africa Cup of Nations (WAFCON) in Cameroon and South Africa respectively. Although the NFF are also culpable in owing the Super Eagles, the Super Falcons' male counterparts, salaries and bonuses, the mistreatment of the women is more dire.  
"In Nigeria we don't have access to much. Our training fields aren't great. Where we sleep isn't great. Sometimes we share beds," Super Falcon's player, Ifeoma Onumonu, told The Guardian. "It's not good enough. In terms of recovery, we don't have much of any of that. We don't have access to a gym in camp in Nigeria. There's a lot that needs to be done. Hopefully more people start to talk about it. Coming here it's hard to adjust. We do what we can because we love playing for our country but hopefully they make it easier for us to do our best."
#FIFPRO statement on behalf of Nigeria women's national team: pic.twitter.com/90zipIUWK0

— FIFPRO (@FIFPRO) August 8, 2023
After a goalless draw in the group stage with the Republic of Ireland ensured the Super Falcons' qualification for the second round against England, Fatma Samoura, Secretary-General of FIFA, addressed the players in their locker room and informed them their situation has inspired the association to give the players the prize money directly, rather than through their country's football association. After the Super Falcons' exit from the competition, FIFPRO, the international body representing professional footballers, stated that it was assisting the players in their dispute with the NFF, saying that "the Super Falcons believe that it is now time for the Nigeria Football Federation to honour their commitments and pay the outstanding amounts."
In a haughty stance, the NFF titled its retort: "FIFPRO's statement is mere storm in a teacup." Despite the all-round embarrassment that has beset the federation from its gross incompetence, penitence doesn't seem to be an immediate concern. Not too many should be surprised, after all it's another show of how negligent and brazenly corrupt sports administration is in Nigeria—a direct correlation to the country's leadership system. It's consistently disappointing, though, that athletes have to give their all and represent their country while the systems and people that should enable them ultimately serve as serious hurdles. It's even more annoying in women's sports, since the least amount of investment are allocated while, somehow, someway, many of these athletes and teams deliver excellent results.
The Nigeria women's basketball team, D'Tigress, also had a rocky start to the AfroBasket Women competition. Last year, former head coach, Otis Hughley Jr., cited disrespect from the sports ministry over delays in salaries and bonuses. After his exit, Rena Wakama was appointed as his replacement in June 2023 on a two-year deal, less than a month before the AfroBasket Women tournament, which began on July 28. Wakama's appointment drew criticism from some stakeholders who believed she had little experience to fill the successful shoes of Hughley who led the team to three consecutive AfroBasket Women titles. Wakama possesses vast experience in women's basketball as she is currently the assistant coach at Manhattan College, after serving as the institution's director of women's basketball operations.
In an interview with the Nigerian publication Vanguard (where the first question posed to her was about her marital status), Wakama spoke about her passion for coaching basketball teams. "I know that I am more than ready; I know that I am the right one for the job. That's pretty much what I am saying," she said. "I know I can lead this team and I know I can make Nigeria proud. There are a lot of talents back home and I want to do this not just for the players but for the coaches too." Wakama's confidence in her abilities paid off, as the D'Tigress' victory at the AfroBasket Women tournament made her the first female coach to win the AfroBasket Women.
These success stories are a reminder of the resilient and never-say-die mentality of Nigerians, who despite of the hardships, strive to eke out positivity with their endeavours. Yet, it is also a reminder of the stumbling blocks that limit and hinder the full growth of potential. Whether it is sports or film or music or comedy, Nigerian women continue to carve a niche for themselves with brilliance, hard work and selflessness. As the D'Tigress and the Super Falcons stir the affirmation of the world, it is hoped that the day will arrive when the requisite conditions for them—and all Nigerians—to succeed will be in place.
---