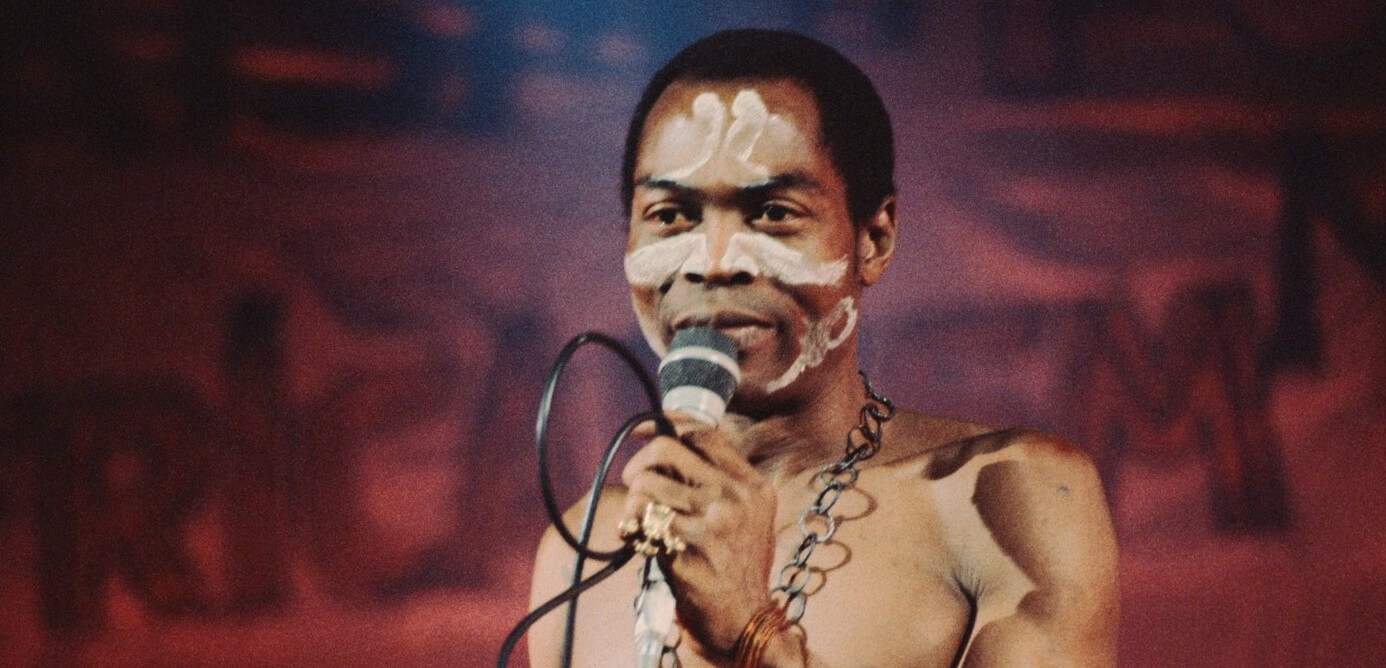 The soundtrack of Nigeria's reality has not changed for years
Music has been documenting our collective pain for decades
When Tiwa Savage took to her Instagram Live last week to call on Beyoncé and other global artists who benefit from Nigerian culture to speak up about what has been happening in Nigeria, one thing she said struck a chord. Considering that afropop's origin is traced back to Fela Kuti, who used his music as the weapon to discuss society's ills in a way that made it appealing and digestible to everyone, Tiwa explains that beyond feeling duty-bound as a citizen to the country, she can't call herself an 'afrobeats artist' without lending her voice and platform to what's happening at the moment. Fela did not cower from calling out the government's iniquities through his music, and it's insane that listening to a song which was written and recorded nearly 3 decades ago is speaking to the exact reality we're currently faced with in the same country.
We know the legendary status of Fela's music, we read about it and see how widely celebrated it is all over the world. However, as the youngest of the millennial generation, I can't honestly tell you that listening to the actual lyrics ever resonated with me before today. In this climate, revisiting a song like "Sorrow, Tears & Blood" which I've heard my whole life, immediately took me to Burna Boy's "Ye", which was an anthem #thatyear and captured how any young Nigerian was feeling at the time. I remember listening to "Ye" in the shower every morning, belting out 'I no wan die, I wan enjoy, I wan buy moto, I still wan turn up', as I amped myself up to face gridlock traffic on the way to work. I'm sure this is how the youth in 1977 felt about their reality, when the song "Ye" interpolates dropped, and it's interesting that both songs released so many decades apart managed to capture the respective zeitgeist.
Now, having lived through the most politically tumultuous time I've experienced as a conscious adult, both songs have found new meaning. If the past few weeks have shown us anything, it's that Nigerians can put their blood, sweat and tears into something to achieve a common good, and still get no results. Nigerian societal beliefs and codes are built to bend you into shape, punish anyone who won't take that shape and the Nigerian government has shown us through their reaction to the protests that they are the enforcers of these beliefs. Young Nigerians took to the streets on the 8th Of October to protest for the police to stop killing innocent citizens unjustly, and instead, the response from the Police Force even more killings with absolutely no one held accountable.
Nobody can deny the patriotism young Nigerians felt over the past few weeks. I personally have never felt more proud to be a Nigerian and to play my part within the fight for our people's emancipation from oppressive governance, however as time passed, Nigeria reminded me why I had never felt that pride before. From the fact that we all knew why the Feminist Coalition had to retract their statement about supporting LGBT rights to the tragic massacre of the peaceful protestors at the Lekki Toll Gate, it was a jarring reminder of the broken system and the fact that it is built intentionally so to benefit certain people.
"Them leave sorrow, tears and blood, them regular trademark/that is why everybody run run run, everybody scatter scatter" Fela sings and we can all agree that perfectly captures the current mood of the country. Lagos, where I live is currently on its second lockdown of the year, and people are being killed in the comfort of their homes, bullets are flying in through kitchen windows and roofs into people's bedrooms, while others are awakened with the sounds of gunshots. In other places, business owners are having their shops looted and items stolen, cars being burnt, and a general sense of unease throughout the state. Elsewhere in the country, the story is no different, and we are all living in a constant fear of what's to come. This is all because some audacious youth managed to take the government to task, and demand to not be killed. As Fela's song continued, I couldn't help but finally resonate with the lyrics when he says: 'My people sef dey fear too much, we fear the thing we no see. We fear for the air around us, we fear to fight for freedom, we fear to fight for liberty, we fear to fight for justice/ We always get reason to fear, we no wan wound we no wan quench, we no wan go'.
Before things became this bleak, we all celebrated Davido's "Fem" becoming the sound of the protests. Following a viral video of protesters at Alausa playing the song when the Lagos State Governor took to the stage to present us with empty platitudes that didn't reflect what we were demanding from the government, everybody, whether you were at the protest grounds or not, collectively agreed that the song was the sound of the moment. "It be like you don dey do too much, small talk you don dey talk who talk, fem" the song goes, and while Davido might have dropped it a few weeks ago as a diss track, the song's targeted lyrics manage to capture everything we collectively feel towards the government. It might not speak to the direct reality we're facing, however, many things he says manage to capture our feelings, such as when he says "I dey live my life, man dey turn am to shoot on sight". This is the reality we face with the Nigerian Police, and instead of curbing these killings, the police and other security agencies continue to wreak havoc on Nigerian citizens with aid from the powers that be.
We're telling the government to 'fem' with their empty promises and general lack of regard for what has happened, but we should also channel this energy to the people among us who are intentionally being incendiary. It seems as though we have failed to realise that we have one common enemy, and social media has been rife with comments, videos and many more things that incite tribal divisiveness. Anyone who listens to rap music will agree that a lot of the music resonates with the reality black Americans face with their police system. In the heat of the Black Lives Matter protests earlier on in the year, Lil Baby dropped "The Bigger Picture", and donated all the proceeds from the song to the BLM movement. While the song was directly targeted at the movement, other songs such as Meek Mill's "What's Free", 21 Savage's "Nothin New", Kendrick's "Alright" and many more interrogate the system that enables the hindrance of a black people's forward motion in society. 'We all screwed 'cause we never had the tools', Jay Z raps on "Family Feud", and it rings the same sentiment as Lil Baby rapping 'it's bigger than black and white it's a problem with the whole way of life' on the chorus of "Bigger Picture".  It would do those who are trying to be divisive, and others who are falling for the tricks well to meditate on these lyrics and understand that efforts have been made to create this kind of division between us. We're better off together, and it will serve us well to realise that it's bigger than where we're from, what we identify as, who we're affiliated to and like Lil Baby said, 'it's a problem with the whole way of life'.
Music is a universal language, and the unity it brings for Nigerians is undeniable. Afropop is laden with happy-go-lucky, dance-driven songs, and it takes a critical listening ear to hear any pain when it's present. Harrysong's inescapable 2015 hit, "Reggae Blues" comes to mind, where he repeatedly sings "after the Reggae,  play the Blues" on the catchy hook. This line is probably dismissed as a mindless bit of wordplay, however, you could also interpret that he's saying it's best to dance and be jolly when "the blues" show up. Since Fela used music as his weapon against bad governance, and to provide his generation with the ammunition of knowledge, there has been an onus placed on Nigerian artists to use their platform for the same. Rapper, Ladipoe tells me: "For me, the real responsibility is in knowing where I stand on any given issue and unapologetically communicating it through whatever I deem fit, despite the fear of repercussions or condemnation" when asked why he feels the need to speak about police brutality in his music. From his debut album, 'Talk About Poe' he says on the hook of "Win Win" "I'd rather greet police before I need ambulance", and any young Nigerian can agree with that sentiment. It takes absolutely nothing to fall victim of police brutality, and it's usually as easy as greeting them nicely to escape death. In the same way we can relate with Ladipoe's 2 year old bar, we can relate to Trybesemen when Timi started their 2001 hit "Plenty Plenty Nonsense" rapping 'Oh I don tire for police dem wahala no dey seize'. The whole verse plays out a hypothetical story of the police who stops them for driving a Benz, and ends up with he and his guy being brushed. While humorous and hypothetical, this is real life in Nigeria and real people have died for this reason.
While the protests started after the unjust killing of a young man in Ughelli, Delta, and mainly called for the Nigerian government to End Sars, the problem became bigger than police brutality and unearthed a wider issue, bad governance. We all know the song "Mr President" by African China, where he's urging for those in positions of power to do what they are supposed to do for a better Nigeria. 'Lead us well, no let this nation to fall inside well', he sings on a 14-year-old song, and today, it feels every bit as though the nation has fallen inside well [sic].  Rapper, D-O tells me "I honestly feel like it's my duty as a citizen of this country to use my voice as a weapon against the corruption, injustice and poverty", and the evidence is undeniable in his music. Probably most glaringly with a song like "Chop Elbow", where he calls out the system, and actually directly speaks about SARS telling them to do as the title says. He continues saying "the first track I ever dropped that I feel was a weapon was "Chop Elbow", and when I recorded it, Police had been disturbing me for like weeks straight. When I go through things like that I know I have to use my platform to speak about it". Nigerian rappers, much like Black American rappers have channelled the weight of their systematic oppression into forms of expression that we can all relate to as a society, and we've seen the attempts to gaslight us and erase our current reality. More than bops, these songs serve as documentation of our communal mourning, and evidence of the potential that comes to die in Nigeria.
Showdemcamp's Tec believes that the Nigerian system is not built to benefit Nigerians, and through his music, he wants to ensure that it is made clear. Rap's most important tenet is the ability of the rapper to reflect their reality, and Tec believes that there is not one thing that works for the betterment of Nigerians, whether it's medical, educational, or literally anything else that's supposed to. He says: "In my current mindset, I think systems are here to stifle, and it's not enough for us to just exist like we've been asking for. They want to stifle us and we have to speak on it". We confirmed as a generation this week, that the Nigerian system is built to break you with no regard for your rights and zero accountability for those who are in positions to enable society's progress. Regardless, we must remember that they can bend us as far back as they want to, but we must never break the way they would like us to. After this week, it's easy to be broken by what's happened, however, we have history to learn from, as this has happened before and they managed to break the last generation who tried. Here we are today, fighting the same fight our parents attempted in 1993, with the music we're currently listening to saying a lot of the same things the music then did, and more jarringly, what Fela said in 1977.
An older adult once told me that living in England, with no real proximity to the racism their Nigerian friends in America faced, they listened to songs like Marvin Gaye's "What's Going On" at parties with no reflection on what he was actually saying, however, watching the death of George Floyd made them realise what the lyrics meant decades later. A wise man once said on a track, 'where I'm from the police so corrupt, your last name alone get you a bullet in the gut, and if they don't know you, a bullet in the gut, and if you don't drop shit, a bullet in the gut'. I want to play a song like that for the future generation as a memento, to show them how far we've come in the fight against systems put in place against us. I hope for a Nigeria where unlike I have done with Fela's music, the next generation can't relate to music that was made to reflect a time when they didn't exist.
Featured image credits/Spin
---