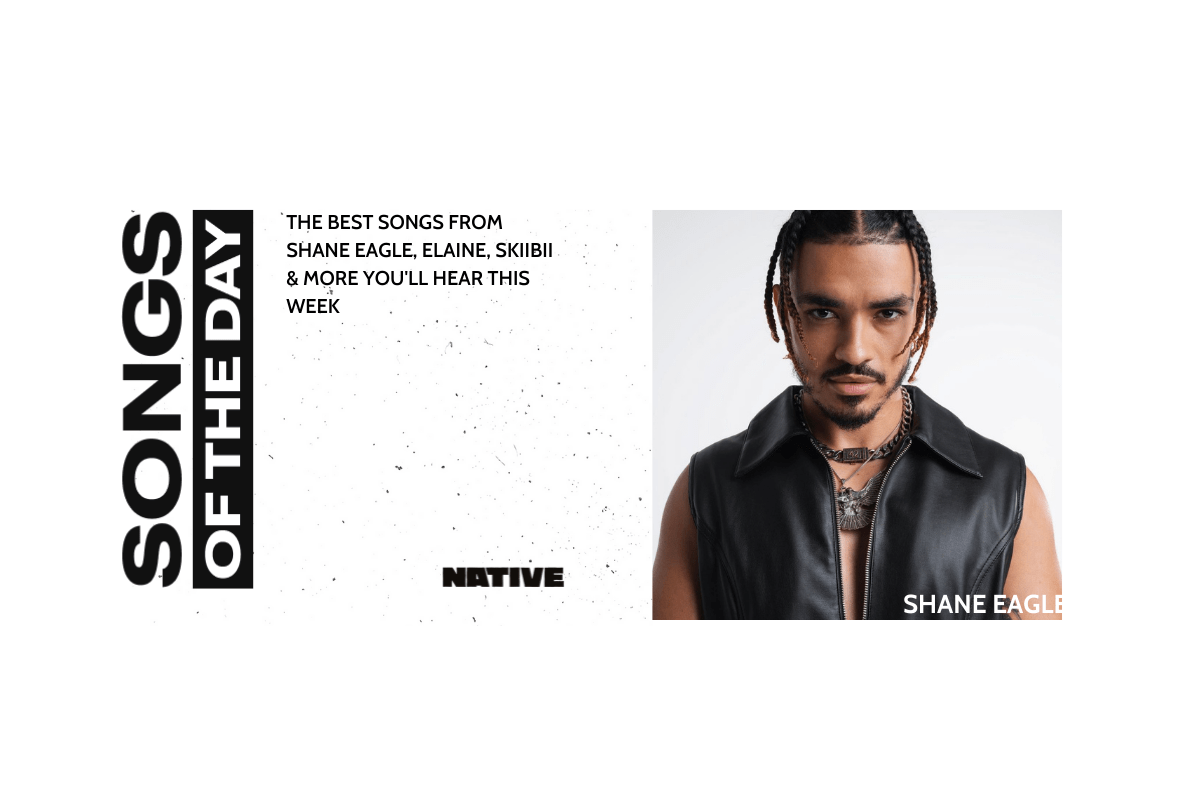 Songs of The Day: New Music From Shane Eagle, Elaine, Skiibii & More
new music to start your week
2022 is no longer a new year, and Afropop knows that very well. As much as the previous year was packed with scene-defining achievements, especially within the context of global growth, the only way to keep the momentum from falling off is for artists to keep reaching into their bag for great music that holds the ears and captures the hearts of millions of listeners across the continent and well beyond. That's exactly what's been happening, so much so that there's hundreds of new singles, at-least one new must-hear album and a new smash hit every week.
Amidst this torrent of new music, The NATIVE is committed to highlighting the best releases you need to hear, and possibly add to your playlists. That's the essence of our 'Songs of the Day' column. Last Friday we brought you highlight selections from Terri, Oxlade, Goodgirl LA, NSG and more. For the new week, here are songs from Skiibii, Young Jonn, Elaine, Dremo and more.
Elaine – "Shine"
Still an undergraduate when she released her debut EP 'Elements' in 2019, Elaine's career has continued its upwards trajectory. Her experimental takes on glossy R&B renders her music a unique quality and coupled with a Columbia deal, new Elaine has been expected since the May 2021 release of "Right Now." Elaine's new single "Shine" is aptly titled, set to music that throbs with the colourful sheen of an interstellar experience. The rich vocals of Elaine vibrate with purpose as she sings of self-belief. "You should live inside of your moment, let go, just be yourself," she sings, tenderly calling listeners toward their truest form.
Young Jonn – "Dada"
The sound of Nigerian pop in the 2010s would be markedly different without the output of Young Jonn. With an array of clients (but primarily Olamide) tapping from his mastery of high tempo production that saluted the musical history of southwest Nigeria, he cemented his name among the greats of that formative era. And yet Young Jonn is not done: recently signed to Chocolate City, he's reintroducing himself as a musician with an EP slated for later. "Dada" is the first song from that project and it's a largely enjoyable offering. Amidst the bubbly production Jonn's surprisingly accomplished vocals take center stage as he describes the often dramatic actions inspired by being heads over heels in love with someone.
Skiibii – "Trenches"
With the Davido-assisted "Baddest Boy (Remix)" still doing a madness, Skibii has shown no signs of riding out its momentum for the longest. To that end "Trenches" is a celebratory moment, both in sound and direction as Skiibii sings of living the life. His channeling of popular culture's humour-laced interpretation of 'trenches' also casts an aspirational quality to the record, sizzling beneath with Runcheck's measured production. Maintaining his bright songwriting, Skiibii's vocals and his surefire hook elevates the song's overall quality.
Dremo – "Confam" ft. Simi
Nigerian rapper Dremo taps singer Simi on his new single "Confam". The song is dramatically composed in duet style, with Dremo's character eager to get the ball rolling on a relationship. They are however complications to smooth out and that vast middle ground is explored from both spectrums, the artistes' voices blending in seamless chemistry. "I'm waiting for you to give confirmation," sings Dremo in the lyric that most encapsulates the wistful groove at the heart of the song.
Praiz – "Wait" ft. Joeboy
The music of Praiz is recognisably cut from the epic, scene-setting R&B tradition that artists like Alicia Keys and John Legend emerge from. With a captivating vocal range he powered his way to stardom in the early 2010s and though his output has significantly reduced over time, his releases have been nothing short of praiseworthy.
Few days ago his third album, 'Reckless' was released, a strong offering with some of his best records ever. Although the album's most important pieces are guitar-based musings, one of its high points is also the groovy union with Joeboy on "Wait". Having all the colour of a typical Afropop song, its rich vocals and the simple allure of its chorus takes the song beyond average, the kind to soundtrack the evening after a productive day.
O'Kenneth, Reggie & G4 Boyz – "Loading"
The explosion of Ghanaian drill internationally happened over two years ago but acts from its Asakaa scene are pushing the bar for even more acclaim and quality. The quartet of O'Kenneth, Reggie and G4 Boyz are no strangers to collaboration, merging their distinct strengths to make rap bangers which thrill with the pervading mystery of a ghost tale. "Loading" has a bouncy base, a textured groove that highlights the urgency in the spritzy deliveries all over the records. The chorus is particularly progressive, complementing the beat's enigma with an almost joyful twang as they stunt on haters.
Shane Eagle – "STREETFIGHTER"
South African rapper Shane Eagle is famed for his spirited raps which tackle many topics, from personal motivations to social anxieties and the extent of the generational vices we all share. "Streetfighter," the second song off his new album 'Green,' channels from boisterous, trap-influenced cadences as Eagle stack lines that are deceptively simple, unfurling in greater depth as the song advances. "They know that Eagle the GOAT, but this one is not for the slaughter," he raps, talking his shit over production that sounds like the soundtrack of a blockbuster video game.
YTBOUTHATACTION – "BLOW UP"
Trap music has blossomed in Nigeria in recent years, particularly among young people who are inspired to document the complex details of their life in the way rappers like Lil Durk are known to do. 22-year-old ytboutthataction is one of the most inventive rappers from this side, possessing the ability to condense serious topics relative to being young in eccentric, colourful production. For her first offering of 2022, the Lagos-based act releases a two-track package, boolean logic. "blow up" finds her coasting on a triumphant beat, matching its bounce with dexterous flows that are evocative of the Migos, but with more purposeful melody and lyrical awareness, as she raps "imma do this shit on my own" before going on to deliver accordingly.
Featured image credits/NATIVE