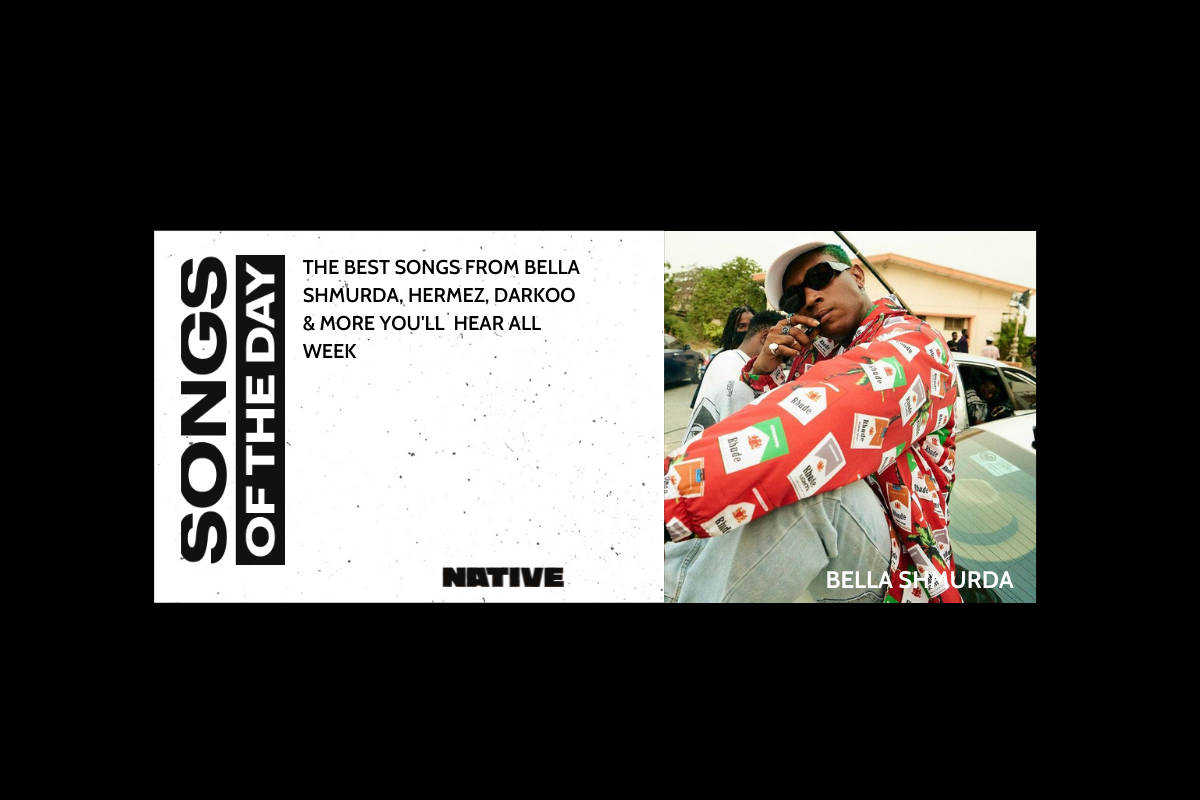 Songs Of The Day: New Music From Bella Shmurda, Hermez, Darkoo & More
Featuring Bella Shmurda, Phyno and more.
2022 is no longer a new year, and Afropop knows that very well. As much as the previous year was packed with scene-defining achievements, especially within the context of global growth, the only way to keep the momentum from falling off is for artists to keep reaching into their bag for great music that holds the ears and captures the hearts of millions of listeners across the continent and well beyond. That's exactly what's been happening, so much so that there's hundreds of new singles, at-least one new must-hear album and a new smash hit every week.
Amidst this torrent of new music, the NATIVE is committed to highlighting the best releases you need to hear, and possibly add to your playlists. That's the essence of our 'Songs of the Day' column. Earlier this week we brought you songs by Focalistic, King Perryy, Yemi Alade, DJ Neptube and more. Today's selection includes songs from Phyno, Bella Shmurda, Olu Bliss and more.
BELLA SHMURDA – "MANY THINGS"
Bella Shmurda is the voice of the streets. Horns have prominently featured in Afropop releases of late and on Bella's new affair, it's paired with uptempo percussions. The result is a party-lined bounce, with Shmurda's signature vocals spazzing above to tell his success story. "Enemies dey vex say the boy dun blow," he sings gingerly, following the aspirational direction of his most popular songs.
Olu Bliss – "My Jam"
Nigerian-born Olu Bliss creates cathartic records, steeped in pristine sounds influenced by R&B and Soul. He recently released 'Sun Sonata', a colourful EP drenched in positivity and self-love. With a range that echoes Silk Sonic's recent experiments, "My Jam" is a rather measured dive into a slow groove, with relaxed drums inspiring Olu to sing masterfully about the music he loves.
HERMEZ FT. MAUIMOON & SUTE IWAR – "SUGABLU"
The music of Hermez plays within the eclectic, mid tempo rhythm familiar among alternative acts. His new release features the prolific Sute Iwar and Mauimoon, combining their vocal abilities for a chill vibe. "Can't let you go, gat's to show you/ Think you should know, I adore you," goes the chorus, moving with a sort of seductive tease you'd enjoy when listening alongside someone you'd risk it all for.
Phyno – "Ikepentecost" ft. Flavour
'Something To Live For' was one of the standout rap releases of last year, again underlining Phyno's willingness to play the long game with his career. That album featured "Ikepentecost", collaborating with longtime associate Flavour over sizzling production inspired by the Ogene sound. On the just-released visual, TG Omori casts both artists in scenes of splendour, featuring a couple of notable cameos as well.
Camidoh – "Sugarcane (Remix)" ft. Darkoo, King Promise & Mayorkun
Ghanaian act Camidoh unites an all-star feature cast on the remix of "Sugarcane". The song's mellow production takes partly from Highlife-style percussions and guitar licks, beautifully carried by the musicians' obvious chemistry. Each brings their distinct flavour, uniting to sing of a love interest who's not returning the affection. Camidoh's chorus is especially poignant when he sings "Man dem suffer to find your love, Girl you never know you're kongo aso".
Vudumane – "Walai"
Ghanaian act Vudumane explores the layered fields of Amapiano on his latest record. "Walai" embraces all the elements that has made the genre one of the most recognisable in the world today, while Vudu's singing toes its own path, strong and easily flowing into the hypnotic log drums you'd hear on this.
Featured image credits/