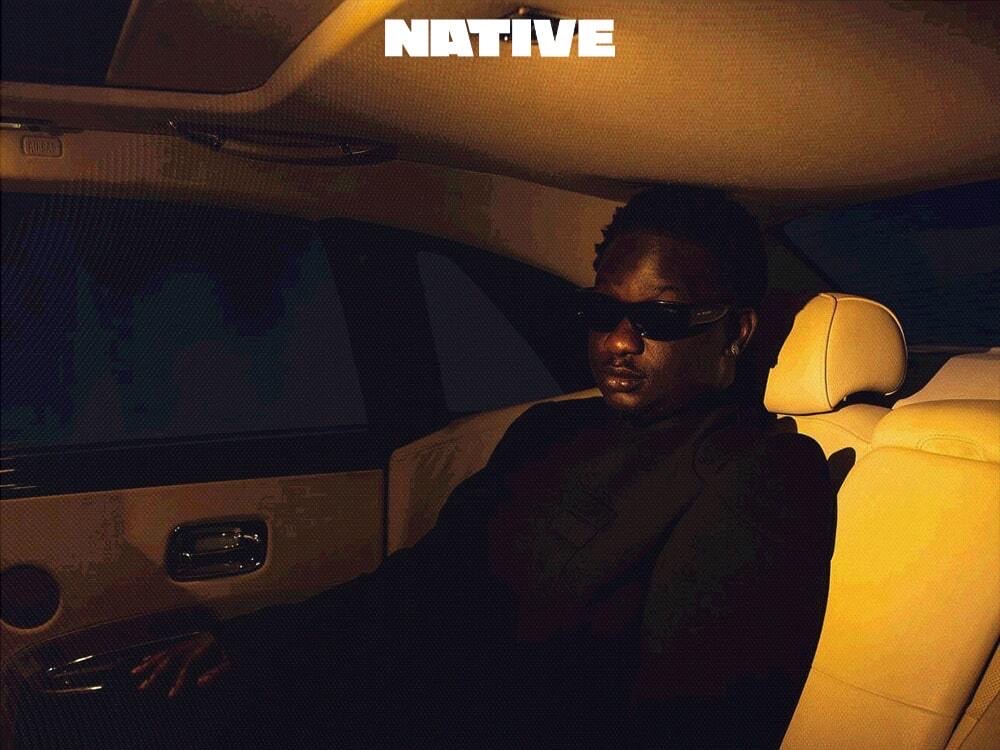 Track-By-Track: Wande Coal Breaks Down His New Album, 'Legend Or No Legend'
an entry into Wande Coal's world
The impact Wande Coal has made in the Nigerian music industry is undeniable. His vocal dexterity and skillfulness have influenced many Nigerian artists, who have tapped into his style to form the bedrock of their music. It is a gift that Wande Coal doesn't take for granted. "It's a very, very good thing," he tells the NATIVE. Since laying a blueprint with his 2009 debut album 'Mushin 2 Mo' Hits,' Wande Coal has churned out hit records synonymous with different eras in the Nigerian music scene and has solidified his place as a leader and master.
With 2015's 'Wanted,' 2020's 'Realms,' and a healthy catalogue of singles, Wande Coal has proved that while he's an old head, he's adept in the ways of the new. He has constantly pushed beyond the boundaries of sound, finding new depths to reach and new highs to reach. Nowhere does he clearly show his leanings than on his latest album 'Legend Or No Legend,' as he draws inspiration from love and his daily concerns as a human and a renowned artist. 
In this track-by-track breakdown, Wande Coal dives into the creative process for the album and tells full, jubilant stories about the making of the songs and the relationships between himself and his co-creators. This is a door into 'Legend Or No Legend' through Wande Coal's eyes and words.
View this post on Instagram
"NOBODY HOLY"
"Nobody Holy" was produced by Dunnie. Dunnie is a female producer [and] an extraordinary producer. I met her at a studio. I was working at Aristokrat Studios at the time and she just came in; with me, when I hear the vibes it just comes. So we recorded it and then that was it. Ideas just come from my head and the beat felt right, to be honest. 
"COME MY WAY"
For "Come My Way," I had a session with Kel-P and then Bruno used to be his boy that works for him. And then every time Kel-P goes to bed at night, I used to call Bruno and I think that's how we got the song because he came in the night one time and around nine and he just played the beat for me and I was like, "Wow, this sounds like Amapiano," and "Come My Way" was very intentional because at the time Amapiano was outside, you know. So I wanted to sound South African and Nigerian at the same time on the song and that's why you heard me doing that "Helalo!" I was just chanting, trying to create a vibe, you feel me, and then it worked. That's how "Come My Way" came about.
"3 SQUARE MEAL"
"3 Square Meal" is based on mindset. You know how you want to be able to afford things for your family, you want to grow old, be successful, that's pretty much what I was trying to put in one, how we want to be successful and make it and be able to afford three square miles. "3 Square Meal" doesn't mean I'm saying, "Oh, morning, afternoon and night." I'm talking about big things, to be able to afford houses [and] luxury at your time, when you want it. That's the idea behind "3 Square Meal" and it was produced by K-Dream. It was a session that I had in two weeks and we just bagged the album up and that's how we created "3 Square Meal."
"DUES"
With "Dues," as I said, a lot of people don't know that when I entered the industry [through Mo'Hits Records], I was like 21, 22. I left UNILAG and I had the opportunity to go to America with them in 2007 at that age. So as soon as I got to America, I was listening to different sounds like, "Wow, these guys are bad. I want to show these guys that a guy from Africa can do all these kinds of things." That was my idea. So I always listen to Trap and all these different songs and I just wanted to create my own type of Trap. 
"Dues" was produced by Dunnie again. First of all, before I write music, I have to mumble the sounds that make it look like I'm not the guy that's doing the song and then I'll write [the words]. With "Dues," it was a way of me saying, "I'm not giving up in the industry" because if you listen to the lyrics it says "I done told them that I wasn't gonna give up/Had to do it so they wouldn't know" so that was personal for me. All the things I was saying were the right things to say on the beat. You have to be aggressive with [that] type of beat, you know; sounds make you go into a different dimension and I'm happy that I did because it's one of those songs that makes me feel like  I actually crossed my boundary. And then people would be like "Why did he say that? Why did he do that?" That's what I wanted. It was intentional for me and I was like "Why sound this American and not put a little bit of Yoruba so that they know that this guy is actually an African?" I wanted to show that I'm very much African and I'm from Mushin Olosha, Lagos, Nigeria.
"E CHOKE"
"E Choke" was produced by the King of Beats – Kel-P. With "E Choke," I think we travelled to Ghana with Kel-P and we had a session. We were all in the crib for like two weeks and then Kel-P just started playing different beats and then "E Choke" just came out. The beat sounded gangster, it sounded dark. It sounded like Pop from the UK so I was just like, "You know what? Let me try something on this," and that's how that came.
"LET THEM KNOW"
I mean with me and Kel-P, it's fire and smoke. He's my brother, he understands me, he understands the new sound. Over the years, I've messed with different sounds, if you check my track record. All my songs don't necessarily sound the same, starting from "Ololufe." One thing about me is that I always try not to do the same thing. Some people feel like the same system can work but I also feel like pushing myself can work, so that's why I always jump on different sounds, sometimes I sound different and that's the approach that has come from heaven.
So with Kel-P, it's magic. With "Let Them Know," I think he was in Eko Hotel [& Suites] and he called me, he said, "Yo, you know what, I just made this beat. Come and listen to it. And then I just drove there. The beat drives you, the beat is kind of reggaeton, it feels like a Sean Paul vibe going on on it and then I wanted to sound different too. It's one of those different songs that I really love because the approach to the song is crazy.
"STREETS" FT. T-PAIN
With "Streets" with T-Pain, I think I got a call from EMPIRE. They created a session for two weeks and then they called me and it was like, "Oh, what's up? How would you feel if you had T-Pain on a record?" I'm like, "What?" because when I started in the industry, T-Pain was the go-to guy for music. Back in the day, it was between the times of R-Kelly, Usher, Akon, T-Pain and then Chris Brown, but T-Pain was really, really relevant and he was one of my mentors in the industry to be honest because I used to listen to him a lot. I remember in Mo'Hits, it was T-Pain that I used to listen to, so it was a dream come true for me. 
So I told them [EMPIRE], "What song would you like to put a T-Pain on? I don't have all these Yankee songs to put T-Pain on," and they were like, "Don't worry, we'll put him on this new one and he jumped on it and I didn't even know. I didn't even know until Kel-P called me and said, "Yo, T-Pain did a video and he leaked it and played it online." I was like, "He played it online?" And then Kel-P sent it to me and I was just like, "Wow, he killed the song with the melodies and everything," and I was just like, "You know what? I don't want to do anything crazy. T-Pain has already killed this song. Let me now show that I'm really, really African on my own song." And that's why you see me showing my Yoruba side. That's how that song came.
"KPE PASO" FT. OLAMIDE
That's fire. "Kpe Paso" happened at a time when I was with Wiz[kid] and then Olamide came to the session with Wiz and we were just vibing on different levels. And at the time, Olamide already called me for "Hate Me," which was his record and it just felt right that I needed to do my own record with Olamide. With "Kpe Paso," Kel-P was in Eko Hotel; all of us came for a session and Olamide came in, and then as soon as he [Kel-P] dropped that gem, I was just like, "You know what? Let's do this record." It took me time to write my verses because I was doing a lot of projects but as soon as I wrote the record, I knew in my head that that was the next single. As soon as I heard the beat and Olamide's hook, I planned for it. I took my time with the record and that's how we made it.
"EBELEBE" FT. WIZKID
I think I flew to Ghana and Wiz was already in Ghana at the time, and then he was recording the song. This song was already made; he [Wiz] had the chorus, the beat and everything. So I met him in the studio with P.Priime. And I was like, "You know what? I want this record," and he said, "All right, you want this record? Let's go," and I started recording it right there with the energy and everything. It was recorded in Ghana and then we finished it up in Lagos. Everybody knows Wiz is my brother. Everybody knows he's my blood, and when we're on a record, it feels like magic. 
"GENESIS"
I love "Genesis," too. "Genesis" was me and Kel-P in a session. The idea of "Genesis" was a way of just saying, "I could do all these things, showing my potential and also showing my Yoruba side."
"JABO" FT. FIREBOY DML
To be honest, I love Fireboy because he inspires me; he's young [and] talented. When I was having this session that I told you EMPIRE organised for two weeks, Fireboy was in the building that I was and he was doing his session with another producer and then I think he heard that I was in the building and he walked into [my] session and as soon as he walked into the session, K-Dream already had the beat going on and he played the beat, and instantly Fireboy just ignited. 
We did like four songs immediately. As soon as we finished "Jabo," we did another one and he killed that one too. With Fireboy, he loves to finish his verses. I love that kid. He loves himself. He loves to just want to do it and that's the energy I got from him. Shoutout to Fireboy.
"SHO MA GBA"
"Sho Ma Gba" is kind of retro. You know how the old Afrobeats was back in the day, like how you have fast songs [with] tempos of 120, 130, 125. It was just a way of reminding myself that "Ah, don't forget your people that are on the mainland" because my mainland people like to dance. So I didn't want to let go even though I was doing Trap, even though I was doing "E Choke," and even though I was doing the contemporary type of music, I still wanted it to be local. I feel like local content is the new wave now so that's why I did that.
"DON'T FEEL LOVE"
First of all, the beat has this Reggaeton wave but it was a way of me not actually making it so sad. I still wanted it to be like, you could listen to this music and still pump your head in a way, but it's sad but not necessarily [too] sad, you feel me? You can vibe and it can push you to just move on from any bad experience.