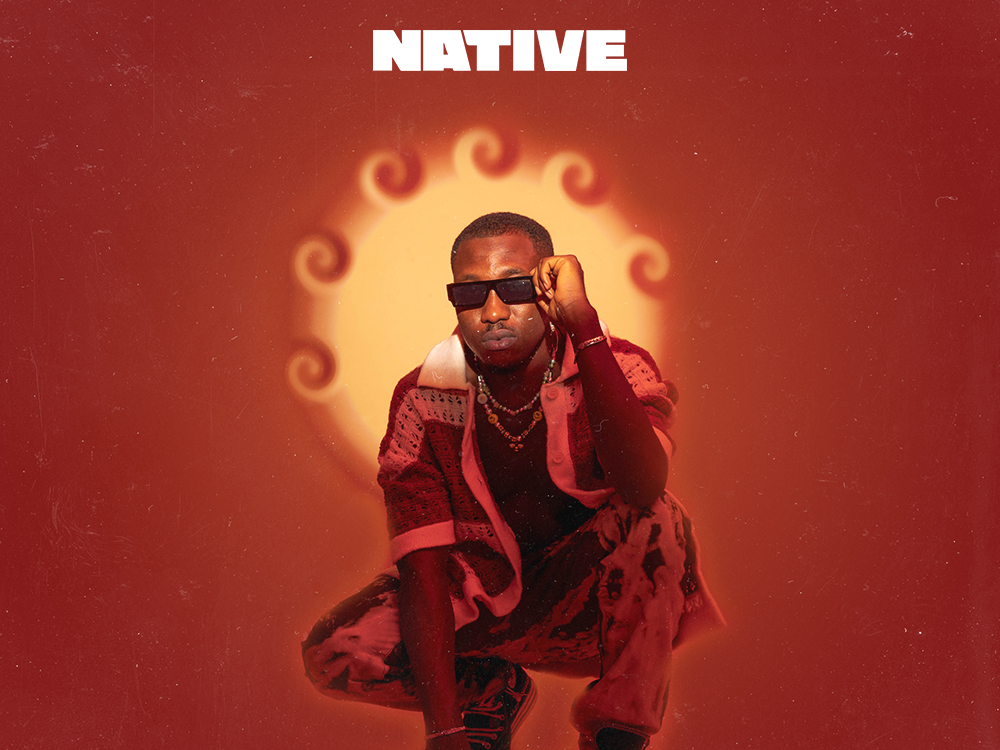 NATIVE Exclusive: Smallz The DJ Is Ready For The Next Phase
soundtracking the life of young Nigerians
There's no denying that disc jockeys are an indispensable part of the music industry. Serving as conduits of sound, they act as middlemen between the artists and the audience; introducing new artists to the mainstream and providing a source of entertainment. In the ever-evolving world of Afropop, DJs have continued to shape the music industry in some cases, even creating their original music. Names such as DJ Jimmy Jatt, DJ Spinall, Dope Caesar and Smallz are constantly in circulation, for their awe-inspiring sets that usher many to the dancefloor. 
For Smallz the DJ, in particular, music has been a crucial aspect of finding himself and his sound. From an early age, Moshood Ayinde David, popularly known as Smallz fell in love with the music he heard playing over the radio; "I used to listen to Riddim FM a lot and there used to be DJs like DJ Mility, DJ Snow the Damager. So every Saturday, I'd make sure not to miss their sets. I was like, "Oh my God, I want to be like this," he tells the NATIVE.
Soon enough, he began learning the ins and outs of the craft from his brother, who also worked as a DJ while growing up. At first, he faced opposition from his family who wished that he follow a traditional career path. "My parents wanted me to go to school and stay focused. Also, it's just my brother and I so my parents didn't want both of us to become DJs," he shares. It wasn't long before he started getting bookings for shows and performances, the most notable of which was DJing at Homecoming Concert and soon enough, opening the show for Davido during his 'Timeless' show in Tafewa Balewa Square, Lagos. 
View this post on Instagram
Outside of performing for other artists, Smallz the DJ is also producing and working on his own original music. Like many other DJs before him, he is a keen learner of music and improving his skills is a great source of pride. In 2018, he released his debut mixtape 'Small Chops' which featured 37 tracks and gave listeners a taste of what he had to offer.  Smallz the DJ is no stranger to making music as the rising DJ once made an appearance on Ycee and Milli's "Yoruba Demon" back in 2015. "Imagine going to DJ a set and you see people vibing to your own music," he gleefully says over our call. "It's something I believe every DJ should do." 
Now, Smallz the DJ is soundtracking the life of young Nigerians through relatable DJ sets and hosting intimate events that draw loyal supporters and fans. Recently, the rising DJ hosted his first event of the year 'Sundown With Smallz,' a 24-hour DJ set hosted in his home city, Lagos which added yet another string to his prolific bow. Following the event, we caught up with Smallz the DJ to talk about finding his feet as a DJ in Lagos, garnering a loyal following and audience as well as his plans for the future.
Our conversation, which follows below, has been lightly edited for clarity. 
View this post on Instagram
NATIVE: Can you talk about how you first got involved in the world of DJing? 
SMALLZ THE DJ: My elder brother was a DJ. I always followed and assisted him at events, and that's when I actually fell in love with it. So, my brother actually inspired me. 
Did you find support from your peers and family when you started?
It was not really a smooth journey. Obviously, my parents wanted me to go to school and stay focused. It's also just my brother and I, so my parents didn't want both of us to become DJs. My mom was always telling me to look for another career. "You can't be a DJ and all that," but along the line, she let it go because she had no choice but to let me do my thing. So at first, it wasn't smooth but eventually, everything aligned. 
Who were your early inspirations and influences?
I was being inspired by DJs back then. I used to listen to Riddim FM a lot and there used to be DJs like DJ Mility and DJ Snow the Damager. So, every Saturday I'd make sure not to miss their sets. I was like, "Oh my God, I want to be like this." 
How did you go about getting your name out there as a DJ?
So first of all, when I started, I didn't have a DJ name. I'd always just go to gigs and tell them my real name, David. When I got into my SS1, my close friends started calling me Smallz because I was literally the smallest in our crew. One of them then suggested the name to me as my DJ name. After secondary school and moving on to uni, I decided to keep the name Smallz to pay respect to the friend who gave me the name as he's late now.
You're approaching a 10-year milestone in your career after years of exceptional work. What has been the most challenging aspect of following your dreams?
Being a DJ in Nigeria, it's really hard to get your name out there because they're thousands of DJs in the industry. The market here is about doing things in a different way. Gigs can be hard to get because everyone has their favourite DJ. So you'd have to prove to your client that you're a good DJ and you can deliver the job. I wouldn't say it was a smooth journey for me because there are always challenges.  Whenever I'm going for a gig, I always make sure that, whatever the situation might be, I give my best. I always try to put on a positive outlook. 
What's an important lesson you can share with upcoming disc jockeys?
You have to stay focused on whatever you're doing. If this is your goal, you just have to stay focused. Don't let anyone tell you what to do, what genres to play, what events to attend or not attend. Stay focused and do what your mind throws at you. Just do you, honestly.
How do you typically prepare for a new gig? What's your performance ritual or habits?
When I started, before any gigs, I always went to my studio and practised or researched new songs or made a playlist for an event I wanted to do but that wasn't really helping me. I've realised that planning a set isn't my thing because I might get to an event and the set I planned may not be what [the crowd] want. I try to share my set time. I know that I'm going to play for like an hour and 30 minutes, so I try to divide it.  I'll do like 30 minutes of Afrobeats, 30 minutes of Hip-Hop, 30 minutes of EDM or something and it works for me. I rather just go there and do my thing and DJ live. I try to read the crowd and understand what they want to listen to and when they're not receptive. 
View this post on Instagram
When it comes to mixing, what are your first thoughts when approaching a hostile crowd at an event?
When I go for a gig and meet the crowd, I try to test the crowd with whatever track I'm starting with and try to gauge their reaction to it. If I see a good number of the crowd have a positive vibe, I'll keep up with the track. If they don't, I make sure the next track I'm dropping has to be something relatable to the crowd. I make sure that at least the first five songs I'm playing are something the crowd can really relate to.
So you use relatability to seamlessly engage with the crowd and get them moving. 
Yeah exactly. As a DJ, you always have to read your crowd. You have to read your crowd and engage them with tracks that they can relate to in that event or in that context or space. 
How do you balance staying true to your style while also playing to local trends and crowd favourites?
Like I said before, I always share my sets, so I always make sure that I'm playing something for everyone. Even though I might play a song that everyone knows, there are always different people in the crowd so being versatile helps. My last set; the last Davido concert in Nigeria, the crowd was massive, so what I planned to play would have been a shitty set. The crowd was mixed so I had to play something relatable to everyone and the reviews were really good after my set. So balancing your set and craft is important. Always try to leave a mark that people will talk about and be like "Do you remember when Smallz dropped that beat?" 
You're popularly known for being able to fuse genres in your sets. Are there any genres you want to explore more of? 
There are some gigs I get where I'm not supposed to play Afrobeats because maybe it's a private event but I'm more focused on playing Afrobeats. If I was to explore other genres, it would probably be House Music or Hip-Hop. EDM is something I love but I don't really play often even when I go out for events.
Since the rise of Amapiano and the infusion of log drums and faster BPMs in music, has this affected how you deliver music to audiences?
Before Amapiano even came to Nigeria proper, it had been around for a long time. It didn't start last year. Before the whole Amapiano thing, I always play this South African vibe. I play Amapiano but I don't make it just that. I make sure I mix it with Afrobeats. 
DJs are very important to music culture and we've seen many DJs like Spinall and more release their own original music. How do you feel about making your own music?
Actually, I'm working on something. Probably, by the end of the year. I'm going to release my project. It's not really a must to do, but it's something I think every DJ should work on once in a while. Imagine going to DJ your set and you're playing your own music. You see people vibing to your own music, that's really crazy, so that's something I believe every DJ should do. Even if it's not something original, it can be a remix to a song, but just have your own craft or project that you push.
View this post on Instagram
Collaborations have been a key part of your journey. It's there any artist you've dreamed of working with? Why?
I've always wanted to drop something with Davido. I don't know when that will happen, but I would love to have something with him. There are a lot of new guys that I'm trying to work with. I won't lie, the new guys right now are really going hard. There are a lot of them that I'm trying to work with right now.
Now, you're putting on your own parties with "Sundown with Smallz" coming in the next few days. Is there anything we should look forward to? 
I've always wanted to do this since, but I think I wasn't in the right headspace. I was busy with other things. Obviously, COVID came, but I want people to expect more because "Sundown" is actually going to be big. I'm not just thinking of doing it in Nigeria only. I'm sure, by God's grace, next year, I'm going to have one in London and in US. It's going to be something global. I'm trying to build a proper community.
What should we expect from you in the near future? 
Apart from music, I want to start something on my YouTube. I won't say now, but I'm going to be active on my YouTube. I'm going to be dropping more mixes. It has been awhile since I dropped mixes because I've been busy with other things. Now, I want to be dropping mixes like every month, if possible every week. I don't want to starve my fans anymore. 
Featured image credits/NATIVE