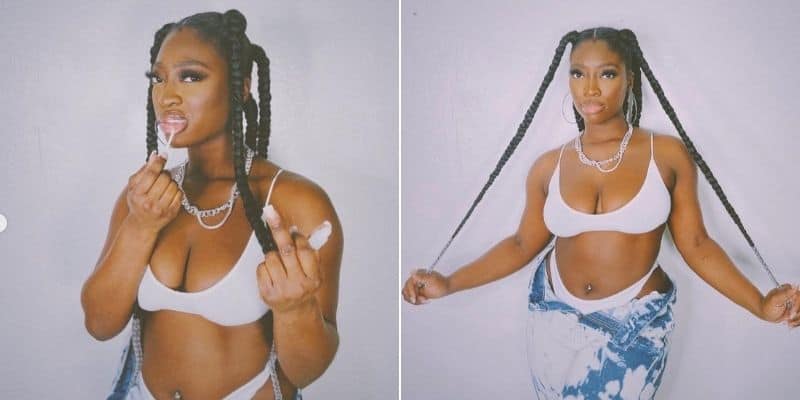 Meet ShaSimone, The British-Ghanaian rapper On Dave's "Both Sides Of A Smile"
Pay attention to Shasimone
Last Friday, British-Nigerian rapper Dave released his sophomore album 'We're All Alone In This Together', the follow-up to his Mercury Award-winning debut album, 'Psychodrama'. Once again, the Streatham rapper waxed poetic about the trials of fame and success, while offering deft social observations about the Windrush scandal, the victims of Grenfell, and war crimes in the Middle East.
The centrepiece of the album lay in the cross-continental features which tied together different parts of Dave's backgrounds — from his doorsteps on Streatham to the rowdy streets of Lagos and beyond. Wizkid, Boj, James Blake, and Stormzy were some of the big-ticket names that caught fans' attention. However, one uncredited collaborator has been generating quite the buzz since the album's release: Shasimone.
View this post on Instagram
'We're All Alone In This Together' cradles many sweet spots. Adopting a multi-genre approach, Dave takes listeners through different soundscapes, at some moments offering up Afrobeats and R&B and another moment, delving within the confines of Drill and Electronica. The album encompasses many different voices, representative of its name, togetherness in solitude.
On "Both Sides Of A Smile", one of the standouts on Dave's album, the rapper gives way for two distinctively antithetical artists to take centre stage and allow listeners to ponder their own romantic shortcomings. As James Blake's melodious voice introduces listeners to the world within, Dave begins to spit his thoughts on love and romantic unions. "Love's a film and I'm just flicking through the parts I'm in," a line that will certainly resonate with anyone who's loved and lost.
As the song builds, a new voice comes into focus. Cue in Shasimone, the British-Ghanaian newcomer slowly making a name for herself. With lyrics like "Ask me if I'm taken, I say taken for granted/Cause I'll be damned if I give a fuckin loser my best years," the East London emcee stirred up quite the conversation as fans began clamouring for more material from her.
According to her Spotify page, she's currently got 5K monthly listeners which will continue to rise as more listeners discover her short but sweet discography. The rapper's first release dates back to September 2020 where she made her official debut with "Belly". Although the singer currently has only four releases on her streaming platforms, she's consistently shown her fierce lyrical chops each time she's stepped up to the mic.
On "Back To Sender", her most recent release, the rapper returned back to her Ghanaian roots, spitting her hard-hitting bars over an Afropop-tinged production. Here, she talks at length about the opps and not letting bad energy into her tightly knit circle. In the song's 3 minute run time, she's able to pack an onslaught of wordplay as she calls out the fake bravado of masculinity. Armed with kiss-offs and spilled tea from past lovers, Shasimone shows that she's got a magnetic energy to her words and delivery. It's this energy she brings to "Both Sides Of A Smile", a potent introduction for those who are unfamiliar with her past work.
It's always inspiring when we see Black women unabashedly show off their enviable skills, especially on a song with men who are far more established in their careers. Still, Shasimone was more than able to hold her own ground, winning over hearts and ears with her rapid-fire verses that draw us into her youthful world. From one self-determined showcase to another, it's clear that Shasimone is one to keep tabs on. She's a woman of action talking her shit on her tracks, and we need more of this.
Watch "Back To Sender" below.
[Featured image credits/Instagram:Shasimone]
---