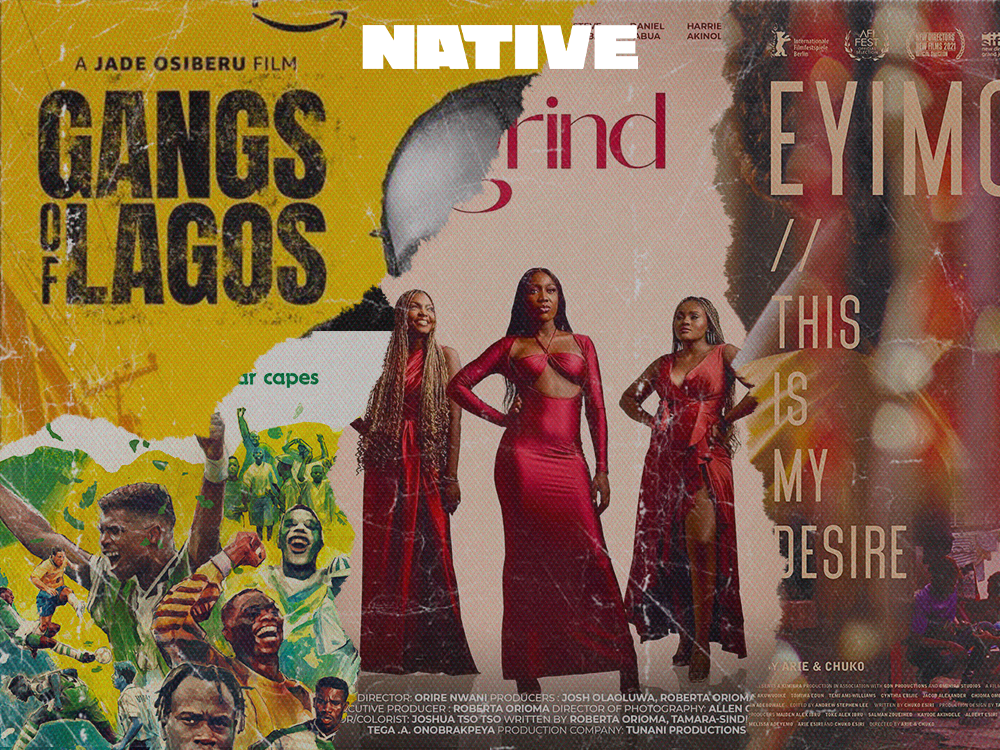 5 Nollywood-related recommendations on Prime Video
An entry point into the streamer's extensive catalogue of Nigerian film content
At the top of the long Easter weekend from earlier this month, Prime Video took a definitive step in engaging a Nigerian—and by extension, an African—audience. When the Amazon-owned streamer launched its services in Nigeria, it launched a "Japa to Prime Video" campaign that was mainly driven by promoting non-Nigerian shows like "Lord of the Rings: The Rings of Power" and "All or Nothing: Arsenal." However, on April 7th, it added its first Nigerian original film to preceding fanfare and continuous discuss on social media.
Directed and co-written by Jade Osiberu, 'Gangs of Lagos' is a crime drama with a story largely rooted in a very Nigerian reality. Starring Tobi Bakre, Adesua Etomi-Wellington, Bimbo Ademoye, Maleek Sanni and more, the film features several standout acting performances, and it's also bolstered by complimentary music composition and selection. With extensive marketing setting it up as Nollywood's marquee event, there was a rush to see 'Gangs of Lagos' immediately after release, so much so that the film made its way to pirate sites for non-Prime Video users to download and watch.
Guys there's really no need to watch on these pirate/ole sites, just subscribe for a 7day FREE trial and you can watch the film on https://t.co/nTDqVVPOkX You want to see more of Nollywood that's ambitious and that you can be proud of? You need to STOP bootlegging Nollywood

— Jade Osiberu (@jadeosiberu) April 7, 2023
Reacting to the widespread bootlegging, Jade Osiberu shared a tweet encouraging Nigerians to take advantage of Prime Video's free 7-day trial period. In addition to corralling support for her latest film through proper channels, as a way of wholesomely supporting Nollywood, the filmmaker also implied that going through the streamer's catalogue during that free period could help viewers swing their opinion of subscribing to the platform.
For those already familiar, 'Gangs of Lagos' barely scratches the expansive catalogue of Nollywood-related films, shows and documentaries on Prime Video. For those not in the know, it's a great entry point that should serve as a portal to the wealth of mainly licensed content the relatively new streamer (in Nigeria) has to offer. Here are 5 recommendations to get you started.
"Grind"
In Nollywood, it's usually expected that prominent filmmakers and established production studios get the deals from streamers commissioning originals. Executive produced by Roberta Orioma, 'Grind' is an antithesis to the norm. Prime Video's first Nigerian TV series is a largely independent project, headed by a budding filmmaker and brought to life by a cast of mainly burgeoning actors. Released weekly between the end of last year and the first weeks of 2023, the 10-episode first season delves into the allure of dreams and the grittiness of ambition, going from strip club politicking to familial woes.
In something that can be described as 'P-Valley' meets the distinctly Nigerian storytelling of a Wale Adenuga Productions sitcom from the 2000s, 'Grind' is carried by an exciting premise and scripts that move the story along in crisp fashion. In the current era of glossy aesthetics, the show won't wow viewers technically, but there's a DIY feel that keeps it rooted and makes it consistently eye-holding.
(See also: 'Behind the Veil')
'Eyimofe'
There's a school of thought that the Nigerian dream is to leave for countries with better socioeconomic conditions and love the country from afar. There's a reason "Japa" culture has gotten even more prevalent since the end of the previous decade. However, it's worth noting that migrating out of Nigeria is an expensive, resource-draining endeavour. It's within this framework that "Eyimofe" works, a familiar story that doesn't have to rely on contrived sentiments to earn affecting points.
Directed by the Esiri brothers, "Eyimofe" is split into two parts that follow two lead characters whose dreams of emigrating are affected by devastating events. A festival darling before making its way to Prime Video, the film has been critically acclaimed as one of the best films in recent Nollywood history and its qualities are obvious. The acting is spectacular, especially by the two leads Jude Akuwudike and Temi Ami-Williams, while the twin duo of Arie and Chuko Esiri establish quite the engrossing identity with their directorial choices.
(See also: "The Milkmaid," "La Femme Anjola")
'Super Eagles '96'
View this post on Instagram
It might no longer be the most potent proclamation, but there was a prolonged period when it was unequivocally true that football unites Nigerians. Perhaps no era epitomised that better than the golden run of the mid-1990s when the men's football team consistently put in stellar performances on a continental and global scale. At home, football held everyone's attention. Yemi Bamiro's documentary, "Super Eagles '96," is a thorough recap of the events that culminated in the Dream Team's gold medal win at the Atlanta '96 Olympics.
Featuring archival footage, simulated actions, and interviews with players like Jay Jay Okocha and Taribo West, the iconic coach Clemens Westerhof, culture historians Ed Keazor and Obi Asika, the doc traces history through the words of those primarily responsible and several who experienced it first-hand. What gives "Super Eagles '96" its captivating touch, though, is in how Bamiro connects the political temperature of the country at the time with the success of its football team. Weaving in the threads of a cancelled election, the sports-washing antics of a brutal dictator, and Noo Saro-Wiwa's bracing appearance, the documentary is bound to be a cultural touchstone for one of the most tumultuous times in Nigerian history.
(See also: "Delta Boys," "Badamasi")
'Juju Stories'
Superstitions are a part of daily Nigerian life. Even if you're a cynic, it's impossible to not recognise its role in everyday culture, even down to common parlance like, "no be juju be that?" A 3-part anthology film, "Juju Stories" leans into this (ir)reverence towards mystical happenings, exploring urban legends with a blasé charisma. Each chapter is directed by Michael Omonua, Abba Makama and C.J "Fiery" Obasi, the three indie filmmakers that make up the Surreal16 collective, where ambitious storytelling is the priority.
"Love Potion," the first part, deals with the aftermath of a lady using a diabolical charm on a love interest, and the heartbreak that ensues when it becomes glaring that they're incompatible. A street hustler turns into yam after picking money off the floor in the following chapter, ending up in the belly of another man, which inevitably drives both of them to insanity. In the final part, a witch terrifies, tortures and kills to protect a friend she's in love with. Together, the three parts of "Juju Stories" don't expressly ask you to re-evaluate your beliefs, but you might find yourself with some whimsical and possibly serious questions when you're done watching.
(See also: "Country Hard")
'The Trade'
You could say 'Gangs of Lagos' isn't the strongest Jade Osiberu film of 2023 and have a solid argument. Released earlier this year, 'The Trade' definitely features the best script the celebrated filmmaker has worked on yet, and a lot of that has to do with its reality-based source material. In June 2017, the Nigerian police force arrested the now-convicted kidnapper popular known as Evans, after years evading arrest while running a kidnapping ring. It's not explicitly stated in the film but that's the story Osiberu adapts in "The Trade."
Blossom Chukwujeku plays the role of a kidnapper simply referred to Eric, and he turns in a performance for the books as he darts between cunning menace, playful lover and protective father. Clearly well-researched, the film carries itself with the assured edge of a biopic. There are two families, passionate policemen and corrupt ones, as well as terrified victims. There are no moral lessons, just the story of a man who pulls off criminal activities and has the walls close in on him. It's Osiberu's least indulgent work as a filmmaker and arguably her best showing yet as a director.
(See also: 'King of Thieves')
---