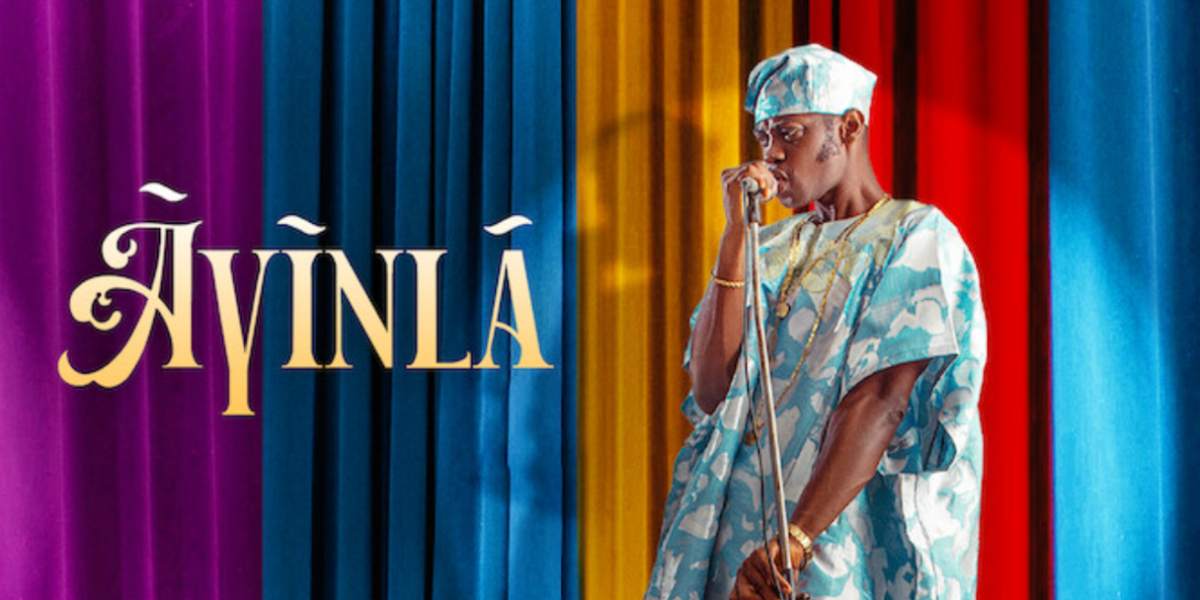 AV Club: 'Ayinla' Blends Portraiture Into A Stirring Cultural Commentary
Tunde Kelani's signature flourishes enrich this modern classic
Tunde Kelani occupies a monolithic space in Nigerian film. Four decades of cinematic brilliance elevated him to that position, yet the 74-year-old remains dedicated to the documentary leanings of his artistic ethos. Last year he released 'Ayinla' to credible reception, inspired by the life of Ayinla Omowura, the great Apala musician whose reign of ubiquity across South-West Nigeria came in the seventies.
View this post on Instagram
The greatest strength of 'Ayinla' is that although the film is about the musician, the Itoko landscape and the film's supporting characters are as important to the storyline. When others speak of him, their eyes blaze with the recognition that his story is also their story. The red quaint corners of Abeokuta are masterfully paired with props which evoke a natural feel of how the area must have looked in the 80's. The entire film reads almost like a love letter to Ayinla and the place which birthed and made him, showing the colourful ways culture seeps into physical spaces and how they inform the resident's identity.
On 'Ayinla,' viewers are immersed in the tale of a man on the ascent to becoming a global musician. His competence rests in Apala, a genre with regional and religious affiliations. Yoruba musicians explored the forms of Fuji and Juju not long after Omowura's death decades to wide acclaim, but they had the benefit of being popular around urban areas. Apala's viability outside the South-West was doubted a lot of the time but the film shows that this was far from the case.
Situated at that point of interest, the plot kicks off when an event promoter named Ajala (Kunle Afolayan) organises a concert that will take Ayinla to London. He goes to great lengths to convince the sceptical, illiterate musician that the deal is real and profitable. A consultation with his spiritual guide affirms Ayinla of safety during the trip, and the band begin a promotional tour of Abeokuta before they leave for the English capital.
The wait is over! ÀYÌǸLÁ is showing on NETFLIX from tomorrow, 20th May, 2022. Be the first to watch it! pic.twitter.com/G3Twbibfp1

— Tunde Kelani (@tkelani) May 19, 2022
It's a simple enough premise but a lot unfolds in between. Central to 'Ayinla' is the musician's relationship with his manager Bayewu played by Debo Adebayo. We are able to see what Bayewu represents to the entire band as manager, most importantly the crucial link he forms between Ayinla and society at large. In his act, Adebayo sheds the humorous tendencies of his Mr. Macaroni comic character, providing a humane contrast for Ayinla's flaws to come into light.
On his part, Lateef Adedimeji who plays Ayinla is a perfect conductor for the musician's abrasive character. He is usually disrespectful of Bayewu and others around him, requesting their respect at every step of the way. When Ayinla does not get something he wants, he lashes out in the Egba dialect which makes his curses even more searing. When the London event materialises however, we see a more playful side to him. A particularly joyful scene happens in a bar where he's presented with a promotional poster bearing his picture. He confirms from Bayewu what the words say, and when told it's 'Apala in London', he declares drinks for everyone in the bar. As the days pass, the London event becomes a myth of its own; everyone wants a taste.
Among those who want a taste is the editor of Iwe Iroyin, played by the veteran Bimbo Manuel. He is a no-nonsense man in the typical way of editors, eager to get a definitive piece on Ayinla by following him as he moves around the country and into England. For this task, he assigns Jaiye (Ade Laoye), a quirky staff writer who is taken by the intellectual movements of the era. This distinction is immediately gleaned from her fashion and flagrant use of English. In a particularly poignant scene, he speaks words that could easily have come from Kelani when he advises Jaiye to ground herself in the philosophy and cultures of her local residence. That is the practical way for one to emerge as an active influence in their society.
Jaiye indeed gets her head in the game and that builds on the layers of this essential subplot. When she meets Ajala to request access to Ayinla, the man calls her bluff. Her superfluous praises cannot hide the fact she hasn't actually listened to the musician and afterwards, we see her becoming more immersed in his music and the Fuji genre. When it comes to interviewing the star however, she struggles to secure private time with him. This was the actual case of Omowura, who was infamously averse to the media in his days. The limitations of having very sparse first-account material makes Kelani's movie even more applaudable. It also sketches the detriments that could come with a lack of proper documentation. In the back of a tour bus, when the band members begin to speak to Jaiye about Ayinla there is an almost personal sense of triumph.
The cast were also engaged in their roles. You would hardly find a single performance that is out of place here. Most of the conversations flow in Yoruba, and the translations give an astute leeway into the humorous leanings of the language. Adedimeji in the lead role is a masterclass in acting. He expresses Ayinla's mannerisms to the tee, right from his pompous walking steps to how he shuffles a handkerchief from hand to hand when performing. He is able to reach diverse spectrums of emotions so seamlessly that sometimes you forget he is not really Omowura.
As the minutes wind down and Ayinla's death becomes imminent, the tone shifts from the boisterous flourishes of earlier scenes. Kelani condenses the multiple accounts of the singer's death into that final scene. But, even then, the ebullient personality of the man renders it some unbelievable quality. Just as Egba lost one of its most illustrious sons in a senseless brawl, so does the film carry the undeniable limitations of that trajectory.
The importance of a film like 'Ayinla' exceeds mere artistic quality. It has that in plentiful folds, but it is also a signifier to the wealth of stories embedded in the tightly wrought fabric of Nigerian popular culture. Tunde Kelani also has a similar film planned for Fuji pioneer Sikiru Ayinde Barrister, one which he suggests might be a series. It is widely known that African music has a documentation issue with many of our iconic figures' stories still untold till this day, and even when that happens, they aren't always wholly represented. 'Ayinla,' despite all its shortcomings and successes is a remainder of why proper, critically tight documentation is urgent and important.
Watch 'Ayinla' on Netflix Naija here.
Featured image credits/Netflix