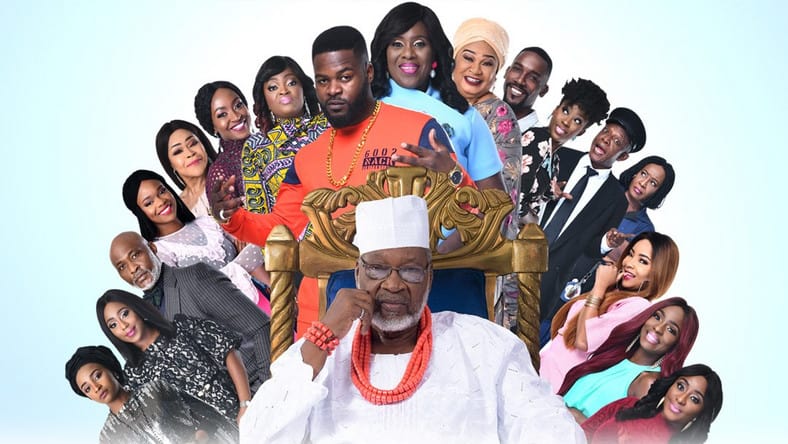 AV Club: The Many stars in "Chief Daddy" don't bring as much shine.
Don't expect too much of anything
On paper, it makes sense that the EbonyLife movie, Chief Daddy continues to do as well as it is. It has all the makings of a good movie: totally relatable, fun content made into a salacious comedy-drama by the entertainment industry current faves and veteran actors who still kick ass.
What you'll quickly find out within minutes of the film, however, is that it doesn't live up to the talents of its stars and the Osuofia character trope is exactly where it needs to be: in distant, fond memories. We love our movie stars, but there's only so much a good cast and fine performance can do to salvage insufficient screen time that ultimately plagues ensemble films like Chief Daddy.
Because there is a sharp limit to the quantity of time that one performer can get onscreen, these films rise and fall on the creation of vivid moments and characters being distilled into gestures and inflections. Ultimately, the substance and the style of the individual actors that emerge in alluring flashes throughout the movie is engulfed by a black hole of an overly dramatic framework, a central emptiness that is a built-in problem of an already blase story-line. 
When the uber-wealthy Chief Beecroft dies in his home, it's a devastating blow to his immediate family of four. That is until the troops are rallied by his lawyer and it turns out Chief had a penchant for mistresses and families outside the provisions of his marriage to Joke Silva. In the true colour of a patriarch, he holds his family to ransom even in death by hinging the sharing of his estate on their working together as a unit to plan his funeral, however much disdain and heartbreak they might harbour towards each other. The family grows from two socialite sisters, Funke Akindele and Kate Henshaw who harbour a seething disdain for their stepmother and brother, played by Joke Silva and Falz to include two mistresses: Shaffy Bello and Ini Edo and five extra children. 
There's the heir who has his heads stuck in the clouds imagining a massive payout, the chaos that surrounds seemingly straightforward decisions like picking a theme colour, going through proposed vendors never forgetting the thin line between scoring a bargain and getting your event royally fucked up by an underachieving planner. The film is directed to play to its strengths: the stars and the familiarity of the drama, tugging firmly at the tropes of aesthetics and nostalgia to maintain a super delicate balance that unfortunately doesn't hold up well as far as cohesiveness is concerned.
Chief Daddy is a kind of funny comedy-drama, almost in ways, Instagram skits are: sometimes its a hit, other times you curiously want your time back. Beverly Osu, Falz' girlfriend and perhaps the only one who believes in the rapper is one to watch in this movie, her performance is a lot more believable than Linda Ejiofor who is assumed to be the deceased's youngest mistress.
Chief Daddy's first major plothole becomes apparent here. Given the role of Chief Beecroft's conniving and self-serving sister (Rachael Oniga) who appeared the most conversant with his rolodex of extracurricular activities, It was odd she also didn't know about his adopted daughter. The film manages to skirt around gaps like this one through it's run time. An example of this is Shaffy Bello's own certificate of a customary marriage to a married man: the authenticity of which is confirmed by all persons present including the family lawyer.
Where Chief Daddy really collapses on itself is in the climactic funeral and will reading; as expected the funeral did not go hitch free. As it turns out, a promised payout is not enough to keep a group of people nursing both grief and the heartbreak of being completely blindsided by the deceased's secrets at the same time. The continued undermining of Mrs Beecroft and the legitimacy of her marriage to Chief Daddy throughout the film sends her over the edge and a fight breaks out at the funeral. No money for anyone right? Only, Chief Beecroft anticipated the meltdown and only arranged it as such to leave his big family with the burden of fostering healthy relationships before pulling the rug from under their feet with the news that his estate couldn't be split or liquidated at the time. 
Chief Daddy is not the film to look to for original storytelling; it's essentially Yvonne Nelson's 2013, even more, stellar-ensembled "House of Gold" with a few tweaks. If you're looking to have a few laughs watching your favourite entertainment stars in really nice outfits, this is the one.
Chief Daddy is a parade of really good actors that has you looking forward to the next faces to pop up on your screen. That coupled with the fact that when it comes to the weird family stuff that surrounds planning a party and splitting inheritance in this part of the world, the film is spot on, will work to keep your interest till the end if you're a sentimental person.The only caveat is that you don't expect too much of anything.