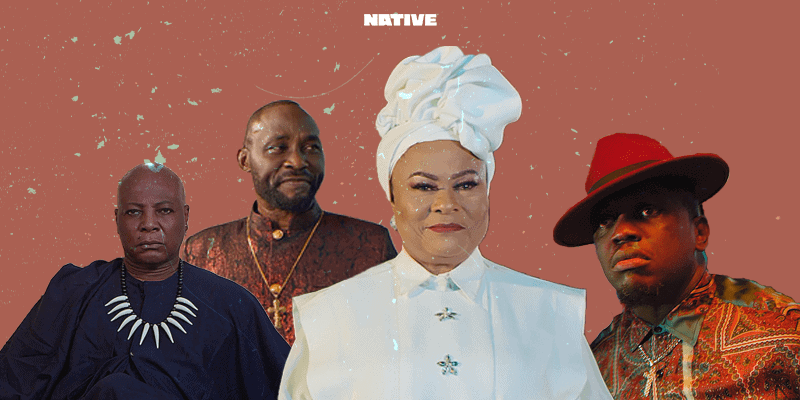 'King of Boys: The Return of the King' Is A Masterclass in Drama and Fashion
where fashion and drama intersect
It has been 2 weeks since the release of Kemi Adetiba's epic 7-part series 'King Of Boys' and chatter is yet to die down about the season's many twists and turns. While there are numerous reasons why the limited Netflix original series stands out and further cements the growing film and television franchise as Kemi Adetiba's magnum opus, what stuck out to me the most were the sartorial choices.
Costume design plays an unassumingly essential role in the grand scheme of storytelling. For an audience to become engrossed in the film, the role of fashion is to successfully transform the actors into believable characters, looking and playing the part in each scene they appear. In order to achieve this, an in-depth understanding of colour theory, fabric design, storytelling, setting, characters as well as the overall mood and colour palette of a film are salient.
In the stellar production that was Kemi Adetiba's 'King Of Boys', not only were the costumes used to represent history and culture, they also were perfectly tailored to each character, communicating more to the audience than the iconically delivered lines of the characters. Responsible for this was a spate of talented stylists including Tiannah Styling, John Joseph Angel, Ikechuwkwu Urum and Yummie Ogbebor. Altogether, they contributed to the success of the series and from the buzz we gathered on social media, everyone noticed the outstanding role costumes played in the entertainment of the series.
Each cast member through the course of the series was styled to perfection, with their costumes enabling them to completely embody the characters they portrayed. From all the bodyguards and security personnel in their fitted black uniforms to the traditional Yoruba band that performed a welcome song dressed in ankara prints. Undeniably, the star of the show, whose costumes were a complete embodiment of her character was our protagonist, Alhaja Eniola Salami played by Nollywood favourite, Sola Sobowale.
The first time we see her, she is vulnerable and mourning, punishing herself for the part she might have played in the death of her children from the prequel. We had already established that Eniola is one of Nollywood's most important female characters, mainly down to the way she craftily flips the damsel in distress stereotype on its head. This is most apparent in the series the next time we see her when she makes her return from exile in a crisp, head-to-toe white and gold ensemble. The outfit reminds me of the king piece from a chess set, signifying the power she still holds despite being away from the country for the last 5 years.
The colour choice of white which is known to represent purity and innocence was a subtle way for Eniola to counteract all the allegations she had faced and further cement her innocence in the mind of her supporters. Despite the softness of the colour, the costume has sharp edges around the neck and shoulders. This creates a clear contrast, passing a message that could be presumed to mean though she is innocent, she is still powerful. Her neck and hands are also adorned with jewellery that's conspicuous enough to tell you that she still possesses wealth, but subtle enough that it's not too over-the-top.
As we get coverage of Eniola's return, the scene segues between her and Odudubariba, her supposed opposition. Besides the clear shift in emotion, a contrast is created between the two characters in their style choices as viewers see that Odudubariba is adorned with a black agbada. His jewellery, specifically his necklace and earrings, are much sharper and dagger-like, communicating an air of violence. All other characters in Odudubariba's palace are also wearing darker tones, while the characters in the hanger with Alhaja Salami – with the exception of the security guards – are dressed in lighter, colourful attire.
View this post on Instagram
Following this, we are transformed to a more vulnerable scene of Eniola alone in her hotel room. We see the King of Boys down in the dumps, as she holds herself responsible for the death of her children. Visibly in severe pain, she continues to inflict physical harm on herself using a whip doused in a peppery concoction. Here, she is stripped down from her white, angelic attire to a single black camisole, bearing all her scars. Her shame, regrets and sins which were once protected by her white attire are now visible for all to see. The audience now has a better understanding of how Eniola truly feels about the loss of her children. It was all a facade.
On her way to the cemetery, Eniola is dressed in appropriate mourning attire. Clad in black from head to toe, she has on an elaborate headpiece with mesh detailing, sunglasses that hide her vulnerability and a straight silk gown that almost swallows her body. However, she still makes sure to include silver jewellery around her neck and hands as well as a ruby ring to match her red nails. While on the way, she expresses her surprise at how much Lagos has changed while she was away, yet, her head security, Ade Tiger comforts her saying "it has, but it still all belongs to you".
This scene juxtaposed against the backdrop of her final appearances in the series forebodes the last episode when she emerges victorious as the Governor of Lagos. In preparation for a rally, Eniola is dressed in the brightest colours since the start of the 48-minute episode. There is a noticeable change in Eniola's mood from the last scene, where she mourned her children and was tortured by her inner demons. She is in higher spirits now as she convinces the crowd that she is a better candidate than Governor Randle. The pinks and purples also play a role in heightening her femininity, distinguishing her from her male counterparts. She is wearing a purple camisole underneath, showing the powerful intensity that lies beneath her sweet presentation, as purple is often associated with royalty. The material of her top resembles organza, and appears somewhat coarse to touch, implying that she is not all soft.
We can't end without talking about the bright red outfit worn by Jumoke, Governor Randle's wife and the brown lion robe Odudubariba wears as he strolls into his living room where his offender is being tortured. Mrs Randle, who was introduced in an aggressively red outfit, instantly comes off as evil or dangerous. The colour suits her character's portrayal as she stares at the people replacing her husband's campaign fliers with Eniola. She seems more concerned of her husband's position of power than her husband himself as she questions his indifference to his new running mate. The sharp red exudes power as she comes off as a femme fatale who would coerce her husband into doing morally questionable acts. Similarities in power can be drawn to Odudubariba who wears a black robe with a lion print stretched across his back. This gives him a very intimidating look as he enters the scene and watches his guards manhandle a man at his command.
Overall, there is no aspect of the 7-part series that isn't important to its overarching theme. As we have seen, costuming and fashion played an important role in delivering messages and signals in 'King of Boys: The Return of the King' and it helped cruise Alhaja Eniola Salami to victory. A key part of Kemi Adetiba's success is that she's able to keep her finger on the pulse in all aspects and delivers not only entertaining drama that will stir viral commotion but also a fully-formed cinematic experience that upholds costuming and fashion as key aspects of the viewing experience.
---
Written by Nwanneamaka Igwe, Mooreoluwa Wright and Damilola Animashaun
---