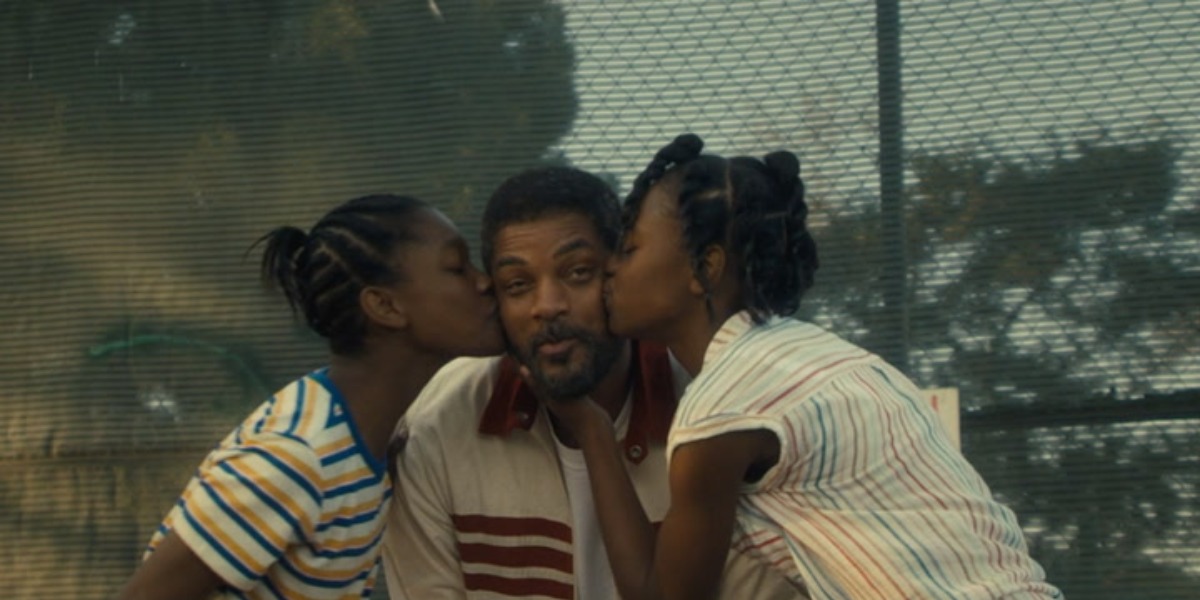 AV Club: How King Richard Loosely Portrays The Complexities of Black Fatherhood
a snapshot of Black parenting
The 2021 biopic film 'King Richard' follows the story of tennis coach and father of two Black athletes, Richard (played by Will Smith), as he raises Venus and Serena Williams to stardom. The father of perhaps the most famous tennis players in the world, his story is a particularly unique one. Over the years, through the ever-present media, Richard was known for his strict methods and attention-grabbing personality, famously interrupting an interview to tell off a reporter that was questioning Venus's confidence in her own ability. All of this made him a controversial figure and a complex character to bring to the big screen.
The film starts off with Richard Williams living in Compton with his wife Oracene and their children, including Oracene's daughter from her earlier marriage alongside Venus and Serena. Richard is shown to be intensely focused on his children's success, coaching his daughters, and encouraging them to practice in unfavourable conditions, even in the rain. He's committed to their professional and personal growth, as he continually attests that he had mapped out their lives, before they were even born. Throughout the film, Richard's fervour as a father is portrayed through Smith's impeccable acting as he showcases even Richard's most questionable decisions, such as pulling Venus out of tennis matches without first informing her.
Smith's strong suit is in his ability to loosely encapsulate the complexity of the man. Whether that's through his interaction with other characters, including those with his wife Oracene, played by Aunjanue Ellis, captured in their heated arguments about his self-centredness and his children from his first marriage, or through his daughter, Sabina who has since gone into more detail about his apparent abandonment of her, her siblings and her cancer afflicted mother. She has expressed disappointment in the lack of mention of her existence at all.
All through the film, the idea that Richard Williams is not the perfect father figure is casually reinforced, no matter how involved he seems to be in the lives of Venus and Serena. We're reminded that Black fatherhood is complex and there is never any one-fix guide to parenting. However, while these ideas are loosely touched on through depicting William's flaws, 'King Richard' misses an opportunity to explore how being a dedicated father to some of your children does not make up for pain caused in the past. It could have even been discussed whether or not his possible failures may impact how much he wants to get it right with Venus and Serena.
The film seemed unwilling to make him anything other than a good but slightly misguided man, doing a great disservice to telling the whole story, in all its complexity. It is understandable that the creators were unwilling to portray him as a stereotypical Black 'deadbeat' father. But glossing over the more unsavoury aspects of his life feels disrespectful to the real people hurt by him.
View this post on Instagram
The lack of focus on these less glamorous parts of his life brings up the age-old issue with biographical films. As we've seen previously from biopics such as 'Finding Fela,' these films often have a tendency to visibly inch away from fully exploring the complexities that made up the man. 'King Richard' seems to fall to the same fate, either choosing to rush or skip over parts of William's journey that would have been instrumental to peeling back his more complex layers. 
Aside from Richard's family drama from his previous marriage, it would have been interesting to see how the Williams family adjusted to their move to from Compton to a more affluent neighbourhood in Florida. In its place, what audiences are left to see is glimpses of this change and how it affects Richard and his children, through their interactions with families at the very white, upper class tennis clubs. Instead of confronting these changes, 'King Richard' time jumps from the family's arrival in Florida to scenes of them settled into their new life, done possibly to steer the story towards the final climatic tennis match. 
Despite its shortcomings, 'King Richard' stands out in other areas. Director, Reinaldo Marcus Green showed his dedication to making this a feel-good film by making many stylistic choices that felt positively cinematic. Most of the scenes in 'King Richard' were shot by cinematographer, Robert Elswit who set out to portray the warmth of a comforting 90's movie, which is fitting for a film set in that decade. Golden sunlight constantly shines over the Williams family as they go through high points and low points. The film's lighting as well as the sound design makes it an immersive viewing experience, allowing the audience to be transported to a warm California day with the family.  It is very unusual to get something so warm, feel good and inspirational about a Black family but 'King Richard,' goes the mile with the Williams.
The performances were a standout on this film. Will Smith played the titular role with an expert portrayal of the real Richard William's mannerisms and speech, which can be seen through past interviews of the tennis coach and father. Smith's level of dedication to portraying the character could also explain why it was easy to root for Richard even at his low points. However, his familiar Will Smith-isms also caused a problems as it was sometimes difficult to simply see Richard Williams and not Will Smith playing Richard Williams. Nonetheless, Smith still gives an enjoyable performance, culminating in his win at the Oscar's for Best Actor in a leading role last month. 
View this post on Instagram
Another defining quality in 'King Richard' is the film's impeccable dialogue between the characters, which felt naturalistic. In the film, many characters stammered and spoke over each other, in ways that made it feel like you were listening in on real conversations. Despite its non-linear nature, the dialogue, as well as the plot overall, still felt very focused as it honed in on a Black family in America taking us from William's ill conceived plans for his daughters to the arduous process of fashioning them into superstars. Zach Baylin, the film's script writer echoes this about the plot and dialogue, saying in a recent interview with The Wrap, that "I had to let the audience know about the inception of the plan and how insane and improbable it was, but also to make it feel urgent, which was tricky." 
Overall, 'King Richard' is a film that feels familiar in a lot of ways, and that is not necessarily a bad thing. Despite not doing a huge amount to stand out from the stereotypical sports biopic, the film excels in its loose portrayal of the complexities of Black parenting. Its familiarity is comforting, in a way that many viewers would desire from a film such as this. The performances, writing and creative direction make it extremely competent in portraying the lives of the Williams, one of Black America's premiere family units. In all, it gives Black audiences an aspirational film, that's been reserved for white audiences over years. For that alone, 'King Richard' is definitely something to be appreciated.
You can watch 'King Richard' here.
Featured image credits/Deadline