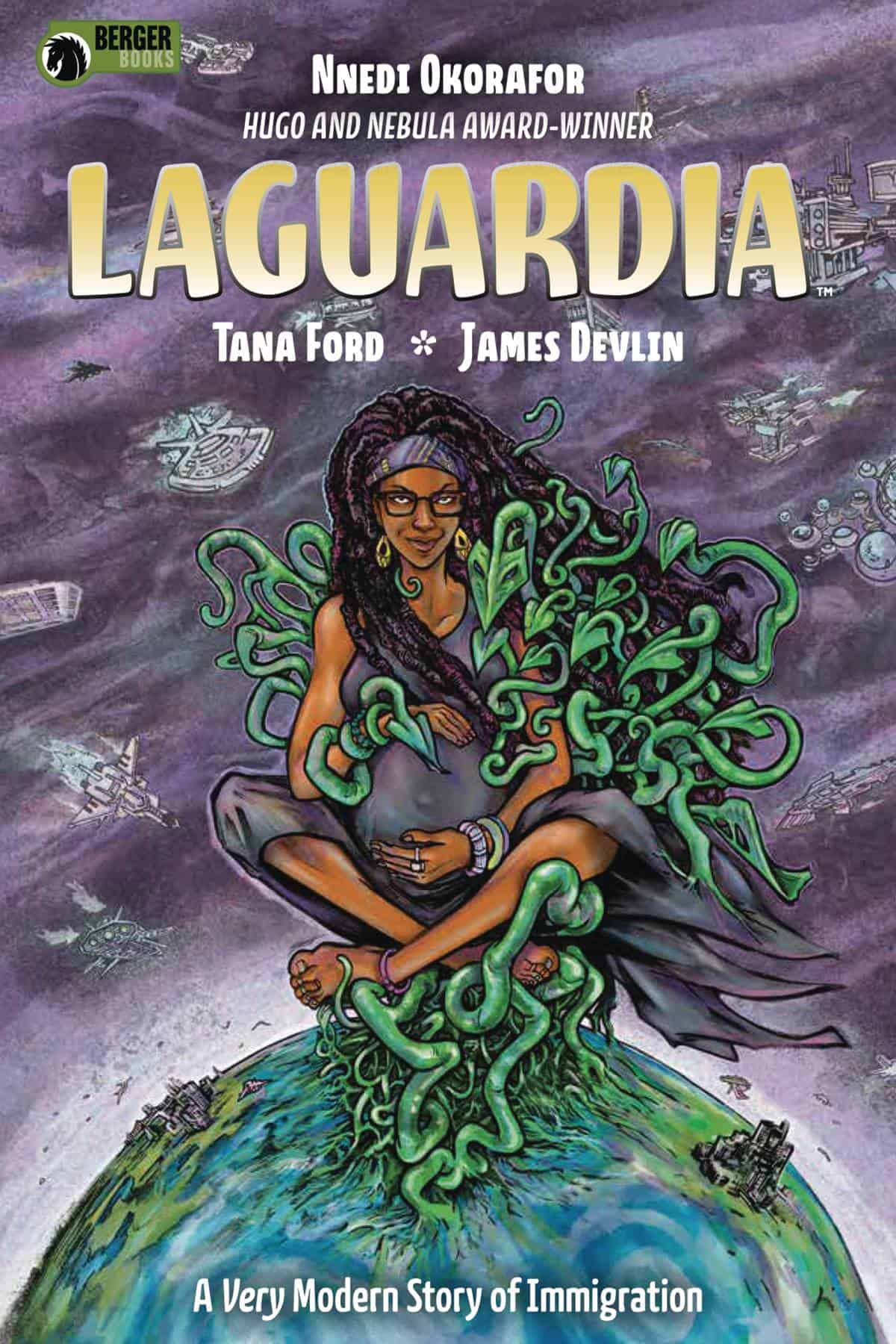 Nnedi Okorafor will launch Sci-fi Comic Series "LaGuardia" in December
about "African and Alien immigrants" in Brooklyn
In July 2017, we wrote that Okorafor's Who Fears Death, will be adapted into an HBO Series, produced by Game of Thrones creator George RR Martin, who Okorafor attended the Emmys with last week Monday. While that book has steadily been behind the scene for production works, Nnedi has been in the media rounds for her other books, including the final issue of her fascinating Dora Milaje spin-off, which she released just last month.
Now, Nnedi Okorafor has announced another original comic series, LaGuardia; the first in the series is set to be in shops on December 5th. She announced this on her twitter, briefly describing the premise of the new project, LaGuardia: "It's about African and alien immigrants in a Brooklyn apartment building called New Hope".
My latest original project LaGuardia is due out on December. It's about African and alien immigrants in a Brooklyn apartment building called New Hope. And yes, it's set in the universe of my #Binti novella trilogy and novel Lagoon. 👽🛸🌍🇳🇬🇿🇦🇸🇸. https://t.co/oRBklu2rxB

— Nnedi Okorafor, PhD (@Nnedi) September 19, 2018
As she states, the new sci-fi project is set in the same universe as her previous work, Binti. Through the link she shared to BleedingCool.com, other details are seen, including the project's illustrators, Tana Ford and James Devlin, and thanks to Dark Horse Comics, a brief summary of the work is also written on the site.
LaGuardia is "a very modern story of immigration", which is set in an alternative world where aliens have come to earth and integrated with society. "It revolves around a pregnant Nigerian-American doctor, Future Nwafor Chukwuebuka who has just returned to NYC under mysterious conditions. After smuggling an illegal alien plant named "Letme Live" through LaGuardia International and Interstellar Airport's customs and security, she arrives at her grandmother's tenement, the New Hope Apartments in the South Bronx. There, she and Letme become part of a growing population of mostly African and shape-shifting alien immigrants, battling against interrogation, discrimination and travel bans, as they try to make it in a new land. But, as the birth of her child nears, Future begins to change".
A major question the novel seeks to unravel is, "what dark secret is [Future] hiding?"
[mc4wp_form id="26074″]
---
Fisayo is a journalist in search of words. Tweet at her @fisvyo
---