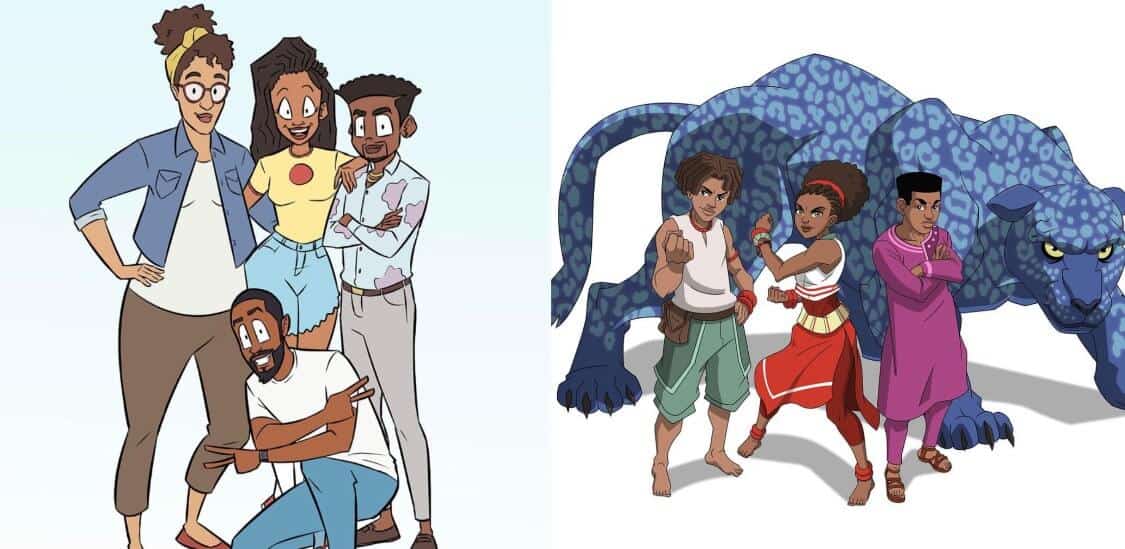 Nigerian animation is winning this year
An African superhero animation is coming soon to screens near you
With only two months into the new year, things are shaping up to be a good year for Nigerian cinema, with news of partnerships and collaborations with multimedia behemoths Netflix and Sony TV already in the works. But growing alongside the need for new Nigerian-based stories on our television screens, is the need for children and adult animation told from distinctly African lenses.
Earlier this year, Nissi Ogulu's 3-D animation movie 'The Satchel' was released for streaming on Youtube, the film adapted the Yoruba mythology, depicting Yoruba deities, Obatala and Oduduwa, (sons of Olodumare, the supreme being), as they battle for the power to create the earth with the all-powerful Satchel. Ogulu's aim is to share authentic African stories and promote our magnificent culture; it seems she is in good company as we're now getting more animated stories about Nigerians – from Nigerians – which are set to roll out later this year.
Finally the word is out! One step closer! Let's get it!!! 💪🏾💪🏾💪🏾 pic.twitter.com/0JbqL9DkjO

— Obi Arisukwu (@ObiAris) February 10, 2021
Announced yesterday, HBO Max has ordered a number of new adult animated series which are currently in development. One of said series' will be Obi, an animated project co-created by Obi Arisukwu and Arthur Harris (The Last OG). The new series is said to be about a 30-year-old Nigerian man chasing his dream to become an artist while navigating adulthood with his friends. It will be produced by Michael B. Jordan's Outlier Society, Michael Schreiber for Studio71, and David Devries, and is an original adaptation of co-creator, Obi Arisukwu's popular Instagram comic strip.
Also announced this week is exciting news that Dark Horse, the publisher behind series such as Hellboy and The Umbrella Academy, has acquired the rights to publish Roy Okupe's YouNeek Studios' library, as well as to publish new tales in the future, in an unprecedented deal. According to the Washington Report, Dark House is set to publish the filmmaker's ten-comic African superhero universe into an animation about Africa's folklore and mythological powers.
This is notably the first time Dark Horse Comics has ever distributed an entire library of African superheroes – and it's also the first time the publisher has added a non-franchise Black character to its library since the Eisner and Hugo Award-winning LaGuardia series by Nnedi Okorafor back in 2018. According to reports, Okupe is also said to retain 100 percent intellectual property rights over his characters and have creative control over his titles. Dark Horse is set to roll out the first four titles of Okupe's original graphic novels, Iyanu- Child of Wonder, E.X.O., The Legend of Wale Williams, and Malika, on Sept. 7, Sept. 21, and Oct 19, respectively.
View this post on Instagram
Featured image credits: Twitter/ObiAris, Roy Okupe
---