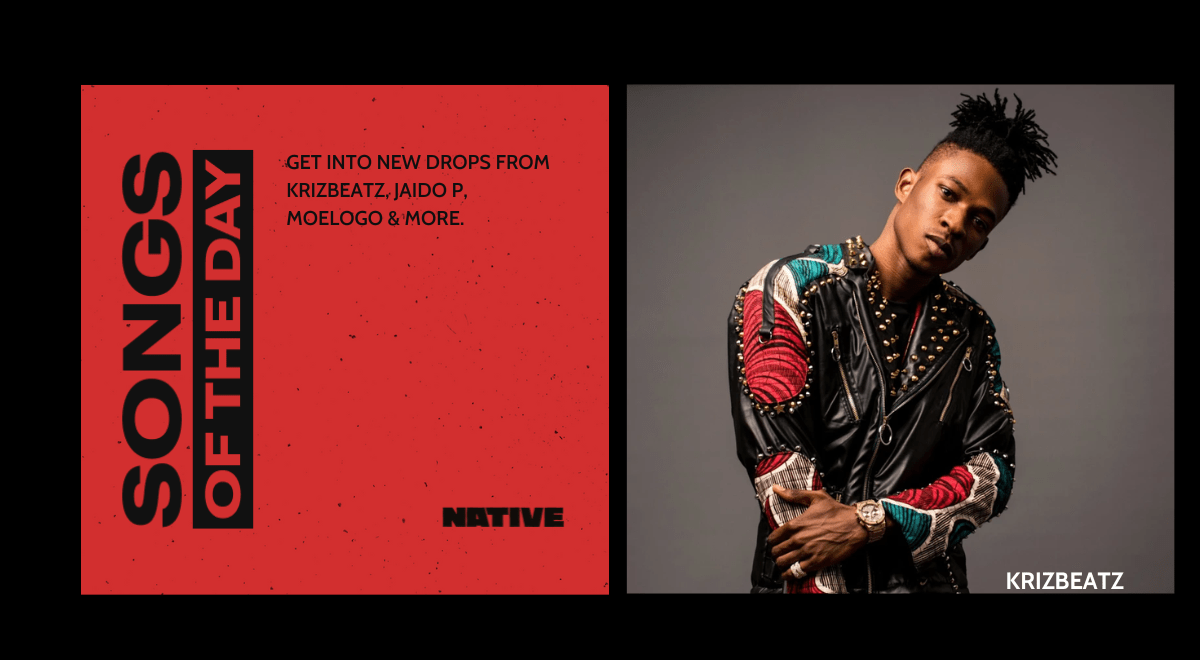 Songs Of The Day: New Music From Krizbeatz, Jaido P, Moelogo & More
new jams to check out
We're halfway through 2022, and it's been an eventful year for Afropop. There's been a torrent of great new music, spawning a massive stack of inventive smash hit songs. From Highlife-infused Ghanaian pop, to the unrelenting force that is Nigerian street-pop, to South Africa's indomitable Dance scene, to tantalising Drill explorations in East and Central Africa, and much, much more, we're living through abundant and musically expansive times.
Every week, tonnes of songs from African artists make their way to digital streaming platforms, and wading through them can be intense. That's where The NATIVE's Songs of the Day column comes in to help. We go through as many new releases as possible, spotlighting them here, two to three times every week. Coming off our mid-week curation, we highlighted new drops from Youngstacpt, Aya Nakamura, Dapo Tuburna and more. This Friday, we have exciting new releases: Krizbeatz, Lia Elise, Moelogo and more. Dig in!
JAIDO P – "REASON MUCH"
Since the transcendental "Tesina Pot," Jaido P has risen to become one of Street Pop's most exciting voices. He's able to reach the extremes of the human condition, ever lining his songs with the poetic cadences of the Yoruba language. "Reason Much" is a quite different song in his oeuvre, constructed on a minimal nineties drum pattern, replete with ominous keys which underline his pensive direction. "Life is so hard, I dey reason much" he raps in the hook, placing those end rhymes within a number of tightly constructed bars. 
KRIZBEATZ FT. BELLA SHMURDA & RAYVANNY – "WILD PARTY"
Over the years Krizbeatz has solidified his name as a hitmaker, soundtracking some of the most iconic records in the pantheon of modern Afropop. Like many, he's also made the crucial entry into releasing his own music and unlike many, he's done an astoundingly consistent job of that. Since 2020's 'African Time', he's tastefully refined his sound to match the shifting soundscape. His newest record "Wild Party" effectively preludes the Summer, pairing the sunny groove of the season with Amapiano-style production. Set by this template, Bella Shmurda and Rayvanny's dynamic voices smoothly meld into the hypnotising vibe.
LIA ELISE — "SAME OLD STORY"
Romantic complexities is a subject embedded within R&B history, and it's the path taken by Elise on her debut single. The 20-year-old South African musician has garnered buzz around the country's underground scene for her full vocals, exciting with covers and a few loosies. "Same Old Story" sees her honing into her strengths to produce a stirring power ballad. Set by a poignant piano line, she details a lover's inadequacies with touching perspective. The accompanying video by Howie Combrink and Rici Martins also cues into the narrative, slowly building cinematic scenes full of deft psychological flourishes.
BOYBREED – "LET YOU DOWN"
Emotive strings and soulful drums are everywhere on "Let You Down," the new song from brother duo Boybreed. Its undertone is sometimes groovy, but the message is unmistakably inspired by the weighty motions of love, the promise to always be there. The vocals are remarkably reminiscent of Maleek Berry's, moving into a smooth zone of R&B that's amplified by flushes of lived-in Nigerian experiences. Ultimately, it's a warm record that should soundtrack the listless melancholy of rainy days and evenings when you're roped in the presence of a romantic partner. 
BIGFOOTINYOURFACE & DWIN THE STOIC – "DAYLIGHT"
This duo have previously connected to wonderful results, and "Daylight" is a fine return to their creative alliance. Over Bigfoot's energetic production which collects drum-ready drums and rolling keys, Dwin The Stoic is more optimistic than ever, singing about seeing the daylight in all he does. It's an exhilarating performance from two notable names in the Nigerian alternative scene; it's also the kind of song to draw the peculiarities of that world into the corridors of the mainstream, demonstrating the similarities between both. 
TINO — "A MYTH AMONGST MEN"
Few rappers around the continent are as sonically adept as South African MCs, a fact Tino continues to prove. His 'Drmstate' EP is a dazzling collection of ethereal, jazzy-led sonics which are impressively sliced through with lived-in raps. A standout of the five-track project is "A Myth Amongst Men," a lyrical showcase which bounces with the braggadocio favoured by Trap-leaning artists. "One day imma look at the new wave from the top like 'oh man, wait I'm really the father'," he raps in the first verse, underlining his resolve to become an influential figure of the SA scene in years to come.
MOELOGO – "NOTHING"
Through his songwriting and other collaborations, British-based Moelogo has become a recognizable fixture in Nigerian Pop. Not long ago the musician announced 'Euphonic,' a body of work which he's now released. The five-track EP collects an array of experiences familiar to anyone who's lived and loved. "Nothing" is a standout, a classic tale of abandonment which coalesces into searing hurt. Moelogo floats over the shiny beat with descriptions of his heart state, employing his unique vocals to hit the message home. 
---