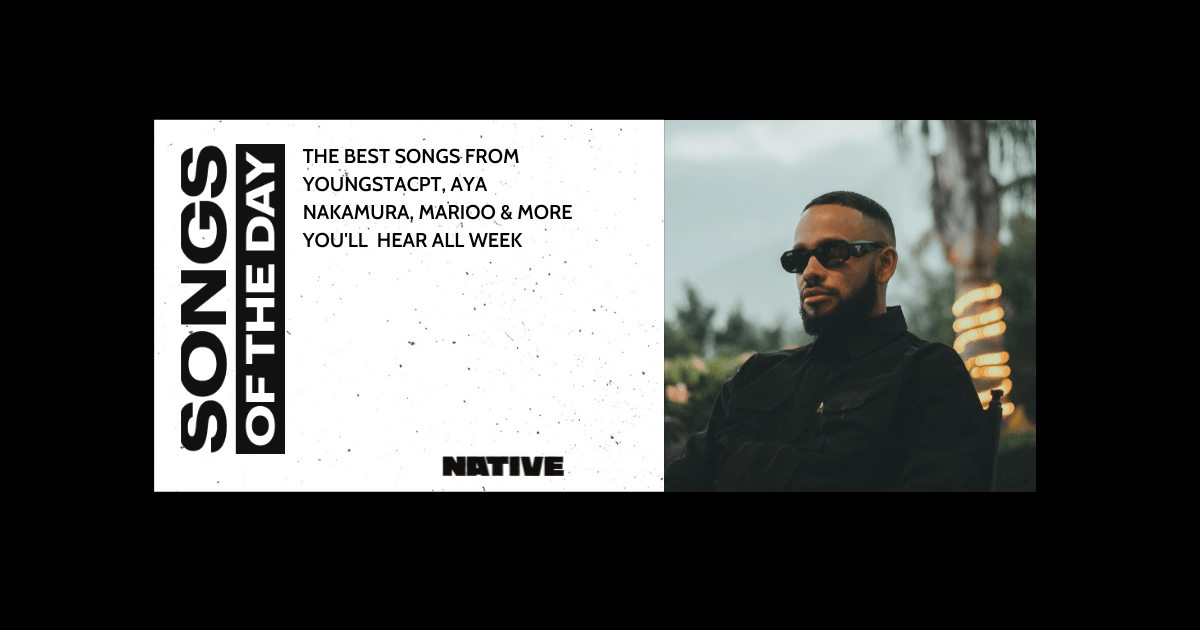 Songs of the Day: New Music from YoungstaCPT, Aya Nakamura, Mbosso & more
Recent releases to get into
We're halfway through 2022, and it's been an eventful year for Afropop. There's been a torrent of great new music, spawning a massive stack of inventive smash hit songs. From Highlife-infused Ghanaian pop, to the unrelenting force that is Nigerian street-pop, to South Africa's indomitable Dance scene, to tantalising Drill explorations in East and Central Africa, and much, much more, we're living through abundant and musically expansive times.
Every week, tonnes of songs from African artists make their way to digital streaming platforms, and wading through them can be intense. That's where The NATIVE's Songs of the Day column comes in to help. We go through as many new releases as possible, spotlighting them here, two to three times every week. Coming off our early week curation, which featured new drops from Prince Kaybee, Groovy Jo and more, today's selection is a pan-African selection of releases from YoungstaCPT, Aya Nakamura, Marioo, and more. Tap in.
YoungstaCPT – "Dagga"
Towards the end of 2021, veteran South African lyricist YoungstaCPT teamed up with producer Shaney Jay for Dream Don't Pay Bills, a full-length project packed with the rapper's real life experiences and lessons he learnt from them. He's just shared the music video for one of the tape's highlights, "Dagga," where he recounts his time dealing weed and the effect it had on his life. The set of visuals centres YoungstCPT rapping his verse with poise, with several dramatised scenes adding an apt lived-in effect to the video.
Kuiyu – "Dizzy" (feat. Wambura  Mbogo)
"Dizzy" serves as  the second single to Kuiyu's upcoming album 'In Between'. Employing the harmonious vocals of songbird Wambura Mbogo, the mellow soundscapes of the song  feel like a perfect ride down a sunny road. Reflecting an authentic love story in the rural ends, they bring out the true nature of pure love. To accompany the riveting single is an eccentric visual portraying love when growing as children. 
Aya Nakamura – "Mechnate"
Aya Nakamura is the gift that keeps giving. Her French lingo is not only enticing but an exuberant ear worm especially on a crisp produced track and "Mechante" is one of them. Aya brings to light an emotionally draining relationship between her muse and herself with the relationship being warm and cold. Mechante translates to cruel which is the description of their love.
Antoneosoul – "Breaking News"
After a much-needed sabbatical break, Kenyan songbird Antoneosoul made a thrilling comeback with his album 'Welcome 2 my Soul'. The 10 track project is a serene walk down peaceful jazz backdrops and harmonious vocals. "Breaking News" is the opening track with an upbeat pop soundscape. It is no lie that his voice is the knack of his career and he proves it as he hits numerous high notes in the chorus. 
Manana – "Minute of Silence"
The best words to describe Manana is a musical wizard. The Grammy Award winning songwriter once again puts his flamboyant penmanship skills into an empathetic and comforting single. "Minute of Silence" is Manana's second release amid the buildup to his debut album drop, 'But could the moments in between'. The song is an ode to failed love with ill feeling,s as he sings "..minute of silence for my dying pride, what is it worth a measure of a fake treasure.."
Mbosso – "Moyo" (feat. Costa Titch & Phantom Steeze)
One of the best crossovers in music has to be Amapiano and Bongo crossover. The symphony and unification of their beats create a new robust and upbeat environment. Costa Titch is a compass when it comes to Amapiano and it was only right for Mbosso to recruit him and Phantom Steeze. Costa playfully switches from English to Swahili bringing a balanced effect to Mbosso's Kiswahili and Phantom Steeze's English. 
Goldfish & Youngr – "Two Monkeys"
"Two Monkeys" is a playful electronic jam paying homage to children's play songs with the famous line, "sitting on a tree k-i-s-s-i-n-g." The song is the perfect upbeat as South Africa duo Goldfish recruit Youngr into the sonic fist bumping track offering a message of positivity. The dynamic vocals and electronic backdrop with a saxophone provides a perfect element for a turnt moment.
Marioo – "Dear Ex"
Over the last few years, Tanzanian Bongo Flava artist Marioo has leaned into the Amapiano sound, and his latest single "Dear Ex" continues to toe that 'Piano-inspired line. Produced by Tony Duardo, the new song is incredibly lush, featuring a melange of wispy guitar riffs that mesh well with the singer's aromatic voice, as he offers a heartfelt paean to a former lover.
Dapo Tuburna – "Idan Gan Gan"
Nigerian singer Dapo Tuburna has been relatively quiet since the release of his early 2021 EP, I Remember Everything. He recently shared his debut for the year with the new single, "Idan Gan Gan," a boastful slapper that sees him sharing self-exalting quips over Que Beat's hulking, Yoruba folk-indented beat. The song comes with a visualiser that see Dapo Tuburna performing his set with infectious enthusiasm, alongside a mean-mugging posse that echo the titular anthemic chants that pops up throughout the song.
---