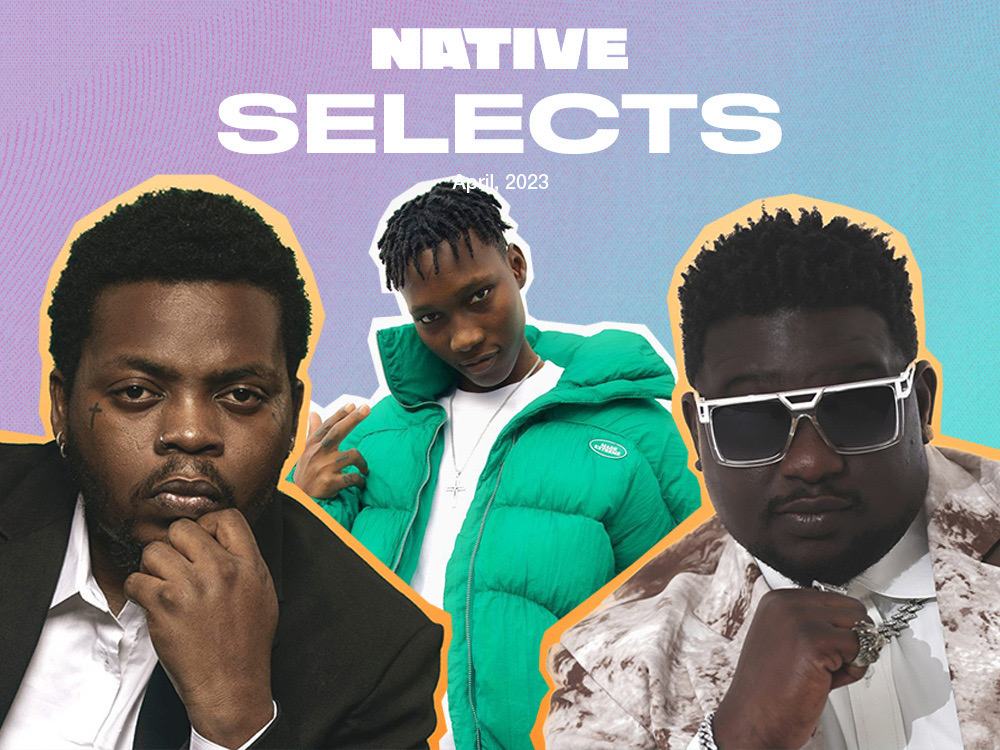 NATIVE Selects: New Music from Olamide, Zinoleesky, Wande Coal & More
tunes for the weekend
It's that time again. Every week, new music shows up, sweeping fans and music lovers off their feet while artists gauge reactions to know the effect of their creativity. At the NATIVE, we are committed to keeping our ears on the pulse of the music scene and bringing the best sounds to your doorstep.
Earlier in the week, we brought you stellar new releases from Bayanni, Chike, Erigga and more. Today, we have songs that move from Afropop to Amapiano to R&B, with our select artists showcasing their unending talent and passion for creativity. Lock in!
OLAMIDE – "TRUMPET" FT. CKAY
YBNL boss Olamide drops his first single of the year, recruiting CKay to lay his velvety vocals on the hook. On "Trumpet," Olamide and CKay serenade their love interests, promising acts of tenderness and sexual pleasures. Produced by P.Priime and CKay, "Trumpet" has a mellow bounce with chord progressions that dole out melody after melody. It is a solid return for Olamide whose guidance has been integral to the success of one of Africa's biggest stars in Asake.
ZINOLEESKY – "MANY THINGS"
With his sophomore EP 'Grit & Lust' released less than five months ago, Marlian Music act Zinoleesky shares his first single of the year. On "Many Things," Zinoleesky beams the searchlight on himself, singing, "Something just dey tell me ride on/No be say na me do pass/Baba just decide to gimme through pass/E look my life and gimme two chance." Over Timi Jay's mellow production, Zinoleesky encourages himself to continue on his path and ignore distractions.
WANDE COAL – "LET THEM KNOW"
As his album 'Legend Or No Legend' draws nearer, Wande Coal releases a new single "Let Them Know" to heighten anticipation. Over Kel-P's upbeat production that shines with percussion and guitar chords, Wande Coal states that he is in his lane and won't show his moves to his detractors. "I will rather get the money in a foreign currency/And get rich or die while trying," he sings, revealing that he's here to play with his success.
KONYIKEH – "SORROW"
On her debut single "Sorrow," Cameroonian-Jamaican British musician Konyikeh is inspired by personal history and familial troubles. With distinct vocals, Konyikeh expresses her frustrations with a family setup that doesn't protect its young ones from its exuberances and those of the outside world. "Sorrow" is produced by British producers, Charlie J Perry and Paya and released via Jorja Smith's FAMM label, with the accompanying visual directed by Kemi Anna Adeeko.
SUPERJAZZCLUB – "TOO EARLY"
Ghanaian multi-talented collective SuperJazzClub releases the video to "Too Early," an anthem for escapism and careless abandon. Produced by one of the collective's members Øbed, the track expertly fuses elements from Trap to Garage to Highlife, making a tune that is familiar yet futuristic and forward-thinking. The music video was directed by Tano Jackson, another member of the collective and is inspired by Quentin Tarantino's signature use of monochromatic tones, colours and editing.
TIZ EAST & BERRI-TIGA – "YELLOW BUSES"
Nigerian-born, Newham-raised act TiZ EAST pays homage to his Nigerian heritage on "Yellow Buses" as he connects his days in Lagos to his will to flourish. The song was recorded in Lagos—with Bayoz Muzik and Producer X handling the production and vocal mix respectively—and brings to life the hustle and bustle of the city. For the hook, TiZ EAST taps Nigerian singer Berri-Tiga who sweetens the tune with his smooth vocals. 
TEEBEE – "I FEEL GOOD"
Toronto-based Nigerian artist Teebee is all about the good vibes on "I Feel Good," a single off his forthcoming album 'In a Loop.' On the up-tempo record, Teebee celebrates surviving the tough moments of life and the wins that also follow it. "After the rain comes the sunshine/Why I go dey worry when I see your waistline," he sings, infusing his love for the female anatomy. "I Feel Good" continues Teebee's style of fusing  Afrobeats, Reggae, Dancehall and R&B.
CLOUD BEATS, WALSHY FIRE, KARUN – "TALKING IN MY SLEEP" FT. THE GREAT EDDY, JIMMY OCTOBER, G NAKO
Tanzanian musician Cloud Beats opts for a star-studded lineup on "Talking In My Sleep," the latest single from his forthcoming album 'Wmls.' Produced by  Cloud Beats and Grammy Award-Winning Jamaican American DJ, Walshy Fire, the song infuses elements of Amapiano as The Great Eddy, Jimmy October and G Nako provide vocals. "Talking In My Sleep" is an uplifting tune about counting one's blessings and enjoying the fruits of one's labour.
Featured Image Credits/The NATIVE