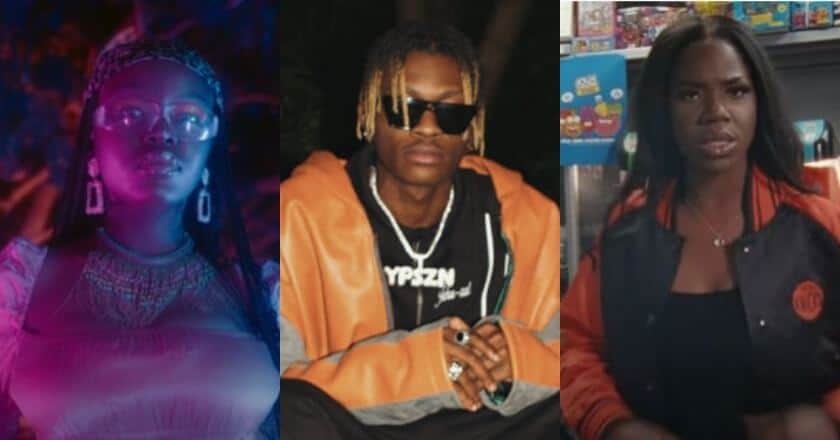 Songs of the Day: New Music from Gyakie, ENNY, Psycho YP & more
Songs for your weekend playlist
Much as we'd like music drops to slow down and give us a chance to catch up with the unique tunes that are sprouting from across the world, the reality of the music business in the post-2010 era is very much different. With amazing songs dropping at an unrelenting pace, it's not always easy to cut through the noise and sheer volume of it all to find the music that will accompany our melancholy, inspire our next creative breakthrough, tether us our loved ones more securely, or take us to a place of unencumbered elation.
That's where our 'Songs of the Day' column comes in. We try to keep our fingers on the pulse of music from across the continent and beyond, bringing you exciting songs from talented musicians who are continuously trying to bounds of artistry with their music. Last weekend, we brought you new drops from Rema, Prettyboy D-O, Kida Kudz, Rexxie and more. Today's roundup includes new drops from Ghanaian star Gyakie, British-Nigerian rapper ENNY, Nigerian rap star Psycho YP, South African production duo Black Motion, and much more. Enjoy.
Gyakie – "Whine"
On the back of the smash success of "Forever" and its Omah Lay-assisted remix, Gyakie emerged as a pan-African star. While majority of the attention has come from that big single, the Ghanaian singer is wasting no time in reeling in listeners who may not know that she has more songs. Off last year's debut EP, Seed, she's just dropped the music video for the next single, "Whine". Produced by Yungd3mz, "Whine" is a sunny Afro-Caribbean bop that finds Gyakie in carefree, party girl mode. Giving the song new life as the summer of reopening enters full effect, the video is collage of Gyakie in eye-catching outfits singing and dancing, by herself and along with bevy of female dancers.
ENNY – "I Want"
Whether she's speaking honest truths or offering much-needed solidarity, ENNY's small but sizable catalogue pegs her as an artist who makes lived-in music. On her latest single, "I Want," she's in self-affirming mode, validating all her pertinent needs and seemingly trivial wants without a single care for what the world might think. "I'd like mental peace and 100 grand/and a peng ass babes and we'll do up raves," she raps over Paya's upbeat production. In its new video, ENNY can be seen living it up in different settings, from a 9-5 in a diner to a semi-rowdy night out with friends.
Mas Musiq & Boohle – "Nguwe"
Mas Musiq has earned a reputation for making songs that land closer to the more soulful axis of the Amapiano spectrum. Shonamalanga, the stunning collaborative EP with singer Aymos, the two instalments of his Mambisa series, and his sprawling lists of production credits are irrefutable proof of his intuitive approach to the South African House subgenre. His latest single, "Nguwe," continues that streak in fine fashion by combining groovy percussion, an array of gleaming keys and occasional synth breakdown. It also features singer Boohle, who switches between honeyed singing and expressive scatting.
Black Motion – "Xxikiwawa"
Across the duo's sprawling discography, Black Motion's mastery of the rhythmic essence of Afro-House is unmatched. Their last album, The Healers: The Last Chapter, is a 41-track odyssey that completes the spiritual arc they began with their debut album. Although it hints at new beginnings, their new single "Xxikiwawa" continues to showcase their powers at creating Tribal-inflected House Music, featuring Booming synths, vocal chant samples, sax synths, and echoing pianos. Fairly recent breakout star Lady Du takes vocal command of the track, rapping in isiZulu with her typical fervour, while Pholoso adds boisterous chants as the song's infectious hook.
Psycho YP – "Euphoria"
Psycho YP's sophomore mixtape, YPSZN 2, helped elevated his profile as one of the finest rap talents on the continent, earning him nominations at the Headies and last year's South African Music Awards. Following the self-titled joint tape with Azanti, YP is getting to set to drop his next solo project, reportedly an EP even though there's no publicly announced title or release date yet. Ahead of the project, he's dropped the lead single "Euphoria," a Trap banger with street-hop overtones. Co-produced by Ramoni and Jaylon, with background vocals from Azanti, "Euphoria" is, YP boasts of the well-earned fame and wealth he's accrued since stepping into the game, berating doubters from the past and revelling in the ecstasy of living his dreams.
L.A.X & Davido – "Pepe"
L.A.X has made a habit of not going too long without delivering songs meant for widespread, club-ready rotation. Months after his sophomore album, Zaza Vibes, which spawned the hit songs "Sempe" and "Go Low," the singer recently returned with "Pepe," a Davido-assisted single where both singers brag of their desirability and deep pockets over Napjil's summery instrumental. A few days back, the accompanying video for "Pepe" was released, and it captures the playful overconfidence the two singers projected on the song, via shots of them singing and dancing animatedly under multi-coloured lights and alongside video vixens.
Ibejii – "Gonto"
Ibejii's brand of Afro-Soul excavates the depth of the Yoruba language and its maxims, in order to profoundly express the human experiences, especially as it concerns Nigerians. "Gonto," the lead single to his upcoming fifth album, is a poetic middle finger at the corrupt leaders insensitive to the plight of its citizenry, and a bracing hymn to the current generation fighting back against the impunity. Released last Friday ahead of the Democracy Day protests, the song has now been supported by a video, a live performance piece that takes into account the orchestral elements and agitated messaging. Also spliced in is footage from an upcoming film helmed by Ibejii, which will star Dakore Akande, Christian Paul and others.
DolapoTheVibe – "Work"
Last October, DolapoTheVibe shared her debut EP, Unanticipated, a formidable showing of her nascent abilities to make resonant and catchy Afropop songs. For her first single of the year, "Work," she sneers at those who like to exploit other people's pockets rather than work for their own money. The singer alludes to personal experiences as she sings, "you wan chop all my money, shey mo jo Dundee (do I look like a dunce?)", over the snappy production by Miraqulous.
Badthesoundboy – "O Dun"
Nigerian-born producer, BadTheSoundBoy is gearing up for the release of his debut EP titled 'Bad for You' which is slated for release next month. Ahead of this, he's giving listeners a taste of what's to come with the release of new promotional single "O Dun", a groovy anthemic number that deserves to be on your playlists. Over the song's uptempo production, he addresses a love interest who's love he can't seem to get enough of as he quips "Girl o dun mi/Girl I like as e dey sweet me" over the song's brassy production. It's a classic Afropop number set to get you and a special someone whining and dancing at every listen.